The Boucherie
The Boucherie will open for in-person shopping this spring!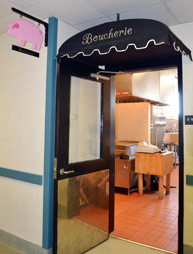 The Boucherie will open for the spring semester on February 8, 2022.
Boucherie is an artisanal charcuterie, salumeria and specialty market producing a wide range of hand crafted products produced in-house by our Garde Manger students in the Culinary Arts program. We produce a variety of charcuterie, air-dried hams, pickled vegetables and a large selection of fresh sausage.
The Boucherie is open during the fall and spring semester, Tuesday, Wednesday, and Thursday, 11:45 a.m.-12:45 p.m.
Out of an abundance of caution and keeping in line with SUNY Schenectady guidelines, we require all guests of the School of Hotel, Culinary Arts and Tourism wear masks while entering Elston Hall and when visiting the Casola Dining Room, Van Curler Room, Pane e Dolci and the Boucherie. Once seated, guests may remove their masks. If guests are exiting or otherwise moving around the facility, they must return to wearing their masks. Students, faculty, and staff will be wearing masks as directed by the college.