The Boucherie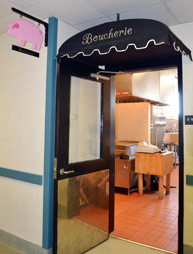 Fall 2020
The Boucherie Curbside
Boucherie is an artisanal charcuterie, salumeria and specialty market producing a wide range of hand crafted products produced in-house by our Garde Manger students in the Culinary Arts program. We produce a variety of charcuterie, air-dried hams, pickled vegetables and a large selection of fresh sausage.
The products made by our students in the Boucherie will be made available through our new take-out model of service for fall 2020. Products will be made available on select Tuesdays, Wednesdays and Thursdays. Preorders will be required for all products.
Preorder
Preorders are required for all Boucherie items. To order, please call 518-381-1429 between 9-10 a.m. on Tuesdays, Wednesdays, and Thursdays.
Please be patient with us as The Boucherie transitions into the new curbside pickup model. If you call our order line and get a busy tone, please hang up and try again within the ordering hour.
Please note: all retail outlets are closed the week of November 23.
Items Currently Available for Order
Box 1 - $10
2 Boneless Pork Chops
1 Pack Breakfast Sausage
1 Pack Italian Sausage
Box 2 - $15
2 Bone-In Pork Chops
2 Packs Italian Sausage
1 Pack Breakfast Sausage
1 Pack Tasso Ham
Box 3 - $20
2 Bone-In Pork Chops
2 Packs Italian Sausage
1 Pack Breakfast Sausage
1 Pack Tasso Ham
1 Pack Andouille Sausage
The College continues to work with SUNY, Schenectady County Department of Public Health, and the New York State of Department of Health. Our partnership with you is important to the College and our students.
Pickup Times
The Boucherie Curbside can be picked up:
Tuesdays
12-1 p.m. and 5-6 p.m.
Wednesdays
11:30 a.m.-12:30 p.m. and 6:30-7:30 p.m.
Thursdays
12-1 p.m.
Pickup Location
Pickup is in the parking lot in front of the Casola Dining Room entrance on SUNY Schenectady's Main Campus.