HCAT Internships
The School of Hotel, Culinary Arts and Tourism has a variety of internship opportunities available to our students. For over thirty years we have had a wonderful relationship with Walt Disney World in Orlando, Florida, as our students have interned there since 1983. At Walt Disney World, students spend one full semester on property working in the resort and taking classes. Since 1980 our students have had the opportunity to intern at Churchill Downs for the Kentucky Derby. Currently this internship is through Levy Restaurants of the Compass Group. Students spend one full week preparing for the most exciting two minutes in sports. These opportunities give our students world renowned, international events that they can include on their resumes for a lifetime. In addition, our students have two other formal internships with Spectrum Concessions of Houston, Texas and The Golub Corporation/Price Chopper Market 32. With Spectrum concessions, students work all over the United States during the summer months working at a variety of music festivals and golf tournaments. Some of the events include the Burning Man music Festival and the Byron Nelson Golf Tournament. Finally, within our Hospitality Tourism Management and Beverage Concentration degree programs, students are enrolled in internship courses that satisfy curriculum requirements of those programs.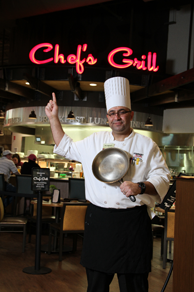 Golub/Price Chopper/Market 32
Price Chopper is proud of its tradition of partnering with the community to identify and foster the development of emerging food service industry leaders. With the inception of Market 32 by Price Chopper, excellence and expertise in culinary arts and nutrition have taken on an elevated and exciting emphasis. A cutting edge selection of in-store offerings gives students the opportunity to learn food preparation techniques and skills that coincide with a variety of ethnic and popular americana food programs. From take-home to restaurant-style, the options are endless. The decadent and tempting creations of the Market 32 Patisseriè, will keep any aspiring pastry chef's hands full. Bistro Boulevard and the Cooking School at Market Bistro are two other innovative culinary platforms, where students can engage guests, change roles from student to teacher, and impart their experiences to customers with a passion for food and cooking. Price Chopper enables successful careers in culinary arts, grocery merchandising, nutrition, and retail management through support and training programs that are second to none. With 136 stores in 6 states, and growing, we hold an important stake in the experiences of our customers and the health of our communities. Price Chopper and Market 32 is a destination place to learn and work.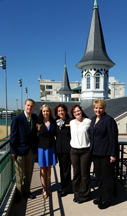 Levy Restaurants at the Kentucky Derby
The first Saturday in May, students assist with the food and beverage operations with Levy Restaurants for the "Run for the Roses" in Louisville, Kentucky. Since 1980, the students participate in the week's events preparing food, managing and supervising dining rooms on millionaires' row, and the concession stands and suites both in the infield and trackside, for the over 200,000 guests for Friday and Saturday. High volume is learned. Example of daily food prepared over 1,500 pounds of turkey and 1,500 pounds of shrimp orzo peso salad; another managed 20 corporate suites in the infield; six culinary students served a buffet to over 3,000 guests. Students on millionaires' row supervised a breakfast for 1,500, and then have an hour to reset the room for the buffet luncheons in three dining rooms that seat 2,600 guests. An alumnus wrote "Hands down one of the best things I experienced."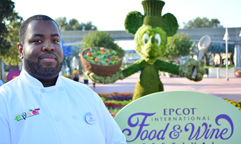 Walt Disney World College Program
Students have had the opportunity to work at Walt Disney World since 1983. Two programs are offered; a general program where roles are varied such as attractions, housekeeping, front office associates, and restaurant host. Interviews are conducted online. The second program is for culinary arts positions where the students are interviewed on campus by the Disney Recruiting Chef. Students are placed cooking at diverse locations in five star resorts, at the EPCOT Food and Wine Festival, and in the theme parks depending on their experience and talent. Students can take classes at Disney and earn a semester's credit for successfully passing the courses and completing their program. Alumni have made a career working at Disney in jobs such as Food and Beverage Manager of the Grand Floridian Hotel; Sous Chef at the Polynesian Resort; and Manager of Recruiting for the College Program.