James Larkin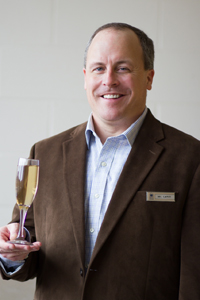 Associate Professor
larkinjp@sunysccc.edu
518-381-1244
Elston Hall, Room 514
Certificate, Hospitality and Tourism Management, Florida Atlantic University
B.S., Restaurant, Hotel, Institutional, and Tourism Management, Purdue University, West Lafayette, IN
A.A.S., Hotel and Restaurant Management, SUNY Schenectady County Community College
SUNY Chancellor's Award for Faculty Service 2021
Jay has been with Schenectady County Community College for 15 years. After earning his A.A.S. in Hotel Restaurant Management from SUNY SCCC in 1991, he continued his education while completing the Bachelor of Science in Restaurant, Hotel, Institutional and Tourism Management at Purdue University in West Lafayette, Indiana. Jay's drive and passion for hospitality provided many opportunities to manage a wide range of establishments. Upon graduation he managed 2 nightclubs near Purdue's campus before moving to Nashville, Tennessee to manage several fine dining locations at Gaylord Entertainment's Opryland Hotel. From Opryland, Jay moved to Ruth's Chris Steakhouse, managing both locations in Nashville and Memphis, Tennessee. In 1998 Jay relocated to Miami, Florida and began working for Ryder Transportation while applying years of customer service expertise he was promoted to sales and relocated back to the Greater Capital District. After almost 10 years of highly successful sales, marketing, and management, Jay could not pass up on an opportunity to come back to SCCC and teach to his passion in hospitality and beverage.
Jay's expertise and skills from guest service, training and development, and sales and marketing to beverage management and most importantly the responsible service of alcohol, are displayed daily whether at SUNY Schenectady or out in the field working a myriad of hospitality-based positions. Over the latter part of his tenure, Jay undertook the opportunity to author each of the following degrees Beverage Management Concentration A.A.S. degree, Craft Beer Brewing A.A.S. and certificate, and Craft Spirit Distillation A.A.S. and certificate at SUNY Schenectady. His continued certification by Health Communications Inc. to train and certify students and professionals in TIPS (Training in Prevention Services) or the responsible service of alcohol is invaluable to individuals and industry alike.
jay is a founding member of the Albany Food Alliance that pairs students with community volunteer opportunities, a member of the Board of Advisors for Blue Toad Hard Cider of Rochester, NY and is very active with the planning and execution of the Sips for Scholarships Craft Beverage Pairing Dinners in coordination with the Banquet Management and Quantitative Foods classes. The Sips for Scholarships events raise funds for scholarship in the beverage related programs at SUNY Schenectady.
Recent Creative/Scholarly Work/Publications
Authored Craft Spirits Distillation A.A.S., Fall 2017
Authored Craft Beer Brewing A.A.S., Summer 2015
Authored Hotel Restaurant Management Beverage Concentration A.A.S., Summer 2014