Assistant Chef certificate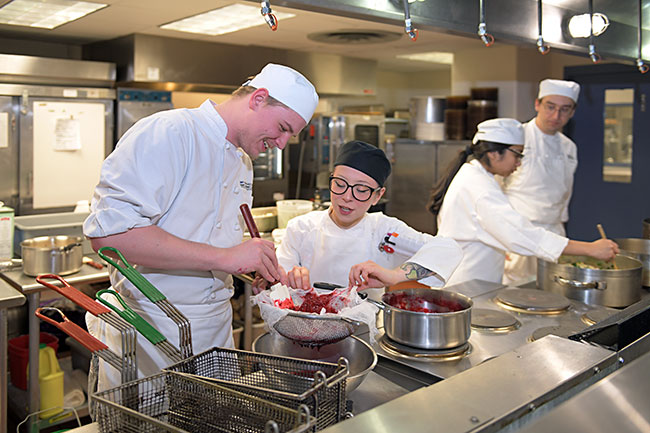 About the Assistant Chef Certificate
The School of Hotel, Culinary Arts and Tourism's primary mission is to provide quality education and technical training for students entering the Hospitality Industry. This will enable graduates to achieve success in hotel, culinary arts, and tourism professions.
Individuals may earn a certificate or an Associate's degree in their chosen field and/or have the opportunity to take specific courses of interest that will add to their specialized skills and personal knowledge, as well as assist them in managing a hospitality business.
The Assistant Chef Certificate program provides practical training in the restaurant and food service fields. Graduates are qualified for a number of positions, including assistant chef, commercial and assistant hospital food service worker and are able to work in colleges, schools, hospitals, nursing homes, industrial settings, restaurants and quick food services.
This one-year certificate program is designed for students wishing a shorter course of study than the two-year Hotel and Restaurant Management or Culinary Arts degree curriculum. Graduates of this program may transfer into the Hotel and Restaurant Management or Culinary Arts degree curriculum with a minimum loss of credit.
In addition to buying textbooks, students in the Assistant Chef program are expected to purchase uniforms ($100+) and a knife set ($200+). Hats and/or hairnets are required by the New York State Health Code. Students will be required to comply with the dress and sanitation requirements of the American Culinary Federation.
Note: The only jewelry permitted in cooking laboratories are wedding rings. No nail polish is allowed. Full uniform attire is required for any food preparation activity in all labs at all times. Specific details regarding the Policies for Food Laboratories are available from the School of Hotel, Culinary Arts and Tourism.
Degree Plan
See the degree requirements and suggested course sequence.
Degree Plan