Mobile Food Service certificate
About the Program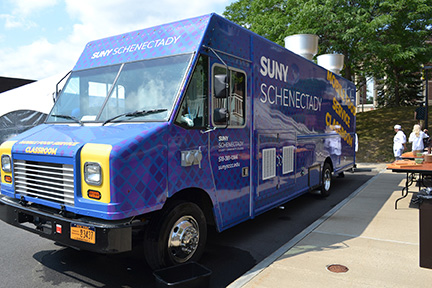 The Mobile Food Service Certificate program was developed in response to the expanding food service industry and the growth in the hospitality and restaurant industry in the Capital District and beyond. The 26 credit certificate program will provide students an education that will prepare them to work in the mobile food service industry.
The Mobile Food Service Certificate program prepares students for immediate employment. Students will acquire the knowledge and skills critical to working in and operating a mobile food service operation. Specifically, students will build skills in planning, preparing, and providing food service in a mobile setting. Students participating in the program will put their craft to the test in a state-of-the-art SUNY Schenectady food truck, while working at events around the region.
Find the Food Truck - Fall 2023
Frogtoberfest
Saturday, September 30
2:00-8:00 p.m.
Frog Alley Brewing, 108 State Street, Schenectady
Electric City Trucks, Taps, Corks and Forks
Saturday, October 7
12:00-4:00 p.m.
Via Port Rotterdam, 93 W Campbell Road, Rotterdam
College Awarded Third Place in the Inaugural Tater Trot
Our sweet potato beignet over coconut and yellow jack fruit cream with pistachio dust placed third at the first Tater Trot! Read about it in the Daily Gazette.
College Awarded "Best Presentation" at Schenectady Soup Stroll!
Our delicious Tokyo Style Shoyu Ramen was a big hit during the popular Schenectady Soup Stroll. Soup lovers gave rave reviews to the delicious ramen, prepared by Chef Gio Lontoc and Culinary Arts students Ngambela Zulu and Desiree Larrivee and served from the College's Food Truck. Judges awarded the College "Best Presentation!"
Degree Plan
See the degree requirements and suggested course sequence.
Degree Plan