Van Curler Room
Spring 2021 Update
The School of Hotel, Culinary Arts and Tourism is extremely proud of our banquets and special events (the Van Curler Room). Under normal circumstances, this wonderful student run operation provides our students hands-on, real world experience. This spring, to ensure the safety of our students, faculty, staff, and the community, we have transitioned to a combination of a parcel pick-up and live on-campus culinary laboratory model. Therefore, our retail operations have been temporarily suspended for the Spring Semester. We apologize for any inconvenience. Please check back here for updates.
Host Your Event at SUNY Schenectady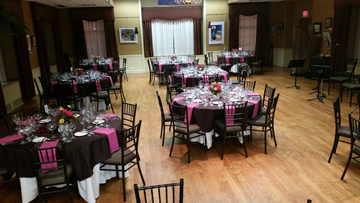 Do you have the responsibility or opportunity to plan a banquet for your company, seniors group, or club? We are pleased to announce that the School of Hotel, Culinary Arts and Tourism also schedules banquets for groups between 30 and 100 guests.
Menus will be designed especially for your group and prepared and served by our students. A three-course meal is served. A social hour can be added at an additional cost. Of course, you may bring in your own wine and we will be happy to serve the wine to your guests.
The cost of the banquet is $18.00 per person for lunch and $20.00 per person for dinner. All prices are subject to a 15% surcharge and applicable sales tax.