Chefs for Success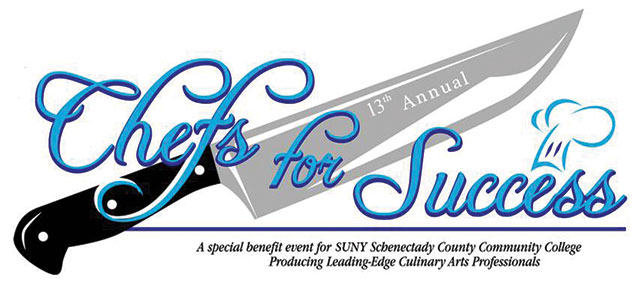 Join celebrity guest chefs from around the Capital Region for an evening of food stations, cocktails and a silent auction to raise funds for student scholarships!
Tuesday, October 25
6-9 p.m., Van Curler Room
Tickets: $75 per person
Purchase Tickets to Chefs for Success
Guest chefs/menu for the night:
Adam Foti, PDT Market

Spaghetti Amatriciana with Parmigiana Frico
Chicken Francese with Robuchon Potatoes

Cody Nguyen, JO Restaurant Group

Cheeseburger Sliders
Beet and Apple Tartare

Sue Hatalsky and Vanessa Traver, SUNY Schenectady

Assorted Bonbons
Salted Caramel Sweet Potato Cake
Hazelnut Chouquette
Miniature Raspberry Bavarian Tart

Justin Tran, Ziemann Hospitality

Pork Belly Burnt Ends
Pimento Creamed Corn / Pickled Pepper Relish / Sesame Chicharrons
Pecan Salmon
Ginger Butter Sweet Potato / Citrus-Soy Molasses Glaze

Aneesa Waheed, Tara Kitchen

Moroccan Cigars with Lamb
Couscous with Vegetable Tagine and Onion Jam

David Zuckerman, Mazzone Hospitality

Barolo Braised Short Rib
Castelvetrano Olive Relish / Risotto Alla Norma / Ricotta Salata
Butternut Squash Whole Wheat Gnudi
Porcini Mushroom Ragu / Maple Sugar Pepitas / EVOO / Shaved Pecorino
Romano
At this time, masks are not required. Social distancing requirements remain in effect. Individuals who wish to wear a face mask or face covering may do so at their own discretion. Unvaccinated individuals are strongly encouraged to wear a face mask or covering.