Mobile Training for the Modern Workforce
Providing Career-Focused Learning Opportunities Right to Industry's Door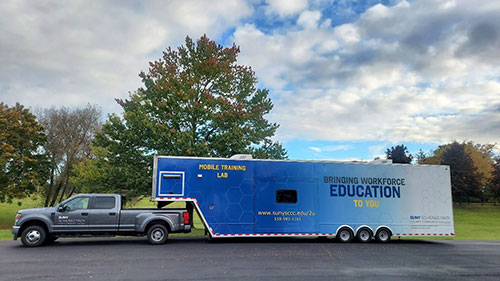 Sending employees off-site for training costs time and money. Now, we can bring the classroom to you! Our new mobile labs allow you to access training programs built with your workforce in mind, including technical, professional and interpersonal competency skills enhancements.
The labs are fully equipped classrooms with a variety of advanced manufacturing and healthcare focused tools designed to assist with onboarding, upskilling, promoting, and retaining your workforce.
Each mobile lab includes:
State-of-the-art classroom space with laptops
Interior and exterior large-screen training monitors
Self-powered, climate controlled, and Wi-Fi enabled workspace
Easy entrance and accessibility
Capacity for up to 12 students and one instructor
Advanced Manufacturing
This lab has customized equipment to provide a variety of manufacturing workshops, including a Motion AI Collaborative Robot, 3D printer, SolidWorks, and interactive learning lab panels for electrical wiring, variable frequency drives, safety lock-out/tag-out, and electrical controls hands-on training. In addition, workshops are provided for customer service, supply chain and logistics, cyber security awareness, and leadership in business.
Healthcare
This lab features equipment and training modules for phlebotomy, and EKG. Prepare or upskill your workforce with essential healthcare skills, trauma-informed care, safety and ergonomics for healthcare works, anatomy and physiology, and medical coding and billing.
Career-Based Introduction for K-12 and Community Education
We are proud to be in our community:
Inspiring young people to become the next generation's healthcare and manufacturing workforce
Generating awareness among high school and middle school students
Supporting and encouraging community members to understand pathways to great careers in healthcare and manufacturing
To learn more or schedule training at your location, please contact the SUNY Schenectady Workforce Development and Community Education office at 518-595-1101, Ext 3.