Global Business and Transportation Microcredential
What is a Microcredential?
Whether you are looking to upgrade skills in your current profession or enter a new field, a microcredential may be for you. Microcredentials are short, industry-focused credentials designed to provide in-demand skills that reflect the "shop floor" needs of industry. They are accelerated or "bite sized" training opportunities focused on a specific professional or career discipline and can lead to a certificate or to an initial or advanced degree.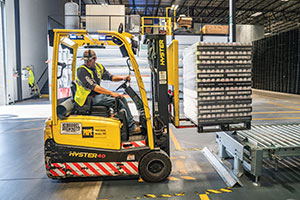 By completing SUNY Schenectady's supply chain-focused microcredential in Global Business and Transportation, graduates will benefit from a holistic learning model and acquire the necessary skills to position themselves in a supply chain operations career. Classes are offered online in accelerated 8-week semesters and can be applied to the Supply Chain Management A.A.S. degree program.
Global Business and Transportation Microcredential Courses
COURSE DESCRIPTION:
This course introduces students how to deliver the right product/service to the right customer at the right time, right location, and the right price. This course provides the fundamental concepts and principles needed to succeed in manufacturing and/or service operations. Topics covered include productivity, project management, forecasting, managing quality, location and layout planning, supply-chain, inventory management, optimization, queuing, and simulation.
COURSE DESCRIPTION:
This course introduces the importance of effective inventory control and warehousing operations as a potential major source of competitive advantage to an organization. Topics include the basics of production planning and control, forecasting, the fundamentals of inventory management, the physical inventory and warehouse management functions, effective distribution systems, and how operating planning and control systems relate to just-in-time and lean production.
COURSE DESCRIPTION:
This course explores the role of transportation as a critical link in global supply chain management. Topics covered include an examination of the external forces impacting supply chain management, the various modes of transportation and their current operations, and the various critical transportation management issues and challenges facing today's supply chain managers.
COURSE DESCRIPTION:
This course introduces the dynamic nature of supply chain management (SCM) for global products and services. Topics covered include developing and executing global sourcing strategies, the primary process flows of SCM, how/why superior customer service depends on high quality products, processes and services. Other topics include integrated replenishment, inventory management techniques, lean logistics, performance measurements, information management and integrated e-commerce technology deployed in a highly competitive global market.
Learn More
To learn more about the Global Business and Transportation Microcredential, please reach out to the Office of Workforce Development and Community Education at 518-595-1101 or wilsons@sunysccc.edu.