Workforce Development and Community Education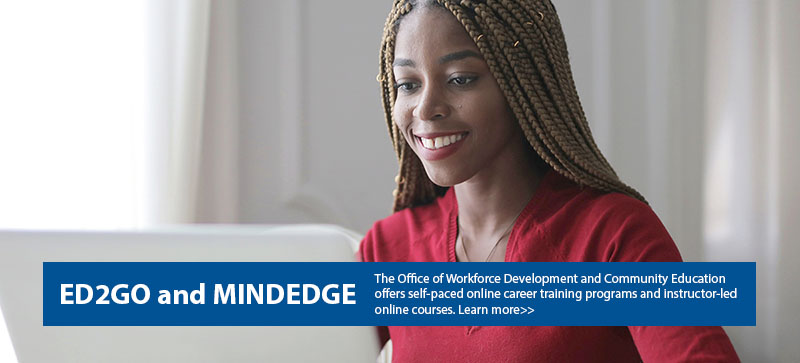 Spring 2022 Registration is Now Open!
Most of the Spring 2022 Community Education courses will be in person. In addition to our usual online course offerings, a few additional classes will be offered online. For in person and hybrid courses, students must follow all COVID-19 protocols.
If you have any questions, please contact the Office of Workforce Development and Community Education at 518-595-1101, ext. 3 or 4. Please make sure to leave a message and our staff will contact you as soon as possible.
COVID Response
A student vaccination mandate is now a requirement for all SUNY campuses. All students with at least one in-person class or who come to campus for any purpose must provide proof of receiving a full vaccination series. This includes, both doses of either Pfizer or Moderna or one dose of the Johnson & Johnson vaccine at the time of registration.
For the Spring 2022 semester, students must get their booster within 30 days of the timeline for the vaccination they received. For Moderna that is six months from their vaccination date, for Pfizer it is five months, and for Johnson and Johnson that is two months. For example, if you completed the Moderna vaccination on September 10, 2021 you must get the booster on February 10, 2022 or within 30 calendar days of that date. Search for a COVID-19 vaccination location. Find information about medical and religious exemptions. Vaccinated students are required to complete COVID pool-testing monthly.
Until further notice, face masks are required in all in-person classes at all SUNY Schenectady locations. This policy aligns with masking requirements at all Schenectady County buildings, and complies with the Centers for Disease Control (CDC) recommendation of universal indoor masking for all faculty, staff, students, and visitors to colleges, regardless of vaccination status.
The COVID-19 pandemic prompts the need for this additional required syllabus statement. While a temporary mandate, and although no end date has been established, this policy remains in effect "until further notice."
This mandatory mask policy applies to all instructors and students and is key to safely maintaining in-person teaching and learning at SUNY Schenectady, and is detailed completely in the Student Code of Conduct.
The following rules apply:
The required mask must fully cover both one's nose and mouth.
Students who attempt to enter a classroom without wearing masks will be asked by the instructor to put on their masks prior to entering.
Students who remove their masks during a class session will be asked by the instructor to resume wearing their masks.
Students and instructors may remove their masks briefly to take a sip of water but should replace masks. The consumption of food will not be permitted.
Students who do not comply with the expectation that they wear a mask in accordance with the College-wide face mask requirement may be subject to disciplinary actions per the rules, regulations, and policies of SUNY Schenectady, including but not limited to those outlined in the Student Handbook. Non-compliance with this policy may result in disciplinary action, up to and including any of the following:
dismissal from the course (s)
dismissal from the College
Learning is Lifelong
At SUNY Schenectady County Community College, we offer something for everyone from craft beer to healthcare to computers and art with a focus on career and personal development programs as well as enrichment offerings.
Workforce development training helps you thrive in our economy. Choose from a variety of career programs to prepare you for jobs in healthcare, logistics or business. Classes are led by expert instructors, many who work in the fields they teach. We also partner with local and regional businesses to fulfill training needs by offering customized classes to develop employees' knowledge, skills, and abilities or prepare them for advancement into more challenging roles.
Experience creative programs for kids and teens or personal enrichment classes that are fun, affordable, and designed for adults and seniors with varying interests. Whether your interest is in music, culinary, fitness, or sewing, meet others with similar passions and expand your horizons.
Checkout our Tools for Success boxes below for more details!