Music Alumni Profiles
School of Music Alumni
Marc Astafan '86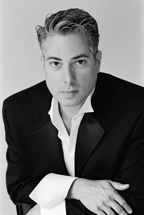 Marc Astafan is a respected director, educator, mentor and coach who has dedicated most of his career to the development of young opera singers in the United States. He is the Administrator of the Bonfils-Stanton Foundation Artists Training Program, part of the Central City Opera, the nation's fifth-oldest opera company, located in Colorado.
Marc's career took off in 1994 at the New England Conservatory, where he eventually became the Resident Stage Director and Director of Productions, and continued teaching classes in acting, stage technique, directing and scene study until 2008. He made his official directing debut with The Magic Flute at the Eugene Opera in Oregon in 1996. Many engagements followed, most notably productions at Central City Opera, Virginia Opera, Nevada Opera, Opera Delaware, Anchorage Opera, and Syracuse Opera. He has also been guest director and teacher at The Juilliard School, Temple University, Florida State University and The University of Southern California. He has been a director and teacher at Central City Opera, Santa Fe Opera, Pittsburgh Opera, Chautauqua Opera, Music Academy of the West, Bay View Music Festival, Atlantic Coast Opera Festival and The Tanglewood Music Center.
Marc's New York debut came in 1999 when he directed and choreographed The Magic Flute on the site of the Egyptian Temple of Dendur at The Metropolitan Museum of Art with the Opera Orchestra of New York. From 2000 to 2002, he directed The Met's revivals of Tosca and Le Nozze di Figaro. Since then, he has continued to direct critically acclaimed productions across the country.
After graduating from SUNY Schenectady, he went on to earn his B.S. in Music Education with a concentration in Voice from the College of Saint Rose and his Master's degree in Musical Theatre with a concentration in directing from the Boston Conservatory of Music.
Mike Fansler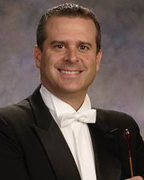 Mike Fansler (1990) is Director of Bands and conductor of the Wind Ensemble and Chamber Winds at Western Illinois University, where he also teaches graduate wind conducting and literature and various undergraduate music education courses. He joined the faculty in 2001 and is currently Professor of Music.
After graduating from SUNY Schenectady in 1990, Mike continued his education at James Madison University, Syracuse University, and the University of Illinois at Urbana-Champaign. He has held teaching positions at Idaho State University, Mars Hill College (NC), and Sullivan East High School (TN). He cites his main musical influences as James F. Keene, Daniel Schmidt, Larry Clark, Ronald Caravan, Gunnar Mossblad, Merry FitzRandolph, and William Meckley.
Dr. Fansler has conducted in Australia, Brazil, Germany, Holland, and throughout the United States, where has made guest adjudicating and conducting appearances with numerous high school and honor bands. He has lectured on the music of Percy Grainger at the Midwest Clinic and received a grant to visit the Grainger Museum in Melbourne to further study Grainger's music and life. During a sabbatical in 2012, Dr. Fansler taught and lectured at the Universidade Federale de Bahia, the Colégio Militar de Salvador, and the Universidade Católica de Salvador during a month long residency in Brazil.
Under his direction, the Western Illinois Wind Ensemble has performed internationally (Brazil) and been featured at the Illinois Music Educators Association All-State Conference, the College Band Directors National Association's North Central Conference, and twice at the prestigious Armour Stage in Chicago's Orchestra Hall. Together, the wind ensemble and he have released five compact discs: "Live in Chicago" (2006), "Till Eulenspiegel" (2007), "The Promise of Living" (2008) "Words of Love" (2010), and "IV" Maslanka's fourth symphony (2012).
Christopher Gotzen-Berg '99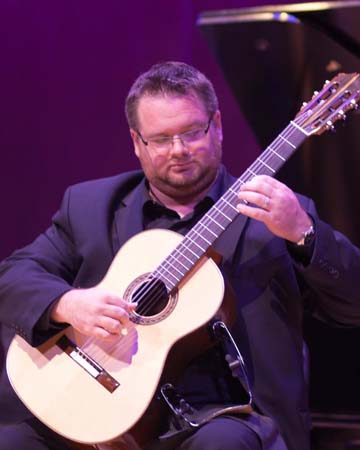 Christopher Gotzen-Berg is a Professor of Classical Guitar at Molloy College. Christopher instructs weekly private lessons, coaches guitar ensembles and the Molloy Guitar Quartet, and teaches courses in Sibelius and Finale music notation software.
He has performed throughout New York state including at the Linda Morris Auditorium, First Night Binghamton, the YMCA Boulton Center and the Lake George Music Festival. He has also won an ASCAP award for the compositions on his debut album "The Lingering Look" (WEPA Records). Christopher holds B.M. and M.M. degrees in Guitar Performance from The Crane School of Music at SUNY Potsdam and is NYS Teacher Certified in Music.
Paige Wroble Martin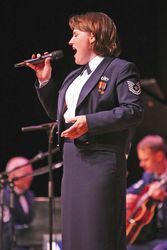 Technical Sgt. Paige Caroleen Martin is featured vocalist with the Airmen of Note, The United States Air Force Band, Washington, D.C. A native of Broadalbin, N.Y., Sergeant Martin's career in the Air Force began in 2003.
Before joining the Air Force, Sergeant Martin attended SUNY Schenectady County Community College, where she was the featured vocalist with the SUNY Schenectady Jazz Ensemble, the Vocal Chamber Ensemble and the Empire Jazz Ensemble. Also, she was the Vice President SUNY Schenectady's MENC chapter from 1993 to 1994. She continued on to Maryville College in Maryville, Tenn., where she pursued a Bachelor of Arts in vocal performance. She was the featured vocalist with the MC Jazz Band and Concert Band, a soloist with the MC Concert Choir and a guest vocalist on a faculty jazz recital with Professor Larry Smithee. Sergeant Martin has appeared with the Knoxville Opera Company and has been a featured soloist with the East Tennessee Jazz Orchestra and the Oak Ridge Chorus. In 2002, Sergeant Martin was selected to perform in the MACCO Showcase of Area Artists.
Sergeant Martin's Air Force career highlights include sharing the stage with artists such as Tierney Sutton, Karrin Allyson, Duffy Jackson, Ron Carter, Phil Woods, Kirk Whalum, Rufus Reid, Kurt Rosenwinkel, NY Voices and Al Jarreau.
Ariane Miyasaki '07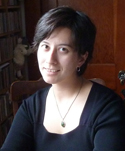 Composer Ariane Miyasaki's composition "Hindsight" is featured on celebrated tuba performer Beth McDonald's new CD "Still: Music for Tuba and Electronics." After graduating from SUNY Schenectady, Ariane received her bachelor's degree from the Crane School of Music at SUNY Potsdam and a Master of Fine Arts degree in composition from the Vermont College of Fine Arts. Based in Schenectady, Ariane regularly performs on flute with the Capital Region Wind Ensemble.
Dane Orr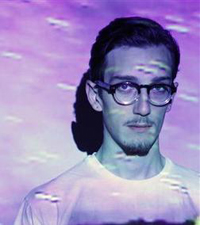 Dane Orr (saxophone) earned a Bachelors degree in Electronic Production and Design from the Berklee College of Music. He composes and arranges music for his band, Sonnymoon, which has released several albums and videos. Sonnymoon has toured throughout the U.S. and has performed at events sponsored by the band Roots (featured band on Jimmy Fallon's show).
You can see Sonnymoon's music video "Kali" on YouTube.
Townsend Plant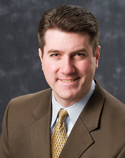 Townsend Plant is Director of Admissions and Assistant Dean for Summer and Preparatory Programs at the Ithaca College School of Music. After graduating from SUNY Schenectady with a Music Certificate and an A.S. in Performing Arts: Music, Townsend earned bachelor's and master's degrees in classical guitar performance from Ithaca. He also earned a Doctor of Musical Arts degree in classical guitar performance from the Eastman School of Music. Prior to Ithaca, Townsend served as Director of Admissions at the Jacobs School of Music of Indiana University and as Associate Provost at the University at Binghamton.
Charlie Post '93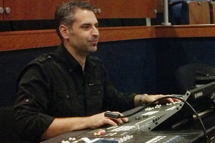 Charlie Post is Senior Audio Engineer at Tanglewood during the summer. Charlie records concerts in Seiji Ozawa Hall, provides live sound reinforcement at the Koussevitzky Music Shed and supervises a crew of audio engineering Fellows of the Tanglewood Music Center. This season he recorded the Tanglewood Music Center Orchestra performance of Brahms, Schubert and Strauss's Also Sprach Zarathustra tone poem. Portions of the concert were broadcast on WBGH in Boston, as well as on NPR affiliates throughout the Northeast. After SUNY Schenectady, he earned a B.S. in Sound Recording Technology and a B.A. in Music Applied (saxophone) from SUNY Fredonia. During the year, he lives in Miami, Fla., recording, producing and editing classical recordings under his company PostProductions Audio. He also works as a freelance audio engineer, mixing shows at concert halls and theaters throughout the greater Miami area.
Keith Pray '93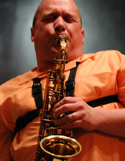 North Country native saxophonist Keith Pray has been performing professionally since the age of 16. During his career, Keith has had the opportunity to perform in many different genres and with hundreds of professional groups. Keith has performed with Benny Golson, Mark Vinci, Temptations, Empire Jazz Orchestra, Alex Torres' Latin Kings, Cole Broderick Quartet, Caged Monkey, L.O.S. and many others.
Beginning his saxophone studies at age 15, Keith went on to study music at SUNY Schenectady County Community College studying with Bill Meckley, Brett Wery and John Aasmunstad. After graduating he transferred to the Crane School of Music (SUNY Potsdam) and studied with Robert Faub and Brett Zvacek. After receiving his degree, Keith began honing his skills in the Capital District. After 4 great years Keith decided it was time to move on to New York City.
Keith has finished his masters degree in Jazz Performance at the Aaron Copland School of Music where he studied with Antonio Hart, Mark Vinci, Sir Roland Hanna, Michael Mossman and Todd Williams.
Keith recently released his first CD under his own name entitled "Rhythm of the Blues." He is currently teaching and performing around the Northeast, including several regional festivals, most recently the Freihoffer's Jazz Festival at SPAC. He has since released several additional CD's including "Confluence" in 2012.
Currently teaching music in the Schenectady City Schools, Keith also serves as an adjunct instructor at SUNY Schenectady and is Director of the Proctors Theatre Summer Jazz Camp.
Paul Riker '00
Paul Riker '00 completed his Bachelor's degree in Music at SUNY Potsdam in 2002 and received his Master's Degree in composition from Queens College, CUNY in 2005. He served on the faculty of Queens College's music department from 2006-2009. He is working on his Ph.D. dissertation at the CUNY Graduate Center.
Paul is currently living in Saudi Arabia with his family where he is employed as the Audio Systems Developer for the Visualization Laboratory at King Abdullah University of Science and Technology. Paul develops audio software solutions for immersive virtual reality systems with as many as 64 channels of surround sound. He also works with scientists from fields including genetics and fluid dynamics to use sound as a means to reveal important properties of their data.
Paul is also an active composer of concert and film music, with recent performances and screenings in New York City, NY; Onasbruck, Germany; Jeddah, Saudi Arabia; Vancouver, B.C.; and Zurich, Switzerland.
Read the SUNY Blog feature about Paul.
George Seror III '99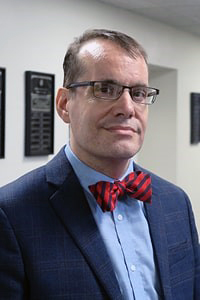 Classical guitarist George Seror III currently serves as Assistant Professor of Psychology at Dickinson State University in Dickinson North Dakota, where he teaches and conducts research. His current research focuses on music cognition and auditory perception, with previous work in visual attention, memory, and learning. View links to his published work. For more information on music cognition research, visit the Society for Music Perception and Cognition.
George holds degrees in Music Performance and Music Business from SUNY Schenectady County Community College, where he studied classical guitar with Sten Isachsen and Joel Brown, and later studied with Paul Quigley. He received a Bachelor of Arts with honors in Music and Psychology from the University at Albany, and went on to receive an M.A. and Ph.D. in cognitive psychology. While completing his Ph.D. at the University at Albany, he also served as artist in residence in the music department, where he mentored guitar performance majors and performed recitals. In addition to his academic work, he continues to perform regularly as a solo guitarist and chamber musician.
Joshua Thompson '06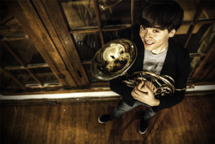 Joshua Thompson has performed with the Schenectady Symphony Orchestra, West Hartford Symphony Orchestra, Nutmeg Symphony Orchestra, Lake George Chamber Orchestra, Capital Region Wind Ensemble and the Brass City Brass. He is the Associate Conductor of the Gloversville Civic Band, a professional concert band. He founded the Gloversville Symphonic Brass, an ensemble comprised of professional musicians from the Northeast who volunteer their time to raise money for organizations like the Capital District Cancer Resource Center and other groups that promote the arts in our communities.
In March 2011, Joshua was named a winner of the Northeast Horn Workshop solo competition, at the University of New Hampshire. The finalist panel was Hermann Baumann and Bernhard Scully. He also was a semi-finalist of the 2011-2012 Paranov Concerto competition at the Hartt School.
He can be heard on the Hartt School's upcoming Naxos recording, performing principal horn on Susan Botti's Terra Cruda. Joshua has performed for many renowned composers and musicians including Julie Landsman, W. Peter Kurau, David Jolley, Jennifer Higdon and William Bolcolm.
While attending SUNY Schenectady, Joshua studied horn with Ronald Patrick. He also performed as a member of the SUNY Schenectady Wind Ensemble, Capital Region Wind Ensemble and University Symphony Orchestra, under the direction of Dean Brett L. Wery.
After graduating from SUNY Schenectady, Joshua earned his bachelor's degree in Music Education from the College of Saint Rose, where he studied with Patrice Malatestinic. He then went on to earn his master's degree in horn performance from the Hartt School in West Hartford, Conn., where he holds a graduate assistantship in the horn studio. He plans to co-teach a class in horn technique at the Hartt School.
Michele Von Haugg '98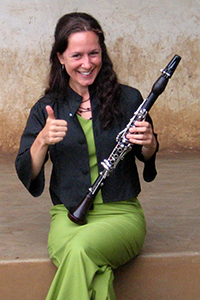 Watch Michele discuss Clarinets for Conservation on Mountain Lake PBS.
Michele Von Haugg is Founder and Director of Clarinets for Conservation, an interdisciplinary program designed to teach conservation through music education. She has taught and performed in Tanzania as part of the program, raising awareness of the native wood, Mpingo, used to manufacture clarinets and other woodwind instruments. She was also a member of the prestigious Air Force Band of Liberty.
Michele completed the Doctor of Musical Arts degree from Arizona State University, where she studied clarinet with Robert Spring. Prior to her doctoral studies she earned a Master's degree from the New England Conservatory and a Bachelor's degree from Ithaca College. While at SUNY Schenectady, she was a clarinet student of Dean Brett Wery.