Joseph Han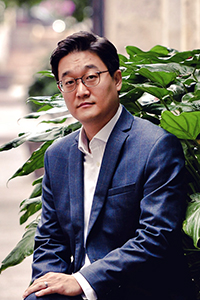 Instructor
(full-time: voice)
hanj@sunysccc.edu
518-381-1233
School of Music, Room 205
D.M.A., Stony Brook University
M.M., Carnegie Mellon University
B.M., Seoul National University
Joseph Kyungjin Han is an active performer and has a well-established international career. His professional engagements have reached audiences throughout the United States, Italy, France, Mexico, Japan, Taiwan, and Korea. He made his solo debut at Carnegie Hall with the Philharmonia Boston Orchestra String Players and made an appearance at Lincoln Center.
He recently made his debut in Mexico as the title role of Puccini's Gianni Schicchi with the International Summer Opera Festival of Morelia (ISOFOM) and Michocán Symphony Orchestra. He also performed with the Riverside Choral Society under the baton of Patrick Gardner. During the summer of 2018, he joined Teatro Nuovo as an apprentice artist, performing the role of the Count in Mozart's Le Nozze di Figaro under the direction of Will Crutchfield. He has held professional fellowships with SongFest, Académie d'Eté de Nice, Russian Opera Workshop at AVA, Baroque Opera Workshop, and Ezio Pinza Council for American Singers of Opera (EPCASO). He has performed with numerous opera companies and programs including Teatro Nuovo, ISOFOM, dell'Arte Opera Ensemble, Stony Brook Opera Theatre, Russian Opera Workshop at AVA, New York Lyric Opera, ConcertOPERA Philadelphia, Undercroft Opera, and Carnegie Mellon Opera.
He is also passionate about singing contemporary music by living composers. He performed Perry Goldstein's Late Night Thoughts from the V.A. at the New Music and Culture Symposium at SUNY Albany, and a piece based on award-winning author Ben Loory's short story The DUCK, composed by Nathan Hudson, at Stony Brook University.
Dr. Han has been awarded numerous prizes, including first prizes in the Manhattan International Music Competition and in the National Association of Teachers of Singing Competition, and second prize in the East Coast International Competition.
Dr. Han is very interested in the history and traditions of singing, and during his doctoral studies, he presented a lecture-recital tying current pedagogical trends with the seminal teachings of Manuel García. Previously, he served as an adjunct professor at Point Loma Nazarene University in San Diego and also taught undergraduate students at Carnegie Mellon University and SUNY Stony Brook. He received certificates in choral conducting and vocal pedagogy at Westminster Choir College.