Joseph Han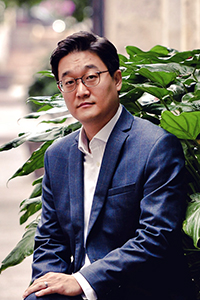 Assistant Professor
(full-time: voice)
hanj@sunysccc.edu
518-381-1233
School of Music, Room 205
D.M.A., Stony Brook University
M.M., Carnegie Mellon University
B.M., Seoul National University
Joseph Kyungjin Han is a dynamic and versatile opera singer, conductor, and esteemed college professor, recognized for his exceptional talent and international achievements. With a captivating stage presence and powerful performances, he has enthralled audiences across the globe, including the United States, Italy, France, Mexico, Japan, Taiwan, and Korea.
Notably, Joseph recently embarked on a successful journey to Mexico, where he shared his expertise as a masterclass instructor and lecturer on Korean art song, diction, and International Phonetic Alphabet (IPA) at the prestigious National Conservatory of Music in Mexico City. He also showcased his remarkable vocal abilities by delivering a captivating portrayal of the role of Papageno in Mozart's opera, The Magic Flute, at the International Summer Opera Festival of Morelia (ISOFOM). Additionally, he collaborated with esteemed pianist Antonio Santoyo for a poignant Schubert's Winterreise recital at the Conservatory de las Rosas in Morelia.
Joseph's artistic journey has seen him grace renowned stages such as Carnegie Hall, Lincoln Center, and the Nice Acropolis in France. He made his solo debut at Carnegie Hall with the Philharmonia Boston Orchestra String Players and has received engagements with esteemed organizations including the Riverside Choral Society under the baton of Patrick Gardner. He has also been a distinguished fellow of prestigious programs such as Teatro Nuovo, SongFest, ISOFOM, dell'Arte Opera Ensemble, Académie d'Eté de Nice, Russian Opera Workshop at AVA, Baroque Opera Workshop, and Ezio Pinza Council for American Singers of Opera (EPCASO).
Beyond his artistic pursuits, Joseph holds prominent positions within the music community. He serves as the Vice President of the Eastern New York Chapter of the National Association of Teachers of Singing (NATS) and actively participates in the American Choral Directors Association. A dedicated and gifted educator, Joseph has imparted his knowledge and expertise to undergraduate students at Carnegie Mellon University, SUNY Stony Brook, and Point Loma Nazarene University in San Diego, where he served as an adjunct professor. He holds certificates in choral conducting and vocal pedagogy from Westminster Choir College. Currently, he holds the position of Vocal Area Coordinator and Choral Director at SUNY Schenectady and shares his vocal expertise with musical theatre students as a Lecturer at SUNY Albany.