Early Childhood A.A.S.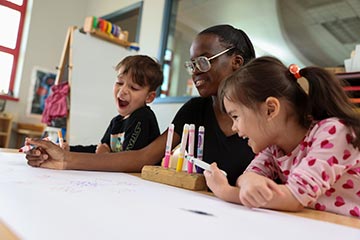 The Early Childhood A.A.S. program's role is to guide individuals in acquiring the knowledge and skills necessary to foster the development and constructive education of young children. The program strives to model and promote high quality early childhood education in the community.
Graduates of the program are qualified to work with children ages birth to 8 years in a number of environments including preschools, nursery schools, daycare, public schools, early intervention agencies, and Head Start. The hands-on approach to the curriculum requires students to participate in 300 hours of supervised internship in area schools and/or agencies. In addition, students interact regularly with the children in the SUNY Schenectady Integrated Laboratory Preschool, an on-site lab school.
The program prepares graduates to:
Goal I: Demonstrate professional knowledge of early childhood development.
Identify the major milestones of social, emotional, physical, language and creative development in young children
Analyze and evaluate the major theoretical perspectives of childhood development
Identify, analyze and evaluate current research in the area of child development using a variety of print and electronic resources
Analyze the ways in which culture, society and (chronology) integrally inform typical and atypical development
Goal II: Plan, implement, assess and evaluate a developmentally appropriate curriculum that aligns with standards set forth by National Association for the Education of Young Children, New York State Early Learning Guidelines and The Common Core.
Design environments and curriculum in accordance with NAEYC Standards, NYS Early Learning Guidelines (ELG) and The Common Core
Demonstrate an ability to apply and utilize research-based methods of instruction and teaching strategies designed to optimize early childhood education
Assess and evaluate early childhood physical and social-emotional environments
Goal III: Demonstrate the skills and abilities of the effective early childhood teaching professional.
Observe and document the characteristics of a child's development as well as the learning environment in order to authentically assess each
Critically evaluate information regarding child development and early childhood education best practices to inform decision-making processes
Communicate effectively within academic, community and/or professional environments both orally and in writing using appropriate English conventions
Goal IV: Demonstrate an understanding of the role of the early childhood professional dedicated to ethical practice and cultural responsiveness.
Analyze and apply the Core Body of Knowledge (CBK) conceptual framework
Investigate early childhood professional organizations
Identify and demonstrate ethical standards and professional guidelines put forth by NAYEC and SUNY Schenectady respectively
For more information on our Early Childhood Education programs please view the degree requirements and contact:
Professor Tammy Calhoun
Gateway, Room 131
518-381-1295
calhoutb@sunysccc.edu
Professor Deb Ahola
Gateway, Room 130
518-381-1402
aholada@sunysccc.edu.
NOTE: all students enrolled in ECH 131 Early Childhood Field Instruction and Seminar I and ECH 231 Field Instruction and Seminar II will need to supply the following before entering the field:
A notarized Criminal Conviction Statement;
A signed "I Will" statement to uphold the NAEYC Code of Ethics and SUNY Schenectady Early Childhood Professional Behaviors;
Medical evidence of his/her ability to work with children and a negative TB result dated within one year.
Degree Plan
See the degree requirements and suggested course sequence.
Degree Plan