Early Childhood certificate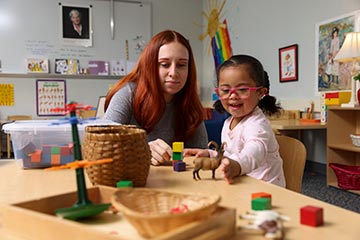 This Early Childhood Certificate is designed to prepare students who wish to work with children from birth through 8 years of age in a variety of early childhood environments. The courses provide an understanding of the developmental needs of children along with specific skills for working with children. In addition, there is a work experience in which students spend eight hours per week working directly with children in a supervised setting. This program can also serve as a "stepping-stone" for those who want to pursue an Early Childhood A.A.S. or A.S. degree in a related field.
For more information on our Early Childhood certificate program please view the degree requirements and contact:
Professor Tammy Calhoun
Gateway, Room 131
518-381-1295
calhoutb@sunysccc.edu
Professor Deb Ahola
Gateway, Room 130
518-381-1402
aholada@sunysccc.edu.
Note: All students enrolled in ECH 131 Early Childhood Field Instruction and Seminar I will need to supply the following before entering the field:
A notarized Criminal Conviction Statement
A signed "I Will" statement to uphold the NAEYC Code of Ethics and SUNY Schenectady Early Childhood Professional Behaviors
Medical evidence of his/her ability to work with children and a negative TB result that is dated within one year from matriculation in ECH 131.
Degree Plan
See the degree requirements and suggested course sequence.
Degree Plan