Alumni Profiles
Division of Business, Criminal Justice and Law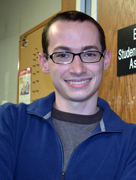 Daniel Pierce '16
Daniel Pierce has a drive to help people when they need it most and satisfy his need for being in the midst of the action at the same time. "I want to have the ability to help people in dire circumstances when they desperately need the help and can't provide for themselves," he said. Daniel graduated from the Emergency Management Program in 2016 and plans to transfer to Russell Sage College to pursue a bachelor's degree in Nursing. His plan is to enter the field of emergency or trauma nursing. Daniel was the 2015-2016 President of the SUNY Schenectady Student Government Association, and the featured speaker during the Spring 2016 Commencement.

School of Hotel, Culinary Arts and Tourism
Maxwell Ansong '99
Born in Accra, Ghana, Chef Maxwell Ansong was in a Diplomatic position in his home country and traveled to many countries, including Serra Leone, Tanzania, Uganda and Geneva, Switzerland. He came to the United State in 1990 and educated himself at SUNY Schenectady as a culinary student. After completion, he continued his education at Empire State College and obtained his Business Management and Economics in Professional Studies. He spent six years at the Prestigious Private Club in Albany, Fort Orange Club as a Grand Mange Chef and soon after joined the Capital City Rescue Mission in 1997 to present, as the Executive Chef. He also owns his own catering service, Lobster Lagoon.
Please click to see more School of Hotel, Culinary Arts and Tourism alumni profiles.
Division of Liberal Arts
Jennifer Van Strander '17
Living a childhood dream - While other kids were checking out the trendiest additions at the toy store, Jennifer Van Strander was asking her parents to take her to the Parent Teacher Store. "I got one of those pens that had red on one side and blue on the other side," said Jennifer, who graduated in May 2017 from SUNY Schenectady with her degree in Teacher Education Transfer. "The teachers always had them. I also got a grade book and big white board that I had at my house with dry erase markers in different colors."
She was in second grade as Pashley Elementary School in Glenville and from that point on teaching was all she ever envisioned as a career. It helped that she had a teacher who she admired. "My teacher was Marcy Raeder and I always thought she was so fun, energetic and positive and I strived to be like her."
Now Jennifer sits in that same second grade classroom, but this time it's for her Educational Psychology course, as she observes Ms. Raeder and helps grade spelling tests and look after the children.
While at SUNY Schenectady, Jennifer has maintained a 3.94 GPA and is a member of Phi Theta Kappa honor society and secretary of the Student Volunteer Organization. She'll head to SUNY Oneonta this fall for her bachelor's degree in Elementary Education 1-6 and then wants to return to the area to pursue her master's degree.
She looks forward to having her own second grade classroom one day. "I love little kids and how curious they are about everything. I want to make a difference in their lives and be there for them and set a positive example."
Division of Math, Science, Technology and Health
Andrena Nichols '17
The first thing that Andrena Nichols tells someone she notices struggling in the computer lab is this: "That computer can't do anything until you tell it to." "When someone first comes to the lab and is discouraged and just starting, I never put my hands on the keyboard to show somebody something," said Andrena, a Computer Networking Systems and Cyber Security major and lab monitor, who will graduated in May 2017. "I tell them what to do so they'll know and let them go ahead and do it."
There's a big difference between when she first talks to a student in the lab and when she sees them later in the semester. "There was one young woman who I saw early in the semester who was a wreck. Now when I see her, she has the brightest smile like 'I got this.' "
The same might be said for Andrena, who has remained committed to finishing up her degree while dealing with a lung cancer diagnosis (only taking one semester off for surgery). She started at the College in Fall 2012 as a part-time student, having relocated to Schenectady from Virginia after retiring from a career in business administration at Central State Hospital in Petersburg, Va.
She decided to follow a passion she's had since the early 1990s. "I always had a love for computers," this mother of two and grandmother of five explained. "I always wanted to know what was behind the networking and to find out how it all works."
Andrena already earned her certificate in Computer Repair and Networking in 2014. After graduation she plans to work in the field while having her own computer repair business.
School of Music
Michele Von Haugg '98
Watch Michele discuss Clarinets for Conservation on Mountain Lake PBS.
Michele Von Haugg is Founder and Director of Clarinets for Conservation, an interdisciplinary program designed to teach conservation through music education. She has taught and performed in Tanzania as part of the program, raising awareness of the native wood, Mpingo, used to manufacture clarinets and other woodwind instruments. She was also a member of the prestigious Air Force Band of Liberty.
Michele completed the Doctor of Musical Arts degree from Arizona State University, where she studied clarinet with Robert Spring. Prior to her doctoral studies she earned a Master's degree from the New England Conservatory and a Bachelor's degree from Ithaca College. While at SUNY Schenectady, she was a clarinet student of Dean Brett Wery.
Please click to see more School of Music alumni and former student profiles.