Alumni Profiles
Meet some of the many amazing alumni from SUNY Schenectady.
Maxwell Ansong '99
Born in Accra, Ghana, Chef Maxwell Ansong was in a Diplomatic position in his home country and traveled to many countries, including Serra Leone, Tanzania, Uganda and Geneva, Switzerland. He came to the United State in 1990 and educated himself at SUNY Schenectady as a culinary student. After completion, he continued his education at Empire State College and obtained his Business Management and Economics in Professional Studies. He spent six years at the Prestigious Private Club in Albany, Fort Orange Club as a Grand Mange Chef and soon after joined the Capital City Rescue Mission in 1997 to present, as the Executive Chef. He also owns his own catering service, Lobster Lagoon.
Jenn Dugan '16
Business Administration (A.A.S. degree), Owner of The Makeup Curio
Jenn Dugan was inspired to open her own business after completing SUNY Schenectady's Business Plan Development course during which she participated in the Capital Region Chamber's Entrepreneur Boot Camp. She launched The Makeup Curio in 2016 and opened a storefront in downtown Schenectady in 2017. During the pandemic, she pivoted by rebranding to focus exclusively on "Creating Characters For Stage." The Makeup Curio 's new mobile studio, "Charley'" now allows on location services to schools, community theaters and colleges across the country.
Jenn specializes in professional hair and makeup design for theater, educational courses, and wig rentals. Since 2016 she and her team have designed 38 theater productions, taught seven weeklong summer camps for ages 12 and up, and created dozens of customized lectures/workshops about theatrical makeup, wigs, business, and more.
"As an artist, working in the theater industry is often going from gig to gig. Without the program from SUNY Schenectady I wouldn't be running a successful business that enables me to have more consistent work all year round."
George Goldhoff '84
Hotel and Restaurant Management (A.A.S. degree), President at Hard Rock, Cincinnati, and former President and CEO of PURE Canadian Gaming, based in Edmonton, Alberta.
George was also recruited to assist in the opening of Steve Wynn's Bellagio, the first Five Diamond casino resort in Las Vegas. He continued to work with MGM Corporation at the Four Diamond Mississippi property, Beau Rivage Resort and Casino, and later became General Manager of Goldstrike Hotel and Casino in Tunica, Mississippi. Throughout his career, he has also led teams at some of the most iconic hospitality venues, including The Rainbow Room and The Plaza Hotel in New York. After he earned his A.A.S. in Hotel and Restaurant Management from SUNY Schenectady, George went on to graduate from the University of Massachusetts, Amherst, and holds an MBA from Columbia University.
Andrena Nichols '17
The first thing that Andrena Nichols tells someone she notices struggling in the computer lab is this: "That computer can't do anything until you tell it to." "When someone first comes to the lab and is discouraged and just starting, I never put my hands on the keyboard to show somebody something," said Andrena, a Computer Networking Systems and Cyber Security major and lab monitor, who graduated in May 2017. "I tell them what to do so they'll know and let them go ahead and do it."
There's a big difference between when she first talks to a student in the lab and when she sees them later in the semester. "There was one young woman who I saw early in the semester who was a wreck. Now when I see her, she has the brightest smile like 'I got this.' "
The same might be said for Andrena, who has remained committed to finishing up her degree while dealing with a lung cancer diagnosis (only taking one semester off for surgery). She started at the College in Fall 2012 as a part-time student, having relocated to Schenectady from Virginia after retiring from a career in business administration at Central State Hospital in Petersburg, Va.
She decided to follow a passion she's had since the early 1990s. "I always had a love for computers," this mother of two and grandmother of five explained. "I always wanted to know what was behind the networking and to find out how it all works."
Andrena already earned her certificate in Computer Repair and Networking in 2014. After graduation she plans to work in the field while having her own computer repair business.
Bovanna Phillips '21
Human Services (A.S. degree)
This fall, Bovanna will be transferring to SUNY Empire State College for her bachelor's degree in Community and Human Services. She plans to continue on for her master's degree in Business Management.
Bovanna works full time as an On-Call Counselor at St. Anne Institute. "I have hope that the teenagers I work with will do well and believe in themselves. It gives me a deep sense of fulfillment. I want them to remember that there are people who love you and support you and want to see you do well."
Human Services is something that Bovanna has been doing since she was a teenager herself by helping with scholarship fundraisers, working at an afterschool program, and joining community groups.
She plans to impact the lives of even more young people in the future by becoming involved in different levels of human services care for children. "I want to ensure that children are properly placed and get the support that they need."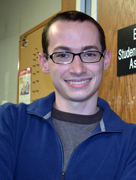 Daniel Pierce '16
Daniel Pierce has a drive to help people when they need it most and satisfy his need for being in the midst of the action at the same time. "I want to have the ability to help people in dire circumstances when they desperately need the help and can't provide for themselves," he said. Daniel graduated from the Emergency Management Program in 2016 and transferred to Russell Sage College to pursue a bachelor's degree in Nursing. His plan is to enter the field of emergency or trauma nursing. Daniel was the 2015-2016 President of the SUNY Schenectady Student Government Association, and the featured speaker during the Spring 2016 Commencement.
Tele Rabii '19
Chemical Dependency Counseling (A.A.S. degree)
Outpatient Services Coordinator, Ellis Hospital Mental Health Services Personalized Recovery Oriented Services (PROS), Day Treatment Program, facilitating groups for people with substance use disorders and mental health diagnoses. Tele is featured in the New York Emmy-nominated documentary Reversing the Stigma.
Tele had already been working in the field when he decided to attend SUNY Schenectady for his associate degree in Chemical Dependency Counseling. At Ellis PROS, he facilitates groups and works individually with clients helping them map out and achieve their recovery goals.
"It was really interesting being back in school again and engaging in that sort of environment. Prior to going back to college I had started working in this field already so it helped to reinforce things I was already doing and I learned new things that I could incorporate into my job."
"I liked the size of SUNY Schenectady. It wasn't super overwhelming. I was able to reach out to professors and staff with any questions. It was close to home so I could hop on the bus and walk down there and be able to get my education."
"Being a person in recovery helps me with my job. It's about being patient, having time management skills, setting goals, and being kind and patient with yourself. I've taken those things I've learned and given them to the people I work with so that they can learn to do those things for themselves."
Martina Swiers '16
Chemical Dependency Counseling (A.A.S. degree) and Human Services (A.S. degree), Credentialed Alcoholism and Substance Abuse Counselor (CASAC)
Clinician, New Choices Recovery Center, Schenectady
Martina decided to attend SUNY Schenectady to pursue a degree and follow her passion for helping others.
"I decided to enroll at the College because I felt like I needed to integrate some deeper meaning into my life. I wasn't necessarily feeling fulfilled with what I was doing and I wanted to follow my passion for helping people in recovery. I had been in recovery for years already and it made sense for me to follow through on that. I was getting involved with advocacy at the time. I wanted to be an agent of change. I wanted to make a difference."
At New Choices, she works with individuals with substance abuse disorders and families, facilitating groups for family members, a women's empowerment group, and spirituality and creativity in recovery groups.
"The Chemical Dependency Counseling degree at SUNY Schenectady gives you all the education hours you need to fill Credentialed Alcoholism and Substance Abuse Counselor (CASAC) T (training). CASAC is a state certification. I also did two internships with hours that counted toward my CASAC. I had to then work additional supervised hours and I could take the exam. Through my internship at Hedgerow House, I gained a lot of experience and there was no question in my mind that I was pursuing the career that I belonged in."
"I had tutoring whenever I needed it. The advisors were fantastic with giving encouragement and helping me navigate balance because as a returning adult student I had a lot of responsibilities. I also had a financial scholarship where my tuition for the last year was covered. I owe a great deal of my current happiness to the support I got at SUNY Schenectady."
Ryan Trestick '10, '20
'10 Business Administration (A.A.S.) and '20 Craft Beer Brewing (A.A.S.), Cellarman at SingleCut Beersmiths
After working for more than a decade as a Bar Manager, Ryan decided to return to college to begin a career in the expanding craft brewing industry. As a Cellarman at SingleCut Beersmiths in Clifton Park, N.Y., Ryan is instrumental in helping with the production of brews that are sold throughout the Northeast. He began working there while he was still a student at SUNY Schenectady. He's loving his new career. It's rewarding and works well with his life as a husband and father of three young children.
"When I was a Bar Manager, I dealt with a lot of people in the brewing industry and everyone loved what they were doing. There are more breweries popping up all the time which is great for job security. SUNY Schenectady gave me the knowledge I needed to get my foot in the door to help me start my new career in the brewing industry."
Nkeiru Ubadike '19
Mathematics and Science (A.S. degree), transferred to Stony Brook University where she is pursuing her bachelor's degree in Physics. She then plans to attend grad school for Physics.
Nkeiru is conducting research in the renowned Brookhaven National Laboratory on Long Island. She is specializing in research using one of the country's best particle accelerators, working with a professor on developing a new approach to particle computer simulation. While at SUNY Schenectady, Nkeiru participated in the Summer Research for Community College Students (SRCCS) program, doing summer research in the field of accelerator physics at Cornell University as well. This summer, she will be interning in the nationally-competitive Science Undergraduate Laboratory Internship (SULI) program at Brookhaven National Lab's Office of Educational Programs, funded by the U.S. Department of Energy. She will be helping to create outreach programs for students in grades six through 12, introducing them to modern physics research initiatives.

"I feel like the people make SUNY Schenectady what it is. I had a lot of support from people, including professors, mentors and success coaches, who saw my ambitions and cared about my progress and wanted to help me get to the next stage as well as possible."
Jennifer Van Strander '17
Living a childhood dream - While other kids were checking out the trendiest additions at the toy store, Jennifer Van Strander was asking her parents to take her to the Parent Teacher Store. "I got one of those pens that had red on one side and blue on the other side," said Jennifer, who graduated in May 2017 from SUNY Schenectady with her degree in Teacher Education Transfer. "The teachers always had them. I also got a grade book and big white board that I had at my house with dry erase markers in different colors."
She was in second grade as Pashley Elementary School in Glenville and from that point on teaching was all she ever envisioned as a career. It helped that she had a teacher who she admired. "My teacher was Marcy Raeder and I always thought she was so fun, energetic and positive and I strived to be like her."
Now Jennifer sits in that same second grade classroom, but this time it's for her Educational Psychology course, as she observes Ms. Raeder and helps grade spelling tests and look after the children.
While at SUNY Schenectady, Jennifer has maintained a 3.94 GPA and is a member of Phi Theta Kappa honor society and secretary of the Student Volunteer Organization. She'll head to SUNY Oneonta for her bachelor's degree in Elementary Education 1-6 and then wants to return to the area to pursue her master's degree.
She looks forward to having her own second grade classroom one day. "I love little kids and how curious they are about everything. I want to make a difference in their lives and be there for them and set a positive example."
Michele Von Haugg '98
Michele Von Haugg is Founder and Director of Clarinets for Conservation, an interdisciplinary program designed to teach conservation through music education. She has taught and performed in Tanzania as part of the program, raising awareness of the native wood, Mpingo, used to manufacture clarinets and other woodwind instruments. She was also a member of the prestigious Air Force Band of Liberty.
Michele completed the Doctor of Musical Arts degree from Arizona State University, where she studied clarinet with Robert Spring. Prior to her doctoral studies she earned a Master's degree from the New England Conservatory and a Bachelor's degree from Ithaca College. While at SUNY Schenectady, she was a clarinet student of Brett Wery.