Returning Adult Students
Welcome to SUNY Schenectady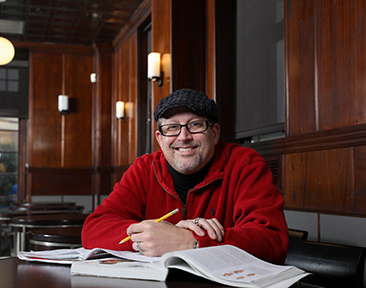 "Making the decision to go back to college was one that I'm glad I made. Being a full-time student at SUNY Schenectady has given me a new opportunity to explore my next career."
"The flexible schedules, online classes, attentive professors, and great atmosphere have all given me the confidence and skills I need to succeed."
Stephen Tannatta, Chemical Dependency Counseling major
Thank you for considering SUNY Schenectady County Community College as your choice for a quality and affordable education! Not only are we are the most affordable college in the Capital Region, but we also have a wide variety of courses to choose from–all taught by our diverse and regionally recognized faculty.
As a returning adult student we know first-hand how difficult it can be to juggle your day-to-day life while working to obtain your educational goals. Don't worry–we're here to help you through the process of enrolling at SUNY Schenectady and we'll continue to provide you the resources and support throughout your time at the College. Hey, we'll even be standing there to cheer you on with family and friends when you cross the stage with YOUR college diploma in YOUR hands!
Applying at the College is an easy process as we removed many barriers by making the application process simple and quick! Since we are an open-admission institution, we require no specific grade point average from your high school record. Most of our programs have no special admissions requirements other than being a high school graduate or its equivalent. We'll help guide you in contacting your former high school for the state required information. Many of our students come to us having earned credit at other colleges. Our Registrar's Office will evaluate your college transcripts for possible transfer credit.
We make it convenient to attend as the College offers many evening, weekend, and online courses. Some of our majors can be completed entirely in the evening and our Criminal Justice major can be completed entirely online. There are resources on campus to help you once you become a student, including Learning Labs, along with tutoring. We also have affordable child care options available for you–visit our Childcare Resources page for details.
If you were previously matriculated at SUNY Schenectady (accepted for admission and took classes), there's no need to go through the admissions process again. Visit or contact our Registrar's Office so they can help you with the paperwork you need to become re-enrolled.
You can begin by Applying Now with our non-fee application and arrange to have your official high school or GED/TASC records sent to the College's Admission's Office:
Admissions Office
78 Washington Ave.
Schenectady, NY 12305
After submitting your application to SUNY Schenectady, you can immediately start applying for financial aid. Complete your Free Application for Federal Student Aid (FAFSA) at www.fafsa.ed.gov or to learn more about the FAFSA application process, visit our Financial Aid page. Remember to add SUNY Schenectady County Community College code: 006785.
For step-by-step instructions to the enrollment process, please read our Admissions To Enrollment Checklist - Six Basic Steps.
As always, we are here to help and answer any questions you may have. Contact the Admissions Office directly at 518-381-1366 or at admissions@sunysccc.edu.
Contacts