Delicious! School of Hotel, Culinary Arts and Tourism Offers To-Go Meals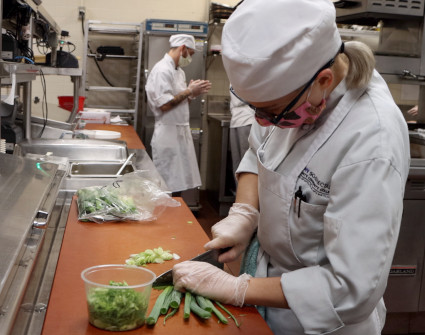 9/16/2020
SUNY Schenectady's award-winning Culinary Arts program is now offering meals to-go for lunch and dinner through a new takeout model of service. Student chefs and faculty will prepare a variety of gourmet cuisine available through a new curbside pickup service.
For decades, the College's Casola Dining Room, operated by the School of Hotel, Culinary Arts and Tourism, has been an extremely popular dining spot in the Capital Region with students and faculty preparing and serving delicious cuisine during noontime and evening meals. The College keeps this tradition alive this semester through "Casola Curbside," the new contactless takeout service featuring three-course meals and cuisine unique to regions across the United States including mouth-watering dishes from New England, Colorado/the Southwest, the Pacific Northwest, and Gastropub/Upscale Steakhouse. Lunch will be available on Tuesdays and Thursdays, and dinner will be available on Wednesdays, with each order available for $22.
The College is also offering "Van Curler To-Go," with specialty themed meals available on select Tuesdays for dinner and select Wednesdays for lunch. Tuesday family dinners are a complete meal for four people for $45, and Wednesday lunches are a complete meal for one for $12. For both curbside services, guests pick up their meals in the parking lot in front of the Casola Dining Room entrance on SUNY Schenectady's campus.
All of the cuisine is prepared by students and faculty in Classical Cuisine, Quantitative Foods, Dining Room Management, Banquet Management, Regional American Baking and Pastry, Commercial Baking I, and Garde Manger classes with proper social distancing, safety measures, and PPE in place. Dr. David Brough, Dean of the School of Hotel, Culinary Arts and Tourism, said that he looks forward to an enriching semester for students studying in the Culinary Arts, Assistant Chef, and Hotel/Restaurant Management degree and certificate programs where they gain hands-on learning while offering gourmet meals to the public in a safe environment.
"The School of Hotel, Culinary Arts and Tourism is very proud to offer our laboratory classes in the discipline of Culinary Arts live, in a hands-on environment, where our students have the opportunity to hone their skills in an educational setting that is genuine and also safe for our students, faculty, staff, the College, and the community," Dr. Brough said. "It is with great pleasure that we will be able to provide our loyal guests with our delectable offerings from the Casola Dining Room, the Van Curler Room, Pane e Dolci, and the Boucherie with a takeout model of instruction. The takeout method of service will continue to be significant for the guests of our industry as we continue to move forward in these changing times. We hope that you enjoy what we have planned for you this semester. Enjoy!"
Those wishing to enjoy Casola Curbside and Van Curler To-Go meals should note that preorders are required for all meals and are accepted after close of business (after 8 p.m.), one week prior to the requested order date.