Directions to Center City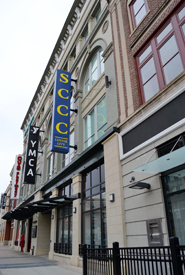 SUNY Schenectady Center City is located at 433 State Street, 2nd floor Rear, Schenectady, NY 12305.
Free parking is available for currently registered students and currently employed faculty and staff at the Broadway Garage across from the Lottery Building. You will need to use your SUNY Schenectady ID to access the garage. If you do not have an ID card, your card is more than 3 years old (newer cards are "smart" and have a chip in them), or you have misplaced it, you will need a new card. You can obtain a card at the College Bookstore.
When parking, you will use the Monthly Parking lane. Pull up and present your card at the electronic proximity card reader. Do the same upon exiting. If you encounter difficulty with the operation of the reader or the lane access bar, bring that to the attention of the parking attendant, and you will be allowed in or out. Let the security guard at the Center City location know so that we can fix the problem.
Also note, parking is FREE for all commuters in surface lots around Center City after 5 p.m. and on weekends.