About President Steady Moono
President Steady Moono, Ed.D.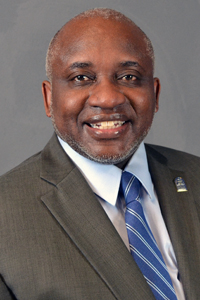 Dr. Steady Moono began his tenure at SUNY Schenectady County Community College on Wednesday, July 1, 2015.
Dr. Moono came to the United States from Zambia in 1981 to get an education, and education has become his life's work.
Dr. Moono earned a bachelor's degree from Messiah College in Mechanicsburg, Pennsylvania, where he says that before he found two mentors who helped him feel at home, he struggled as a "young, lost African kid struggling to make it work at a U.S. college." That experience helped shape his educational philosophies, as he would later found and oversee a nationally recognized mentoring program for minority students during his nearly 10 years at Montgomery County Community College's West Campus in Pottstown, Pennsylvania, where he most recently served as Vice President.
Dr. Moono's work to establish the Minority Male Mentoring Program has been widely recognized. He is the recipient of the Yaffe-Smith Civil Rights Award for Outstanding Accomplishments in Education and was named "Outstanding First Year Student Advocate" by the National Resource Center. He was awarded the 2011 Innovation of the Year Award at Montgomery County Community College. He and his wife are deeply involved in a non-profit project in Zambia that concentrates on rural drip-irrigation projects.
In 2009, Dr. Moono co-authored a textbook titled "Thriving in the Community College and Beyond (Strategies for Academic Success and Personal Development)."
In 2013, Dr. Moono published "Rules of the Road: The Tonga Proverbs," with the goal of sharing with his children and others the traditions and rituals that he experienced growing up in southern Zambia.
Dr. Moono has earned a B.A. in Education from Messiah College, an M.A. in Counseling and Theology from the Biblical Theological Seminary, an M.A. in English from Arcadia University and a doctorate in Higher Education Leadership from Immaculata University.
Dr. Moono and his wife have a son, Micah, and a daughter, Naomi.