"I Started at SUNY Schenectady!" Five Questions with Physicist Nkeiru Ubadike, Class of 2019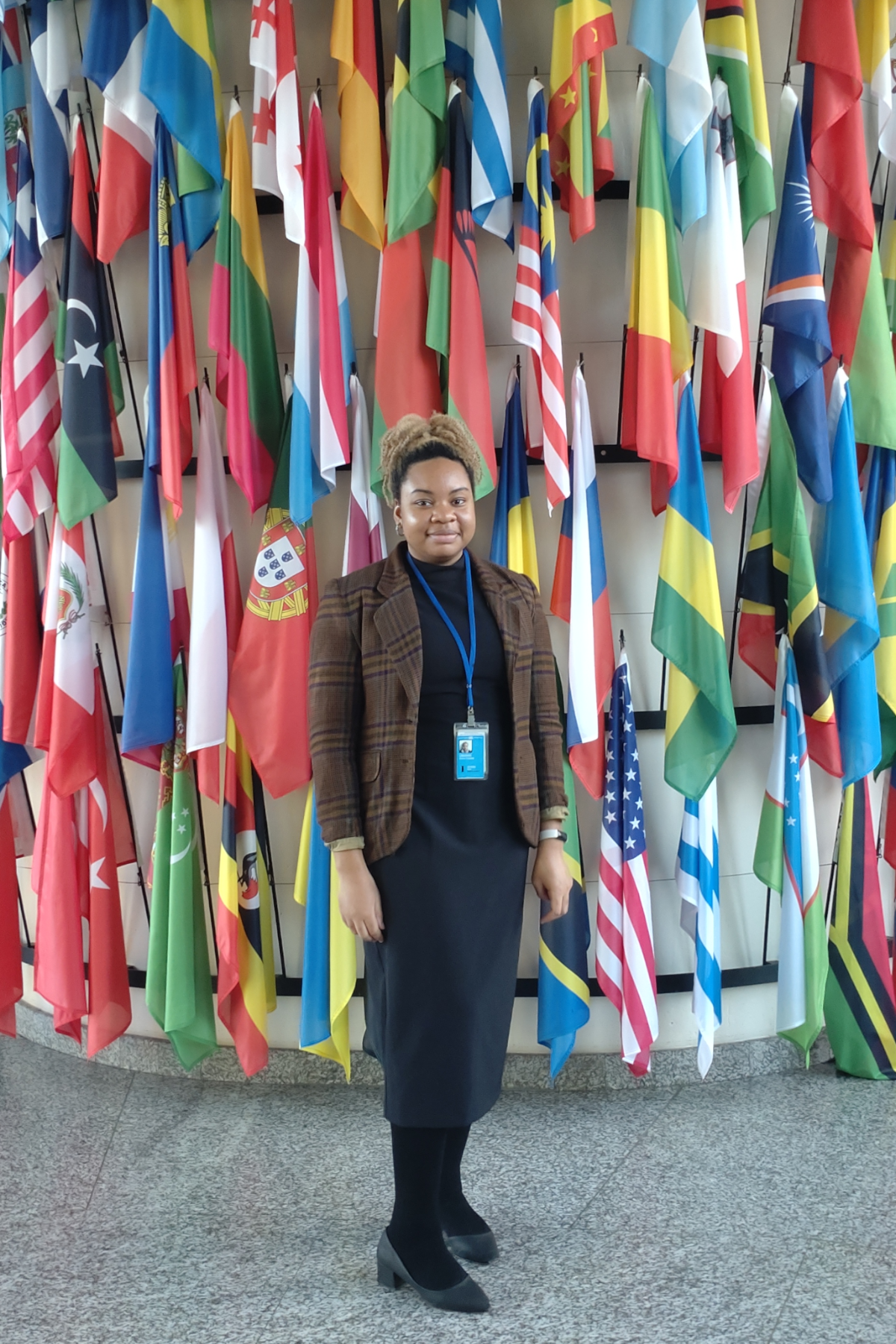 3/24/2023
Nkeiru Ubadike '19 has gone from SUNY Schenectady where she earned her degree in Mathematics and Science and then Stony Brook University, graduating in 2022 with her bachelor's degree in Physics, to now interning in Vienna, Austria, at the International Atomic Energy Agency (IAEA) Headquarters, part of the United Nations System. She is also applying to Ph.D. programs. She describes how her passion for science started as a child, and she gives us a quick lesson on her favorite subject: particle accelerators.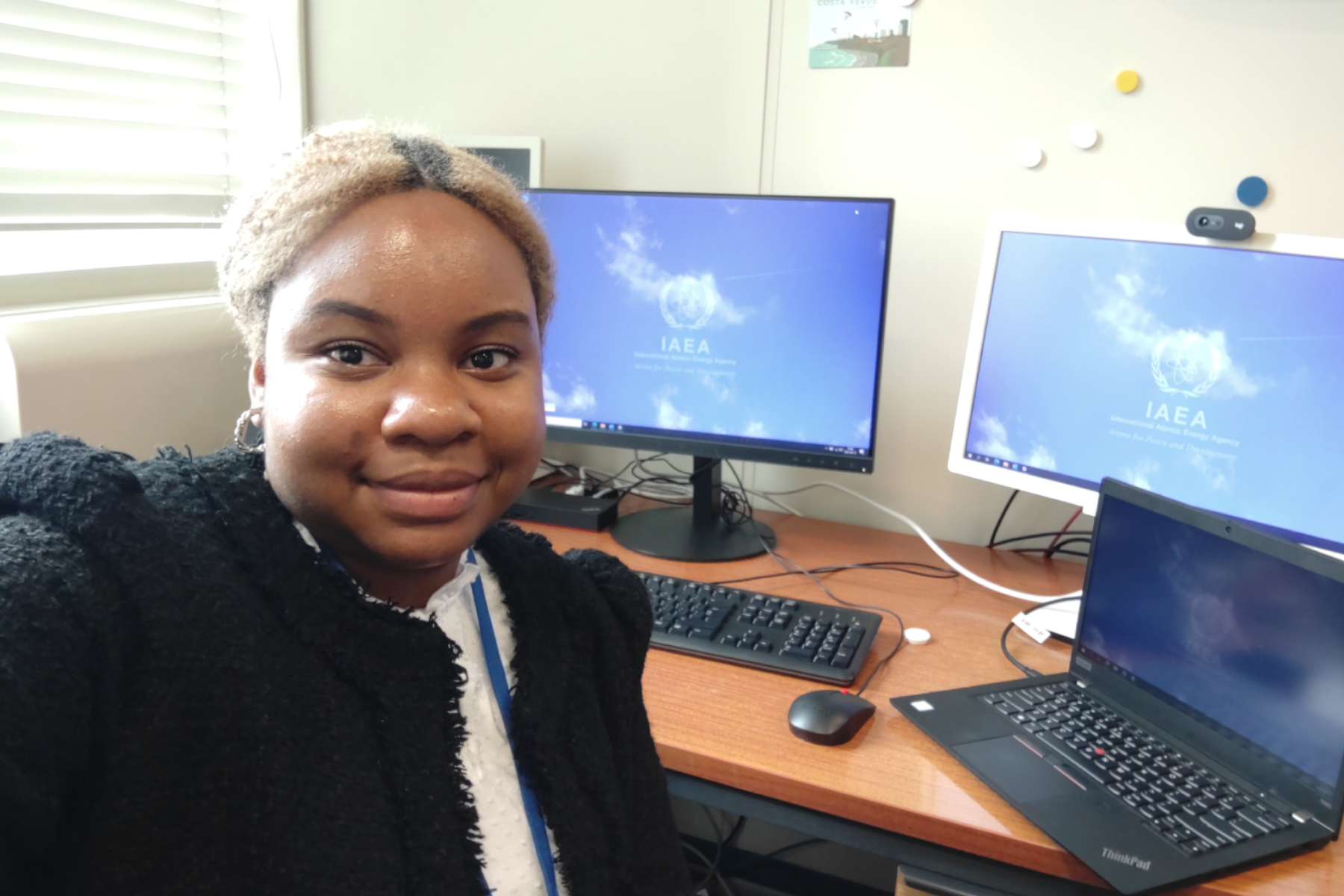 Nkeiru, tell us about what you're doing in Vienna!

"I am interning at the International Atomic Energy Agency (IAEA), an organization in the UN System, for one year. The IAEA's mandate is to work with Member States to promote the safe, secure, and peaceful uses of nuclear technologies. The word 'nuclear' might sound scary to some, but it just describes physical processes that occur within the nucleus, or the heart of atoms. The technologies that take advantage of these processes help fight cancer, study art, generate electricity, and make humanity more resilient against climate change and its effects. Hence, our motto, 'Atoms for Peace and Development.'
I am in the Physics Section within the IAEA Department of Nuclear Sciences and Applications, with a particular focus on particle accelerators – a machine that produces high energy particle beams. In my day-to-day work, I support the development and maintenance of a website called the 'Accelerator Knowledge Portal.' Additionally, I create promotional and outreach materials that relate to the IAEA mission of fostering collaboration in the field of accelerator science."
Can you tell us about your work with particle accelerators and how that started?
"During my first semester at SUNY Schenectady, Dr. Lorena Harris, Director of the Collegiate Science Technology Entry Program (CSTEP), strongly encouraged me to apply for a summer research experience at Cornell University. I was fortunate enough to be accepted and this experience ignited my interest in particle accelerator physics. This interest led me to Stony Brook University. While I was at Stony Brook, I continued to pursue my interest in the field by interning at the world-renowned Brookhaven National Lab. Under the guidance of a brilliant accelerator physicist, I worked on a project to study the feasibility of a novel particle injection technique for the Electron Ion Collider. Now, I'm interning at the IAEA."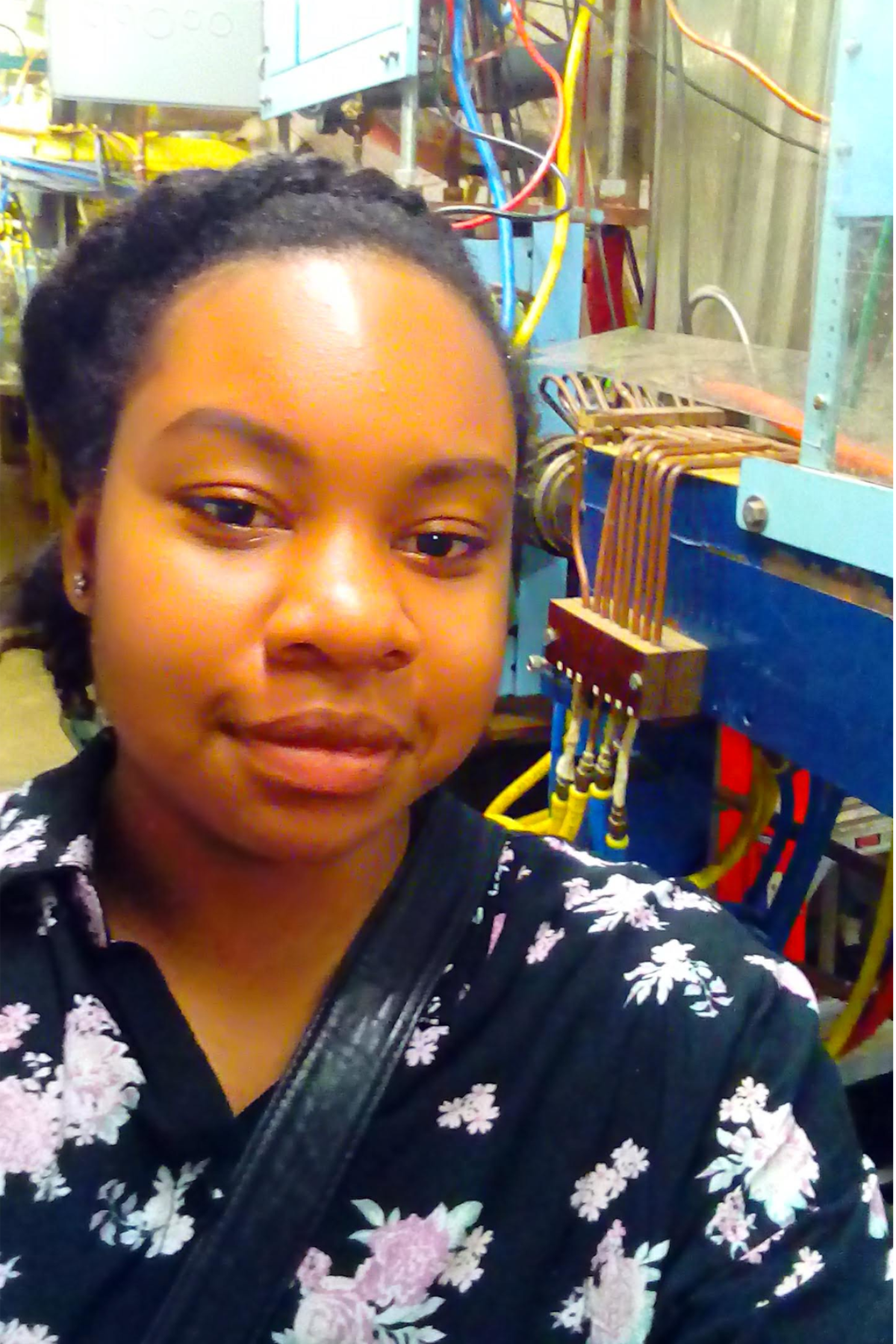 In front of a particle accelerator component at Cornell Electron Storage Ring at Cornell University in 2018.
So, how does a particle accelerator work and how is it used in scientific research?
"In particle physics, there is a quest to find out about the building blocks of nature, which are particles. We can't look at them using a microscope, they're too small. So, we put them in an accelerator to get them to a high speed, we 'smash them together' and study all of the chaos in those fragments. It helps with the fundamental question, 'What is everything made out of? Why is everything (matter) put together the way it is?' Subatomic matter – protons, electrons, neutrons – we need accelerators to study those particles. However, the 99 percent of particle accelerators are used in industrial, cultural, and medical applications. The high-energy beams they produce are used in cancer treatment, food sterilization and the non-invasive study of paintings."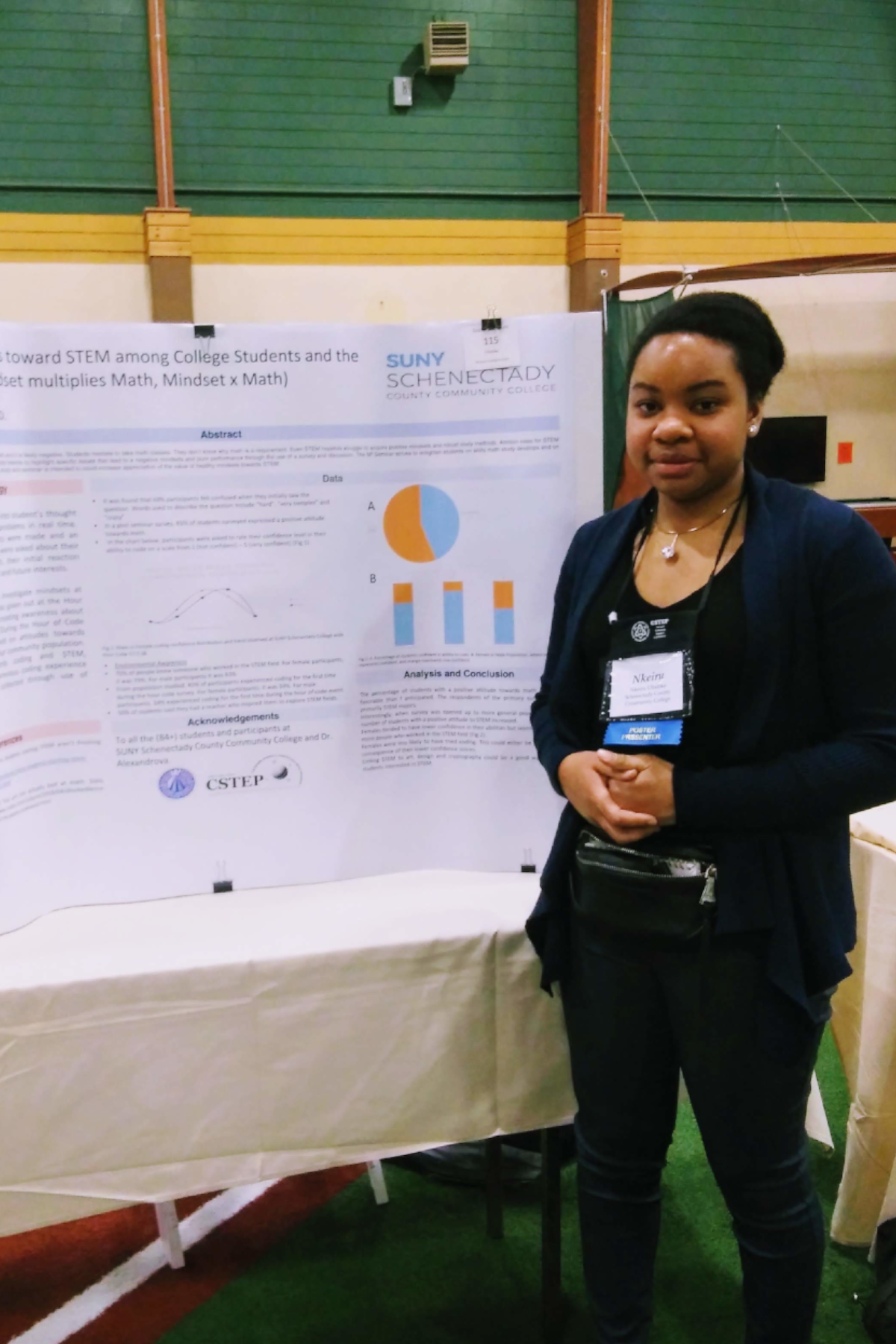 Presenting a study on the attitudes of SUNY Schenectady students towards STEM at a CSTEP Conference, while a student at SUNY Schenectady in 2019.

How did you become interested in science and specifically physics?

"I always knew I wanted to study science. My family members are all in science, mostly biology. I ruled out biology and I found being in a chemistry lab to be intimidating, so that led me to physics. I'm someone who would love to work in that kind of international collaborative environment, so physics seemed like a good way to do that also. I liked the fact that I could possibly work with people all around the world on these experiments."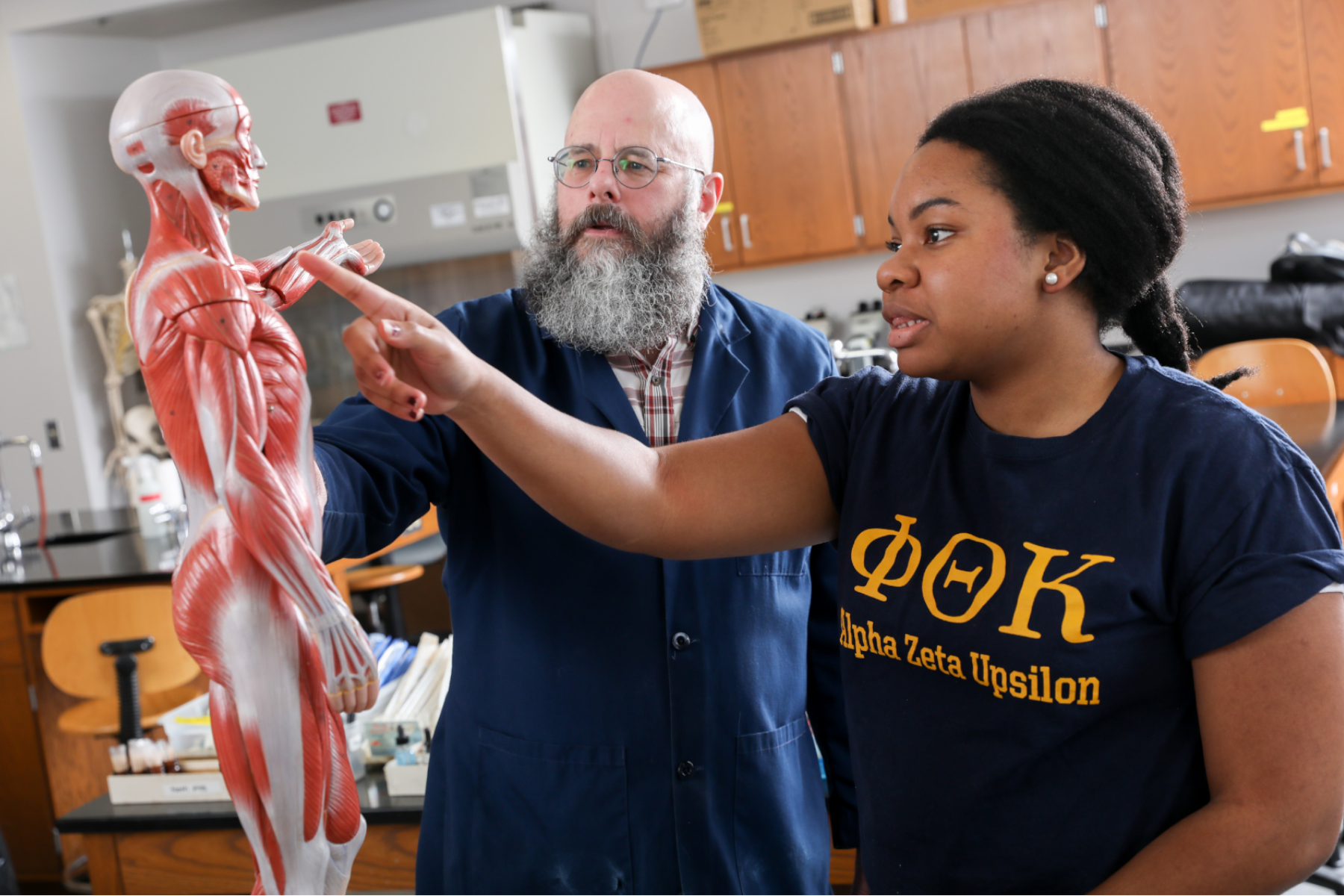 In an Anatomy & Physiology Lab in 2019 with Dr. Richard Simons, Science Professor.
What are your memories of SUNY Schenectady and the foundation you received here?
"I feel like the people make SUNY Schenectady what it is, and I definitely had a lot of support from professors and staff who saw my ambition and cared about my progress. From my professors to the success coaches, to my rowing coach and everyone in between, they all wanted to help me get to the next stage. I was part of CSTEP. We were able to do external research during the summer and present at CSTEP conferences. While I was still at SUNY Schenectady, I participated in the Summer Research Program for Community College Students (SRCCS) doing summer research in the field of accelerator physics at Cornell University. That's really what got me interested in the field. The coding classes that I took helped me when I was writing code at Stony Brook for my major. I had a lot of support and research experience at SUNY Schenectady that helped bring me to the next level. I am now proud to have a bachelor's degree in Physics and I am currently in the application process for Physics Ph.D. programs."