Brand Guidelines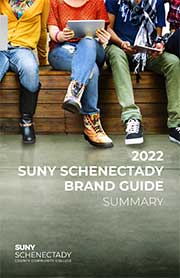 The Brand Guide Summary serves as a resource for understanding and applying the SUNY Schenectady brand, identity and creative expression. It outlines brand strategy, tone and voice and provides standards for the use of logos, artwork, color palette, typography and other key visual elements.
These guidelines are based on a discovery process that took place throughout 2017. Thorough and highly inclusive, this effort drew from a wide cross-section of SUNY Schenectady constituents.
For information or questions about these guidelines and usage permissions, please contact The Office of Marketing and Public Relations at 518-381-1323.