Two Students Earn Prestigious 2023 SUNY Chancellor's Award for Student Excellence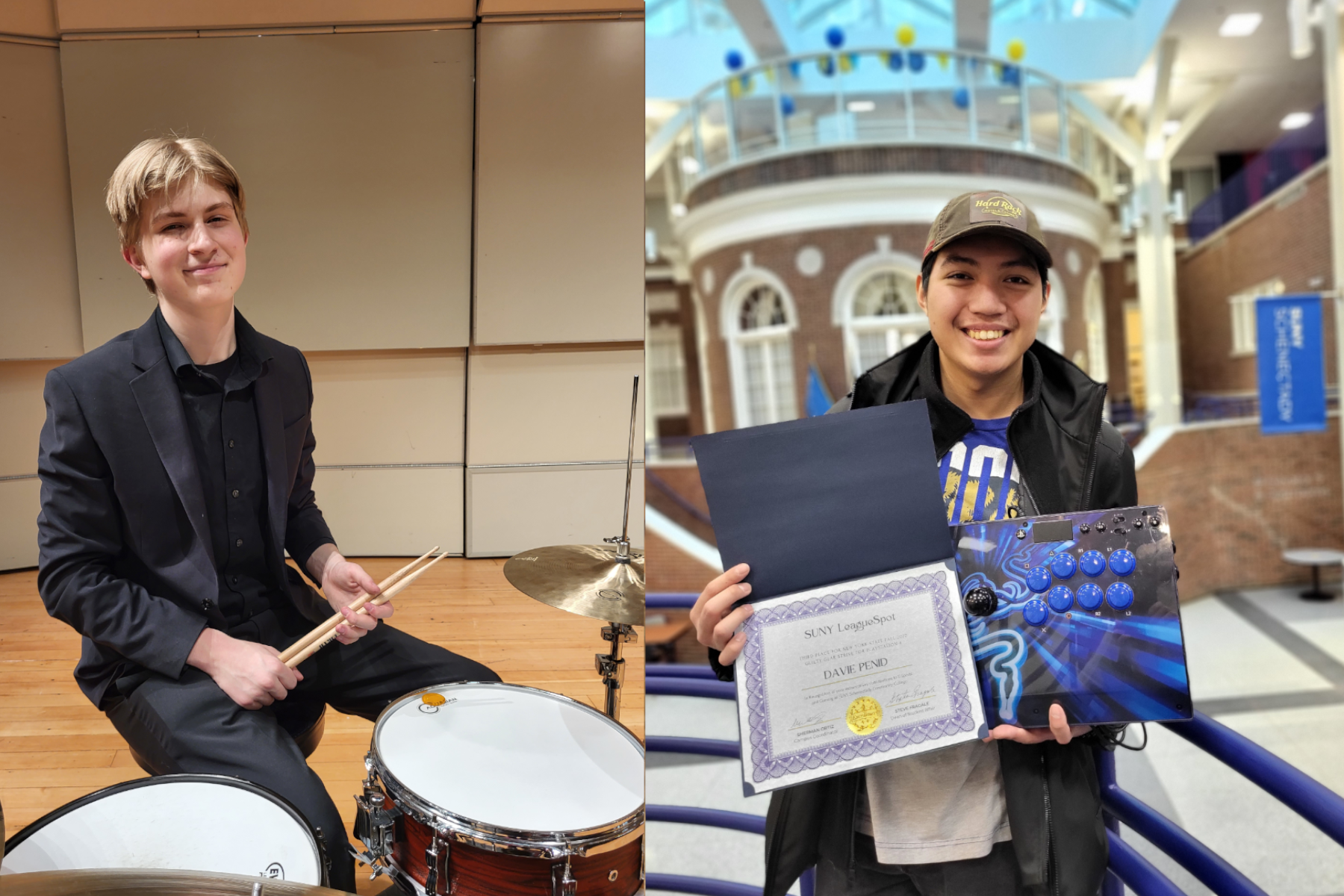 4/26/2023
Congratulations to Niko Nyman, a dual Performing Arts: Music/Music Audio Technology major, and Davie Emmanuel Penid, who earned his degree in Computer Science in December 2022. Both were selected as recipients of the prestigious 2023 SUNY Chancellor's Award for Student Excellence (CASE), SUNY's highest honor for academic excellence and leadership. SUNY Chancellor John B. King, Jr. presented 193 students from 63 campuses with the Chancellor's Awards for Student Excellence on April 24 during a ceremony in Albany. The award recognizes students for their outstanding achievements throughout their SUNY experience in areas including academics, leadership, campus involvement, community service, and the arts.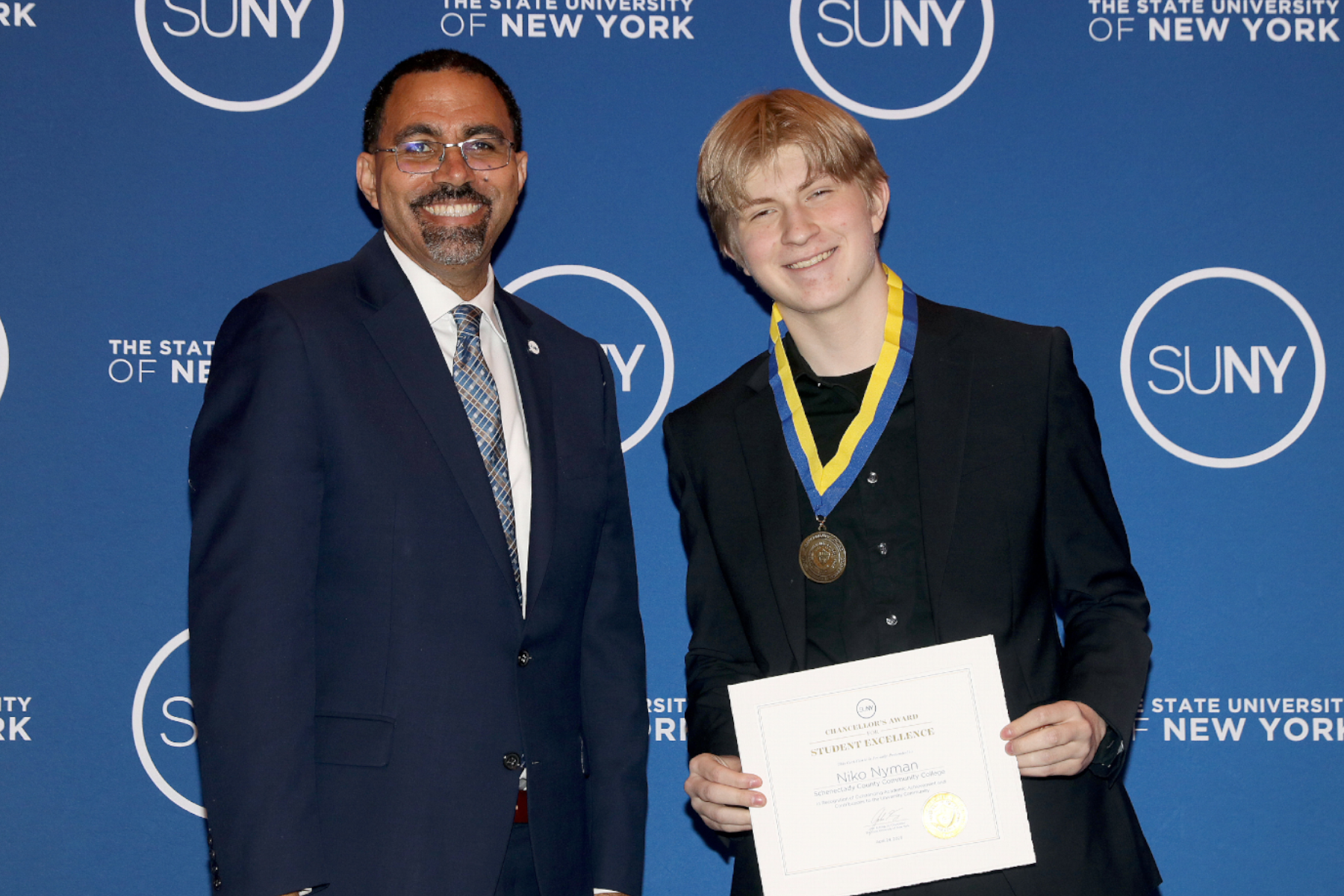 SUNY Chancellor John B. King, Jr. congratulates Niko Nyman during a ceremony earlier this month.
Niko Nyman's interest in music was so strong that he decided to enroll in classes at SUNY Schenectady at the age of 14, graduate early with an advanced Regents diploma from Shenendehowa High School in June 2021 at age 15, and become a full-time student in two degree programs within the School of Music at the College that fall. "At first it was the rhythms that drew me to percussion," he shared. "But I realized that you add all of the textural effects and that adds to the ensemble."
A percussionist, Niko performs in every ensemble that has percussion instruments: the Wind Ensemble, Jazz Ensemble, Jazz Combos, Percussion Ensemble, and Chamber Ensemble. He is on vibraphone, drum kit, bass drum, cymbals, and triangle during any given performance.
He is also accompanying the College's Chorus, is the Principal Timpanist with the University at Albany Orchestra during their performance of Dvorak's Symphony No. 8 in G major, will perform with Albany Pro Musica, and has performed with the Capital Region Wind Ensemble. He was chosen to perform as one of 10 percussionists in the College Band Directors National Association Conference Band in Athens, Ga., earlier this month. A sought-after peer tutor, Niko maintains an impressive 3.78 GPA and has been named to the Dean's List each semester.
In addition to his accomplishments musically, Niko is also an award-winning tap dancer, placing third at the European Tap Dance Championship in Prague, Czech Republic, in 2022 and ninth at the World Tap Dance Championship in Zagreb, Croatia, in 2022.
He will graduate in May at the age of 17 and plans to attend William Paterson University in Wayne, N.J., this fall to pursue his bachelor's degree in Music-Sound Engineering Arts. He has received a full scholarship.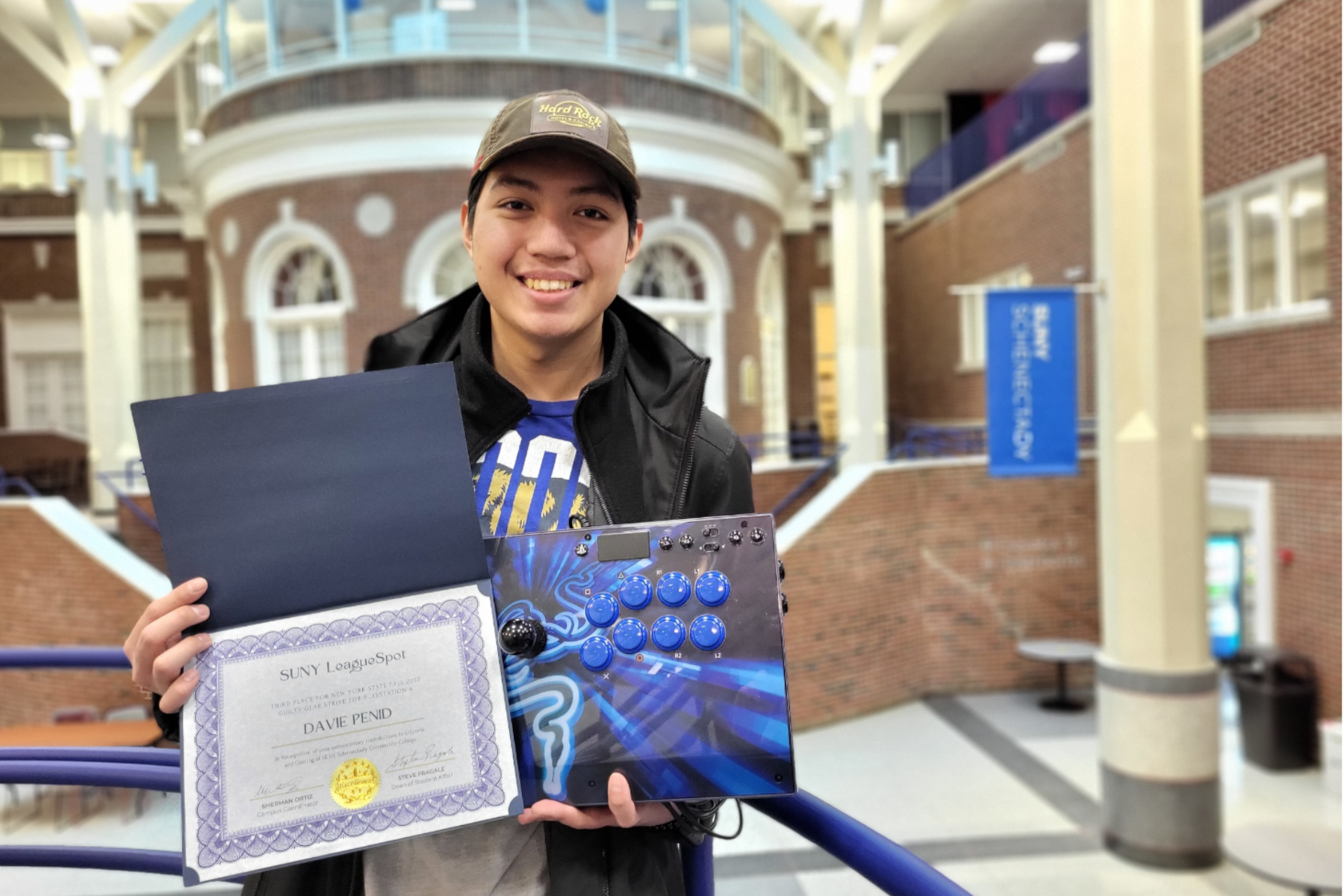 Davie Penid graduated with his A.S. in Computer Science in December 2022. He turned his passion for gaming into a leadership role at the College as President of the eSports & Gaming Club. Davie competed in the Fall 2022 SUNY Esports Competition and made it to the playoffs, placing third in Guilty Gear: Strive PS4. (He is shown above with the certificate he earned for this.)
A graduate of Niskayuna High School, Davie was also a leader within other organizations on campus as a Senator on the Student Government Association, President of the International/English Language Learners Club, Chair of the Student Activities Board, Treasurer for SkillsUSA, a member of the Meeting Professionals Club, and a member of the Intercultural Affairs Committee, part of the Student Government Association. He volunteered for the Foundation as a student representative calling alumni for donations to the College's scholarship fund and was a Student Engagement Leader during Admissions events.
Davie impacted the College's Food Pantry by organizing an International/English Language Learners Club Food Drive for World Food Day with the proceeds benefiting the Food Pantry and he assisted with the Food Pantry's Thanksgiving Meal Kit Giveaway.
Davie was also a guest on an episode of the College's Many Voices, One Call podcast that focused on what professors and staff ought to know about international students and English Language Learners to help them reach their full potential. He was named to the President's List, received a Faculty-Student Association award, and earned the Intercultural Leadership Award from the Student Affairs Division.
He has relocated to California to spend time with his family and is planning to pursue his bachelor's degree in Computer Science.
"We applaud Niko and Davie for all that they have done to earn this very special honor," said Dr. Steady Moono, President of SUNY Schenectady. "They have both contributed to our campus community in ways that have positively impacted their fellow students and enriched student organizations, student life, and musical performances on campus. I join with all of their faculty, and the staff on campus, in wishing them well in their future endeavors."
"There is a place at SUNY for every New Yorker, and each of the students recognized is an example of our extraordinary student body and their rich and diverse 'SUNY stories,'" said Chancellor King. "Student success is at the core of everything we do, and I am honored to celebrate students from 63 SUNY campuses who are receiving this year's Chancellor's Awards for Student Excellence. Every student can find their community at SUNY, and I congratulate each of the CASE winners for making the most out of their college experience."