Dr. David Brough Inducted into Prestigious American Academy of Chefs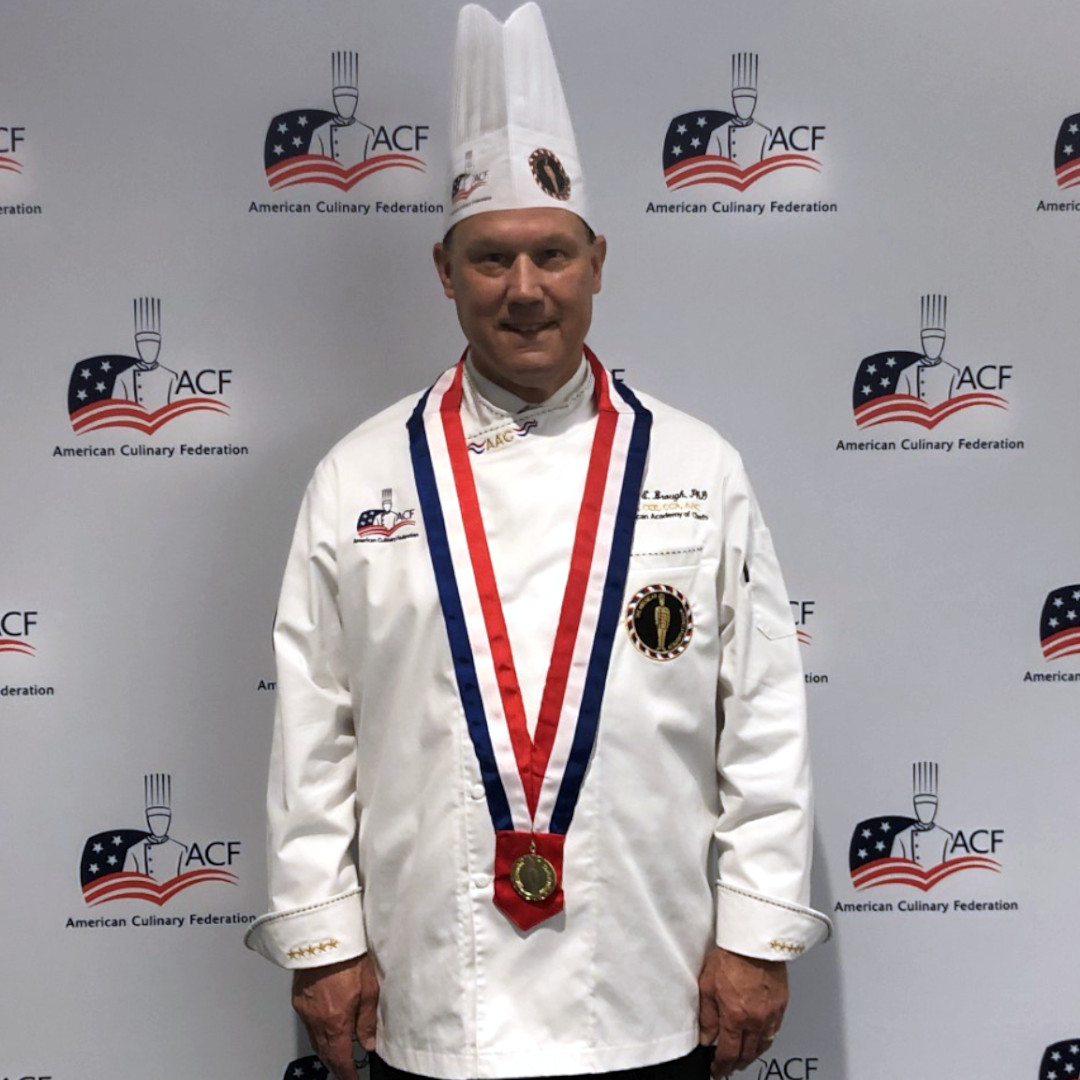 8/09/2021
Dr. David Brough CEC, CCE, CCA, AAC, Dean of the School of Hotel, Culinary Arts and Tourism at SUNY Schenectady, was inducted into the prestigious American Academy of Chefs (AAC), the Honor Society for the American Culinary Federation (ACF).
Dr. Brough accepted this honor and was named as an AAC Fellow during the 2021 American Academy of Chefs 49th Annual Induction Dinner on Aug. 1 at the World Marriott Resort in Orlando, Fla.
Dr. Brough and esteemed chefs from across the country comprise the 2020 American Academy of Chefs Inductees who were originally scheduled to be inducted during the ACF National Convention that was to take place last summer in Dallas, Texas. Due to the pandemic, they were sworn in as new inductees via Zoom in July 2020. They received their medallions this weekend during the official ceremony.
In order to achieve Fellow status, chefs are required to earn two nominations and pass an application review that includes verification of seven mandatory requirements, as well as verification of at least 10 of 22 elective attainable goals, among other stipulations. Dr. Brough was sponsored by: Dale M. Miller, CMC, AAC, President of Master Chef Consulting Group, LLC, and James G. Rhoads, CEC, AAC, Chef at Panza's on the Lake (Saratoga).
In the July/August 2021 issue of National Culinary Review, Chef Americo "Rico" DiFronzo, CEC, CCA, AAC, Current Chair of the AAC, described the recognition this way, "Being an AAC Fellow is like the crescendo of your career…The reason why the AAC piece comes in after you have earned all the previous certifications is because it really is a major piece of your culinary career, showing that you have come full circle."
Dr. Cheryl Renee Gooch, Vice President of Academic Affairs at SUNY Schenectady, congratulated Dr. Brough on his upcoming induction into the American Academy of Chefs.

"Dean Brough's professional accomplishments both reflect and enhance the competitive posture of the School of Hotel, Culinary Arts and Tourism (HCAT). Equally important, Dean Brough, an HCAT alumnus, is steadfast in his efforts to recruit and mentor students while providing professional pathways for them."
About Dr. David Brough:
Dr. Brough has served as Dean of the School of Hotel, Culinary Arts and Tourism at SUNY Schenectady since 2011, and was Chair of the Division from 2009 to 2011. Prior to that, Dr. Brough was a Professor within the Division. He continues to teach Classical Cuisine during the Fall and Spring Semesters, and Food and Beverage Control during Summer Session. A 1981 graduate of SUNY Schenectady with his A.A.S. degree in Hotel Technology, Dr. Brough holds his Ph.D. in Curriculum and Instruction from the University at Albany, his M.S. in Hospitality and Tourism Management from Rochester Institute of Technology, and his B.A. in Hotel Administration from the University of Nevada at Las Vegas. He is a Certified Executive Chef, Certified Culinary Educator, Certified Culinary Administrator, Fellow with the American Academy of Chefs, HCI TIPS Certified Instructor, and a longtime member of the American Culinary Federation. In 2018, Dr. Brough was the recipient of the prestigious SUNY Chancellor's Award for Excellence in Professional Service.