Computer Science Graduate Recognized with Norman R. McConney, Jr. Award for Student Excellence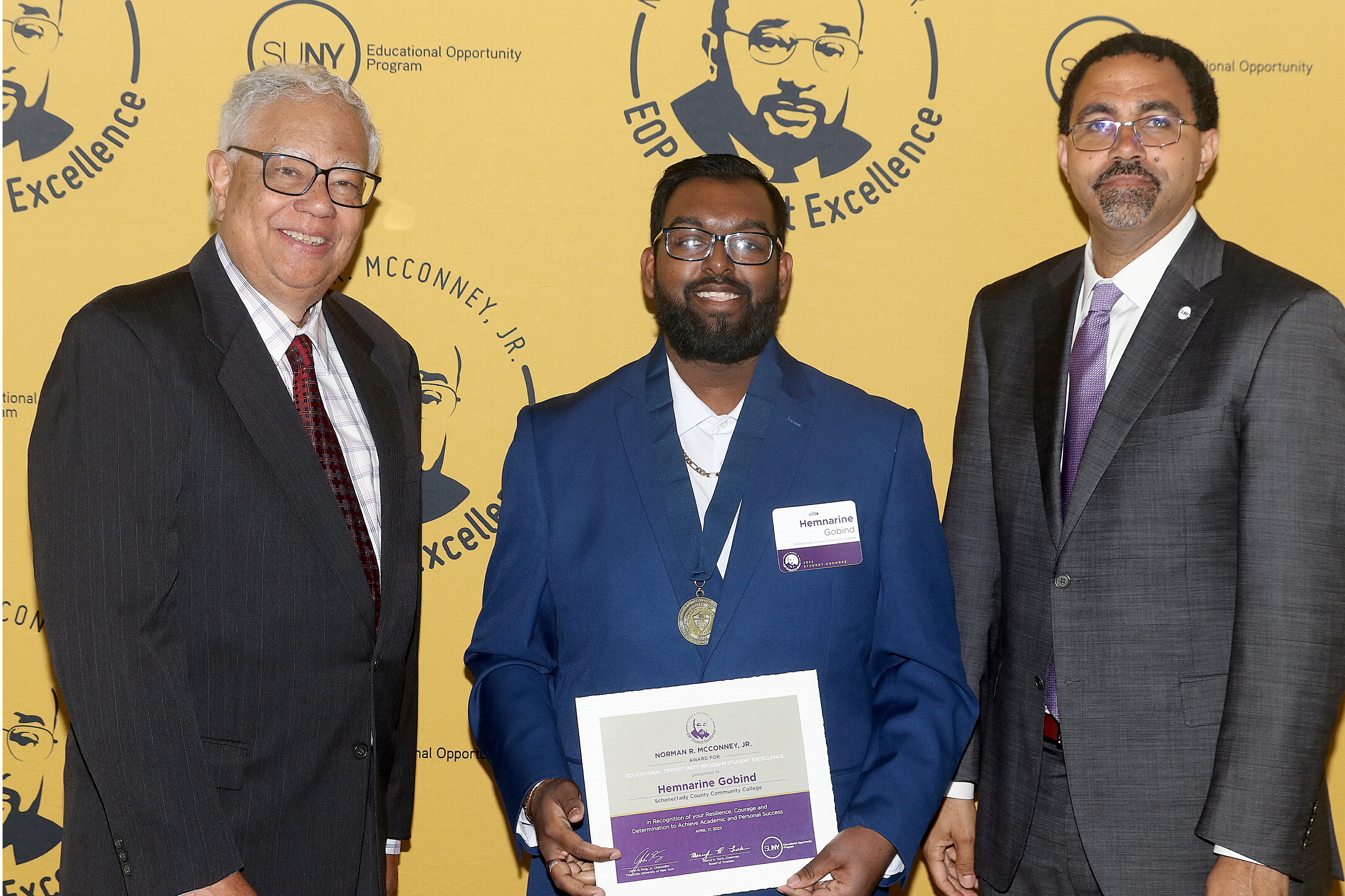 4/20/2023
Congratulations to Hemnarine Gobind, who graduated with his degree in Computer Science in December 2022 and was recently recognized as a recipient of the Norman R. McConney, Jr. Award for Student Excellence. Hemnarine was one of 46 students in the Educational Opportunity Program (EOP) from SUNY campuses honored with the award that recognizes outstanding EOP students for their academic merit and perseverance.
While he was a student at SUNY Schenectady, Hemnarine was an active member of EOP, serving as secretary of the EOP Club and participating in EOP's statewide Arthur O. Eve Week of Service, collecting recyclable bottles and cans with the proceeds benefitting the College's Food Pantry. He was also a member of the Criminal Justice Club. He completed his degree program in Computer Science with a cumulative grade point average of 3.47 and was named to the Dean's List.
Hemnarine first learned about SUNY Schenectady when he was a seventh-grader at Central Park Middle School and in the Liberty Partnerships Program. He began taking SUNY Schenectady Computer Science courses while he was a student at Schenectady High School and a participant in the Schenectady Smart Scholars Early College High School Program.
Now pursuing his B.S. degree in Computer Science at the University at Albany, Hemnarine plans to graduate and pursue a career in coding. "I've always loved computers and technology in general," he shared. "I love how easy technology can make our lives and how there's something new every day." His latest interest? "I like to see how web pages function the way they do and how games are able to function on our phones," he said. "All of these applications are made through coding."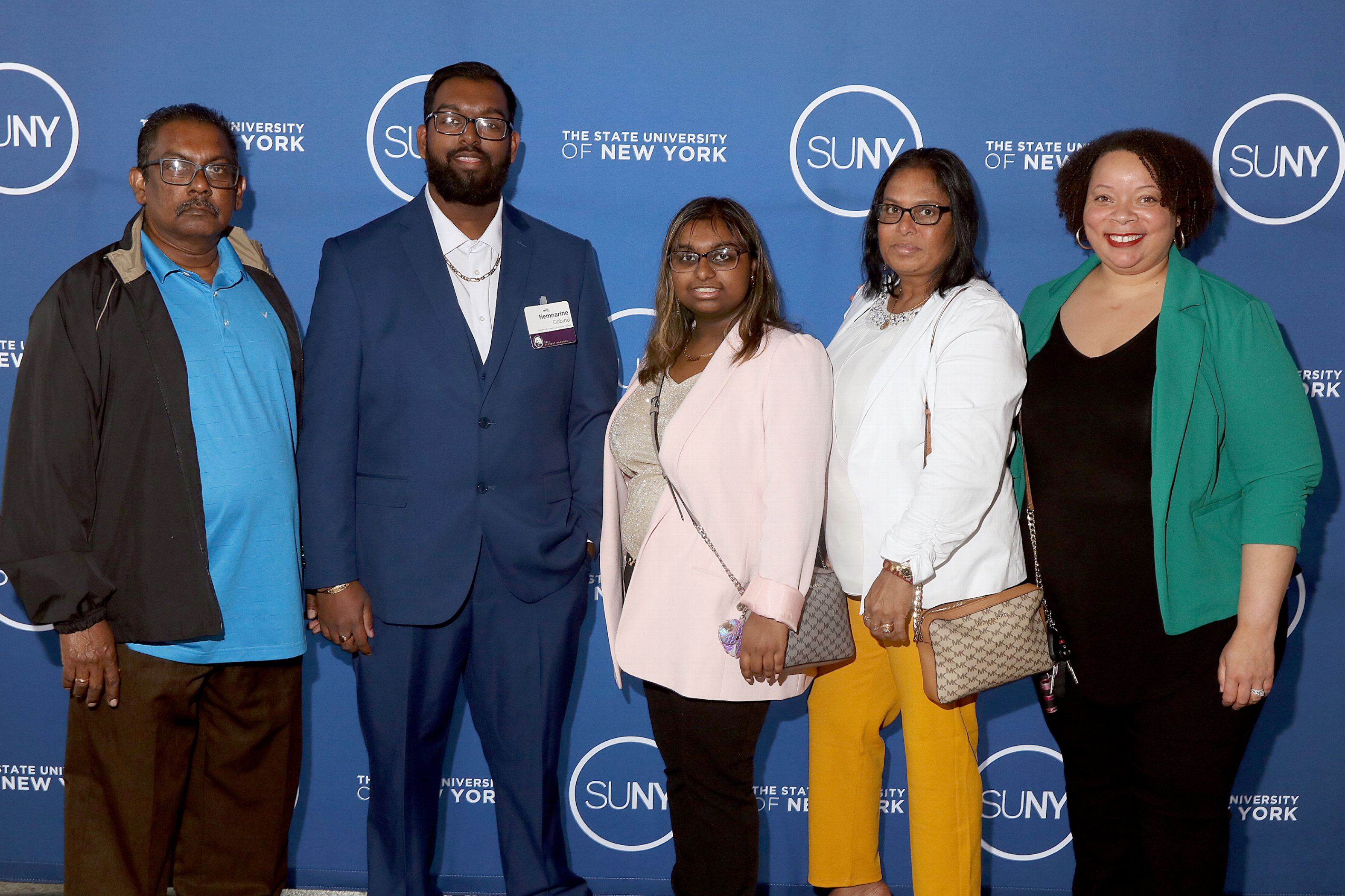 Hemnarine Gobind '22, with his father Bharat, his sister Hemmattie, a junior at Schenectady High School and also a student at SUNY Schenectady through the Schenectady Smart Transfer Early College High School program, his mother Roopmattie, and Tiombé Tatum, Director of EOP, SUNY Schenectady.
"When SUNY was founded 75 years ago, the mission was to create an educational environment where all are welcome," said SUNY Chancellor King. "For over 50 years, SUNY's Educational Opportunity Program has worked to make that a reality by helping students, many of whom are the first in their family to go to college, access higher education and see their degrees to completion. When I visit our campuses, I am continuously awed and inspired by the dedicated, hardworking EOP students I meet. EOP is a ticket to upward mobility for New York students, which is why I am honored to recognize these students who stand as role models demonstrating what is possible. With the financial support of New York State, and the resources provided at SUNY campuses, New Yorkers have an opportunity to further their education. My congratulations to each awardee for taking that step to go to college and succeed."
The award is named in memory of Norman R. McConney, Jr. (1946–2016), a graduate of the University at Albany and former assistant dean for special programs at SUNY. McConney, alongside former Assembly Deputy Speaker Arthur O. Eve, helped create the EOP as a statewide program.