Aviation Science Program Will Soar to New Heights with Flex Pod Airport Hangar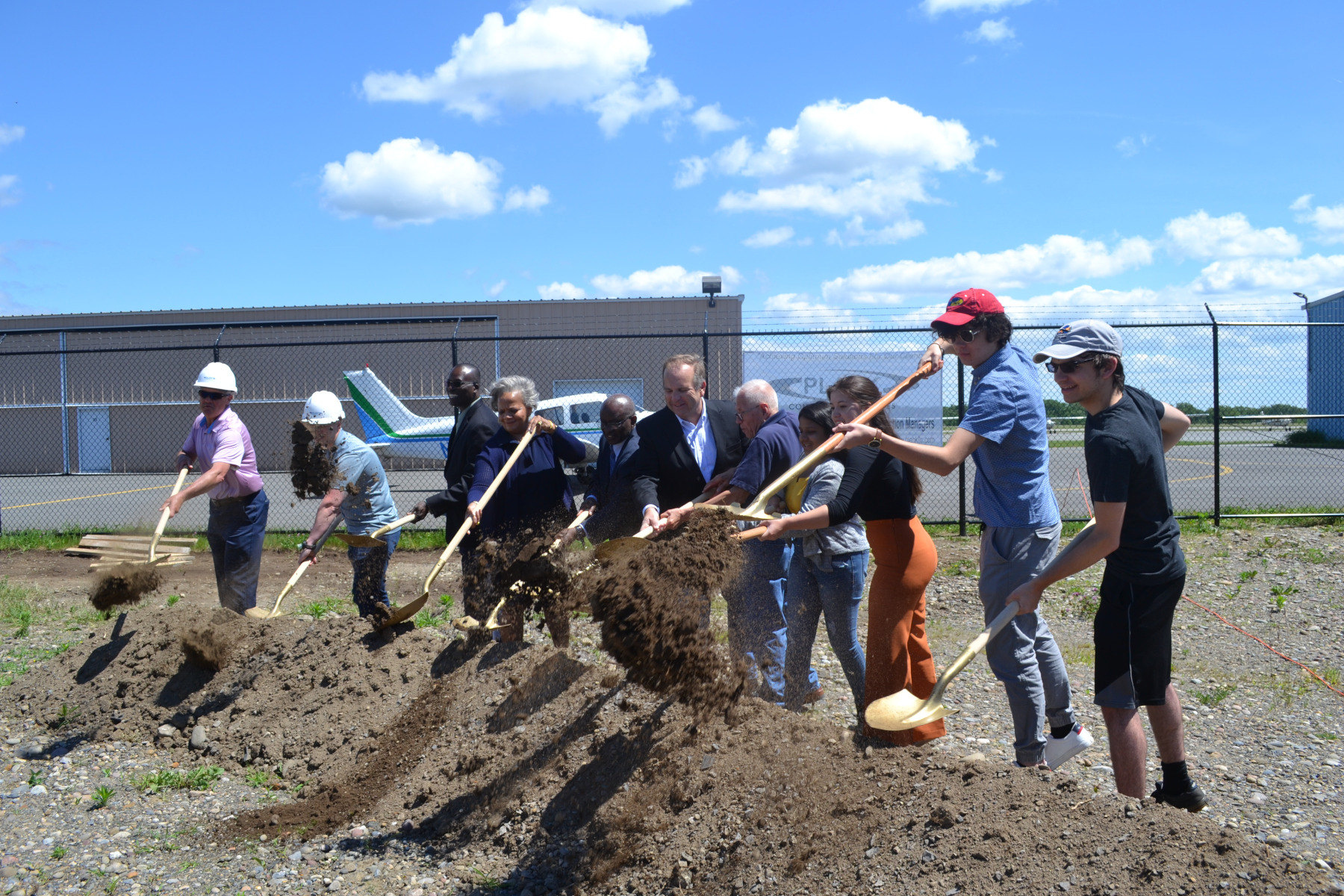 6/09/2022
As news reports continue to examine the airplane pilot shortage across the country, SUNY Schenectady and Schenectady County are planning to enhance the College's Aviation Science degree program which trains aspiring pilots, through a new Flex Pod Airport Hangar at the Schenectady County Airport. Officials from the College and Schenectady County broke ground on the new hangar at the Schenectady County Airport in front of a Piper, a plane that is flown by student pilots enrolled in the College's Aviation Science Pilot Option.
The new building will house four hangar pods, each 56' x 53', two of which will be occupied by SUNY Schenectady: one for airplane storage and the other for classroom/other educational purposes. Schenectady County received a grant from the New York State Department of Transportation to build the new airplane hangar and funding for the two hangar pods SUNY Schenectady will occupy is being provided by Schenectady County.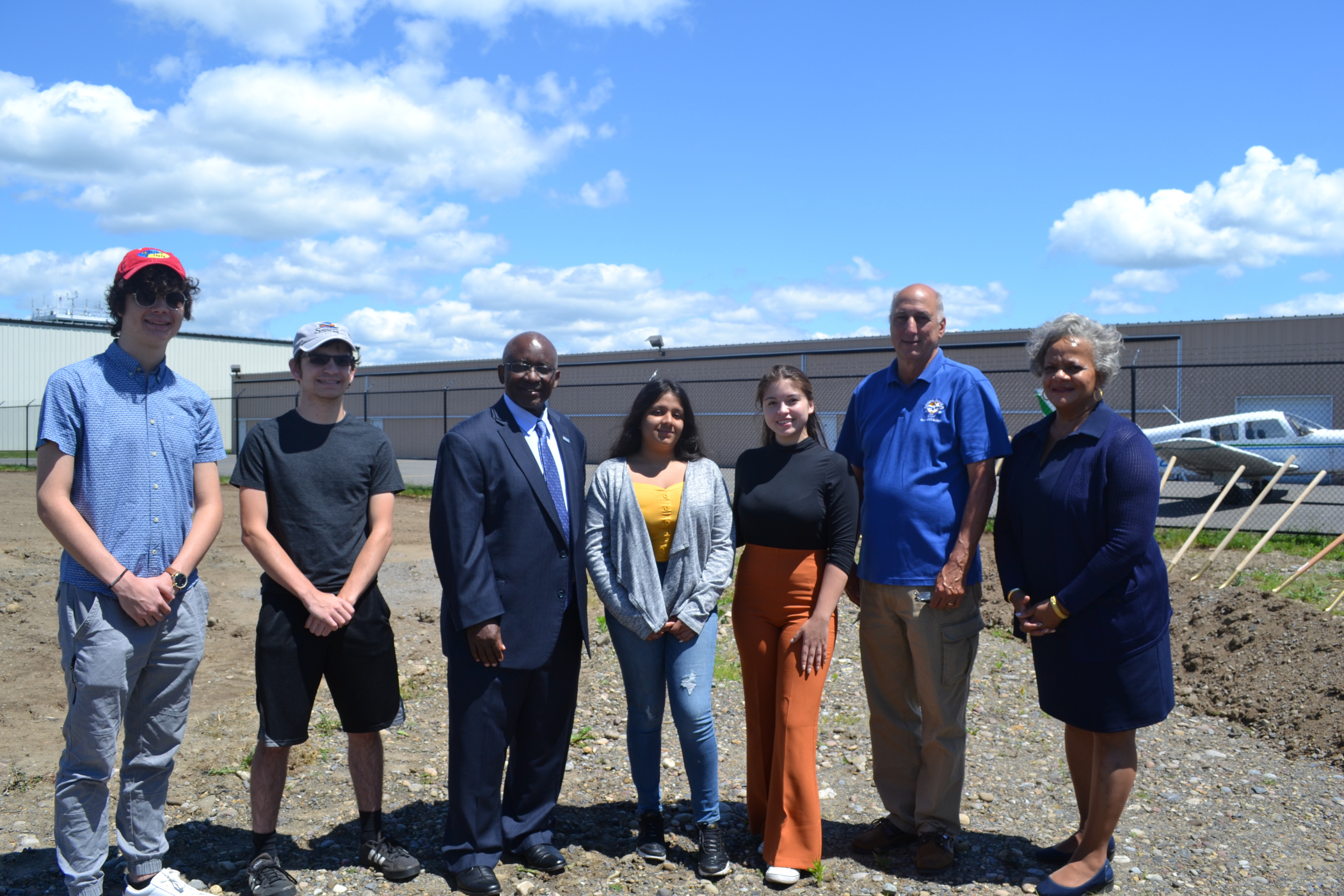 Jonathan Ryan and Christopher Bell, Aviation Science majors; Dr. Steady Moono, College President; Tuveena Sharma and Marisa Dreibelbis, Aviation Science majors; John Baldasaro, Certified Flight Instructor for Westfield Flight Academy; and Dr. Cheryl Renée Gooch, Vice President for Academic Affairs
At the Schenectady County Airport, SUNY Schenectady Aviation Science students fly Cessnas and Pipers during their flight training in Introduction to Flight, Elements of Instrument Flight, and Commercial Operations Labs through both Westfield Flight Academy and Richmor Aviation.
The College's Aviation Science program has been consistently successful since it began in 1997. The Flight Team has won regional competitions and gone on to compete in the National Intercollegiate Flight Association Safe-Con Flight Competition, under the guidance of longtime Professor Barbara Jones, whose vast experience in the aviation field is equally matched by the dedication she has shown to her students and the unwavering support she has provided to them. Alumni have gone on to rewarding and impressive careers in the aviation industry as flight instructors and as professional pilots for private corporate airlines, Delta Airlines, Republic Airlines, and FedEx to name just a few.
In addition to the Aviation Science Pilot Option, the College also offers an Aviation Science Non-Pilot option and an Air Traffic Control degree program with students learning hands-on in the Schenectady County Airport Control Tower.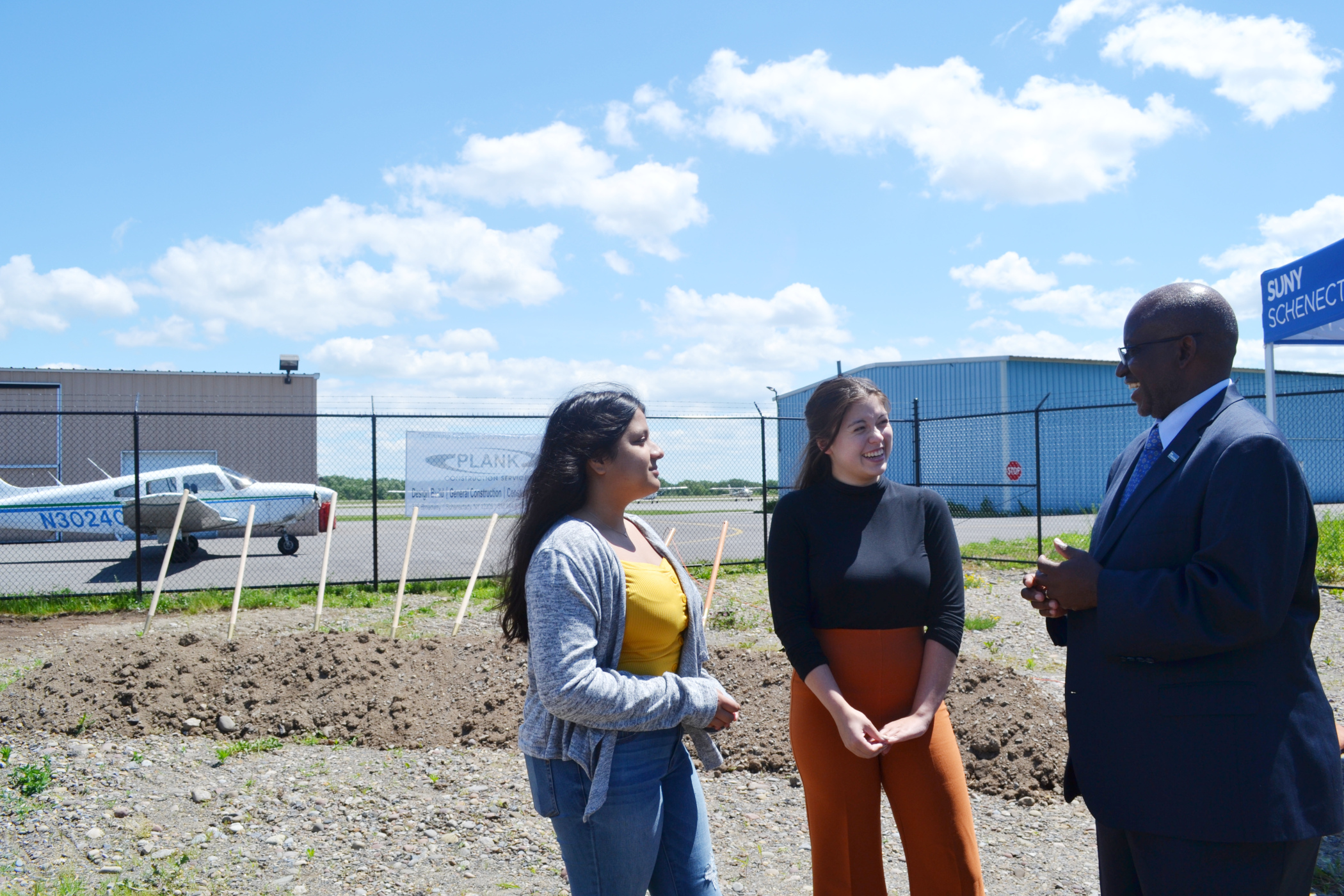 Tuveena Sharma and Marisa Dreibelbis, Aviation Science majors, with Dr. Steady Moono, College President
"We are grateful to Schenectady County for investing in our Aviation students and for recognizing how extremely successful our Aviation Science program continues to be in educating those who are pursuing careers in aviation," said Dr. Steady Moono, College President.
"With the new hangar, our students and faculty will have their own space at the airport for the planes they use for flight training, as well as classroom space for courses including those in Aviation Law and Meteorology. This is a significant addition to the College's academic facilities and we are excited about what lies ahead for our students and faculty in the Aviation Science program."
As ground was broken on the new hangar today, crews began readying the site for construction with officials anticipating that the project will be completed by the end of October 2022.