Air Traffic Control A.A.S.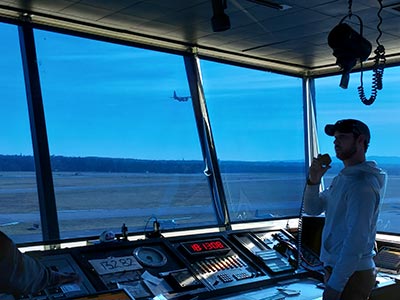 The Air Traffic Control A.A.S. degree program will provide students with a foundation in air traffic control basics and skills for the continuous safe flow of aircraft in the airspace system. Students will effectively handle normal and emergency situations through simulated scenarios and actual control of live aircraft traffic at the Schenectady County Airport Control Tower.
The College developed this program to help fill a need locally and nationally for qualified air traffic controllers as identified by the Federal Aviation Administration (FAA), with an expected shortage of qualified controllers.
The Air Traffic Control A.A.S. degree program provides training in the application of air traffic control procedures and simulator and over-the-shoulder control tower operation training and experience.
Admission Requirements
Applicants must:
Possess a current, Class-2 medical certificate issued through an FAA certified examiner;
Be a U.S. citizen;
Have a record free of any convictions that may disqualify them from obtaining an FAA security clearance, and
Have no speech impediments.
Students enrolled in the Air Traffic Control A.A.S. program will receive instruction to prepare for the:
FAA Control Tower Operator written exam, and
Schenectady Airport FAA Facility Rating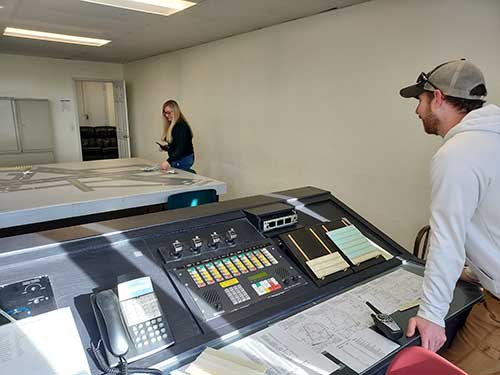 The FAA Control Tower Operator exam will be administered at the end of the ATC 110 – Air Traffic Basics course. Students must pass this Certified Tower Operator written exam with a grade of 70 percent or higher and pass a pre-training drug screen (and are subject to random testing) to continue training in ATC 205 Ground Control Laboratory and ATC 255 Local Control Laboratory. Students must also be 18 years of age in order to participate in the over-the-shoulder, hands-on tower training included in ATC 205 and ATC 255. Laboratory fees can be found here.
During their second year of the program, students will prepare for the FAA Facility Rating at the Schenectady County Airport Control Tower. In order to complete the program requirements for the A.A.S. program at SUNY Schenectady, students will be required to successfully complete their Facility Rating for Schenectady County Non-Federal Tower (NFT).
The Facility Rating for Schenectady County NFT meets established hiring requirements for NFT control towers only. NFT towers have no maximum age restriction for initial hire; whereas, the entrance exam requirement for employment in FAA control towers is restricted to those 18 to 31 years of age.
Completion of the Air Traffic Control degree program is not a requirement to take the FAA entrance exam, which is required for entrance in the FAA ATC Training program in Oklahoma City, Okla.
Students who do not successfully complete any one of the these exams but are in good academic standing at the College may transfer into SUNY Schenectady's Aviation Science (non-pilot option) A.S. degree program and receive up to 45 credits of completed course work toward the Aviation Science degree.
Degree Plan
See the degree requirements and suggested course sequence.
Degree Plan