Aspiring Entrepreneur Learning From Company, Local Sales Professionals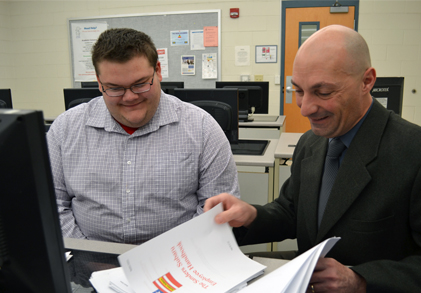 3/05/2020
Students in business programs gain hands-on sales training.
Instead of taking a class online or on campus, every week David Sanders, a Business Administration major, goes to Sandler Training in Albany to absorb all he can about sales and leadership. He is in the same training program as sales professionals from throughout the Capital District, and he earns college credits at the same time. Professor Matthew Farron, who helped develop the partnership with Sandler Training, said that the opportunity is "life changing."
"This unique agreement means a lot for our students," said Professor Farron, who teaches business courses through the Division of Business, Criminal Justice and Law. "Sales skills are extremely important regardless of the career you choose. Students now have the opportunity to gain these essential skills from a world leader in sales training."
David is the first student in the training program which began this semester. He plans on owning a car dealership and the Sandler training, part of the College's Management 215: Sales and Service course, is helping him write his business plan and employee handbook. "I'm learning directly from sales experts at Sandler and the others in the class about what things to avoid when it comes to sales, the correct steps in the sales process, and even how to interact with customers."
The Sandler training covers topics including: establishing rapport with prospects; uncovering the prospect's needs, budget, and decision-making; delivering effective presentations; improving behavior and technique; and creating an effective prospecting plan. The course is open to students in the College's Business Administration A.A.S. Degree program, which is designed for students who want to enter the workforce upon completion of the program, and those in the Entrepreneurship Certificate program, for students interested in launching their own business ventures or working in start-up companies.
Interested in this excellent opportunity and our Business Administration/Entrepreneurship academic programs? Please contact Professor Matthew Farron.