College Celebrates Graduates During Commencement 2020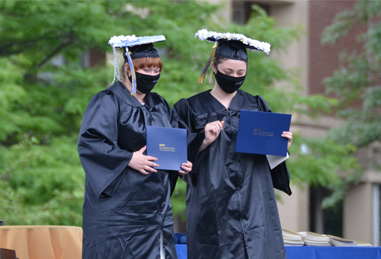 7/16/2020
Congratulations Class of 2020!
It may have been unlike any other Commencement that SUNY Schenectady has ever hosted, but there was just as much excitement and (socially distant) well wishes during SUNY Schenectady's 50th Commencement which took place on campus on Monday, June 29, 2020. MORE PHOTOS, VIDEO of COMMENCEMENT
Approximately 465 graduates were invited to participate in the College's "drive-through" Commencement with each student allowed two vehicles: one for themselves and one for family members residing in the same household. (Names of all of the graduates.)
As faculty and staff lined a nearby walkway, observing social distancing measures, one at a time students drove up to the front of the College's quad area, exited their individual vehicles, and crossed the stage as his or her name was read by College officials. Family members tuned into an FM radio station and took photos from their vehicles. It was an innovative way to celebrate the Class of 2020 during an unprecedented time.
Although no remarks were made in order to allow time for each student to drive up and cross the stage, Dr. Steady Moono, College President, congratulated the students in a message included in the event program and posted on the College's website.
"Our graduates have shown great determination to adapt to a remote learning platform during the spring semester as they completed the coursework for their degrees and certificates," Dr. Moono said. "We applaud them for the perseverance they have demonstrated during all of their semesters at SUNY Schenectady, especially this spring. They have shown a commitment to their academic journeys and a willingness to do what it takes to succeed that has made everyone at the College proud."
During the Commencement, students graduated with degrees and certificates in academic programs offered through the:
Division of Business, Criminal Justice and Law
Division of Liberal Arts
Division of Math, Science, Technology, and Health
School of Hotel, Culinary Arts, and Tourism
School of Music
One of the graduates, Hannah Daignault, a Nutrition major and the Student Trustee, noted that returning to campus after leaving somewhat abruptly as the pandemic unfolded, made the event even more special. ""We never imagined our Commencement would be postponed due to a pandemic, but I am proud of my fellow graduates for overcoming a challenging final semester," she said. "We have emerged stronger than before. I am grateful for all of the staff and faculty who have supported us and who came to celebrate our Commencement day. It was so exciting to cross the stage and receive my degree."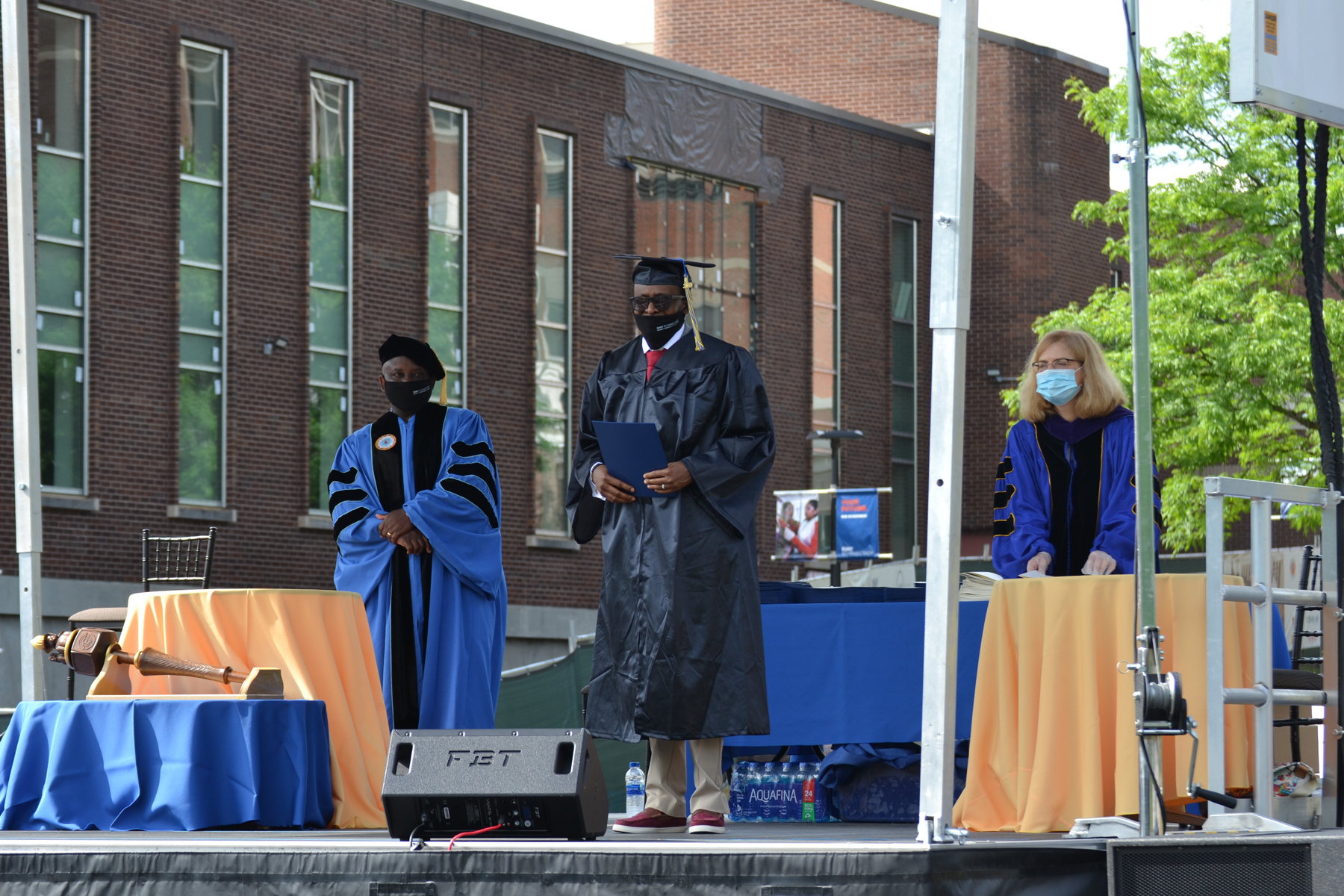 Ann Fleming Brown is Chair of the College's Board of Trustees and was on hand to honor the achievements of the members of the Class of 2020. "I have been so inspired by all of our students during this challenging time, especially our graduates," she said. "I commend them for how hard they have worked to earn their degrees and certificates. As they leave SUNY Schenectady and transfer on to other colleges and universities for their bachelor's degrees or begin their careers, we extend our most heartfelt congratulations to all of them and wish them much continued success in the future." (Olujide Adesina, Paralegal, with Dr. Steady Moono, College President, and Ann Fleming Brown, Chair of the Board of Trustees.)
As a special way to acknowledge their resilience, the names of each of this year's graduates were inscribed on commemorative bricks placed in the College's quad.