Women's Bowling Team Wins Regionals, Basketball Player Named to All-Conference Team
2/25/2020
Athletes excel during Regional competition, on the court.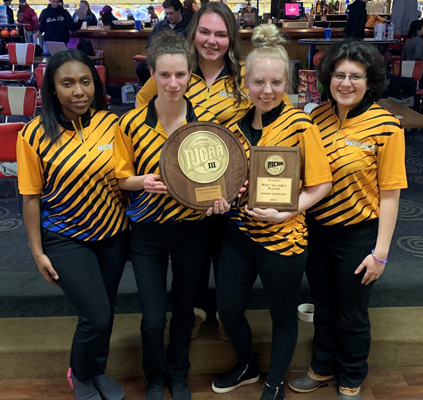 Congratulations to the Women's Bowling Team, Head Coach Ronald Williams, and Assistant Coach Amy Janetsky-Smith. The Women's Team won the Region III Women's Bowling Championship in Utica on February 22, with 7383 total pins, against five other regional teams. The women and men's teams will now head to the NJCAA Bowling Championships taking place March 6 and March 7 in Buffalo. Left to right are: Jessica Joye, Amanda Ruther, Nicole Pitsas, Alissa Parker, and Gina Voris.
Like Coach Williams, who is in his first year as Head Coach of the Royals, many of the bowlers are in their first season at SUNY Schenectady and have put the time in to come together as a team.
They worked hard for it," Coach Williams said of the Women's Team following the Regional win. "They're bowling hard and accomplished what needed to be done."
In addition to the Regional crown, the team finished second (10-5) in the Mountain Valley Conference, which includes 10 community colleges in in Northeast.
Gina Voris, a graduate of Niskayuna High School majoring in Criminal Justice, has been a standout this season. She was recognized as the Player of the Year for the Mountain Valley Conference with a high average of 181, high triple with a 594, and high game of 243.
During the Region III tournament, Alissa Parker, a graduate of Orono High School in Orono, Maine, and a Culinary Arts major, earned the Most Valuable Player Award after scoring the highest in all of the events for the weekend - doubles and singles. She and Voris also took first place in doubles. Jessica Joye, a graduate of Schenectady High School majoring in Human Services, joins Voris and Parker on the All-Conference Team.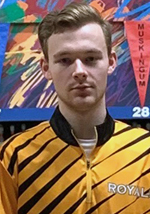 On the men's side, Kenny Keefer Jr., a graduate of Watervliet High School majoring in Fire Protection Technology, finished second in singles and sixth overall during the Regionals.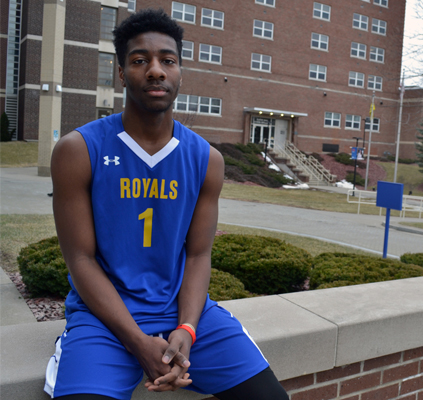 In basketball news, congratulations to Christian Corker, freshman point guard on the Men's Basketball Team, and a graduate of Scotia-Glenville High School majoring in Liberal Arts, who was selected for the 2019-2020 Mountain Valley Conference Third Team All-Conference. He was chosen by coaches in the conference, based on his performance throughout the season, averaging 20 points per game.
"Christian is a quiet leader who helped us tremendously in the second half of the year," said Head Coach Harry Rolle.