Dr. Cheryl Renée Gooch To Discuss Her Book, Hinsonville's Heroes: Black Civil War Soldiers of Chester County, Pennsylvania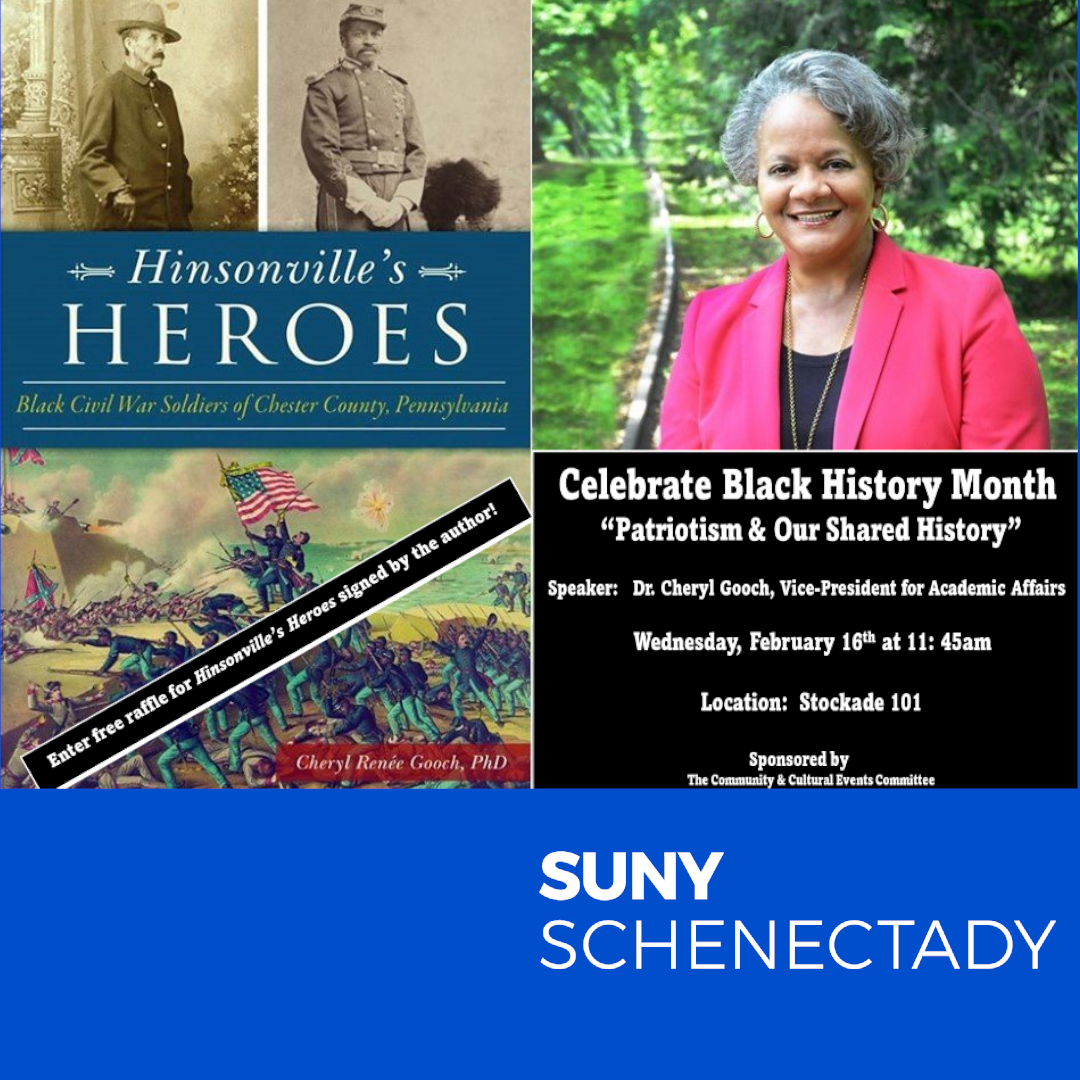 2/09/2022
In addition to serving as the Vice President for Academic Affairs, Dr. Cheryl Renée Gooch is an active researcher and the author of Hinsonville's Heroes: Black Civil War Soldiers of Chester County, Pennsylvania (The History Press, 2018). Dr. Gooch will discuss the lives of men from this free Black community who served in the war to end slavery, and how many of us descend from families who witnessed and shaped history during the "Patriotism & Our Shared History" program on Wednesday, Feb. 16, from 11:45 a.m. to 1 p.m. in the Stockade Building, Room 101. Dr. Gooch's talk is part of the College's Black History Month events.
She was inspired to write the book while serving as Dean of the School of Arts, Humanities and Social Sciences at Lincoln University, a historically Black university near Oxford, Penn., after noticing headstones of Civil war veterans in the Hosanna Church cemetery near campus. After researching the names on the headstones, she uncovered more about the lives of George Duffy, Abraham Stout, Isaac A. Hollingsworth, Abraham Blake, Lewis Palmer and others, 18 in total who served as members of what were called United States Colored Troops during the Civil War.
As described in publicity materials for Hinsonville's Heroes, "As members of the Fifty-Fourth Massachusetts Volunteers, brothers Wesley, William, and George Jay survived the bloody battle at Fort Wagner, South Carolina, memorialized in the film Glory. George W. Duffy and Stephen J. Ringgold were part of the only Black regiment to lead President Lincoln's funeral procession in Washington. William B. Fitzgerald, Abraham Stout, Samuel H. Blake, and Isaac A. Hollingsworth fought with troops who cornered Robert E. Lee's army, forcing surrender at Appomattox Court House."
"A double purpose induced more than 200,000 Black men to enlist in the United States Army: to reunify our country and liberate more than 4 million Americans from slavery, including many of my direct ancestors. They sacrificed their health and lives to reform our democracy to ensure freedom and be recognized as full citizens. They were patriots."
In addition to Hinsonville's Heroes, Dr. Gooch is the author of On Africa's Lands: The Forgotten Stories of Two Lincoln Educated Missionaries in Liberia (The Lincoln University Press, 2014) and is a life member of the Association for the Study of African American Life and History (ASALH). Her presentation on Feb. 16 is free, open to the public, and organized by the Community and Cultural Events Committee.