Students in Craft Spirit Distillation Program and The Schenectady Distilling Company, Inc. Create New Brandy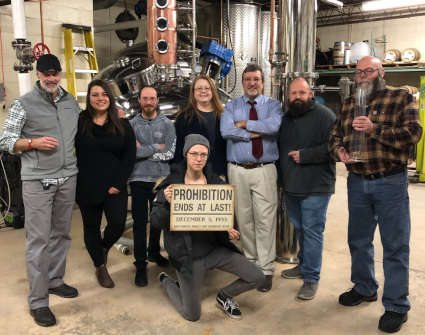 10/23/2020
Kenneth Gibbons, owner/operator of The Schenectady Distilling Company, Inc., knew that creating brandy, something his company had not done before, would be an investment of time and funding. However, when students in his Fall 2019 distilling course at SUNY Schenectady asked him if they could try the process, he jumped right in to teach them and learn at the same time. Now, he and his students will see their efforts come to fruition when the brandy "Marriage des Eaux" makes it debut during an Open House on Saturday, Oct. 24, from noon to 9 p.m. at The Schenectady Distilling Company, Inc., in Glenville. ("Marriage des Eaux or "marriage of the waters" is a nod to the Erie Canal.)
Gibbons, who is an Adjunct Faculty Member in the School of Hotel, Culinary Arts and Tourism, and students in his Fall 2019 Craft Spirit Production II class, spent a day in November 2019 distilling the brandy. Rather than letting it age for a year or two, he and the students decided to wait six months for the 20 gallons of product, which resulted in 220 bottles, to be ready.
"The students had the opportunity to learn hands-on what goes into distilling brandy and the entire process of creating a new product from keeping track of the batch to getting a label approved from the Federal Government and the State Liquor Authority," Gibbons explained. "It was a great learning experience for them and now they can see the finished product."
The brandy was made from 150 gallons of wine donated by Justin Capoccia from Capoccia Vineyard and Winery in Niskayuna.
Students in SUNY Schenectady's Craft Spirit Distillation degree and certificate programs take courses in beverage management, craft beer operations, merchandising, and marketing to prepare them for employment in the craft beverage industry.
"The industry is still in the early stages and is steadily growing with new craft distilleries opening across the state and country," Gibbons said. "What the students learn here can be applied to brewing and all different kinds of production,"
Students also learn the symbiotic relationships that distilleries and breweries have with local farms and businesses. Gibbons encourages his students to use local products, noting that he uses grain from a farm in Amsterdam, wheat and rye from a farm in Canajoharie, and malted barley from a malt house in Albany, for example.
Last semester, Gibbons also taught his students how to pivot when he began producing large amounts of hand sanitizer in response to the pandemic. A few of the students in his SUNY Schenectady classes assisted him over the summer as he distilled alcohol to create thousands of units of hand sanitizer that were then sold at Stewart's Shops throughout New York state.
"Our students are very lucky to have the opportunity to take their Craft Spirit Production I and II classes with Ken Gibbons," said Dr. David Brough, Dean of the School of Hotel, Culinary Arts and Tourism. "He is passionate about the craft and genuinely cares about his students and their success. We are also extremely grateful to Ken for welcoming us to his distillery and for empowering our students as they learn their craft in a real-world setting."