How Is The Fall Semester Going?
10/19/2020
Students have now settled into the Fall Semester with routines and schedules, amid a changing pandemic and challenges that present themselves at different times. Still, they are committed to accomplishing their academic goals. We commend all of them for their perseverance and the dedication they have shown to achieving these goals. We caught up with some students recently.
Bovanna Phillips, Human Services, graduate of Dwight Morrow High School/Academies @ Englewood (New Jersey), third semester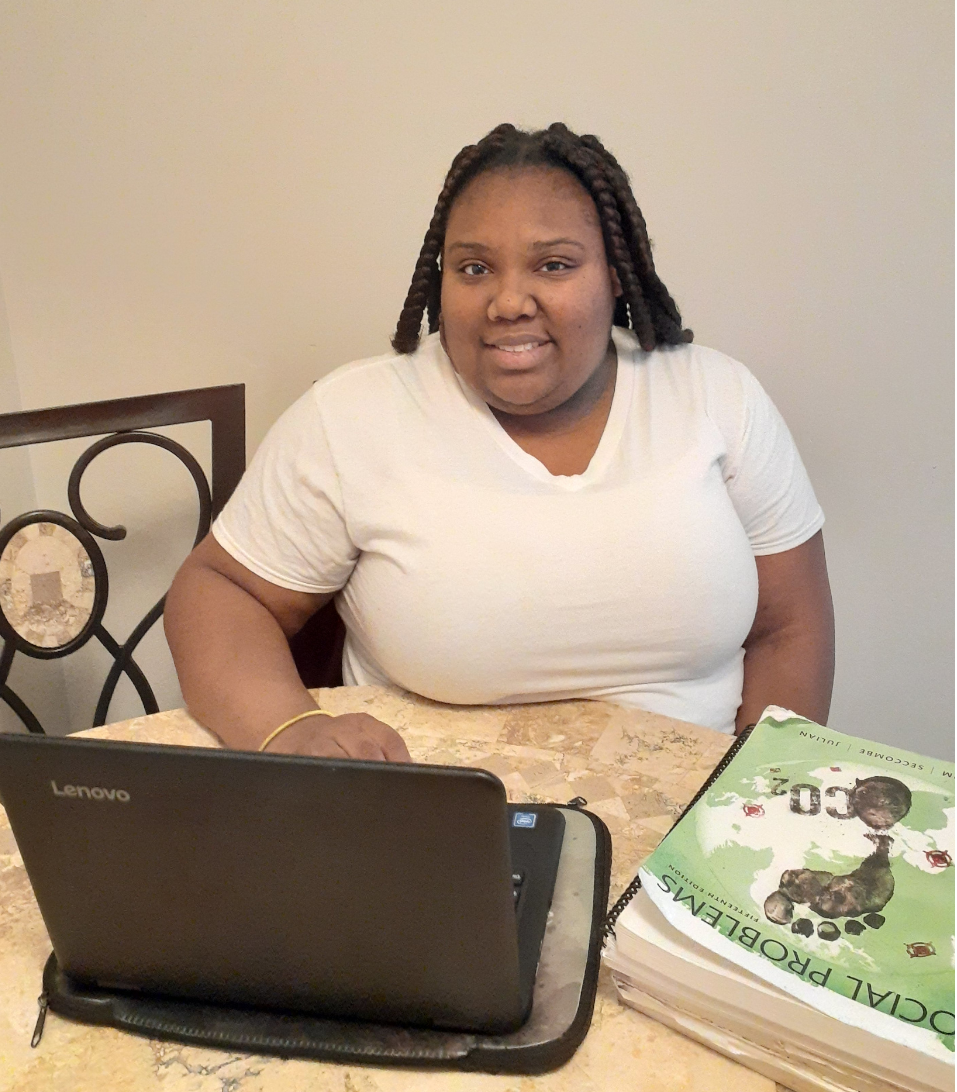 In addition to going to school full time, Bovanna is a full-time On-Call Counselor at Saint Anne's Institute, a non-secure detention facility for girls and young women ages 12 to 21. Last semester she was named to the President's List and was a member of the Student Volunteer Organization. She is taking five classes this semester, all of which are virtual.
How is your semester going so far?
So far so good. I haven't had any issues, but it is definitely a little more difficult doing all of the classes online. I have a full-time job that can be very demanding. Online gives me the flexibility to make time for my classes, but on some more difficult days at work, I don't get as much work done.
How do you stay connected to your professors and what techniques do you use for time management?
For three of my courses, we meet at a scheduled time via video. Professors set up Zooms to check in with us and they're attentive to emails if I have any questions. I stay very organized, I have a planner and I keep track of everything on my phone. I take my laptop with me everywhere I go. During my breaks at work, I make sure I'm all caught up.
Why did you choose SUNY Schenectady?
SUNY Schenectady had the major that I was looking for in Human Services, as well as the flexibility and the accessibility that I needed to continue full time at my job and to be successful in school.
After graduation, Bovanna plans to transfer on for her bachelor's degree in Human Services and then her master's degree. She would like to be involved in different levels of human services care for children. Community service is something that I love doing."
Antonio Cordova, Music Audio Technology, graduate of Shenendehowa High School, first semester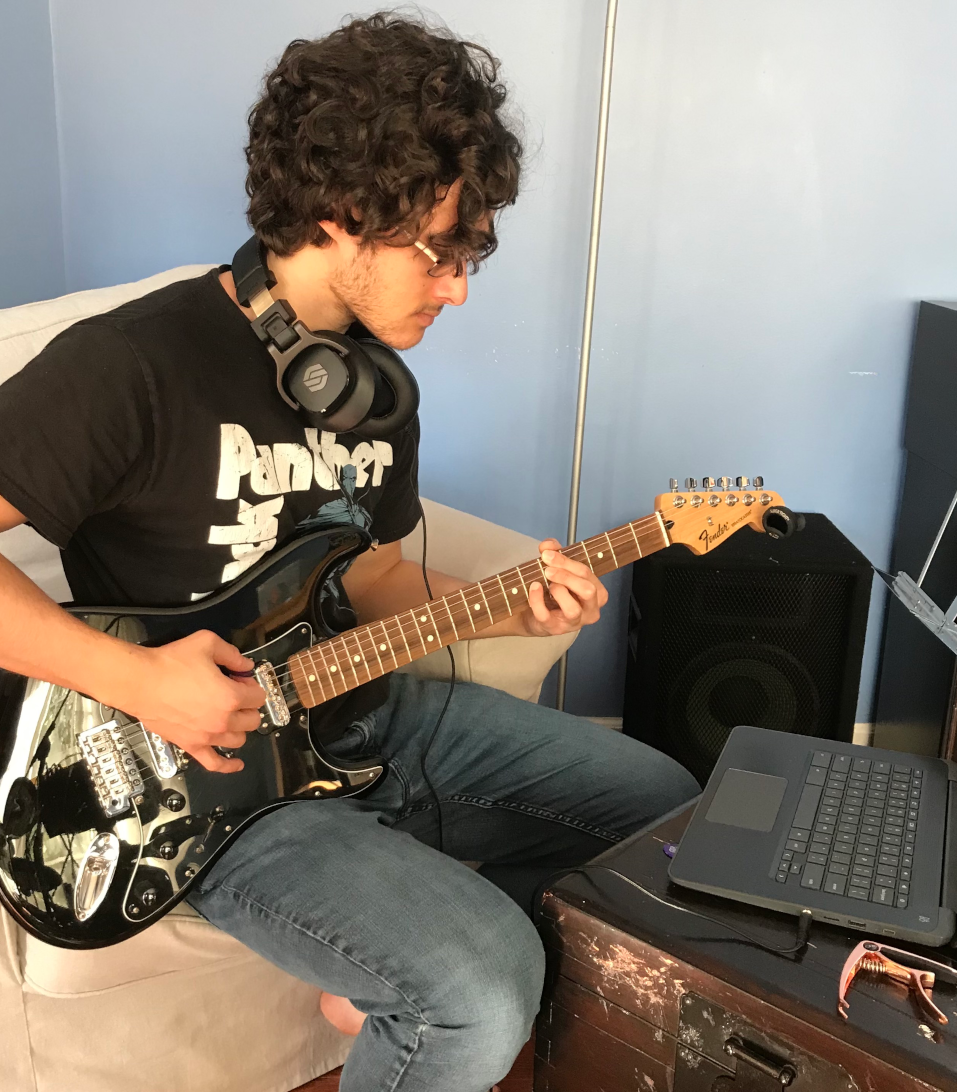 Antonio has been writing and recording his own music for the past year, using a digital audio work station program he has at home. He decided to take it to the next level by enrolling in the program at SUNY Schenectady. He is also a guitarist and violinist. He comes to campus once or twice a week for Guitar Ensemble and his Keyboard Techniques class, and he takes three other classes online.
How is your semester going so far?
I feel like I have already hammered out some of the issues I've had with my musicality in general. I've always struggled with reading music and quickly translating that to sound. The classes so far have forced me to overcome some of my previous limitations. This will help me in general, in the long run. The classes I'm taking online have adapted extremely well so that we're learning everything we would have learned if we were in the classroom.
Why did you choose SUNY Schenectady for Music?
Music has always been a part of my life. My dad had a basic musical education. My mother always had music playing in the house, and my grandfather was a musician performing in bands for years. I heard from my peers who went to SUNY Schenectady and my guitar teachers that it was a great school. That sold me on the idea that I would get a high quality education at a manageable cost. It's a good fit and a good starting point for my music education.
When he graduates, Antonio will be a ProTools Certified User by Avid as part of his degree program and he plans to complete an internship. He plans to transfer for his bachelor's degree in Music Audio Technology with a possible minor in Composition. He would like to pursue a dual career in audio engineering, as he composes music for film, television, and video games.
Bebi Bissember, Health Studies, graduate of Schenectady High School, fourth semester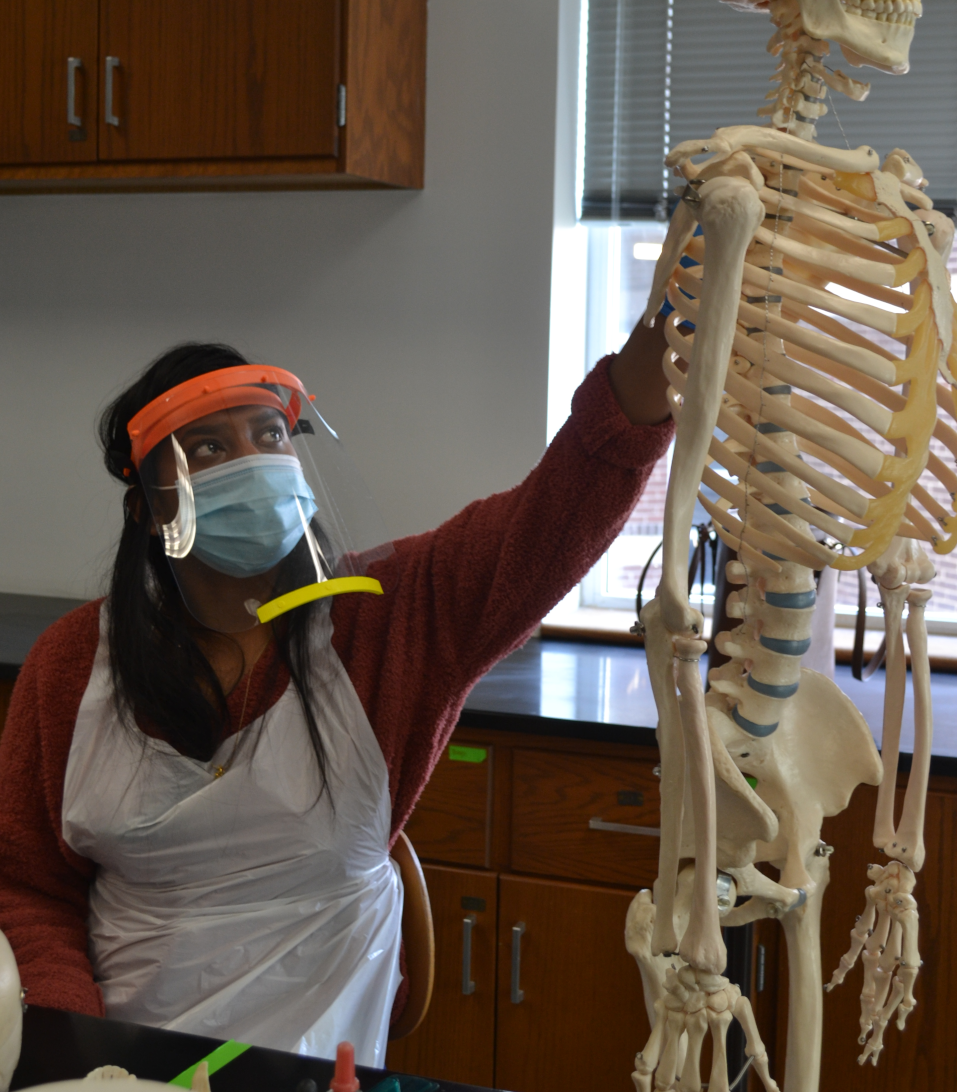 While she's going to school, Bebi is also a Direct Support Professional at the Center for Disability Services. She is taking two classes this semester: one class is online and for the other, Anatomy & Physiology, she comes to campus every two weeks for lab.
How did you adapt to virtual learning last semester and how is it going this semester?
At first it was kind of difficult because I never took online classes before. Now I'm used to it, but it is still kind of difficult for exams because I like to read the questions twice and there is a timer online. But, so far it's OK. I can ask my professors questions and they get back to me through email. And for our labs if we're not on campus, our professors give pictures in Connect and we label them to learn the skeleton and muscles.
Have you used support services?
Yes, I like the tutoring and the online help that I've gotten from the library. I've also used the Food Pantry.
Why did you choose SUNY Schenectady?
I chose SUNY Schenectady because it was close to my house and I heard a lot of good things about the College. The cost of tuition is great. The professors are excellent. There is tutoring which I really like. If you are struggling with an essay, you can ask a tutor for help.
What do you like about SUNY Schenectady?
I like the science labs that we take. The professors and staff are nice.
After SUNY Schenectady, Bebi plans to transfer for her bachelor's degree in Nursing and become a Registered Nurse. "Ever since I was a little girl, I always dreamed of helping people and being in the medical field and working at a hospital will make me feel like I'm helping. I have a passion for caring for people."
Daniel Petrillo, Liberal Arts: Communications concentration, earned his GED, fourth semester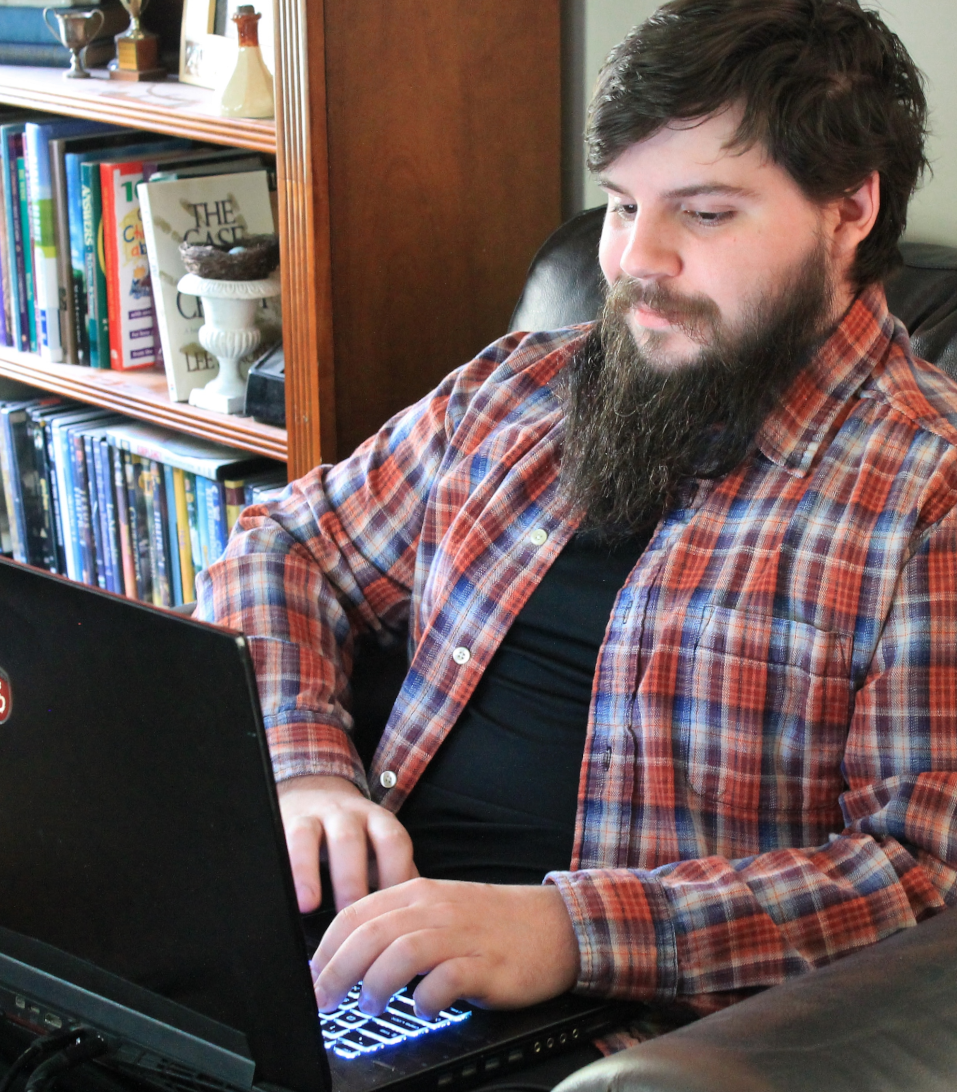 Recently, the YouTube channel that Daniel and three of his gaming friends started made it to more than 11,000 subscribers. A gaming enthusiast, Daniel is the video editor for content on the channel about the popular game Super Smash Brothers. This semester, he is taking five classes that are all online and working part time.
How was it adapting to virtual learning last semester and how is this semester going so far?
Last semester was much harder because when you go into a new semester and have an expectation of what it's going to be like and when it gets switched up on you with things you can't control, it's hard to feel motivated. I came up with a plan to self-regulate my academics and try and push through. I knew that there would be help from my professors to succeed. Another thing that happened to me last semester was that I had to have an emergency appendectomy which affected my school work for two weeks. But my professors were great; they helped me through it and I ended with a 4.0 semester GPA. This semester is a lot easier. I knew going in that all of my classes were online. It's less of a struggle, but it's less preferable to being there in-person and seeing all of my friends and having that face-to-face interaction.
How do you stay connected to your professors and other students?
Professor Doyle (Division of Liberal Arts) has daily office hours in a Zoom call, so if you have a question or anything you can hop in and have a conversation with her. I email with her and my other professors and they answer my questions. That availability is awesome. All of my classes have discussion forums, some are extra credit, most are required assignments so that gets interactions with classmates going, but largely I don't know who my classmates are in a more general setting.
Why did you choose SUNY Schenectady?
It's close to home. It's affordable and I'm getting an excellent education. It's a really good stepping stone toward my bachelor's degree.
On the same day that Daniel was interviewed for this piece, he had a phone call with his advisor to discuss being on track to graduate in 2021. After SUNY Schenectady, he plans to pursue his bachelor's degree in Communications. He would like to become a media or production editor.
Zomarielys (Zomy) Quiernan, Culinary Arts, graduate of Duanesburg High School, third semester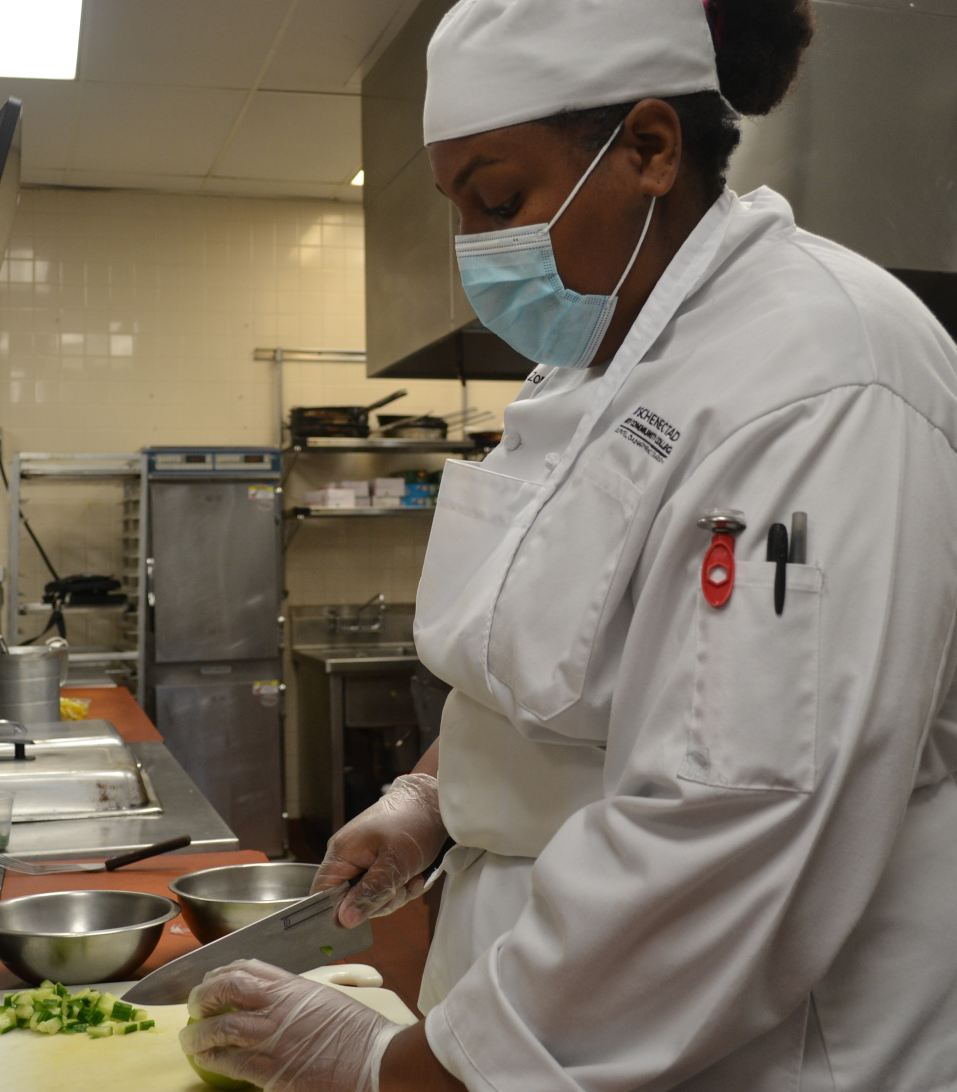 Zomy is taking five classes this semester: two are completely online and for her three Culinary labs, she comes to campus once or twice a week. She works part-time while going to school.
How was it last semester adapting to virtual learning and how is your fall semester going so far?
For me, personally, it takes a lot more focus when I'm working on the computer because there are so many things going on around you, especially at home. I've learned how to focus and ground myself more while taking these online classes. This semester has been fine. We have already learned a lot in lab, like how to make sausage in Garde Manger and we're preparing food for the Casola Curbside meals in Classical Cuisine. So far, we've made a southern wedge salad, chicken coconut milk soup, and delicata squash.
Why did you choose SUNY Schenectady?
Mainly because I knew that I wanted to stay home for a while and not go far away. I heard great things about the Culinary Arts program from former students and people I went to high school with. Everyone spoke very highly of it.
What do you like about the College?
Everything. The labs are great. We learn so many things from our professors who are very nice and they give you that extra push if you need it. They are always available for help.
How did you become interested in the culinary field?
Food is such a social thing. I love seeing people happy over something that I created. I always knew I wanted to do culinary, even as a child. My mom would buy me aprons, and when I got measuring cups for presents, that would make me so excited. I really enjoyed helping my mom when she was making classic rice and beans and pernil (a Latin American dish of marinated pork shoulder or pork leg).
After she graduates, Zomy plans to pursue her bachelor's degree in Culinary Arts. She would then like to become a private chef or a traveling chef.