Spotlight on Faculty Teaching Labs and Lessons from Home
When the College transitioned to virtual online learning on March 30, students and professors alike began to navigate how all of the topics that would normally be covered in hands-on labs and lessons would be covered virtually. With a lot of ingenuity, technological savvy, and determination, they have made it work.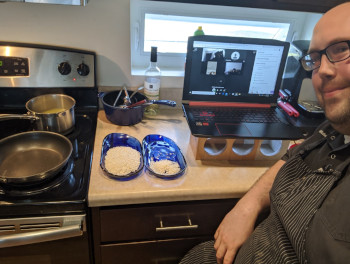 Chef Michael Stamets in his home kitchen.
In Chef Michael Stamets's Classical Cuisine II Lab, he has his students watching videos to learn about the food and culture of a region and more about the ingredients that are staples of the region. He is also doing live demonstrations of dishes like Bucatini all'Amatriciana. The pasta dish from the Le Marche region was used as a sign of togetherness after an earthquake hit the region in 2016.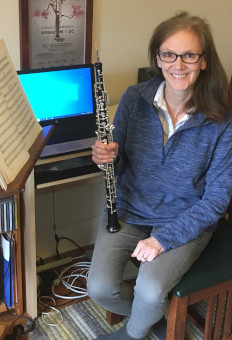 Dr. Karen Hosmer in her home music studio.
For her oboe lessons, Dr. Karen Hosmer, Professor in the School of Music, listens and watches her students perform their lesson music in WebEx meetings. Dr. Hosmer can easily demonstrate a passage the student is working on and the student can perform it from his or her home. Hand position, dynamics, phrasing, and breathing can all be discussed and improved. In her Music Fundamentals beginning music theory class, she has her students join WebEx meetings at their regular class times. Dr. Hosmer annotates the workbook during the live lecture and the pages are posted on Blackboard.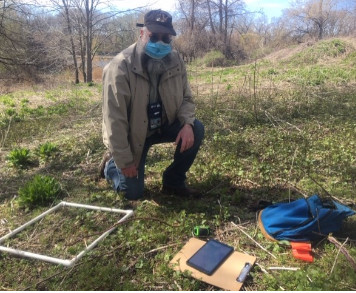 Dr. Richard Simons on the bike path along the Mohawk River before creating a video for his Ecology students.
Ordinarily, in the College's Biology Labs, Dr. Richard Simons would have his Anatomy and Physiology (A&P) students observe skeletons and muscle models, perform dissections, and generate their own EMG (electromyography) on Iworx, recording muscle activity. Ecology students learn how to use various scientific instruments such as soil meters and pH meters to sample water and soil quality. He has modified all of that for virtual learning by creating videos for students to follow. For A&P, he created a video to demonstrate how to do an EMG using Iworx and data was provided for analysis. In an upcoming lesson in his Ecology course, students will be examining a 5 x. 5 meter study plot near their homes to determine what type of organisms are present. Dr. Simons recently created a video to guide them through different sampling techniques before they sample their plots. They will then explain to one another why they believe their plots are structured in the way they recorded and documented.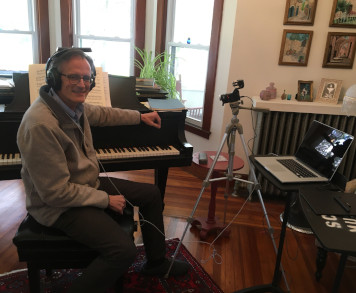 Assistant Professor Mark Evans in his home music studio.
Students in the Performance Concentration class taught by Assistant Professor Mark Evans use Zoom to connect with him. Students set their laptop or phone in such a way that he can see their hands at the keyboard, making sure that good hand position and finger techniques are being used. "These sessions are sometimes even more focused than an in-studio lesson since the senses for listening and observing are intensified," Evans explained. Students also send in video recordings of their performance or post them on a private YouTube page. All students participate in a performance class where, through Zoom, they are able to hear one another play and offer comments. "This helps to create a healthy social and academic setting for students who are having to complete their semester at home," he said.