From Vale Park to Philadelphia: Science Students Present Original Research Findings During Middle States Commission on Higher Education (MSCHE) 2022 Annual Conference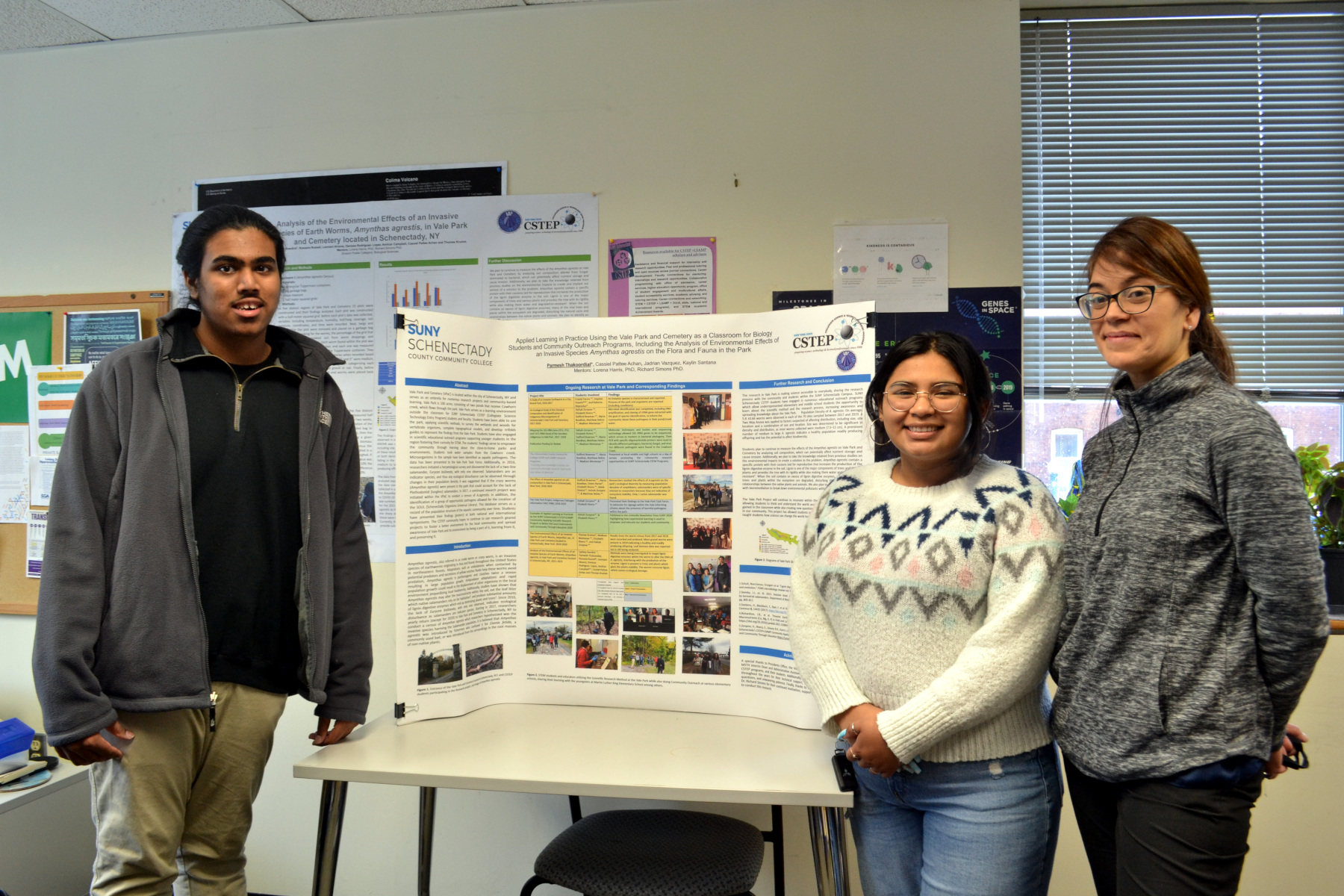 12/06/2022
This week, two students from SUNY Schenectady shared the results of their original scientific research, joining undergraduate and graduate student scholars from colleges and universities throughout New York, New Jersey, Maryland, Pennsylvania, and Puerto Rico, during the Middle States Commission on Higher Education (MSCHE) 2022 Annual Conference, "Empowering Higher Education," in Philadelphia, Penn.
Parmesh Thakoordial, a Science: Biology concentration major, and Cassiel Achan, a Biotechnology major, shared the results of the research that they and other students in the Collegiate Science and Technology Entry Program (CSTEP) are conducting at Vale Park in Schenectady. Since 2017, Science students, Dr. Lorena Harris, Director of CSTEP, and Dr. Richard Simons, Professor in the Division of Math, Science, Technology and Health, have been studying the effects of an invasive worm species on-site in Vale Park in Schenectady through a worm census and by analyzing soil and water samples back on campus in the Biotechnology Laboratory and Research Facility in Elston Hall. They are also studying an increase in downed trees in the park.
After submitting an abstract about their applied learning experience, the group was excited to learn last month that they were selected to present their research poster to educators and students during the prestigious conference. MSCHE is an institutional accreditor recognized by the United States Department of Education (USDE) that serves as an independent voice in higher education. SUNY Schenectady is accredited by Middle States.
Their poster is titled, "Applied Learning in Practice Using the Vale Park and Cemetery as a Classroom for Biology Students and Community Outreach Programs, Including the Analysis of Environmental Effects of an Invasive Species Amynthas agrestis on the Flora and Fauna in Park." At the MSCHE conference, they discussed the outreach they have done to share their findings with the Vale Park Task Force, during presentations at regional CSTEP conferences, and by having their work appear in SUNY publications.
Parmesh is a 17-year-old senior at Schenectady High School and is also completing his associate degree at SUNY Schenectady through the Schenectady Smart Transfer Early College High School program. He has been participating in CSTEP and the Vale Park research project for about a year.
After he graduates from SUNY Schenectady, Parmesh plans to transfer on for his bachelor's degree in Biology or Biomedical sciences and then pursue his medical degree to become a doctor.
"CSTEP has broken down barriers to conducting research and taught me the effects of hands-on research and how it can affect the community. I have been analyzing the soil and water from Cowhorn Creek and Vale Park, and it has allowed me to hone in on my lab techniques."
Cassiel began participating in the research project this semester and has already gained a lot from the opportunity. After she graduates from SUNY Schenectady, Cassiel plans to transfer on for her bachelor's degree in Biochemistry to become a biochemist.
"I've been very grateful for the fact that we can do this, venture outside of the classroom. It's nice to have hands-on experience. Then, you can dictate wherever you want to go in terms of research and science."
Dr. Harris will be with the students as they present their findings this week in Philadelphia.
"This is a great opportunity for them to network and to see how the camaraderie in higher education works, as well as how other students present their work. They will be able to be inspired by what is going on in higher education and be empowered as they present the work they are doing in Vale Park."
The colleges who will have students presenting research posters are:
Albizu University
Alvernia University
Bowie State University
Caldwell University
Canisius College
Felician University
Inter-American Defense College
Kean University
Manhattan College
Montgomery County Community College
Saint Elizabeth University
Orange County Community College (SUNY)
Schenectady County Community College (SUNY)
Temple University
United States Merchant Marine Academy
Universidad Andres Bello

University at Buffalo (SUNY)
University of Pennsylvania
Widener University
York College of Pennsylvania