Students Chosen as Recipients of Prestigious SUNY Chancellor's Awards for Student Excellence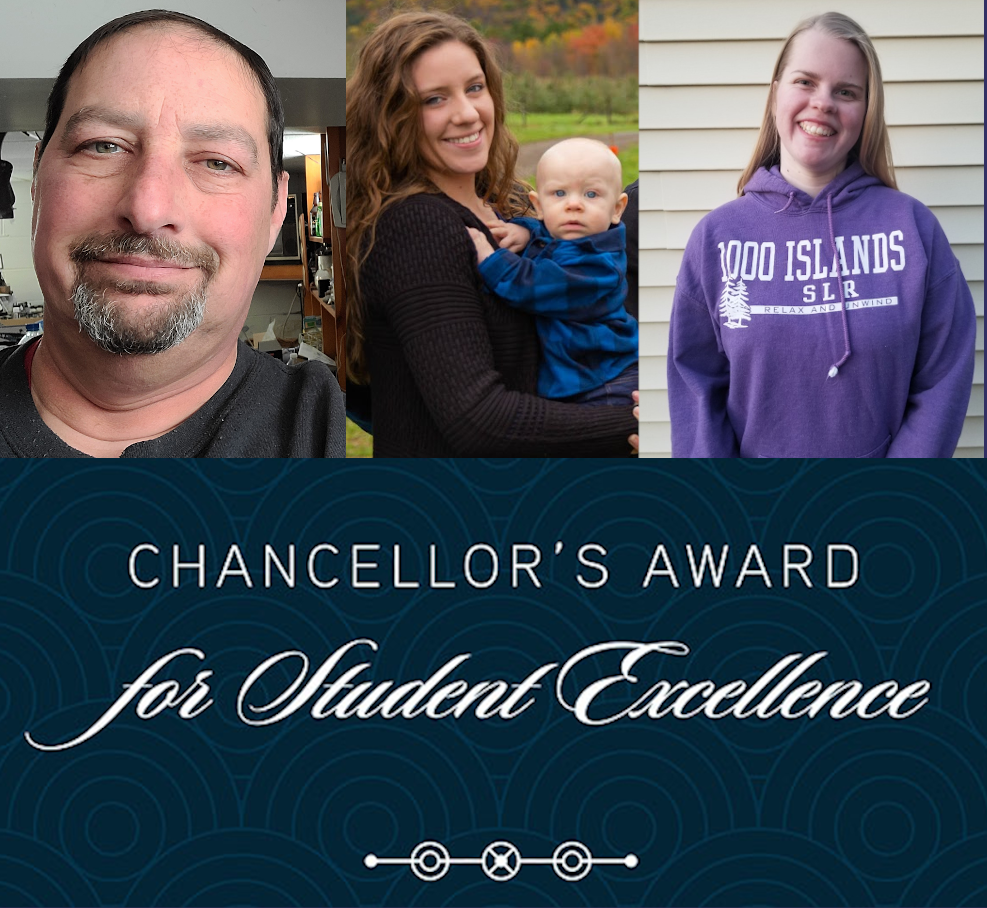 4/16/2021
The College congratulates three SUNY Schenectady students who were recognized this week as recipients of the prestigious SUNY Chancellor's Awards for Student Excellence. Joe Clark, Liberal Arts: History major, Amber Dorvee, Nutrition major, and Melissa Deal, Assistant Chef major, were honored during a special virtual ceremony on April 14.
"We are very proud of Joe, Amber, and Melissa, and we applaud them for their commitment to academic excellence and their service to the College/community," said Dr. Steady Moono, College President.
"They have already accomplished so much and continue to do great things. We salute them on this very well-deserved recognition."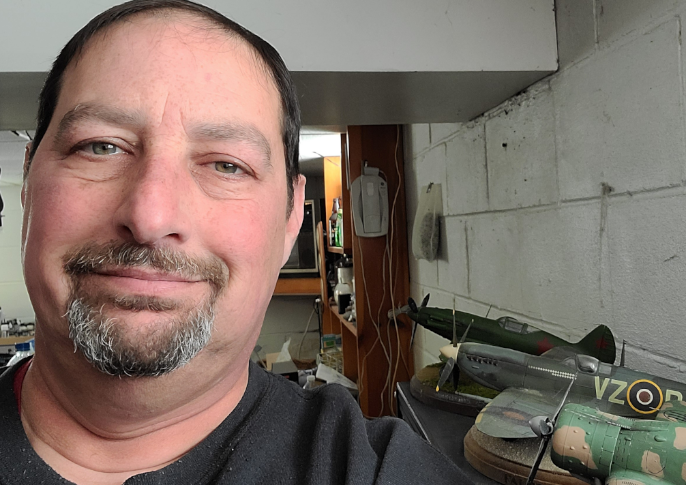 Joe Clark, a Liberal Arts: History degree major, is the recipient of the newly established 2021 Chancellor's Award for Student Excellence - Military Service. This award is presented to one student chosen from across the SUNY system. A U.S. Army veteran, Joe was deployed as a member of the Military Police to Iraq during the early 90s as part of Desert Shield and Desert Storm. After his military service discharge, he served as an armed Access Control Security Guard for Fort Bragg, where he was promoted from Guard to Sergeant and then to Lieutenant. Joe works in the Student Veterans Resource Office and has been a source of information and support for fellow student veterans, providing them with insight about benefits and VA resources. He informally tutors fellow students on a regular basis. He is also President of the Student Veterans Organization and has shared his experiences with PTSD during College presentations. Joe's presentations on Armistice Day: Its History and Significance and Pandemics and Military Medicine were highlights of the College's Veterans Day events. He has served the community as well, volunteering at donation/fund drives for Blue Star Mothers. Joe plans to graduate next month and would like to work with the national or state park systems as a historical interpreter.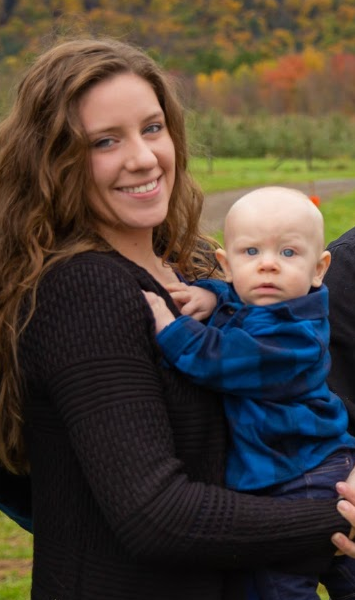 Amber Dorvee with her son George Arthur Dorvee, now age 3.
Amber Dorvee, a Nutrition Degree major, is a U.S. Army veteran who is currently in the U.S. Army Reserve in addition to going to school. She developed a passion for science while she was enlisted in the 68 Whiskey Combat Medic Unit in the Army. During the Spring 2020 semester, Amber was deployed out of state as part of Army Reserve COVID-19 Medic Response Teams. Even while deployed, she continued as a student at SUNY Schenectady, taking classes during virtual online instruction while participating in medical-based training to treat COVID patients. She ended the semester with an outstanding 3.96 GPA. Amber was promoted from a Private First Class to a Specialist, in recognition of her leadership skills and actions to benefit the mission. She was also made a Squad Leader for the platoon. In addition to her military service, Amber has been involved with community veterans food drives and blood drives. She is also a member of the College's Student Affairs Committee and has been named to the Dean's List. She plans to graduate next month and attend the Belanger School of Nursing in the fall to become a Registered Nurse.

Melissa Deal, an Assistant Chef Certificate major, loves to help others through her culinary skills and passion for service. In addition to attending SUNY Schenectady, Melissa works part-time in the kitchen at the Schuyler Inn, a shelter for displaced families in Menands, N.Y. She also packs food for clients, distributes food, stocks pantry shelves, and runs food drives for the Mt. Ida Food Pantry in Troy. She has volunteered her time serving meals for The Welcome Table outreach effort during Thanksgiving, for Peter Young Housing, Industries, and Treatment (PYHIT) non-profit organization, and TrailPraisers worship service for people with disabilities. Melissa is also a talented musician, playing viola in the Averill Park Community Orchestra, and singing in the Brunswick Church Choir and as an alto in Totally Pitchin', SUNY Schenectady's a cappella group. Melissa has excelled as a student as well. She was named to the President's List during the Spring 2020 semester and was inducted into Phi Theta Kappa Honor Society in Fall 2020. She is active in campus life as a member of the Christian Fellowship Club, a participant in the Student Mentoring Program, and as a notetaker for ADA Transition Services. Melissa plans to graduate next month and continue working in the kitchen at the Schuyler Inn.
Joe, Amber, and Melissa were honored, along with 132 other students from across the SUNY system, during the virtual ceremony on April 14 which was emceed by Dr. John Graham, Senior Advisor to the Chancellor and Student Advocate.
"Our students have sacrificed so much over the last 13 months," said SUNY Chancellor Jim Malatras. "Now more than ever, it is imperative that we mark the milestones and celebrate the brilliance, vision, resilience, and community stewardship of SUNY's best and brightest."