"I Started at SUNY Schenectady!" Five Questions with Visual Arts Teacher and Artist Tayron Lopez (Taiitan), Class of 2016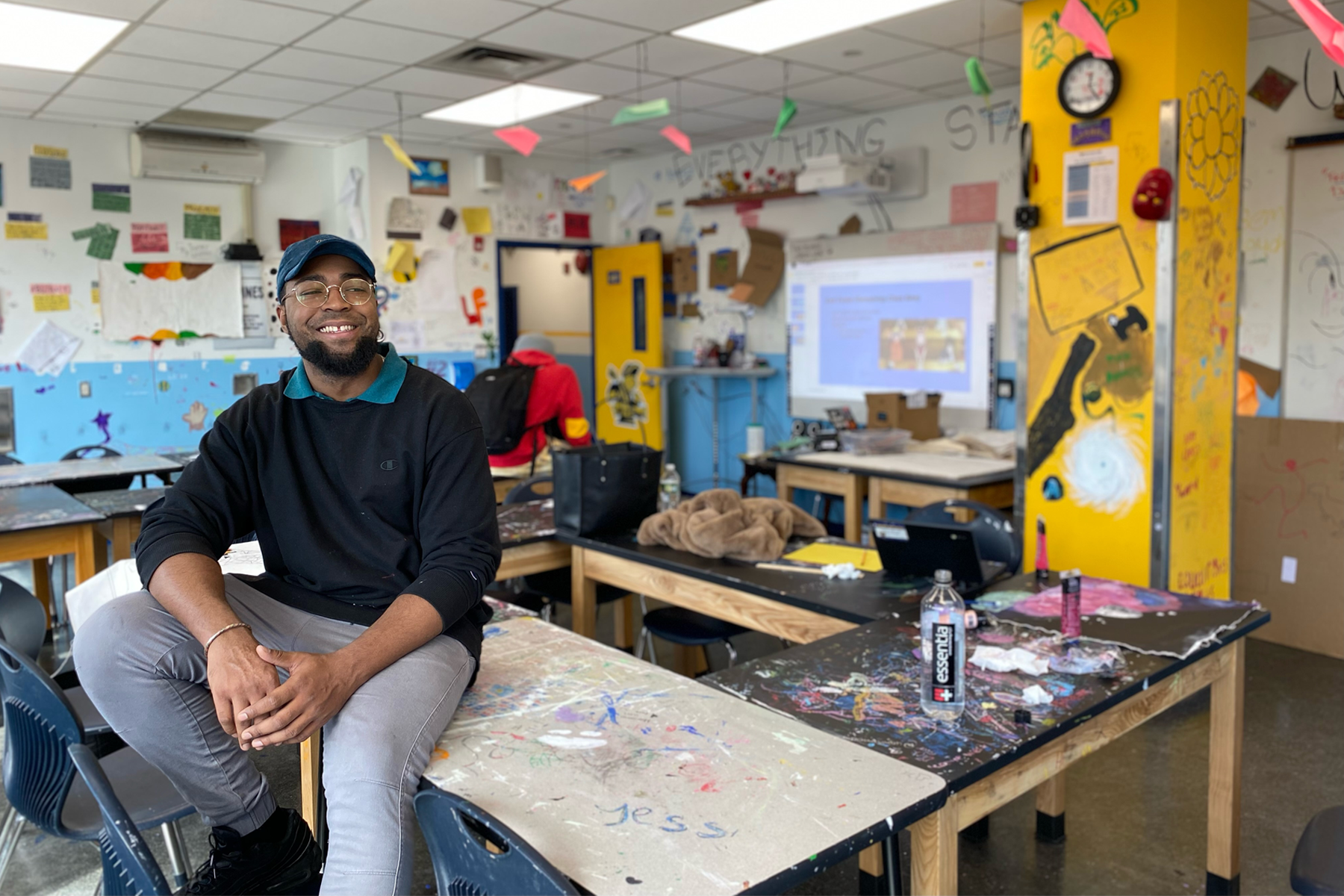 9/18/2023
Tayron Lopez (Taiitan) '16 can't remember a time in his life when he wasn't an artist. "I've been doing art since I was four years old," he said. "I've always been drawn to art. I have always loved music and art feels like music to me. Art gives me the feeling that music gives to me, a feeling of freeness." He's now inspiring young artists as a Visual Arts Teacher at Harlem Prep High School (he just started his second year there), not far from where he grew up, and in the studio he runs across the bridge in the Bronx, a place he is developing into an "artist's mecca."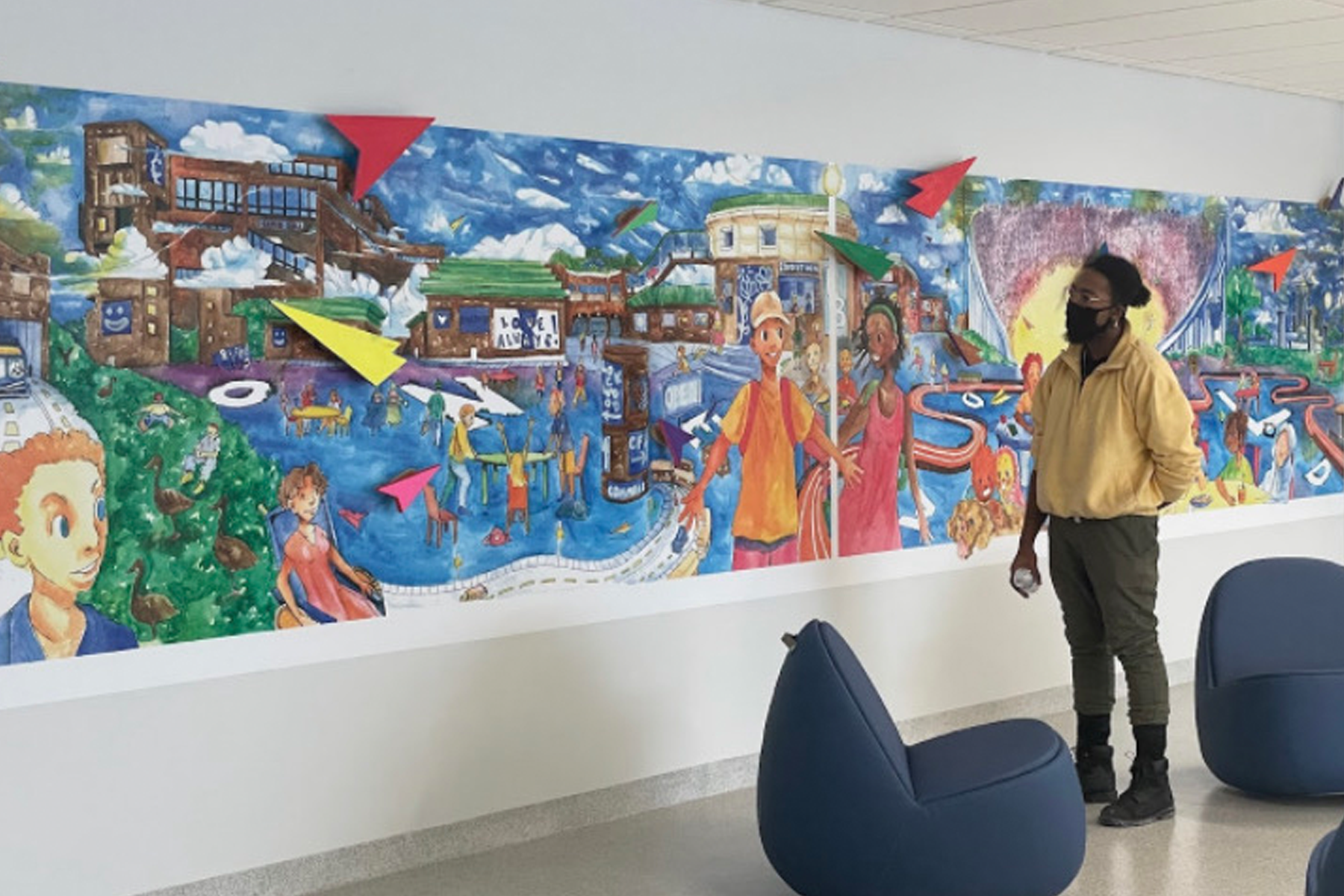 With his mural ONE WORLD on University at Buffalo's north campus, 2022
What was next for you after you graduated from SUNY Schenectady?
"After graduating from SUNY Schenectady with my associate degree in Liberal Arts, I transferred to Sage College of Albany for my bachelor's degree in Fine Art. I then earned my M.F.A. from the University at Buffalo."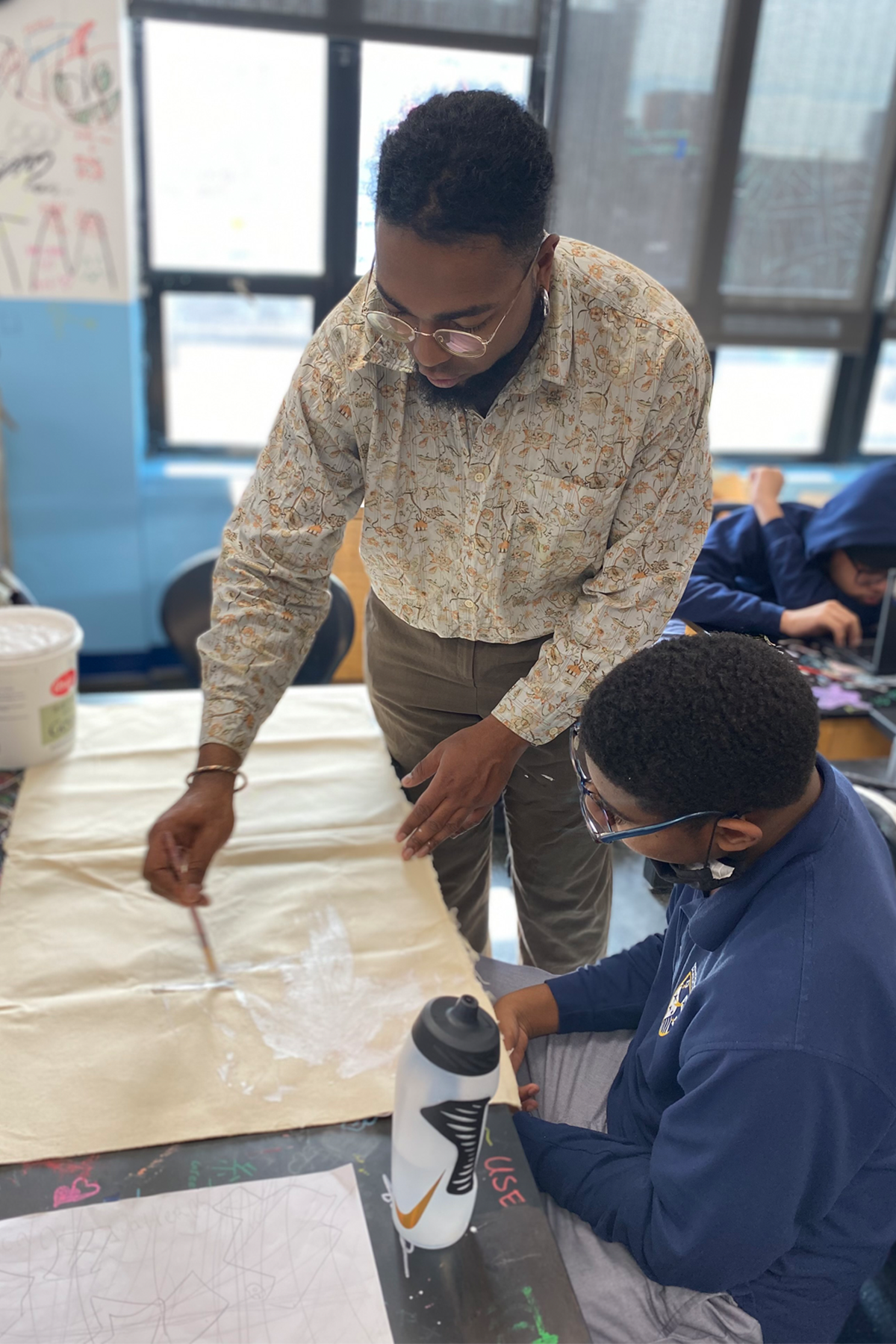 Teaching a Visual Arts class at Harlem Prep High School.
What are you working on with your students at Harlem Prep?
"First of all, I never envisioned that I would be a teacher. Teaching has been a great opportunity. I'm actually the first Visual Arts Teacher at the high school. I teach students in 9th, 10th, and 11th grades, and I am establishing the curriculum and direction for the courses. I'm challenging students who have never had Visual Arts courses before. Some kids are really passionate about it and they want to take it further.
We do foundation work, introducing them to pencil, pens, charcoal, and clay, allowing them to experiment and explore more with their materials. A lot of my studies in grad school centered around the subconscious and how art interacts with the subconscious. Where does the mind go? I really want them to explore that in themselves and allow them to explore different materials. Most recently we've been looking at clay. It gives them a sense of liberation and responsibility. They create what they create, but they have to justify it."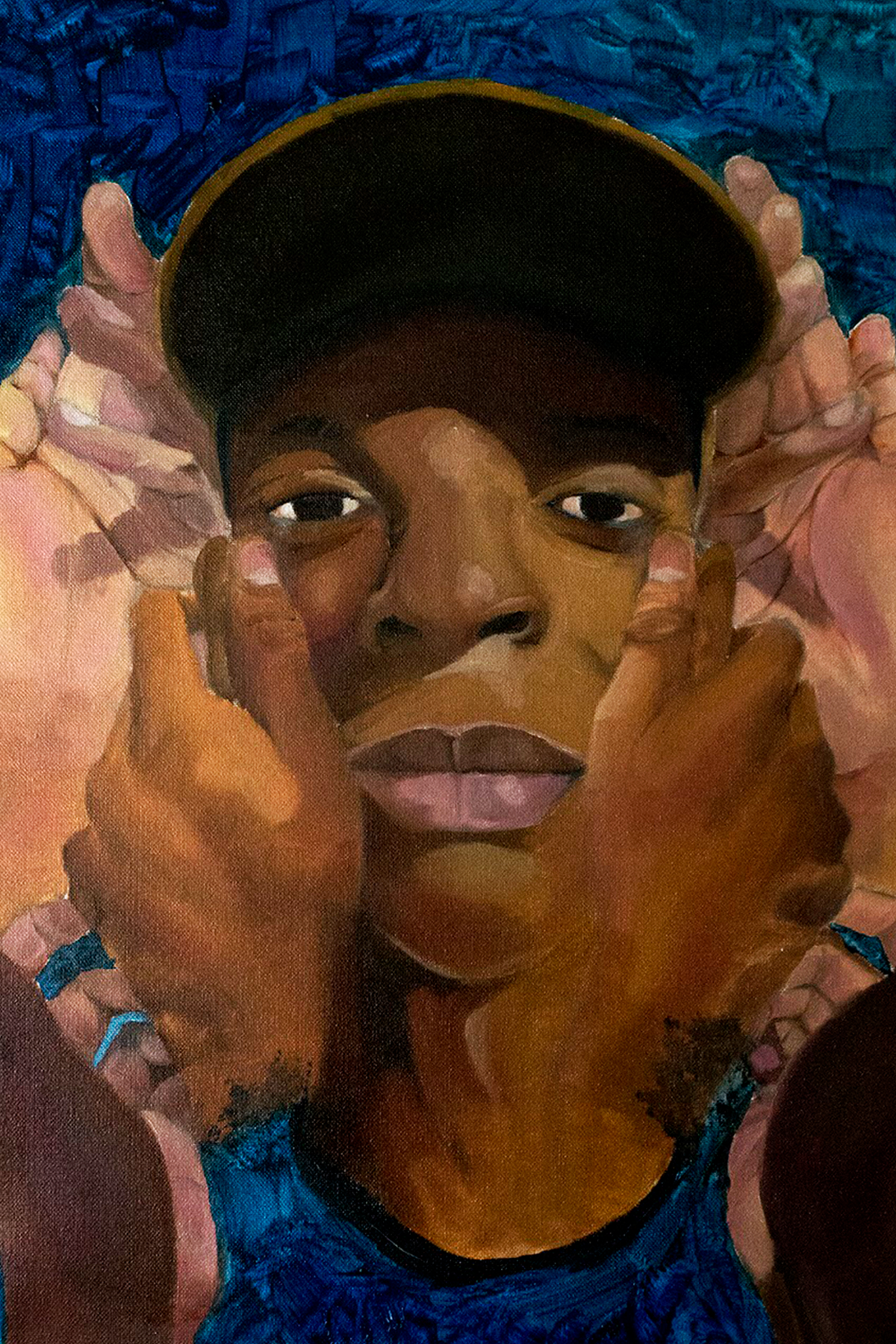 Elihu Clark-El / 2017, Tayron Lopez (Taiitan) '16
You have obviously opened up your students to the power of art. How do your students inspire you?
"I often get inspired when I see them putting their fullest into their work and that allows me to capture that same sense of creating and passion also. They will say they don't think their work is good, but I see it as the most beautiful thing ever. It's not bogged down by what's considered art in the art world, and by other people's opinions. The only thing stopping their work is themselves."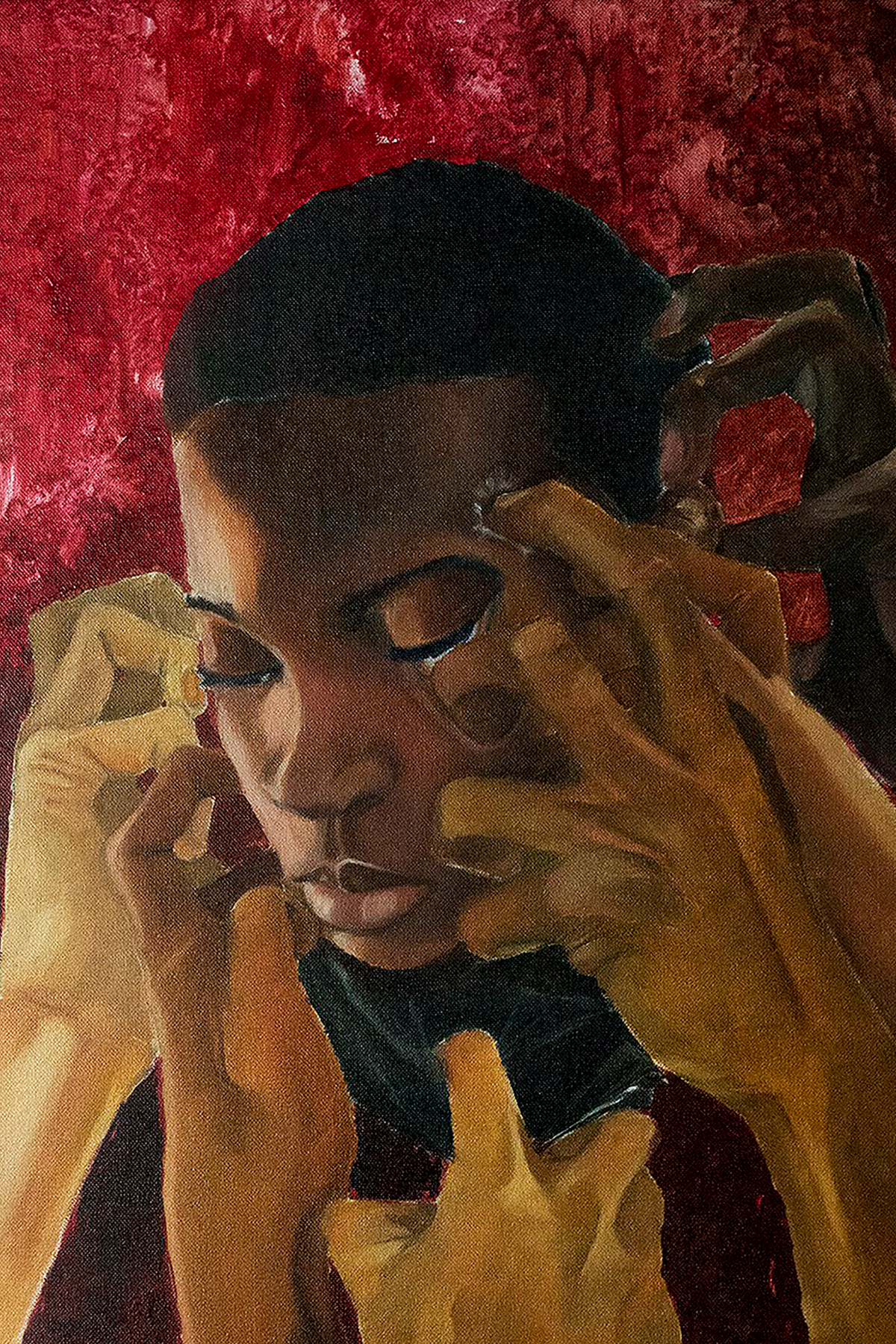 Steffon Bell / 2017, Tayron Lopez (Taiitan) '16
What are you working on in your art studio?
"I've been trying to work on a set of books that look like children's books but are for adults about certain aspects of the black community and black experience. My partner Tony and I want the studio to be a hub for art, inspired by Manga (Japanese comic books). It actually works with one of the goals I had at SUNY Schenectady – to have an artist's mecca. It's a building for artists, drawing, tattooing, painting, sculpting, anything that can be considered part of the arts. In the artist mecca, kids would have a place to go to afterschool. Programs are being cut, funding isn't the best, or the world is just moving too fast. When I was growing up, I had afterschool programs with spaces to create. I want to give back in that sense to create a space like that."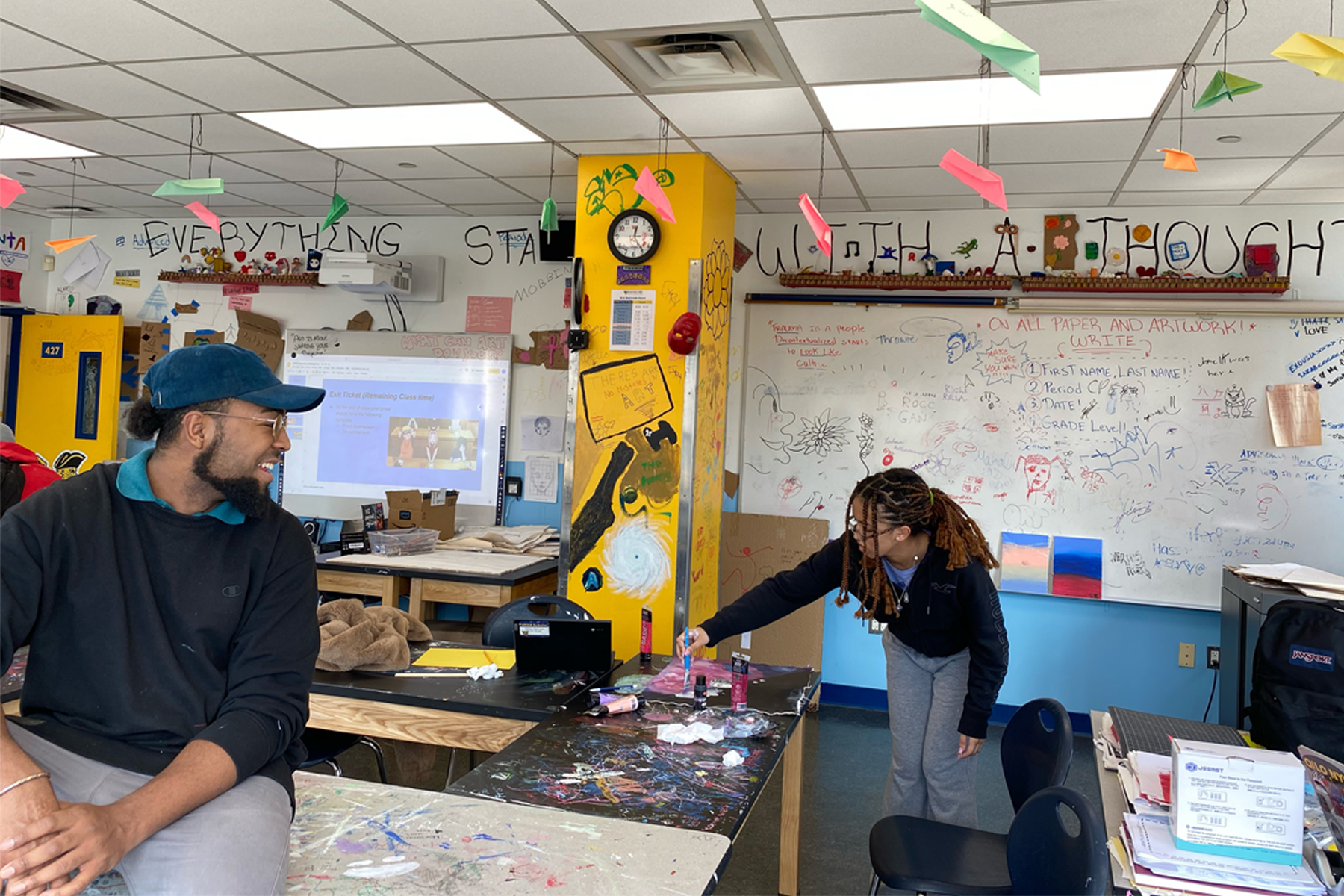 Teaching a Visual Arts class at Harlem Prep High School. Photo credit: Saniya Alphonse
What else have you carried with you from your time as a student at SUNY Schenectady?
"Everything. I've taken so much with me along the way. The mentorship of Professor Stephen Tyson was a blessing. Being able to ask him for advice, inside and outside of art, gave me the willingness and motivation to continue on with art. I actually first started in Culinary Arts. I would talk to one of my professors and tell him that I wanted to switch to art which I did. I would go to the park and do still life drawing. I still take those memories with me and that drive to create."