Human Services Major Chosen As SUNY EOP Ambassador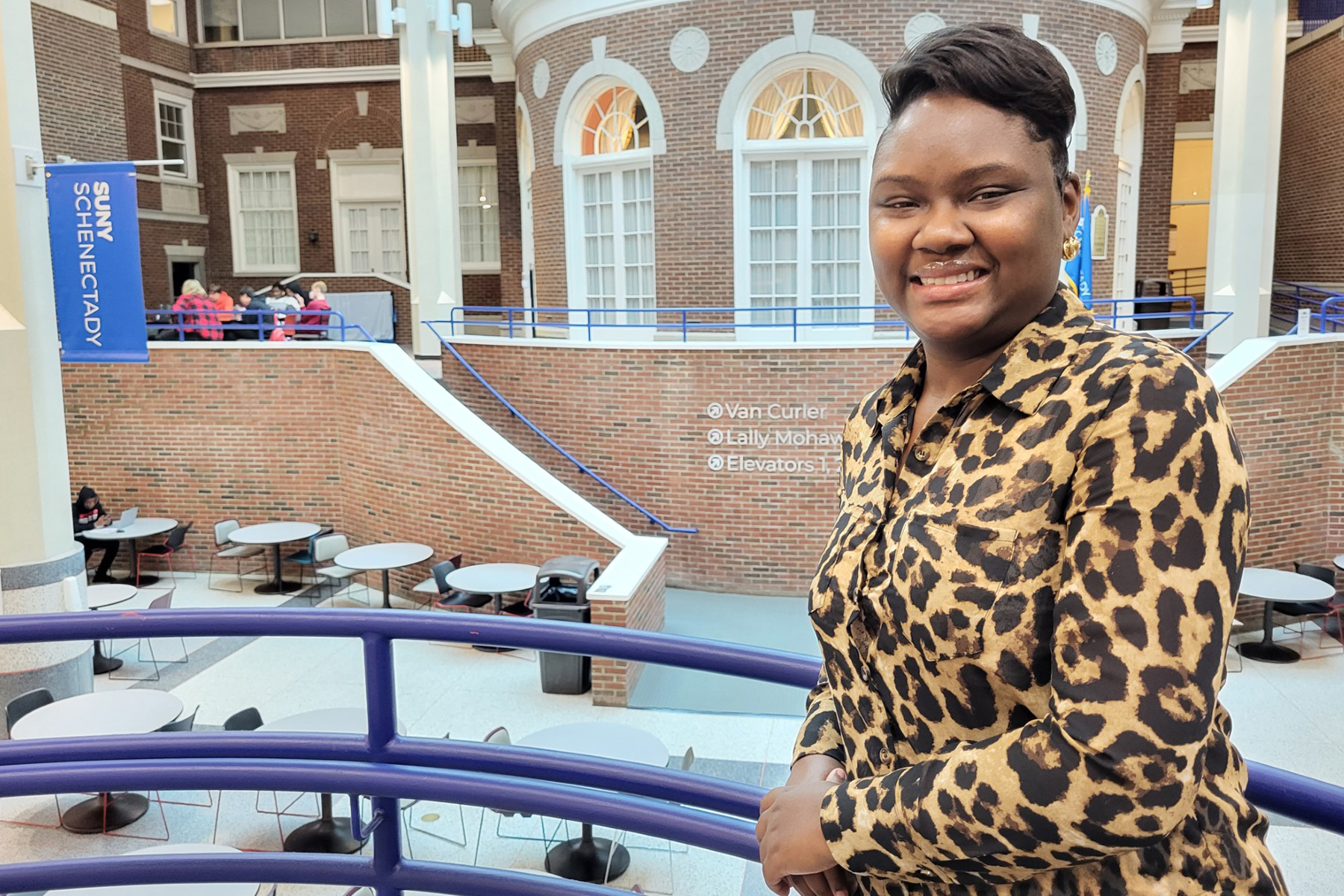 10/20/2023
Human Services major Grace Henderson, who is in the Educational Opportunity Program (EOP), Secretary of the EOP Club, a participant in the TRIO Program, and member of the PTO at her son Ezra's elementary school, has a new role: SUNY EOP Ambassador. Grace was recently chosen as one of 22 students from 21 SUNY campuses to serve as an EOP Ambassador during the academic year. She will mentor other students and encourage high school seniors to enroll, help build on the established student EOP support network across the SUNY system, and advise SUNY Chancellor John B. King Jr. on strengthening the program.

Grace, who is in her second year at SUNY Schenectady and has been named to the Dean's List, looks forward to spreading the word more about EOP. She has already spoken about the program during New Student Orientations on campus. "I plan to talk to middle school students and high school students and let them know what EOP is so that they can get a better understanding of it," she said. "Through EOP, I took advantage of tutoring. I have an outlet to have somebody to talk to and they have helpful videos and sessions like how to email professionally, how to talk to your professors, and mid-term refreshers – all of that has helped me out tremendously."
After working as a Licensed Practical Nurse (LPN) for 13 years, Grace decided to return to school to become a social worker. She plans to graduate from SUNY Schenectady this spring and transfer on for her bachelor's degree in Social Welfare and then her Master of Social Work.
Grace was nominated as an EOP Ambassador by Tiombé Tatum, who was Director of EOP and is now Chief of Staff at SUNY Schenectady. "She demonstrates how commitment, sacrifice, a good attitude, and other essential qualities will help students succeed at school and in their careers," Tatum said. "She helps students understand how to improve their academic skills, and how to respond to adversity by looking forward to who they are becoming."
Student Ambassadors, who will each receive a stipend of $5,000, were selected by a committee of EOP directors and SUNY system administrators based on their demonstrated leadership, potential as a peer mentor, and commitment to the program.