First Outdoor State-of-the-Art Fitness Court in the Capital Region Now Open on Campus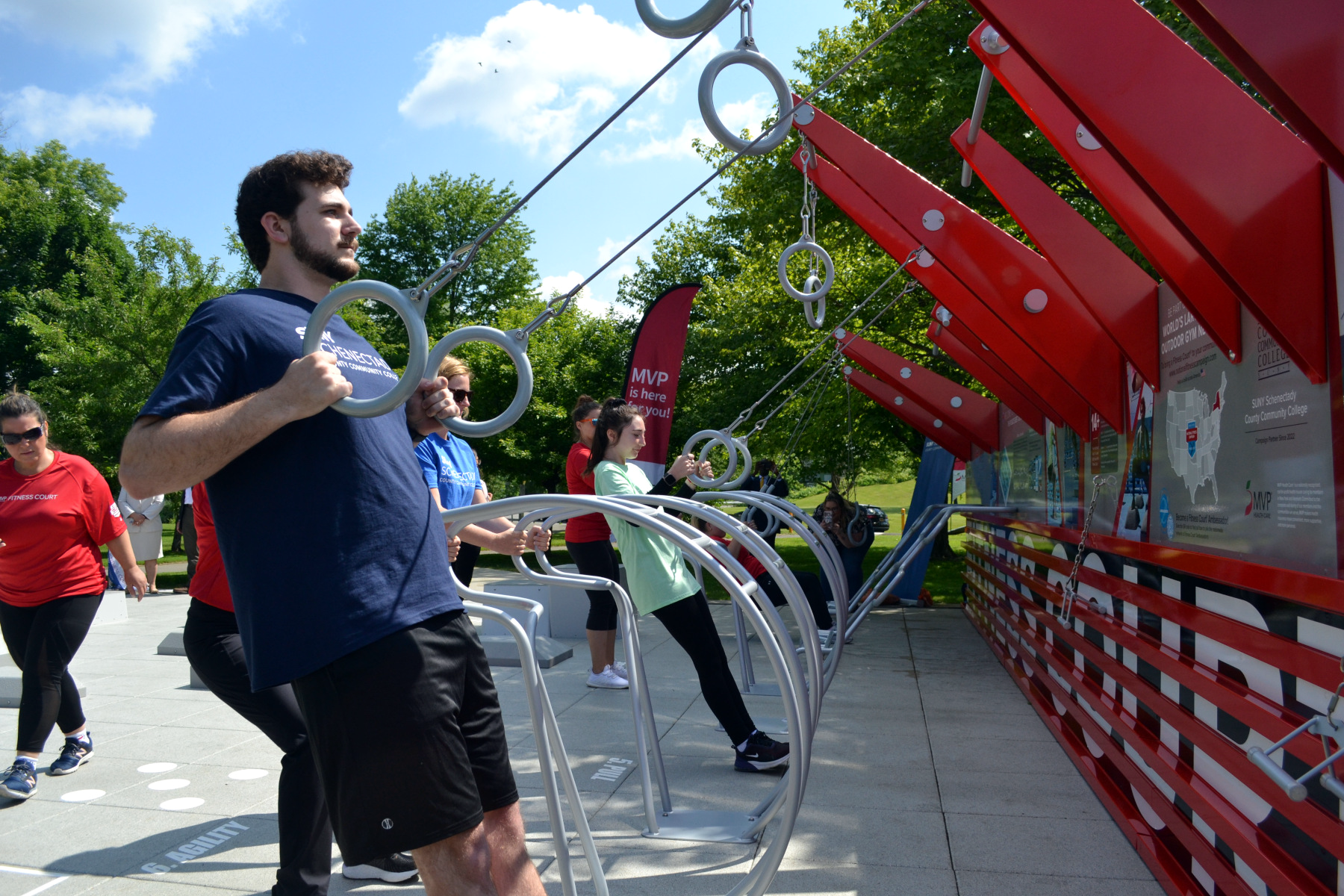 6/13/2022
SUNY Schenectady hosted a Grand Opening today for the new MVP Health Care Fitness Court on the College's campus. The new Fitness Court®, located near the Mohawk-Hudson Bike Trail Access Point, is a free, open-air wellness center that allows users to leverage their own body weight to get a complete workout.
The MVP Health Care Fitness Court at SUNY Schenectady is the first of nine built throughout the Capital Region, and is a result of a partnership launched this spring between MVP Health Care and National Fitness Campaign to activate public spaces and encourage a healthy lifestyle. SUNY Schenectady was chosen as a site for a Fitness Court after private funding from the College's Foundation made it possible to meet the program's matching requirements.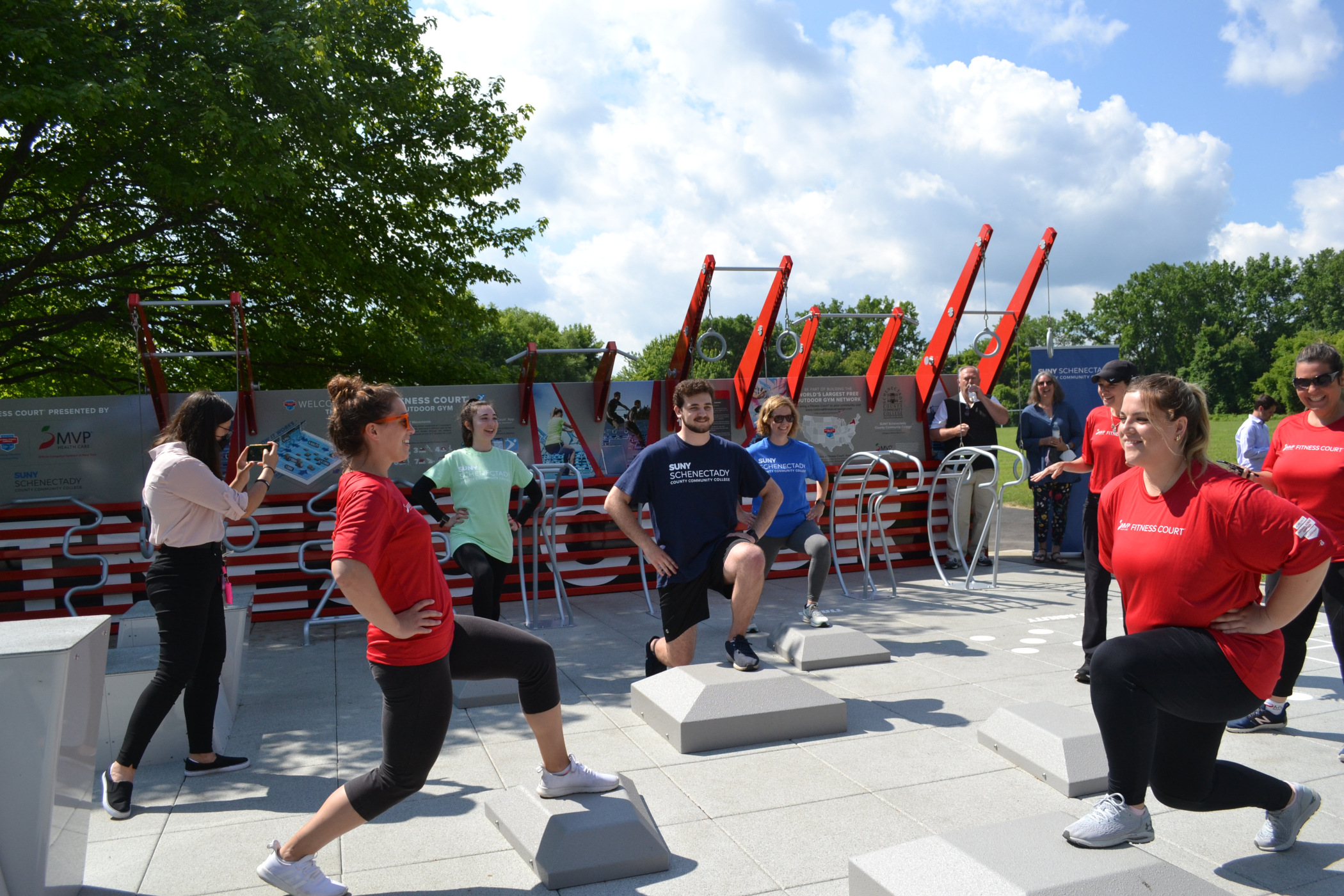 The MVP Health Care Fitness Court includes 30 pieces of state-of-the-art equipment, allowing users of all skill levels to leverage their body weight at different angles and resistance levels to increase mobility and muscular strength. Users move among seven different zones – core, squat, push, lunge, pull, agility and bend. Each element can be used for hundreds of exercise variations, providing opportunities for those beginning their fitness journey to elite athletes, and for every user in between. Also, users can download the free Fitness Court app which acts as a coach-in-your-pocket and transforms the outdoor gym into a digitally supported wellness ecosystem. During today's Grand Opening, ambassadors from the College and MVP demonstrated how to use each zone.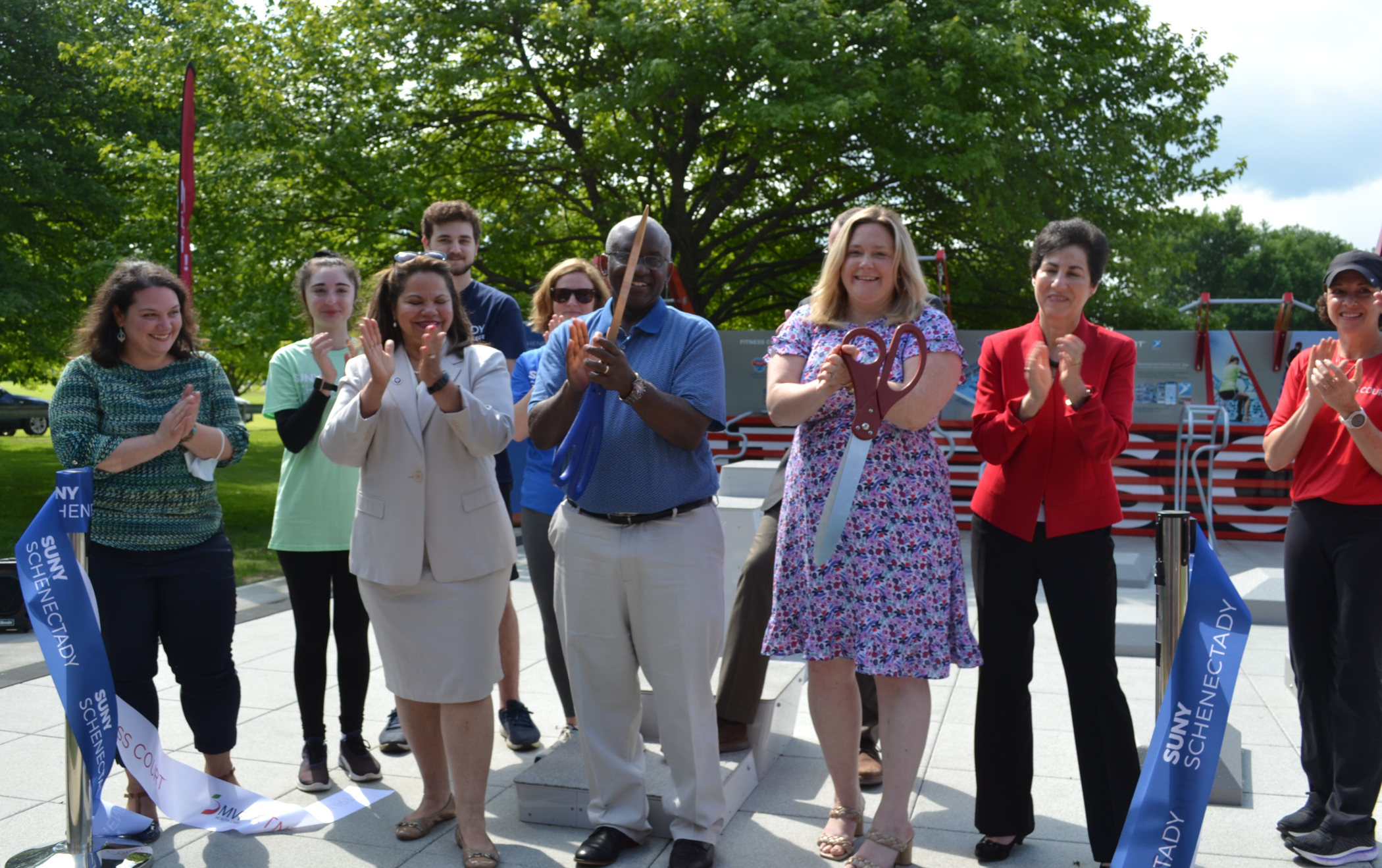 Dr. Steady Moono, President of SUNY Schenectady, said that the Fitness Court is a welcome addition to campus.
"I can't wait to see our students, faculty, staff, and members of the community using the new MVP Health Care Fitness Court," he said. "It's a wonderful way to exercise outdoors and live a healthy lifestyle. The fact that it's free and that anyone of any fitness level can use it is a major asset for our campus and for the community. At SUNY Schenectady, we encourage our students to live healthy lifestyles and we provide resources for them to succeed. The Fitness Court serves as an excellent example of providing a resource in our community for everyone to enjoy."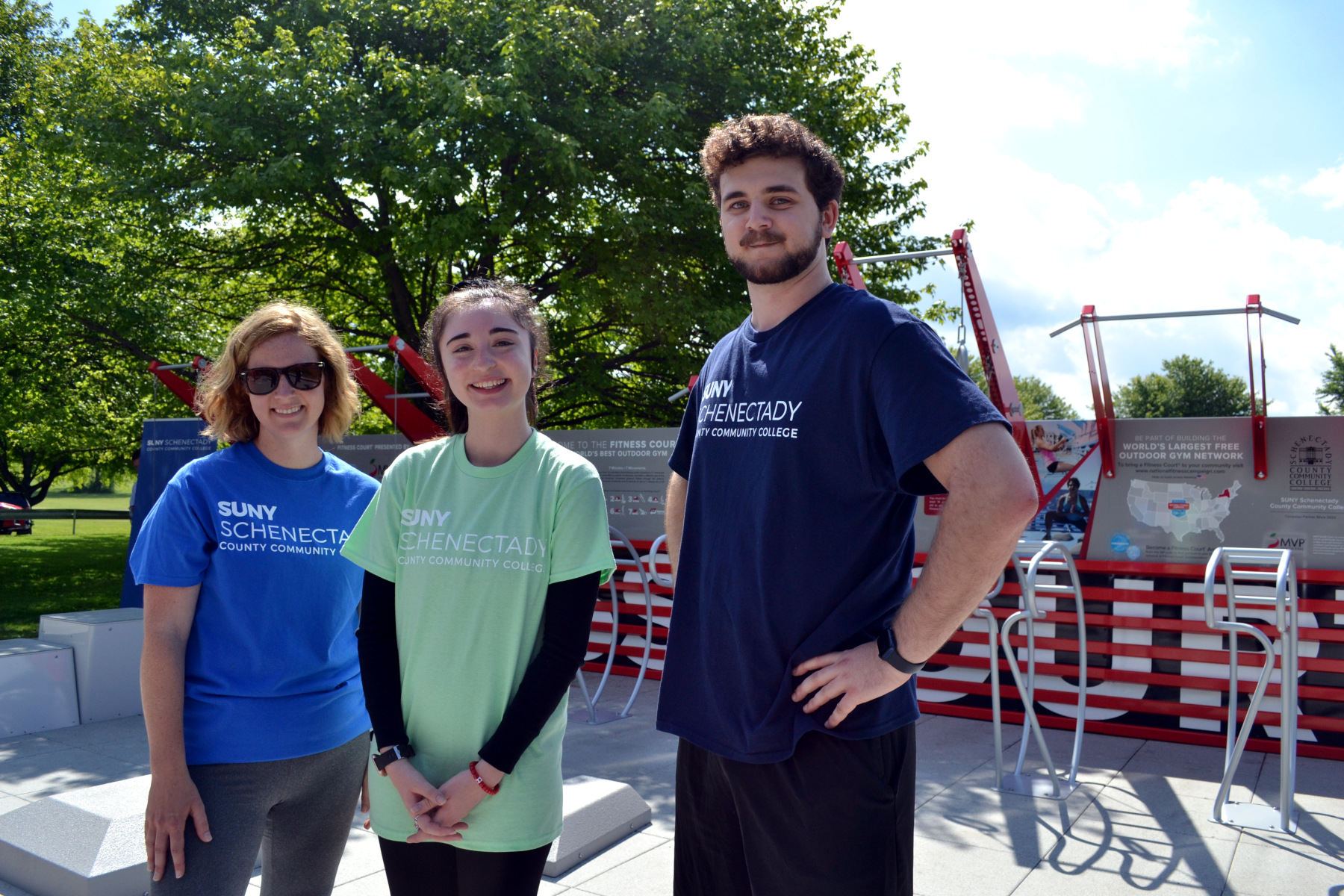 Lauren Lankau, Director of Apprenticeship and Healthcare, SUNY Schenectady; Kristen Rossler, Liberal Arts major; Cooper Hewison, alumnus
Beginning on June 22, MVP Health Care will sponsor a free, six-week fitness class that introduces the proper movements and exercises to do while using the Fitness Court. The class, open to users of all ages and skill levels, will be held on Wednesdays from 5 to 5:45 p.m. Pre-registration is preferred through MVP's Living Well Programs registration link - Schenectady Fitness Court Strength and Conditioning Class - MVP Health Care. Those who haven't pre-registered should arrive 15 minutes early to register with a MVP staff member.
The Fitness Court is conveniently located near the Mohawk-Hudson Bike Trail Access Point so that not only can it be used as a fitness experience in and of itself, but also those who are walking, running, and bicycling on the bike path can combine these activities with a Fitness Court workout.