Early Childhood Students Lead STEM Activities with Children in Integrated Laboratory Preschool On Campus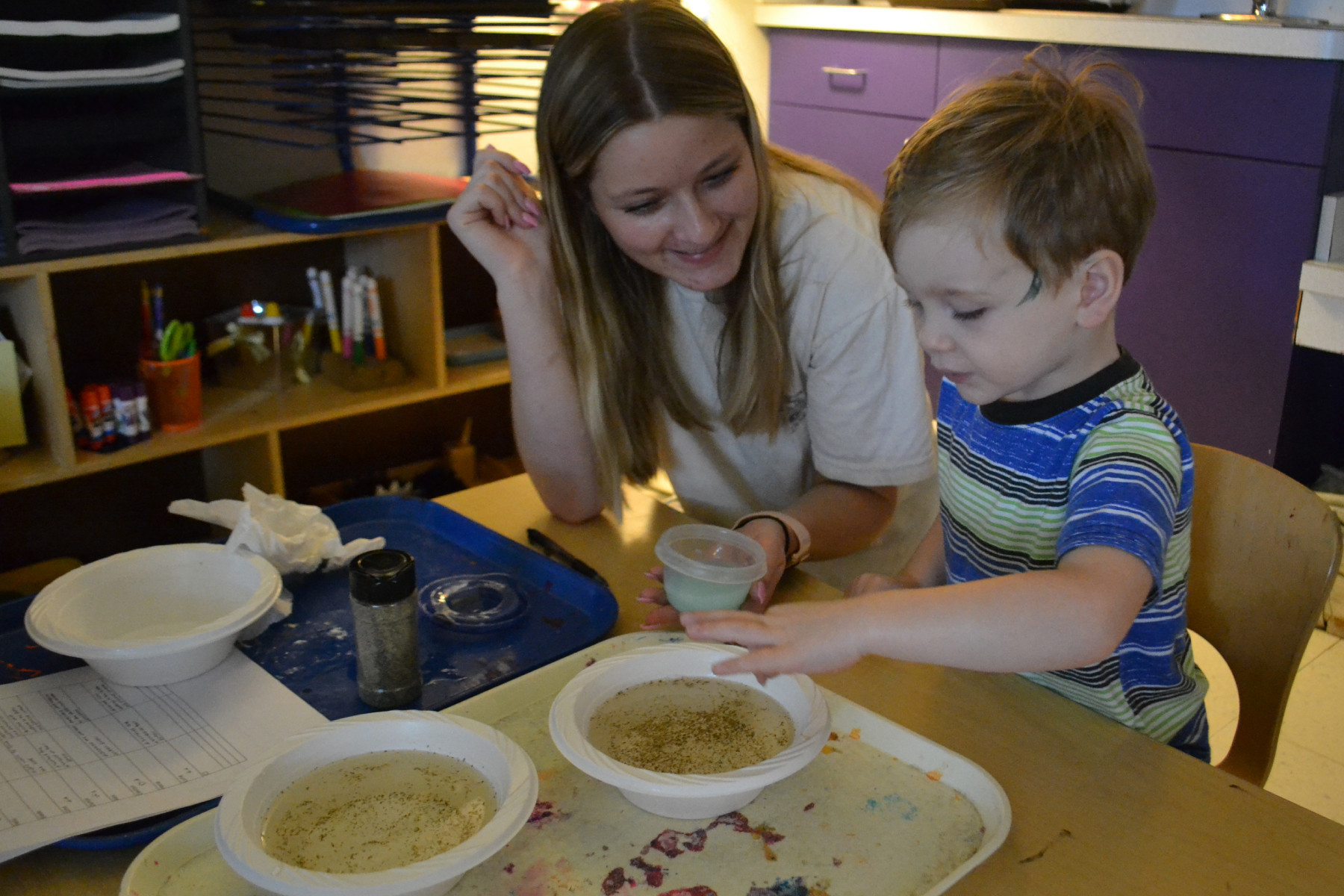 It was a busy Monday morning in the SUNY Schenectady Integrated Laboratory Preschool on campus. STEM activities were everywhere with the preschool children, ages 3, 4 and 5, counting, learning about the properties of water, seriation and patterning, and watching magnets in action. Early Childhood degree majors were at different tables in the preschool leading the kids through STEM lessons as part of Professor Tammy Calhoun's Curricular Methods class. They had begun planning the activities the week prior in their College classroom and then walked next door on this day to the preschool, which serves as a classroom laboratory, to put their ideas into action.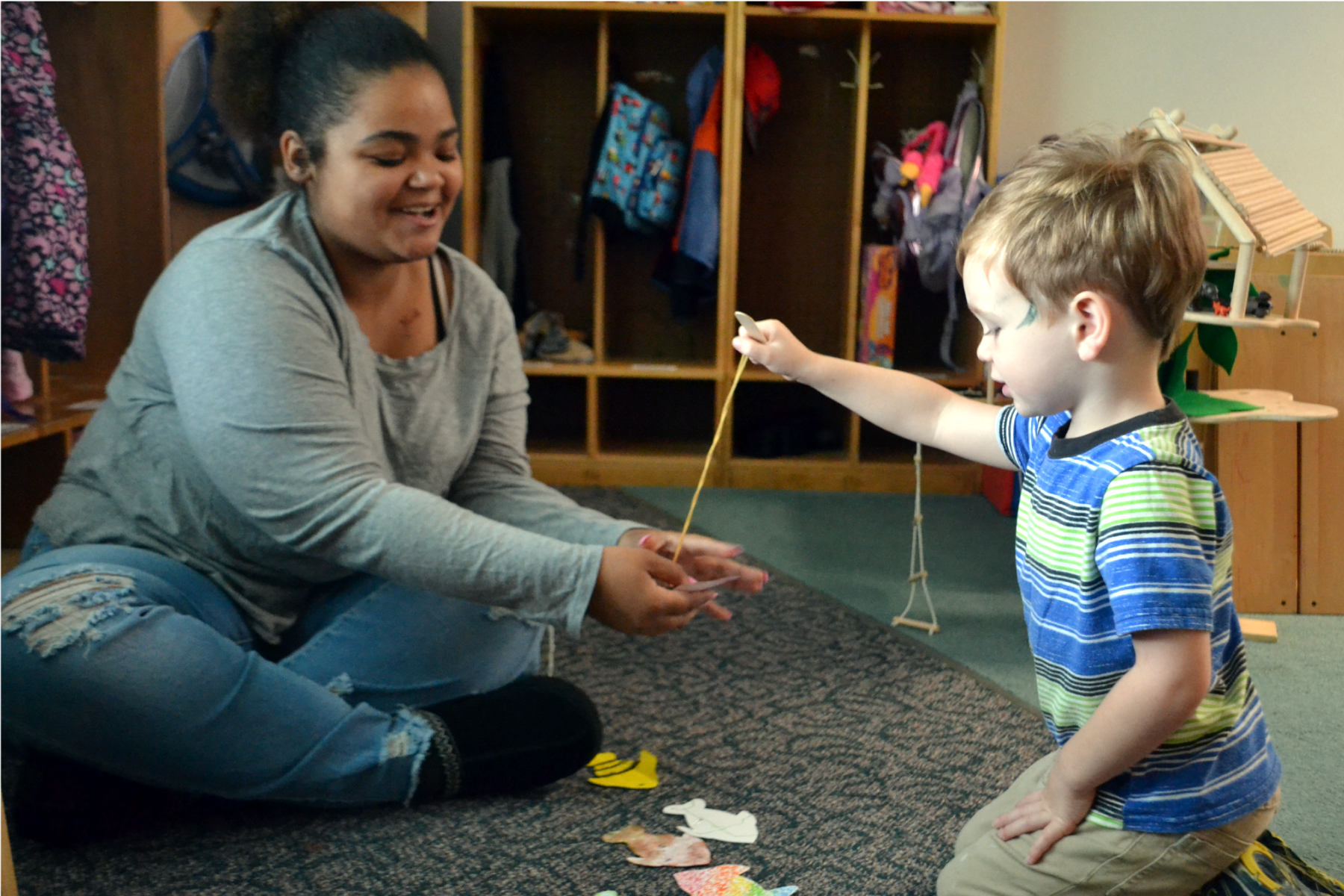 "Do you want to try to pick up the fish?" Jahnice Crawford, an Early Childhood major, asked Felix, age 3. Brightly colored paper fish lay on the rug, some with paper clips attached to them, some without. Some could be picked up with a magnet and some couldn't. She asked the kids why they thought that was, documenting what they said and how well the activity worked.
"This has helped me feel less nervous for when I'm actually in the classroom setting on my own," Jahnice said. "It will teach me the skills that I need to know. I really like working with the kids and learning from them. I'm learning how to be a better teacher for them."
This week she plans to use vinegar and baking soda to cause a bubbly reaction to show the kids how different substances interact and then use food coloring in the mix to make a rainbow. After graduating from the degree program at the College, Jahnice plans to start her career as an Early Childhood Educator in a preschool or child care center.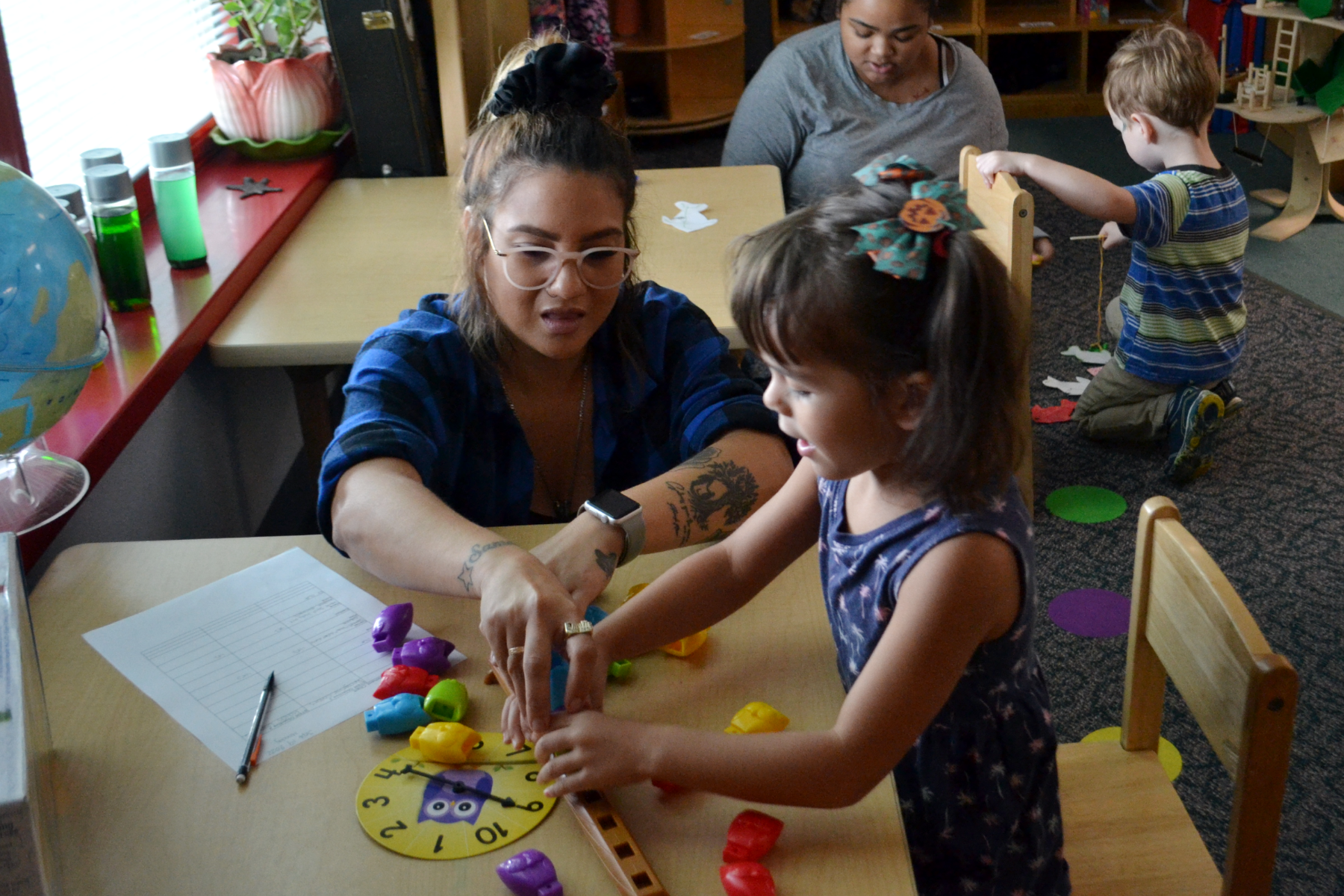 "Have you counted the owls yet?" Emylie Montalvo, Early Childhood major, asked one of the children. Then she set red, blue, yellow, and green plastic owls on the table in front of the child to count and place in a row on a small piece of wood. Emylie kept notes on how many owls the students counted and how engaged they were with counting the small birds. For Emylie, who is in her first semester at the College, going into the preschool has been an excellent way to build on what she is learning in class.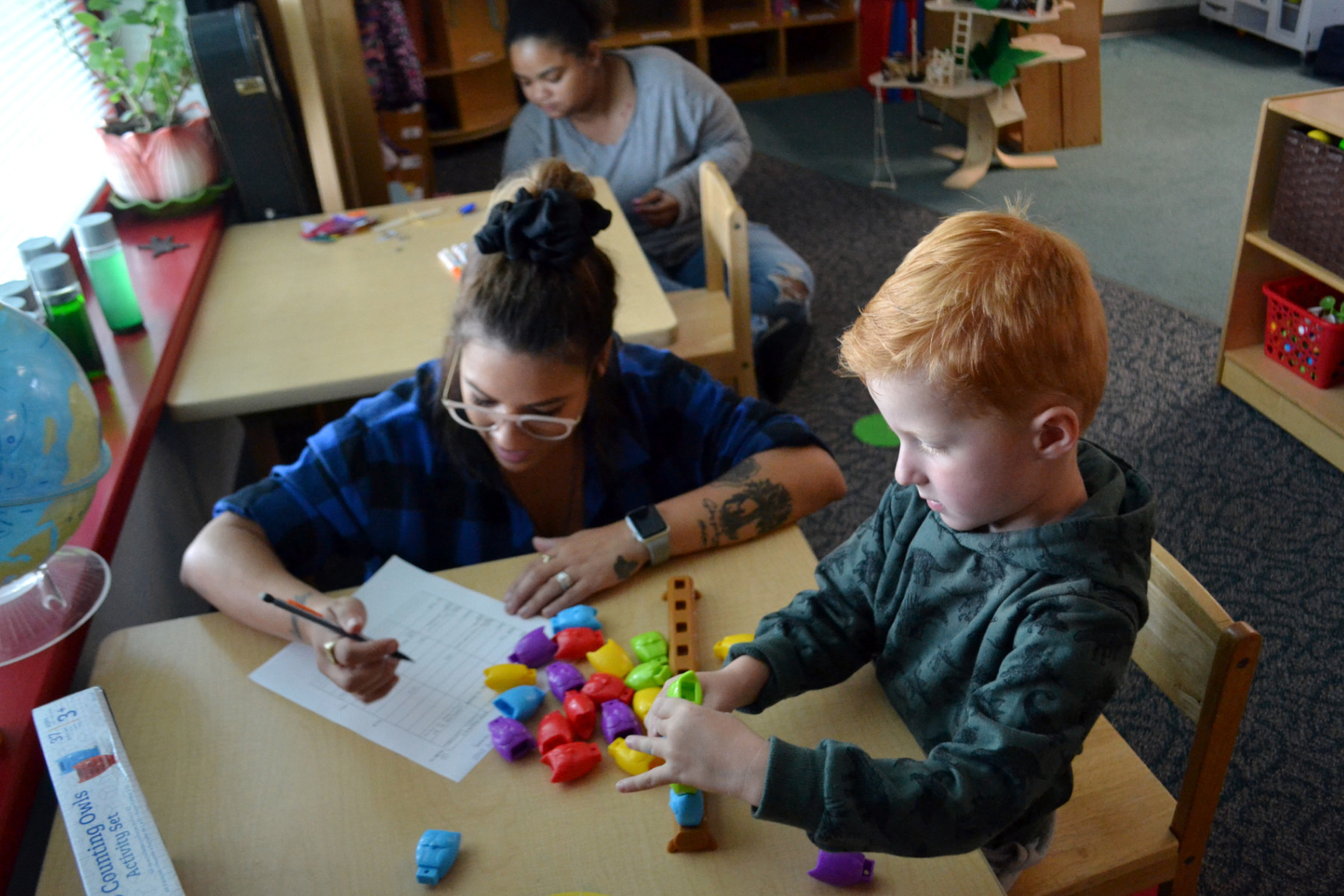 "I have never done a STEM lesson plan," she said. "This is something new for me. And learning the different strategies to be able to implement within a lesson plan has been mind-opening. I think that it's a great experience to be able to go into the preschool right on campus. It's always easier for me to learn this way than just by books alone, so having both experiences is great."
Emylie already has her certificate in Early Childhood Administration and CDA credential and is a Director at Kidz Korner in Latham. She needed to further her education for her current job and plans to continue on for her bachelor's degree.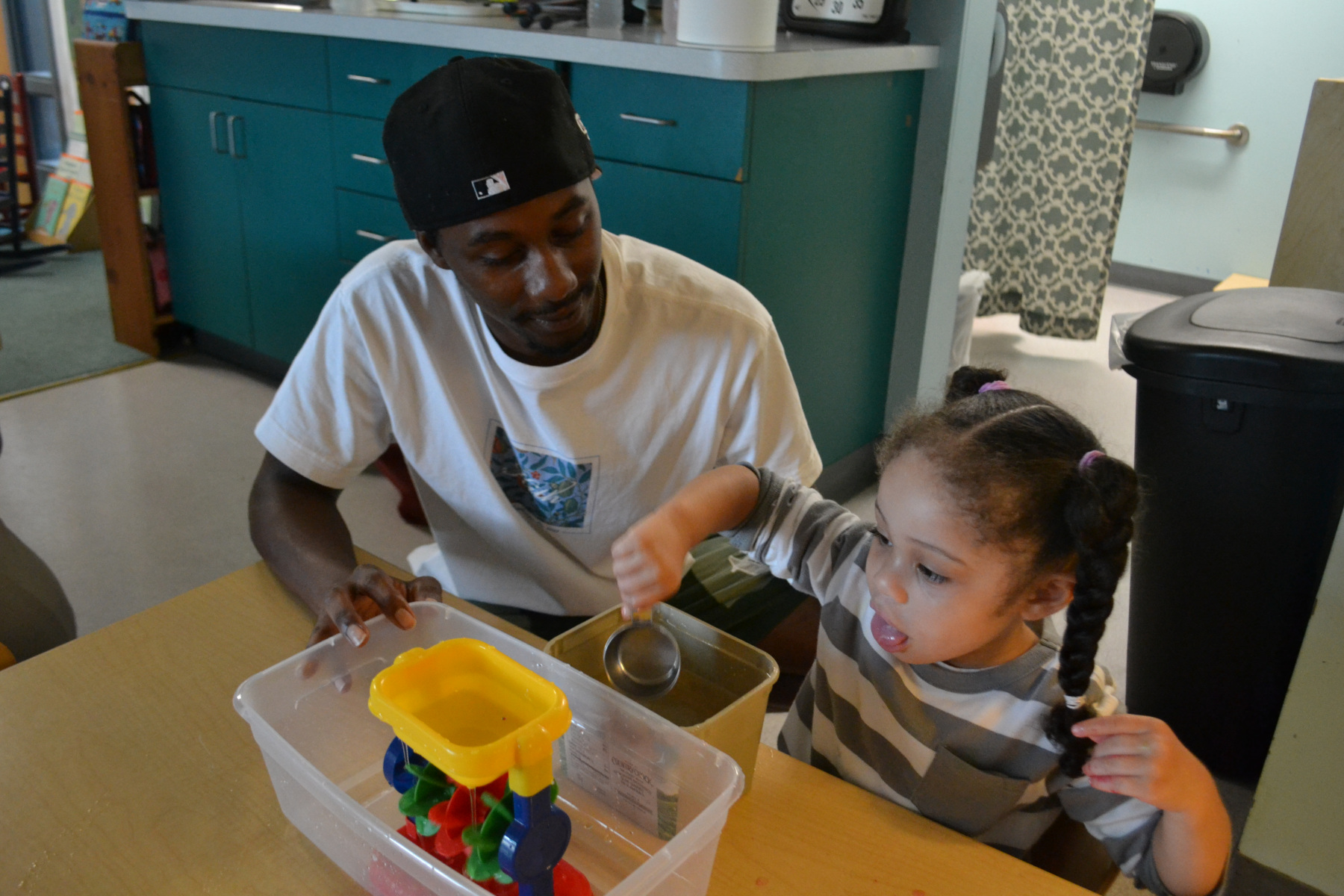 Tyrell Outlaw, also an Early Childhood major, had a small water wheel and containers of water and sand on the table, pointing them each out to the kids. "This allows us to discuss the properties of water and sand in a playful way," he explained afterward. "They feel the different textures of both, pour the cups of water or sand into the wheel, see the speed of the wheels, and we count together up to five and sometimes up to 10." He's already taking what he's learning at the College and applying it to his work as a Teacher's Aide for Capital District Beginnings, and he plans to transfer for his bachelor's degree after graduating from SUNY Schenectady.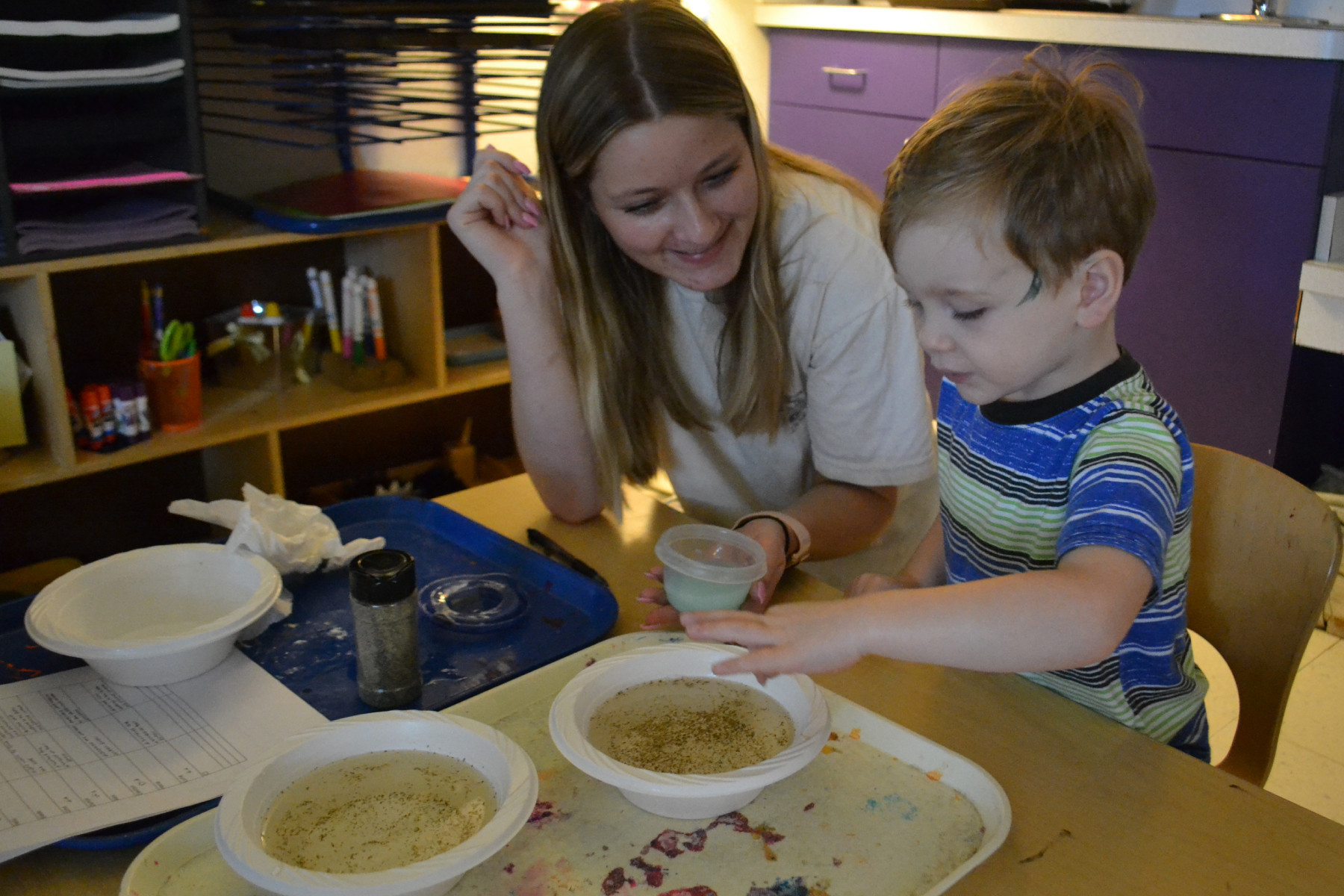 So many things are happening at once in the preschool when the College students visit each week. (This week they brought STEM lessons with them. In the coming weeks they will focus on STEM, social studies, and children's history.) Not only are the kids learning new things, Professor Calhoun's students in the Curricular Methods and Engendering Creativity: Arts in the Classroom classes are as well. "They are learning best practices in Early Childhood Education and Preschool Special Education, along with current trends," she said. "They are also learning self-confidence and self-responsibility in how they are handling themselves as tomorrow's teachers. One of the most important things they're learning is whether they like to work with children or not. Some of them love this environment and some decide they would rather work with elementary aged children or those who are older."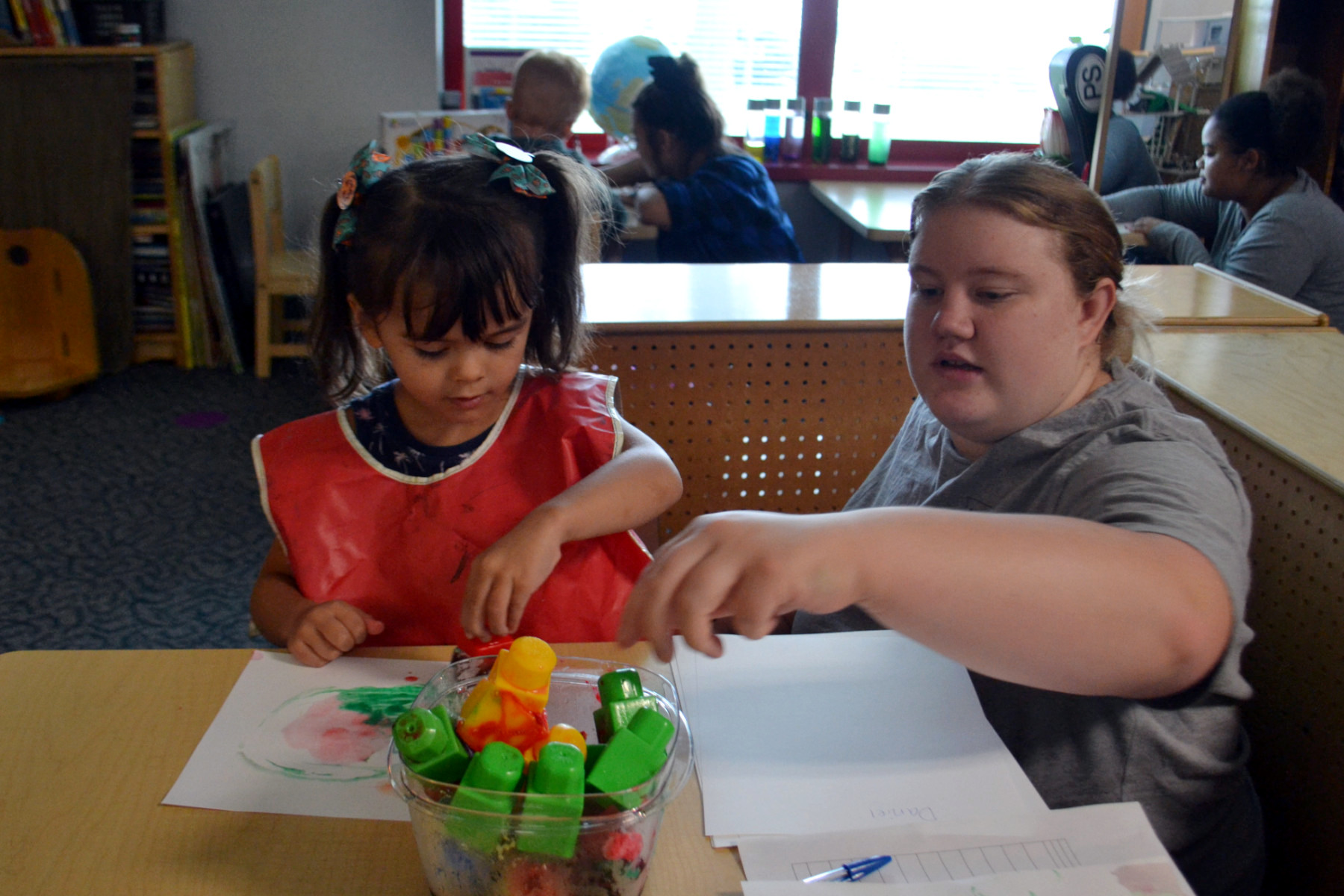 She added that students who graduate from the Early Childhood degree program are prepared to become Head Teachers in preschools, lead a child care center, open their own early childhood business or transfer for their bachelor's degrees in teaching.