Culinary Arts Students and Faculty Prepare More Than 4,000 Meals for Local Community Members
3/29/2022
Culinary Arts student Valerie Smith carefully packaged containers filled with delicious mixed vegetable frittatas and garlic and herb home fries during the Banquet Management class she takes every week with Assistant Professor Kim Otis. She knew that the meals she was assembling would be given to those in the community with food insecurities through Feed Albany. Meals are distributed through the Schenectady Police Department at a monthly rotating venue in Schenectady on Thursdays.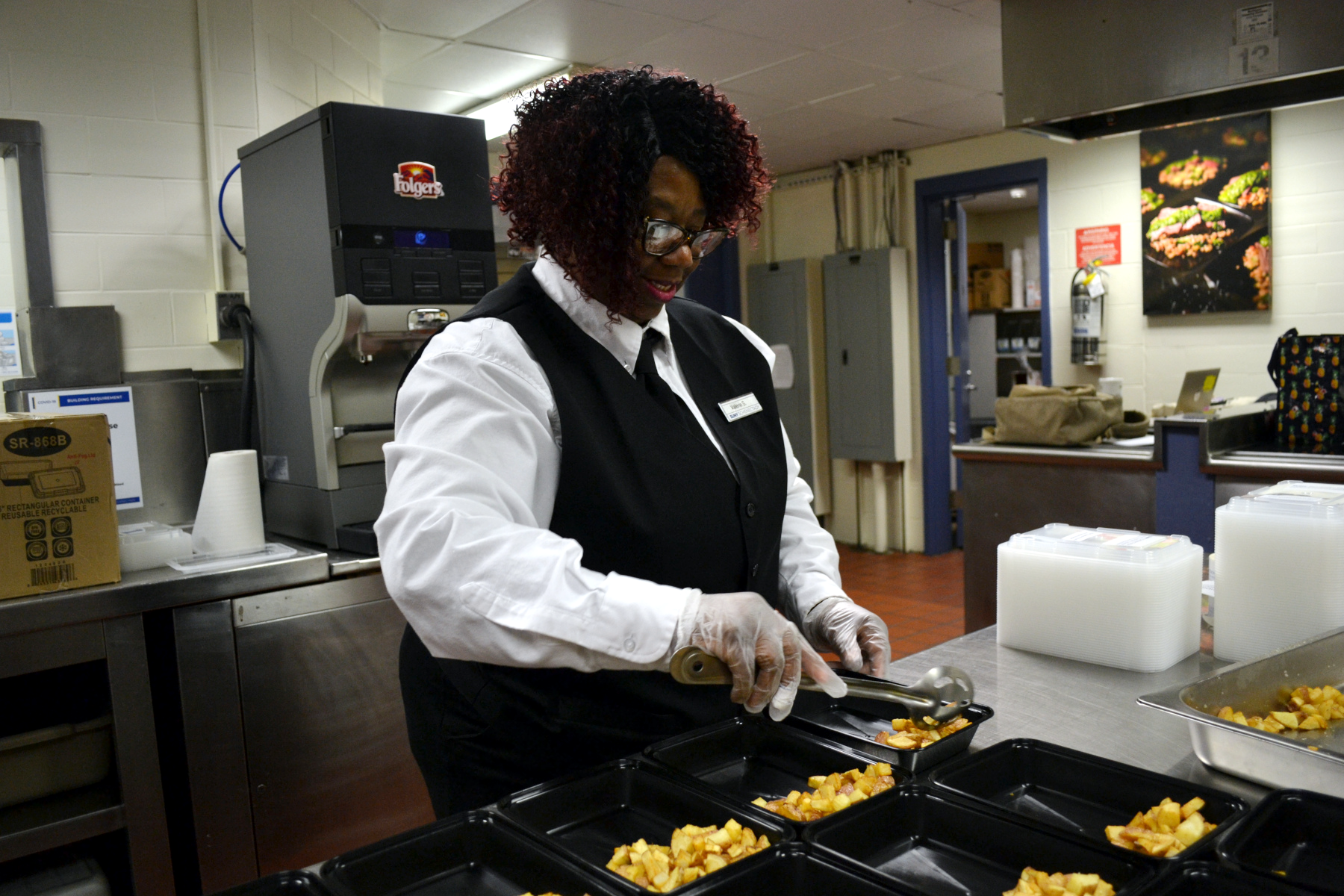 "I just love it because I'm a people person and I like giving back to people who can't get to meals," she said. "I have a good feeling when we package the meals and put everything together with my classmates. I think Feed Albany is a wonderful thing."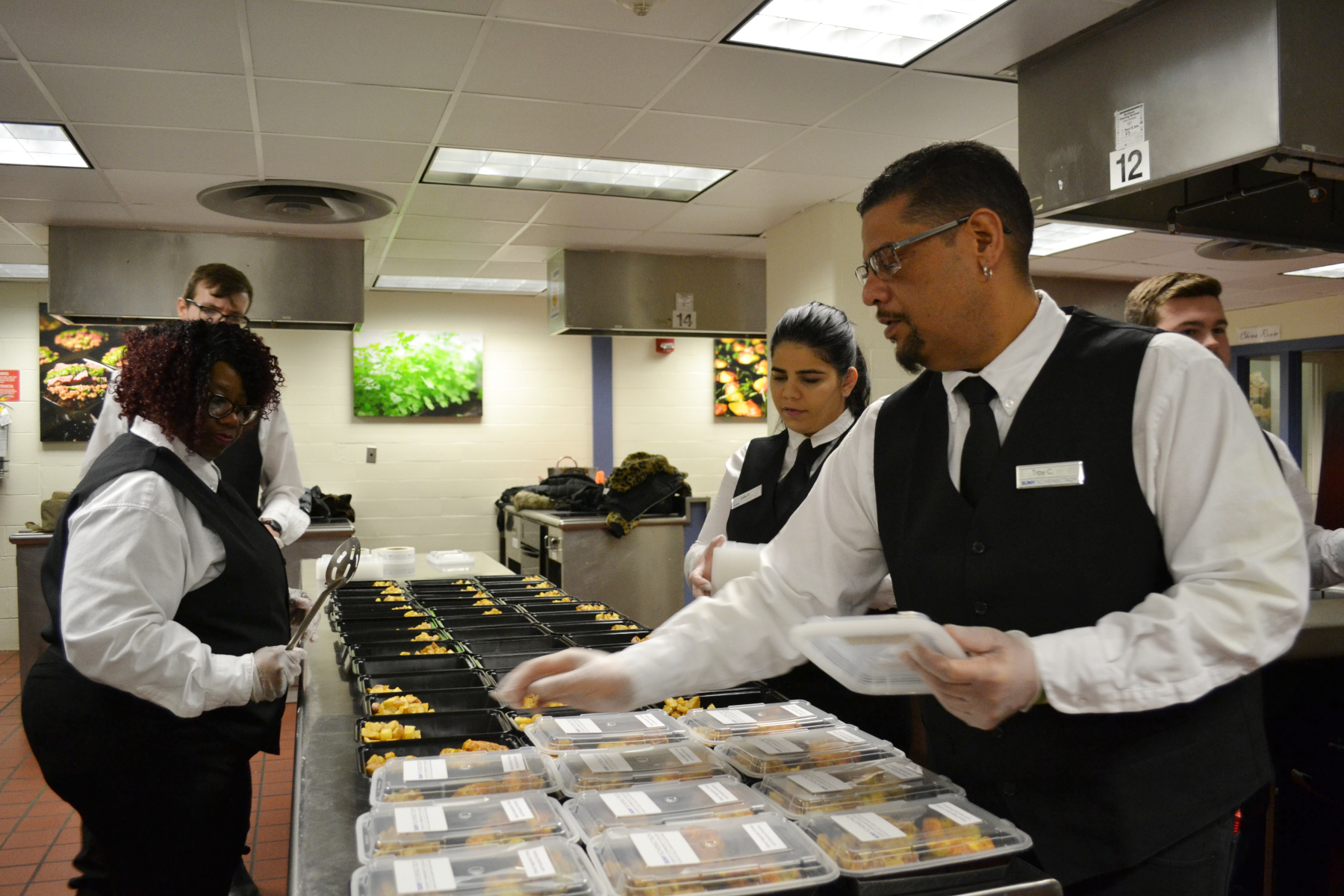 After one year of partnering with Feed Albany, founded in 2020 by a group of restaurant professionals who wanted to help both unemployed restaurant employees and provide prepared meal solutions to local residents, the College's Culinary Arts department hit the milestone of having prepared 4,000 meals for the organization.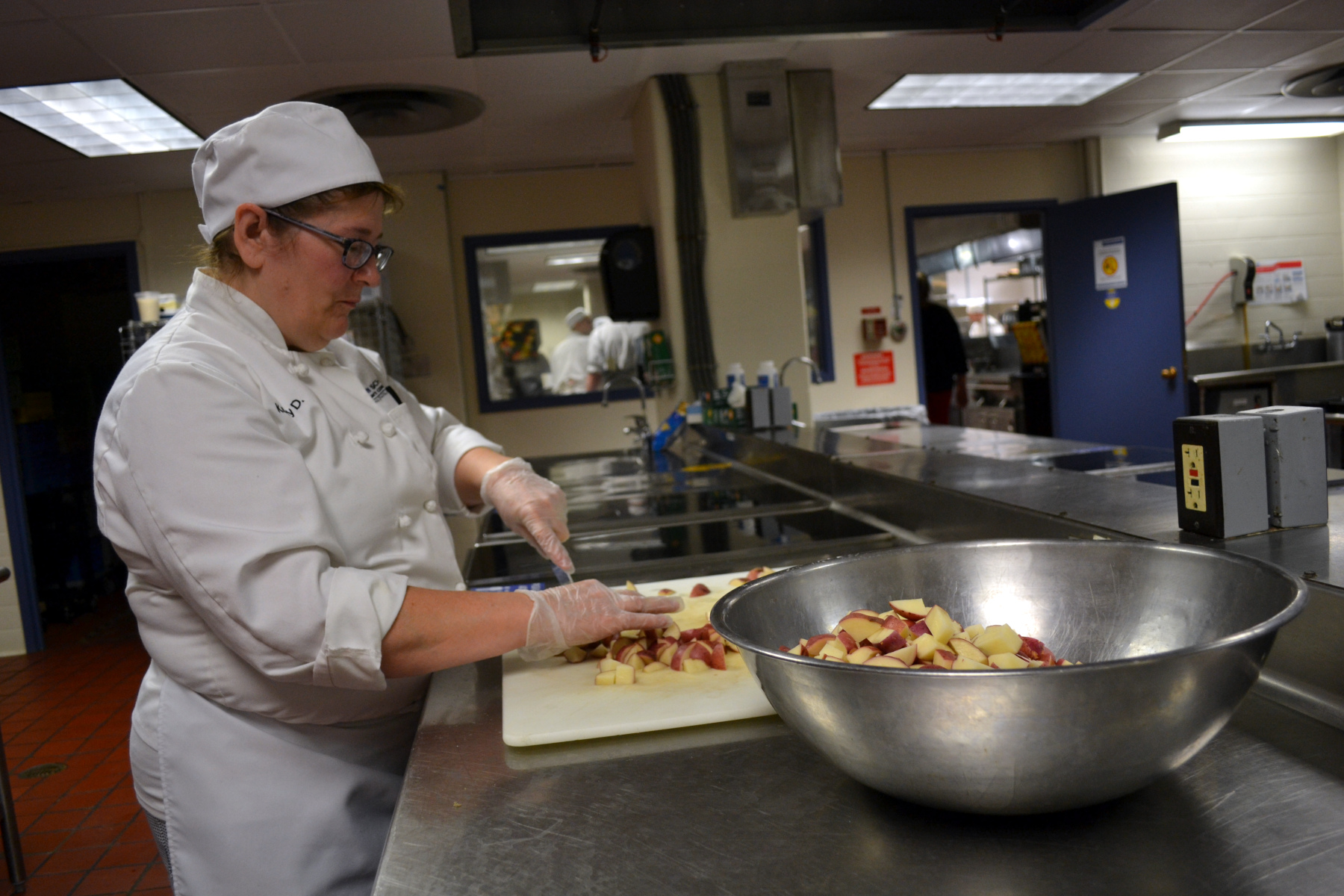 Kathy Darmetko slices potatoes for garlic and herb home fries.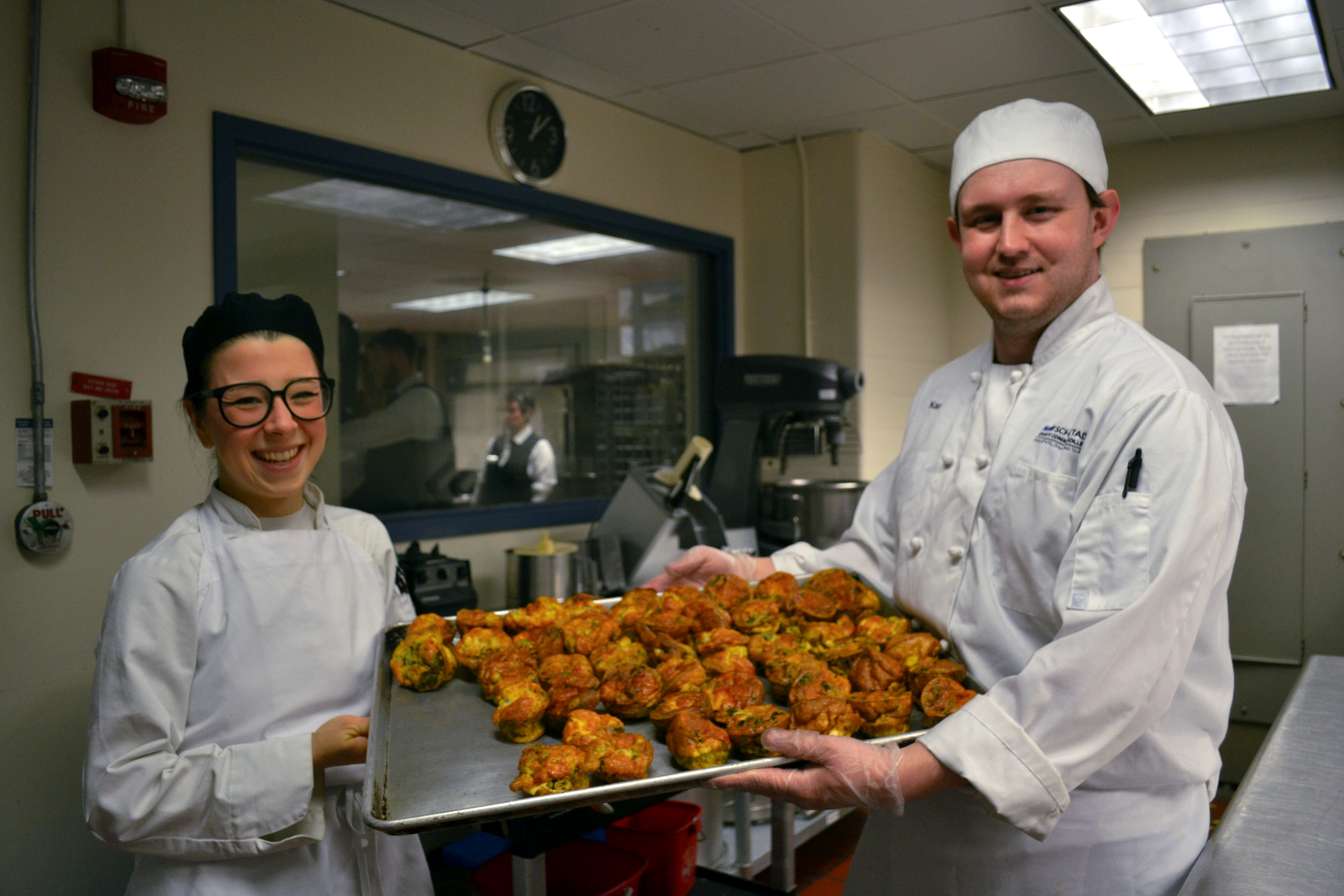 Rain O'Donnell '14, '15 and Karl Lurz with vegetable frittatas
Students in Quantitative Foods classes taught by Adjunct Faculty Members Rain O'Donnell and Adam Foti are preparing the delicious meals. Last week it was frittatas and home fries, and before that roasted chicken and vegetables, chicken pot pies, and vegetarian meals including cauliflower steaks with mashed potatoes.
"I think it's a lot of fun and as much as I miss doing the events, it's a good lesson for our students in a number of ways," O'Donnell said. "It shows them how to adapt which we did on campus and it all goes to a good cause. When you can do both of those things at once, that's a good learning experience."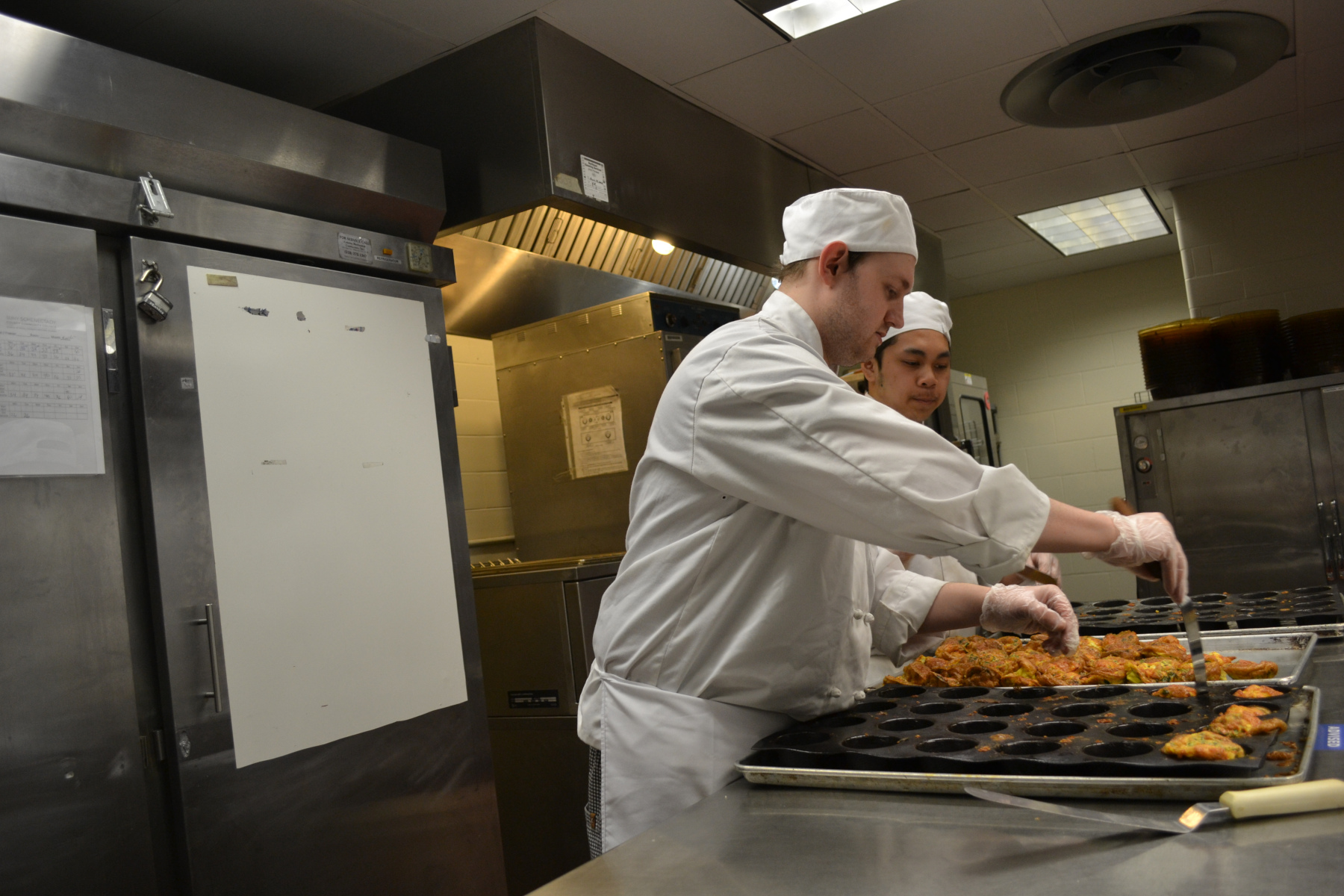 Karl Lurz and Godfrey Garzon, Culinary Arts majors
"I feel really proud about it because I'm very involved when it comes to social awareness. Growing up in a third world country, I saw poverty and I knew how it felt to be in need of something. To work with Feed Albany to make food for someone in need is great. It feels great to help someone, especially doing what I love which is cooking."
The College began partnering with Feed Albany in Spring 2021. Ordinarily, students in both classes would be involved in banquets at the College, but since those aren't happening due to the pandemic, the School of Hotel, Culinary Arts and Tourism (HCAT) began working with Feed Albany.
Kim Otis has been serving as the liaison with Feed Albany since March 2021. Since then students in Quantitative Foods courses have been preparing the meals and students in Banquet Management classes taught by Mrs. Otis and Assistant Professor John O'Connell have been assembling them.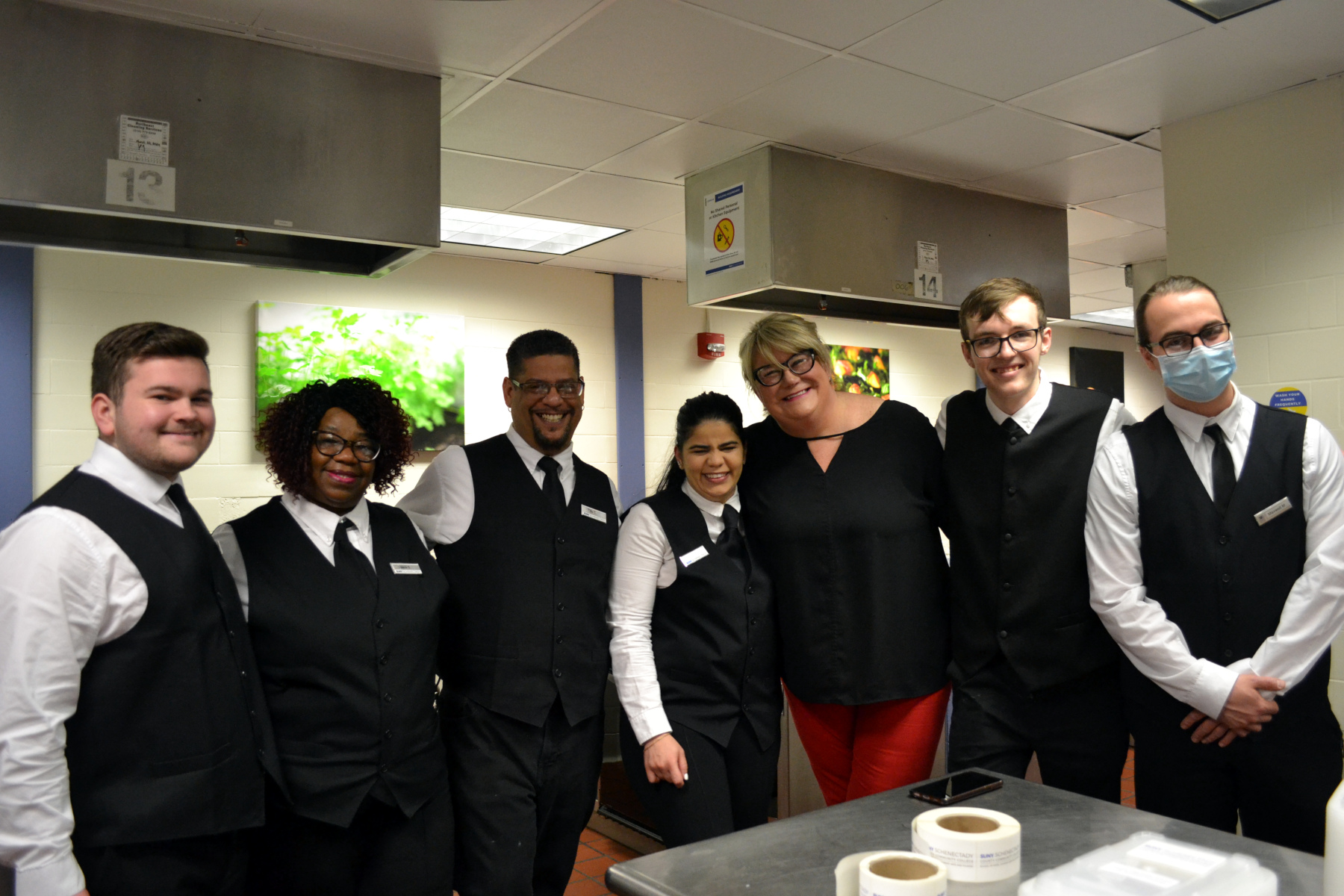 Assistant Professor Kim Otis with students in her Banquet Management course
"Partnering with Feed Albany has provided us the opportunity to teach our students the skills and strategies that we normally would with the added benefit of providing meals to our community members," she said.
"Now in our third semester, it's incredible to see the quality of the meals that the students are producing. Feed Albany continues to teach the student culinarians that true hospitality goes beyond the four walls of the dining room and into the community at large. Over the last year we have found that there is a tremendous need in Schenectady County and the work of the students and faculty at SUNY Schenectady helps to combat food insecurity in its own backyard. We hope that this program will continue to be sustainable and will inspire others in the community to do their part to make the Capital Region a more fair, equitable, and inclusive place for everyone."