College Partners with MVP Health Care on New Workforce Development Program for Health Care and Insurance Jobs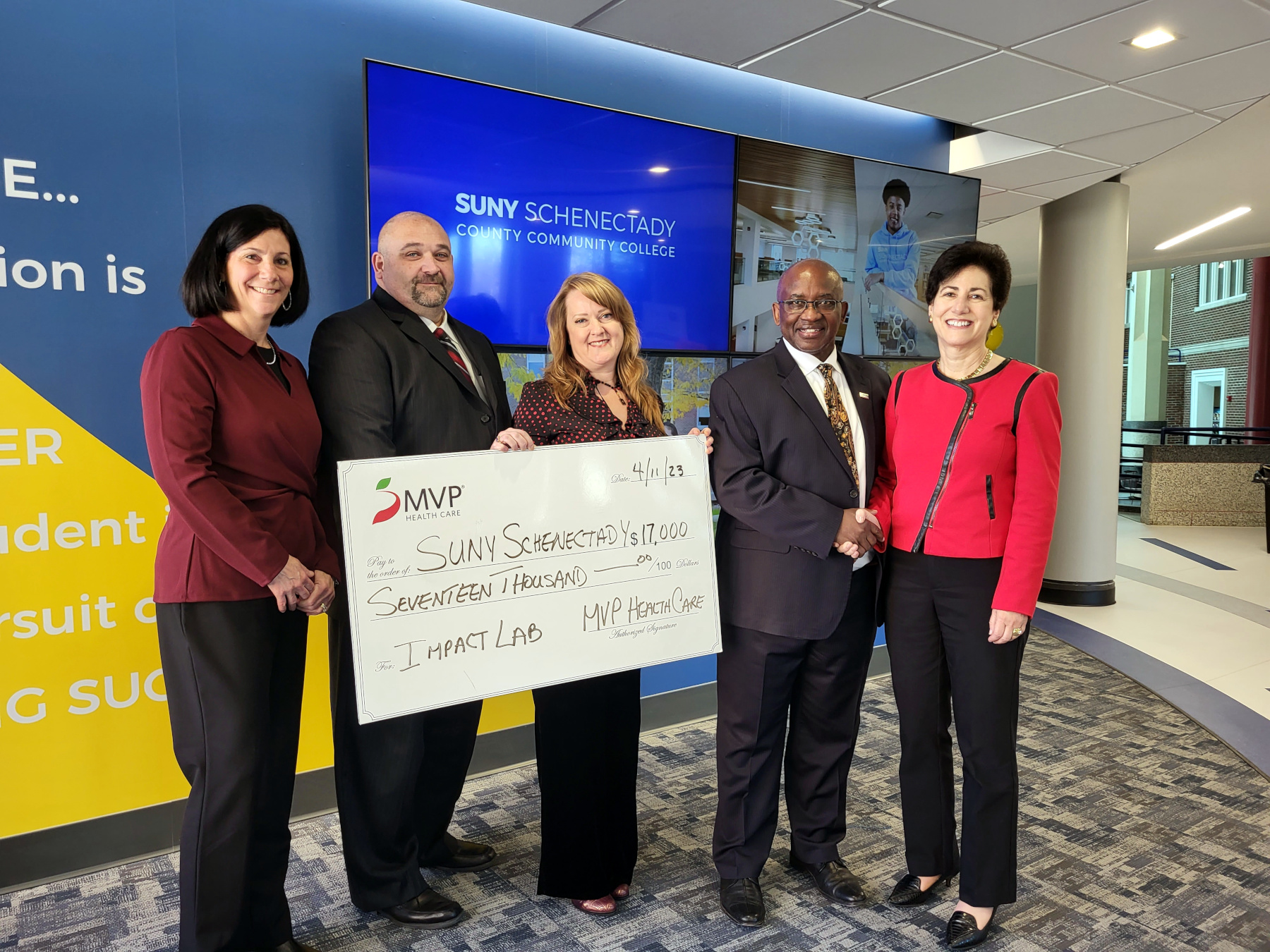 4/12/2023
SUNY Schenectady and MVP Health Care today announced a new partnership that will invest in the Capital Region's workforce and serve as a pipeline for talent development in the health care industry. A new, two-part training program will be offered to anyone who is interested in working in the health and dental insurance fields or people who are in the industry and looking to invest in their professional development. Those who enroll will take courses in customer service and claims processing management in the newly named MVP Health Care Impact Lab, located at the College's Center City site. MVP Health Care provided $17,000 in funding to the SUNY Schenectady Foundation, which will provide the MVP Health Care Impact Lab with technology, software, and equipment necessary to launch the training program.
Students can enroll in two courses: Health Insurance Customer Service Unit 1 (15 weeks) and/or Health Insurance Claim Processor Unit 2 (13 weeks), either separately, in-sequence, or simultaneously. Enrollees will learn about the practices and procedures that are essential to effective operations in a variety of health insurance careers including insurance policies, health plan operations and claims, billing, coding and service processes, eligibility processes, and enrollment management.
"We truly appreciate MVP's longstanding support of the College and are looking forward to offering training in the new MVP Health Care Impact Lab in our Center City site," said Dr. Steady Moono, President of SUNY Schenectady. "The new training programs will provide access to careers in healthcare in general and health insurance specifically. This is a high-demand sector with a variety of job openings and we are pleased to partner with MVP on this important new initiative."
As part of the partnership's dedication to investing in the region's workforce, when students complete the courses, MVP will interview and consider students for open roles, trainee opportunities, and internships at the company. The courses are designed to give students a basic understanding of general medical and insurance terminology and develop the skills necessary to provide specialized administrative assistance in the areas of medical insurance, medical billing, insurance customer service, and healthcare administrative management. These specialized skills will provide the strong foundation needed to fill health care jobs not only at MVP, but potentially at local hospitals, providers offices, or other insurers as well.
"At MVP, we believe that the beating heart of any organization is its employees," said Chris Del Vecchio, President and CEO of MVP Health Care. "Partnering with SUNY Schenectady to invest in workforce development is vital to the continuation of the health care ecosystem here in the Capital Region. The foundational skills that enrollees will be able to receive through this specialized courseload will be able to change the trajectory of someone's career while supporting local companies as they search for top talent. We are proud to partner with SUNY Schenectady to offer this unique opportunity to those in our community and look forward to welcoming new staff to MVP in the future."
"This partnership represents a 'perfect storm' collaboration between insurance industry experts at MVP and SUNY Schenectady's Workforce Development and Community Education Division to create relevant and timely training programs designed to assist community members with new gainful employment pathways and/or promotional opportunities in an existing role," said Sarah Wilson-Sparrow, Vice President of Workforce Development and Community Education at SUNY Schenectady. "We are so thankful to MVP for their partnership, generosity, and expertise."
The training is slated to begin in late summer or early fall. For more information about enrollment including potential tuition assistance, please contact the SUNY Schenectady Workforce Development and Community Education Division at 518-595-1101, extension 3.