College Introduces First "HyFlex" Course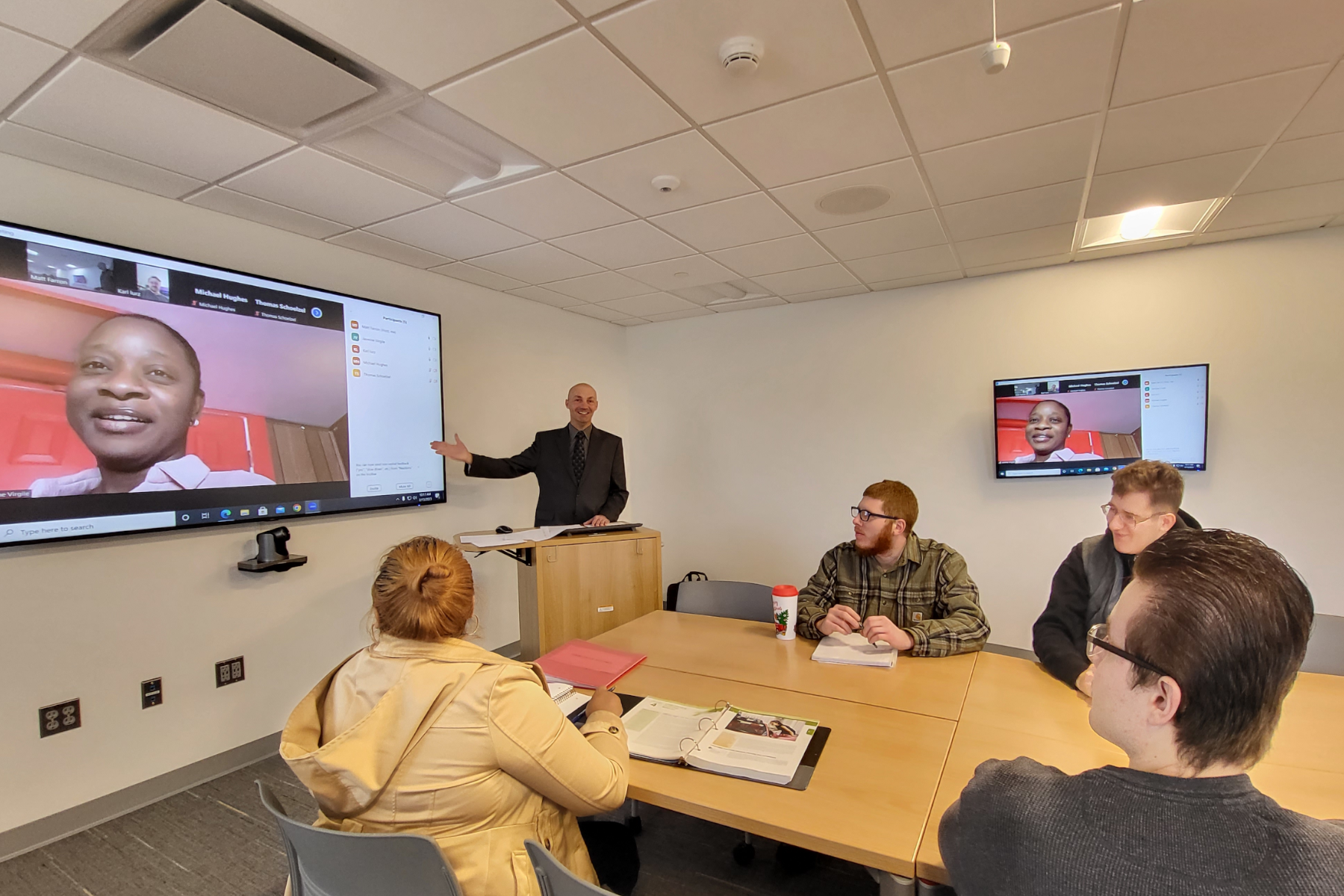 2/15/2023
Last week Jasmine Virgile, a Business Administration/Entrepreneurship major, was not able to come to campus for her Monday morning Marketing class, but she was still able to attend, ask questions, and contribute to the class discussion. She logged on from home and connected with Professor Matt Farron as part of the College's first "HyFlex" course.
"For me the flexibility is good," said Jasmine, who usually attends the class in person. "I could open my computer and go in and follow what the professor had to say. I love being in class and didn't want to miss it." (She is pictured on the screen in the classroom.)
Professor Matt Farron, of the Division of Business, Criminal Justice and Law, teaches the HyFlex course where students can choose three different ways to learn: they can either come to class in person in the Center for Excellence in Teaching in the Learning Commons, log on synchronously to participate in real-time through Zoom Rooms, or at their convenience log on asynchronously at a different time to access assignments, videos of that week's class, course content, and due dates. Students can choose from week to week which format they prefer.
"It's nice because a student who wants to be there in person can do so, and those who want to join in remotely can link in on their smart phone, tablet or laptop and actively participate," Professor Farron explained. "Students who want to complete the course asynchronously can do that also. Students can change what format works for them each week. So if a student usually comes in person and can't make it to campus on that day, they can still participate in the class remotely like Jasmine did last week or they can go with asynchronous learning to log on at another time."
Kenneth Morris, a Business Administration major, prefers to attend each class in person. "I have always been a visual and physical learner," he said. "In person you get to interact with the professor more. Talking to somebody is way better than words on a computer."
But for Michael Hughes, also a Business Administration major, taking the HyFlex course and logging on from home has worked for his schedule. "I do the synchronous, so that I get caught up with what Professor Farron is saying during class time," he said. "I like the fact that I'm able to take the class without going to campus because I have a three-hour break before my next class on campus. It's better for me so I don't waste gas going back and forth."
The College was selected for an Innovative Instruction and Technology Grant (IITG) to support the new HyFlex course, through the efforts of Professor Farron and David Wolf, Director of Instructional Design and Online Learning. A limited number of applicants from SUNY were selected for the grant that is intended to produce information that will help inform and shape the SUNY Digital Learning Environment (DLE). Funding was provided to redesign the course to HyFlex delivery and for software training that Professor Farron completed before teaching in the new format.