SUNY Schenectady Provides Turkeys and Thanksgiving Meal Kits To Students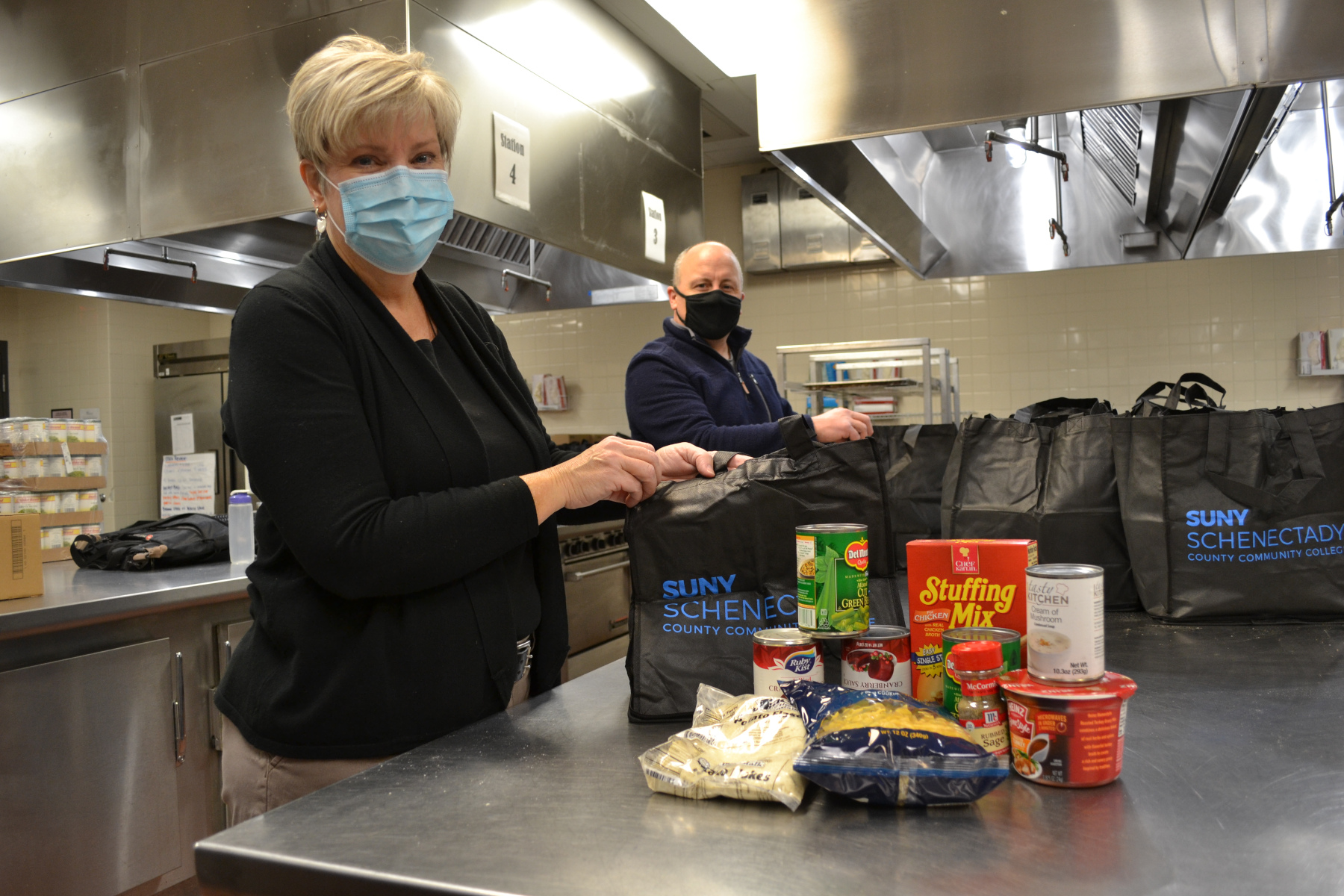 11/25/2020
There was a special feeling in the air at SUNY Schenectady today as faculty and staff distributed turkeys and all of the fixings for a delicious Thanksgiving meal to students, who picked up meal kits curbside in the College's main parking lot.
Faculty and staff from the Schenectady County Community College Foundation, the College's Food Pantry, and the School of Hotel, Culinary Arts and Tourism, assembled 200 meal kits that students received for the Thanksgiving holiday, part of SUNY Schenectady's commitment to addressing food insecurity among its students.
"Food insecurity is a very serious issue among many of our students, especially now as they encounter difficult challenges as a result of the pandemic," explained Dr. Steady Moono, President of SUNY Schenectady. "Our Food Pantry is an important resource that has remained open to our students even when the College went to virtual learning in March. We wanted to expand on this by providing special Thanksgiving meal kits and to remind our students how deeply we care about them and their well-being."
As part of the Thanksgiving giveaway, Price Chopper/Market 32 generously donated 125 turkeys. Mona Golub, Vice President, Public Relations and Consumer & Marketing Services, expressed the importance of their participation. "With COVID-19 having escalated the need we've seen in years past, Price Chopper/Market 32 is more grateful than ever to be able to answer the call of our many community partners," she said.
The meal kits included enough of the following to feed a family of four during the holiday: turkey, stuffing mix, instant mashed potatoes, green beans, gravy packets, French's fried onions, egg noodles, cranberry sauce, cream of mushroom soup, a delicious apple or pumpkin pie, and rolls.
In addition to Price Chopper/Market32, the Schenectady County Community College Foundation, which helped to organize the Thanksgiving meal giveaway, extends heartfelt gratitude to the following sponsors of the effort to feed hungry students: County Waste & Recycling, Joan R. Dembinski '10, High Voltage Electric Service, NBT Bank, Sunmark Charitable Community Foundation, Whiteman Osterman & Hanna LLP, and Fenimore Asset Management.
Ann Fleming Brown, who serves as Chair of the College's Board of Trustees, noted how meaningful it is to have community partners invest in the Thanksgiving giveaway and in SUNY Schenectady students. "We value and appreciate those who have partnered with us so that we can provide delicious holiday meals for our students," she said. "This is a special time of year and although this year presents its challenges and difficulties, we are grateful for everything the community does to help us empower our students."
Chef Michael Stamets, Associate Professor in the School of Hotel, Culinary Arts and Tourism, also explained the commitment that members of the College community have shown to reducing food insecurity among students. "This wouldn't be possible without the work of the College's Foundation and the dedication of our community, faculty, and staff," he said.
SUNY Schenectady's Food Pantry and Thanksgiving meal kit distribution fits in with how food insecurity among college students is being addressed at different levels. For example, last month, Gov. Andrew Cuomo announced expansion of the Supplemental Nutrition Assistance Program (SNAP) eligibility to up to nearly 75,000 low-income college students enrolled in career or technical education course work.
The College's Food Pantry provides temporary supplemental food relief to students at no cost. Tax-deductible donations to the Food Pantry can be made online.