CannaBusiness Education Hub Hosts First SUNY Cannabis and Career Education Expo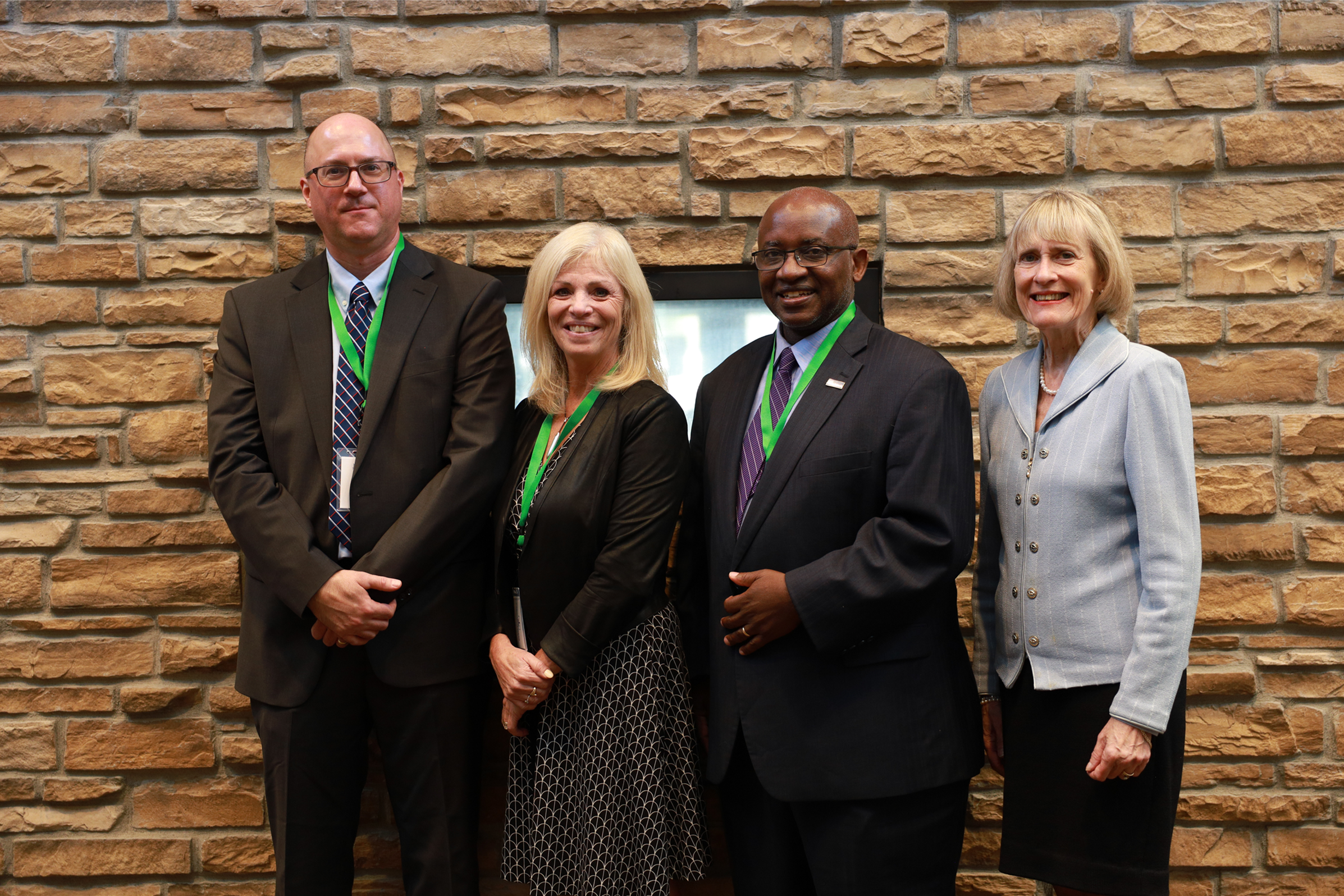 10/02/2023
The CannaBusiness Education Hub hosted the first Growing Potential: SUNY Cannabis Career and Education Expo, an exploration of developments and opportunities in New York's growing cannabis industry, on Oct. 3 at the DoubleTree by Hilton in Schenectady. Industry leaders, business owners, educators, and those interested in the cannabis industry attended the free, all-day expo with Chris Alexander, Executive Director of the New York State Office of Cannabis Management, among the expo's featured speakers. Discussions at the expo centered around the industry itself, covering topics including social justice, workers' rights, and College programs.
The CannaBusiness Education Hub is the vision of the C4 Cannabis Consortium comprised of SUNY Schenectady, SUNY Adirondack, SUNY Columbia-Greene, and SUNY Fulton-Montgomery, was funded by a $1 million grant from New York State, and is dedicated to creating cannabis-based workforce development. Each of the colleges highlighted new educational initiatives at their respective campuses with SUNY Schenectady offering a Culinary Cannabis Microcredential along with community education courses in Cannabis Cultivation at Home and Cultural History of Cannabis in the U.S.; SUNY Adirondack offering a Cannabis Business & Entrepreneurship Microcredential and Cannabis & Hemp Cultivation Microcredential; Columbia-Greene Community College offering a Cannabis Retail and Sales Microcredential and Cannabis Cultivation and Processing Microcredential; and SUNY Fulton-Montgomery offering a Cultivation Technician Concentration, Dispensary Manager Certificate, and Quality Lab Assurance Technician Certificate.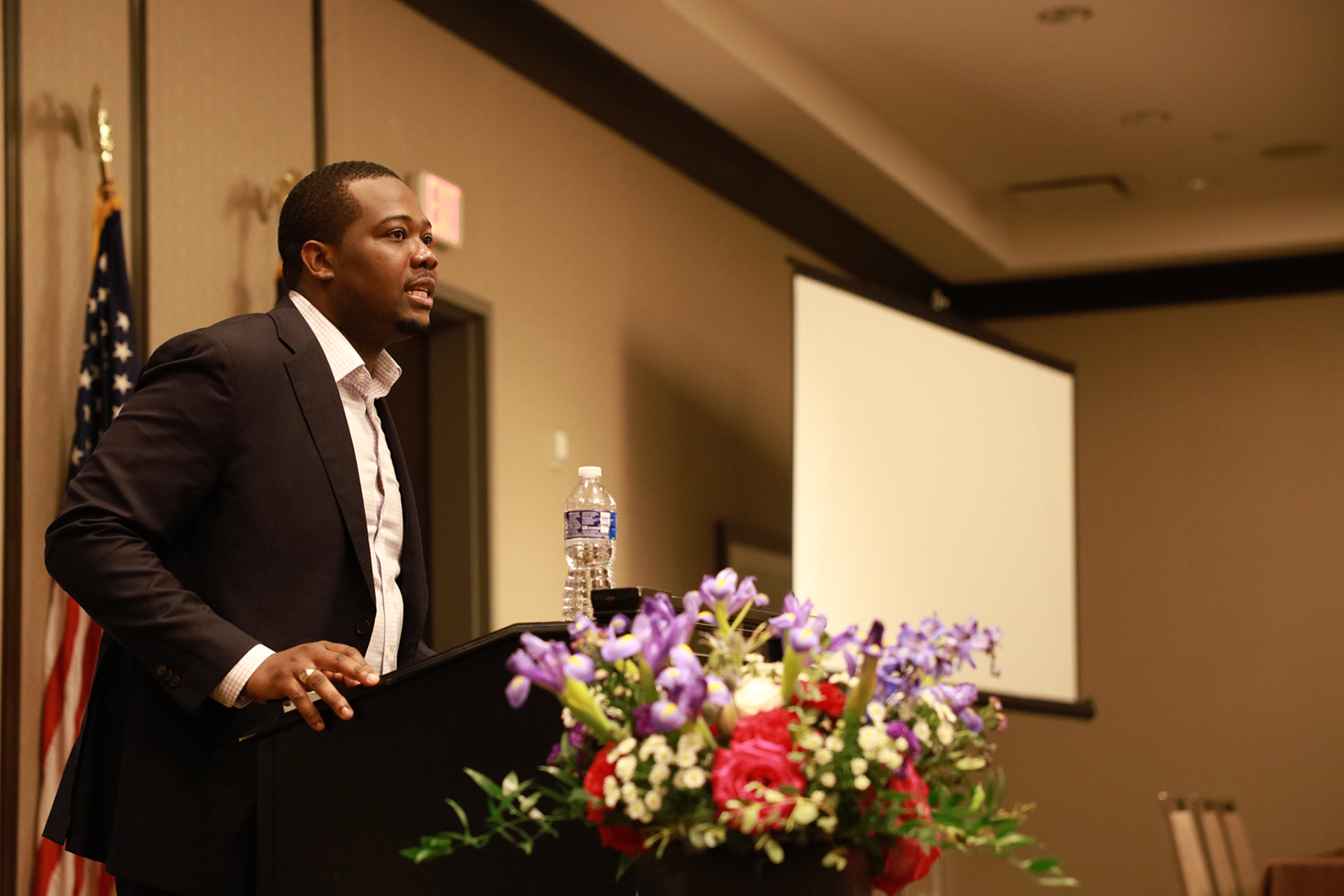 Chris Alexander, New York State Office of Cannabis Management Executive Director, presented "Social Justice and the OCM"
Attendees also learned about cultivation and terpenes with discussions about soil health, processing, and terpenology. Those interested in starting their own cannabis business attended workshops on financing, ancillary business, building a brand, and retail. In addition to Alexander, other featured speakers during the expo included Shelley Roberts, Chief Executive Officer of E29 Labs, and David Serrano, Project Manager for the Cannabis Workforce Initiative.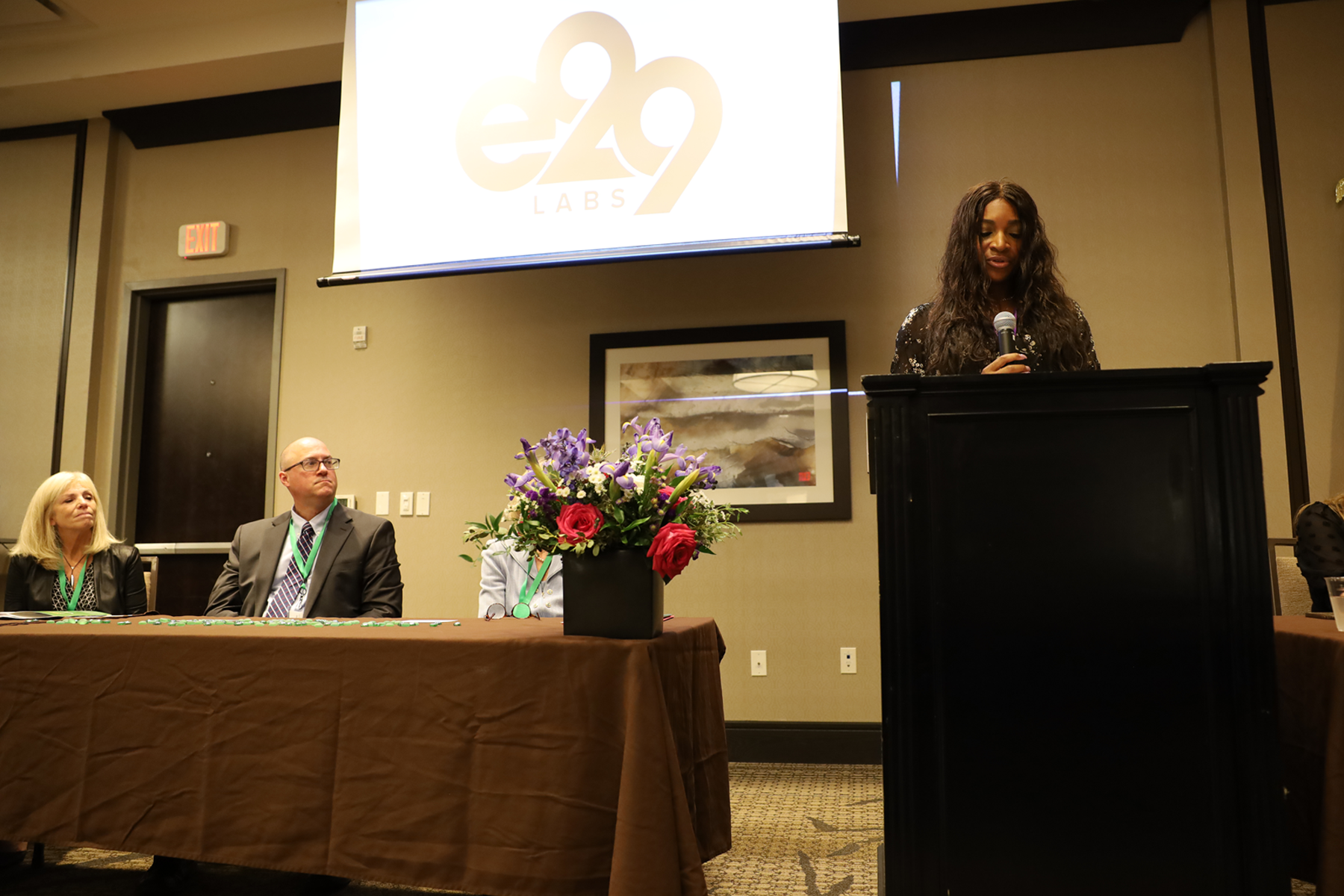 (l. to r.) Dr. Kristine Duffy, President of SUNY Adirondack, and Dr. Greg Truckenmiller, President of SUNY Fulton-Montgomery Community College, listen to Shelley Roberts, Chief Executive Officer of E29 Labs.
Leaders of the CannaBusiness Education Hub institutions noted the importance of joining together to provide training programs and also how the expo allowed for valuable networking opportunities and discussions.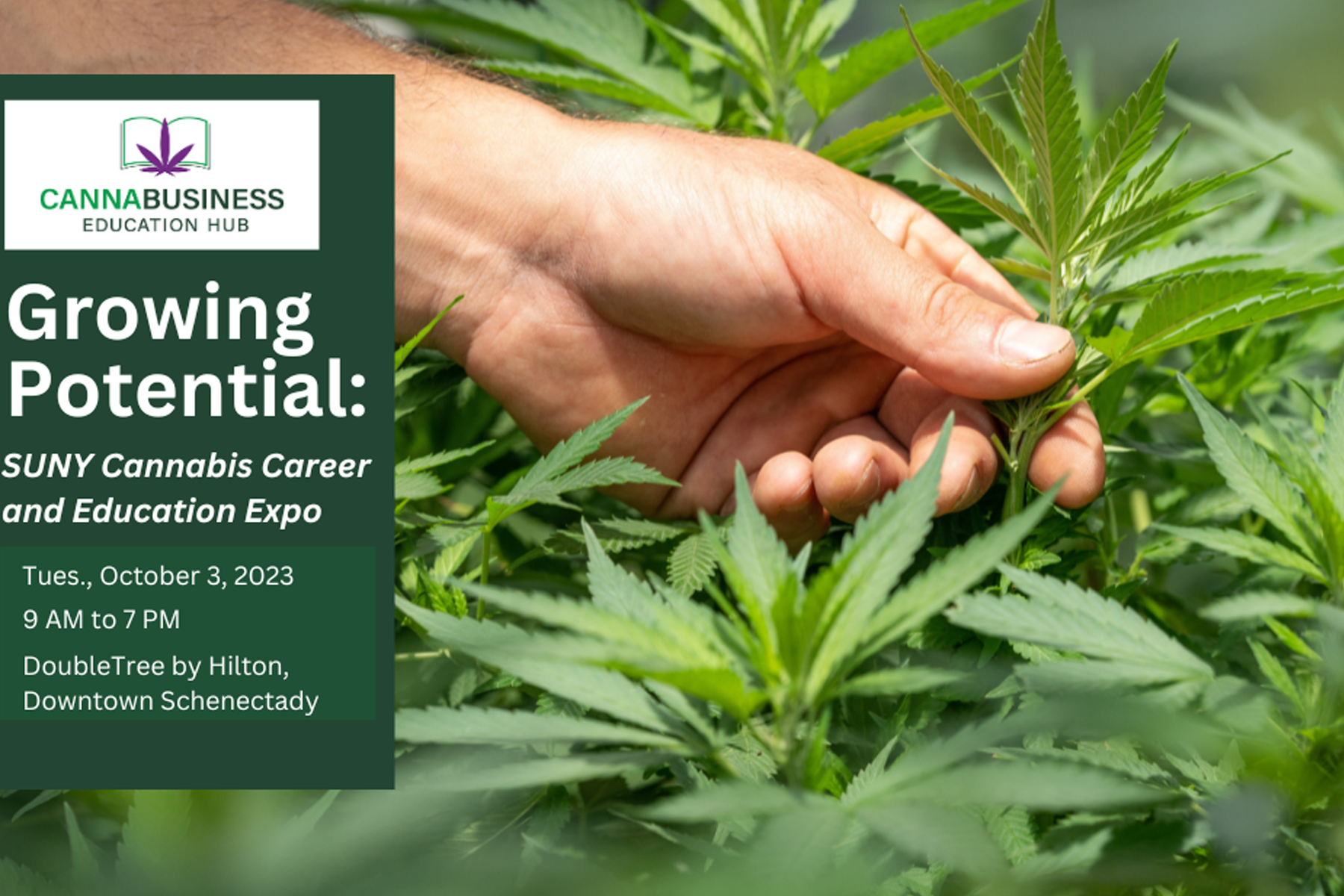 "SUNY Schenectady and our fellow SUNY institutions here today are at the forefront of offering students avenues to explore this evolving sector through career-oriented programs that support the growth of jobs in the marketplace," said Dr. Steady Moono, President of SUNY Schenectady. "With our new Cannabis Edibles Microcredential, we build upon the culinary spirit in our outstanding School of Hotel, Culinary Arts, and Tourism so that students can gain the educational foundation for this aspect of the cannabis industry while filling workforce needs in New York State. Today's expo was a wonderful opportunity for students, the community, and cannabis leaders to exchange ideas and learn about training opportunities at our CannaBusiness Education Hub institutions."
"SUNY Adirondack is proud to collaborate with our peers in the region to offer a comprehensive learning opportunity at the Cannabis Expo," said Kristine D. Duffy, Ed.D., President of SUNY Adirondack. "We brought faculty and interested students to expose them to multiple career pathways available in this emerging and growing industry. We are already experiencing strong interest in our courses in cultivation, the business of cannabis/hemp, and some historical perspective to create well-rounded workers for the region. This is yet another example of our college's response to regional workforce needs."
"New York's cannabis industry opens up an entirely new career path for students, and Columbia-Greene is proud to be part of the CannaBusiness Education Hub with Schenectady, Adirondack, and Fulton-Montgomery," said Dr. Carlee Drummer, President of Columbia-Greene Community College. "During the last academic year, Columbia-Greene offered two microcredentials focused on cannabis retail and sales, and cannabis cultivation and processing respectively. Together these certificates provide the training students need to obtain employment in a cannabis dispensary or cultivation facility."
"Fulton-Montgomery Community College has a long history of partnering with local employers to create educational programming and to assist partners with training new employees and upskilling incumbent workers," said Greg Truckenmiller, Ph.D., President of SUNY Fulton-Montgomery Community College. "FM's unique Individual Studies program allows us to quickly develop new curriculum for specific industries, such as in the cannabis industry. Our program also works as a pipeline for employers to train students through applied learning and potentially hire them on at the completion of their certificate or degree. As more businesses open in New York, including cannabis manufacturers, dispensaries and lab sites, we continue to adapt our curriculum to the needs of those new companies."