Let's Go Royals! Bowling Team On A Roll This Season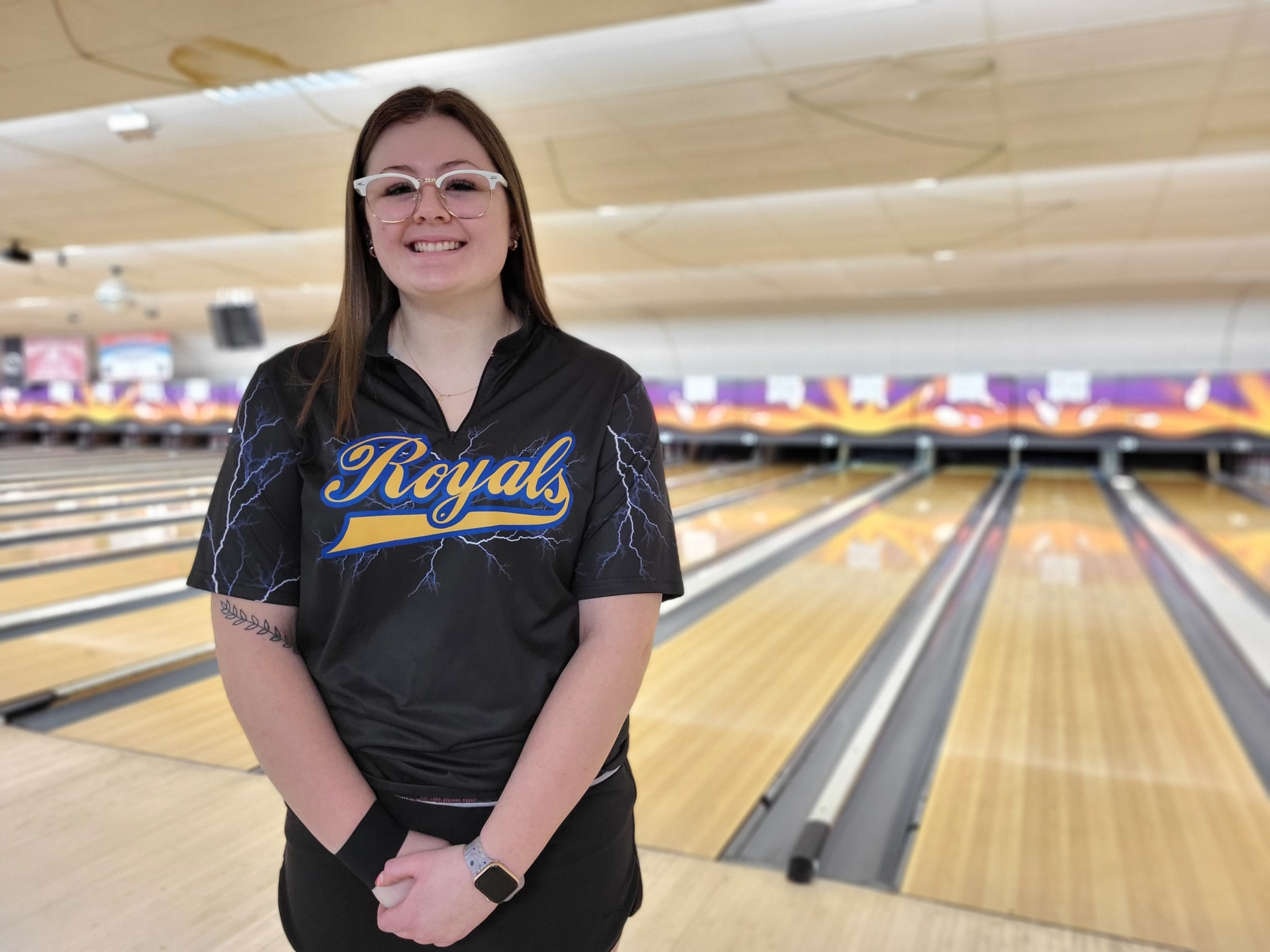 2/01/2023
A few years ago, Eliza Arasim, Head Captain on the Men's/Women's Bowling Team, was debating whether or not to keep up with the sport she's loved since the age of 4. She bowled on the Albany High School Varsity Boys Bowling Team since she was an eighth-grader at Hackett Middle School, making the Second All-Star Team in her senior year.
"I was just not sure if I wanted to keep bowling after high school," said the Business Administration major and 2020 Albany High School graduate. "But then people were telling me to keep bowling and I realized, 'I'm pretty good at this. I should continue.' "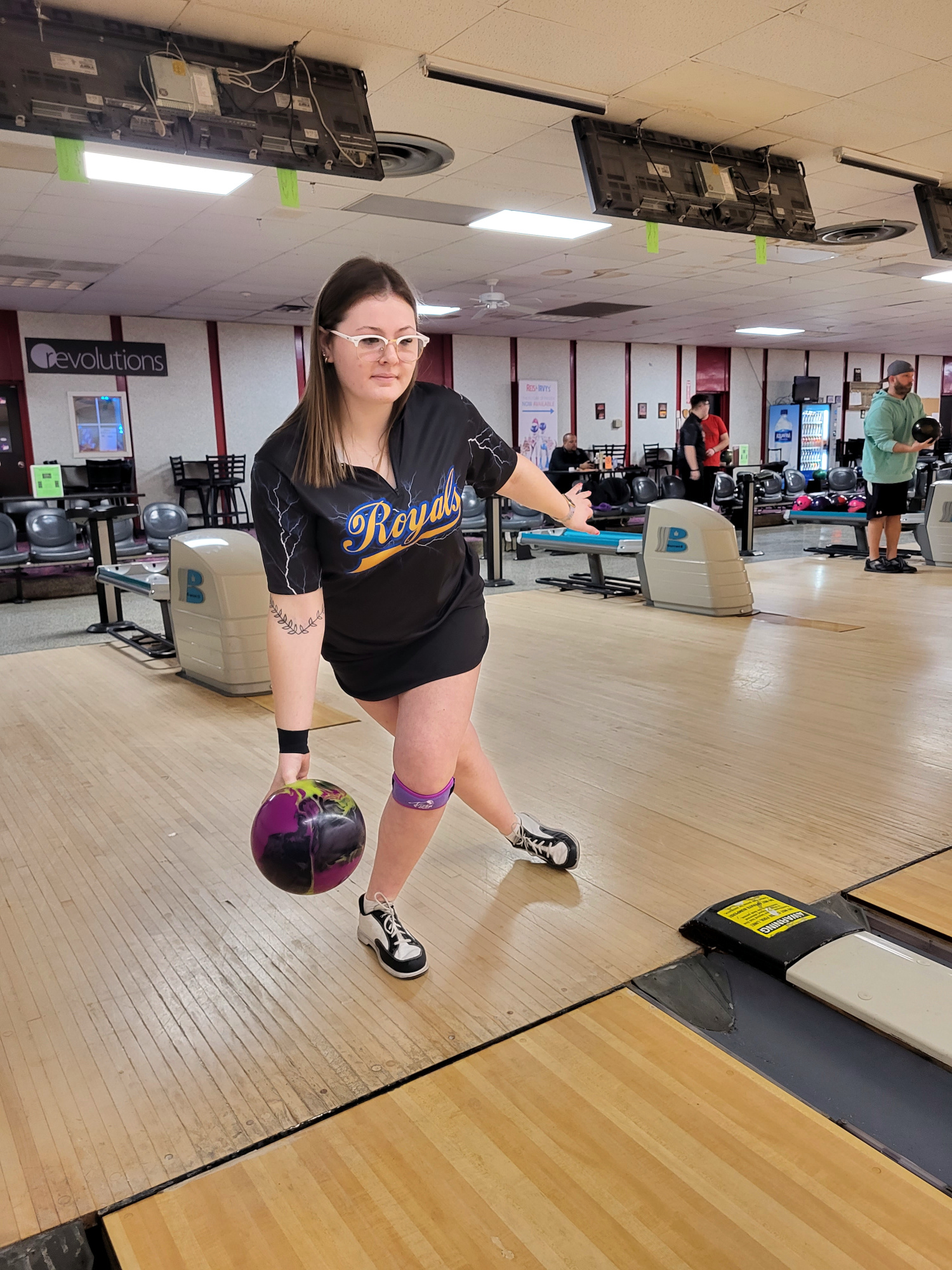 More than "pretty good," Eliza is now leading the Mountain Valley Conference, both men and women, with a 224 average. At the Hawk Invitational at Mohawk Valley Community College last month, she had the high score for all events.
Now in her second year on the team, and her second as Captain, Eliza credits Head Coach Ronald Williams with helping her bring her game to the next level.
"I came onto the College's team out of high school and my balance and approach were a little bit funky," she said after a recent practice. "Coach Williams has helped me a lot in the past two years to get me to where I am now. He has helped me advance my knowledge of the fundamentals like balance, approach, and staying down on my shot at the foul line."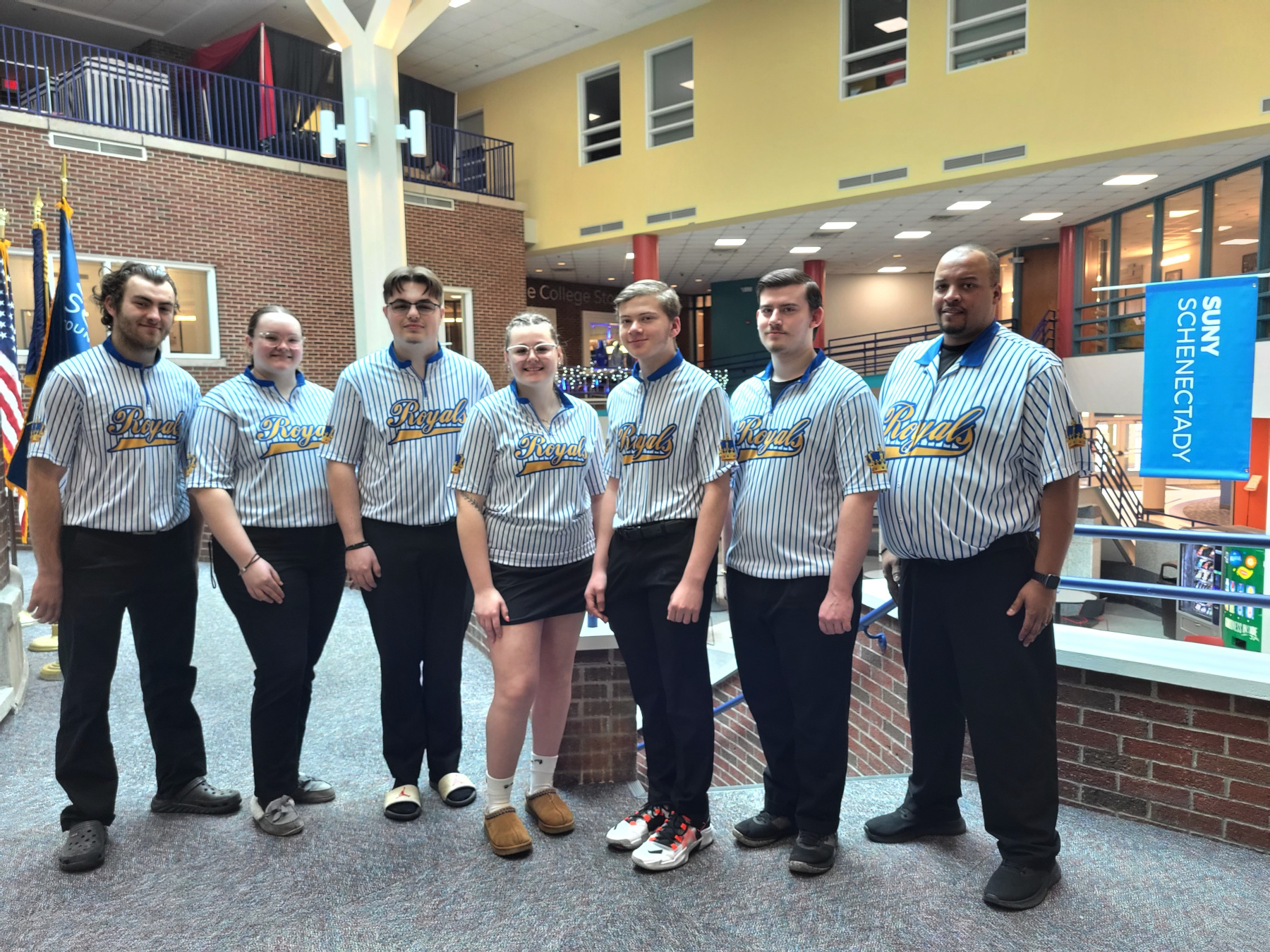 L. to R.: Alfred Collins, Kiara Beehm, Richard Pitsas – Co-Captain, Eliza Arasim – Head Captain, Jared Wachenheim, Zachary Peabody, and Head Coach Ronald Williams
The SUNY Schenectady Royals are ranked second in the Conference at 10-2 behind Hudson Valley Community College at 11-1. The Conference consists of: SUNY Schenectady, Hudson Valley Community College, Mohawk Valley Community College, Fulton Montgomery Community College, and Herkimer Community College.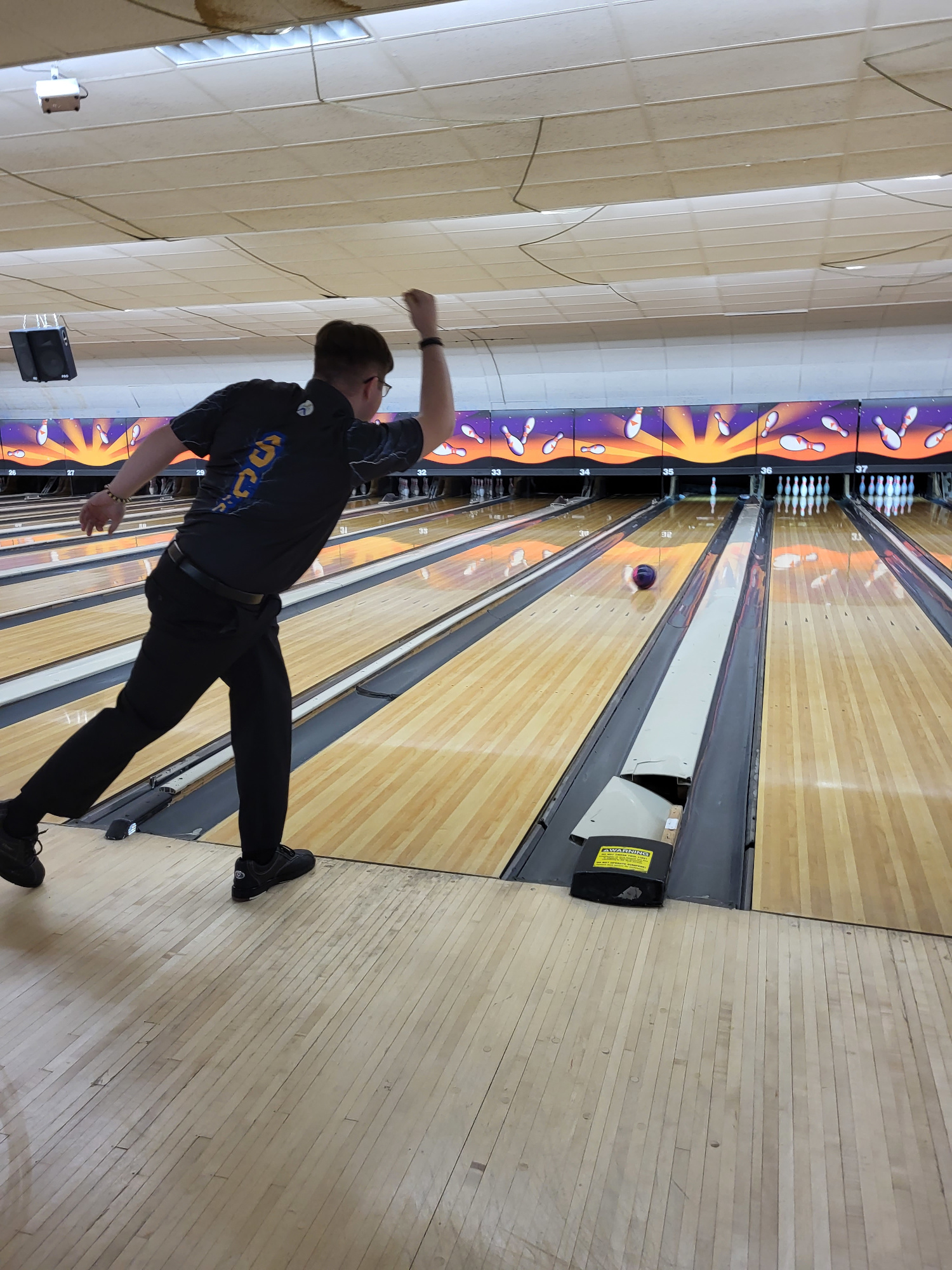 Richard Pitsas, Aviation Science major and Team Co-Captain, is in his first year with the Royals. He's been bowling since he was five years old and was on the Schalmont Varsity Team for five years (since he was an eighth-grader), before graduating in 2022.
"As a team we've come a long way since the very start of the season," he said. "My hope is that we finish out the rest of the season either first or second in the conference and win a tournament or two. I think we have a good chance to compete and maybe even take first place at regionals."
The Royals swept the conference match on Thursday (Feb. 2) at Mohawk Valley Community College, 4-0. They host the SUNY Schenectady Invitational and Boulevard Classic on their home lanes at Boulevard Bowl this weekend (Feb. 4-Feb. 5) before Conference matches at Hudson Valley Community College on Feb. 7.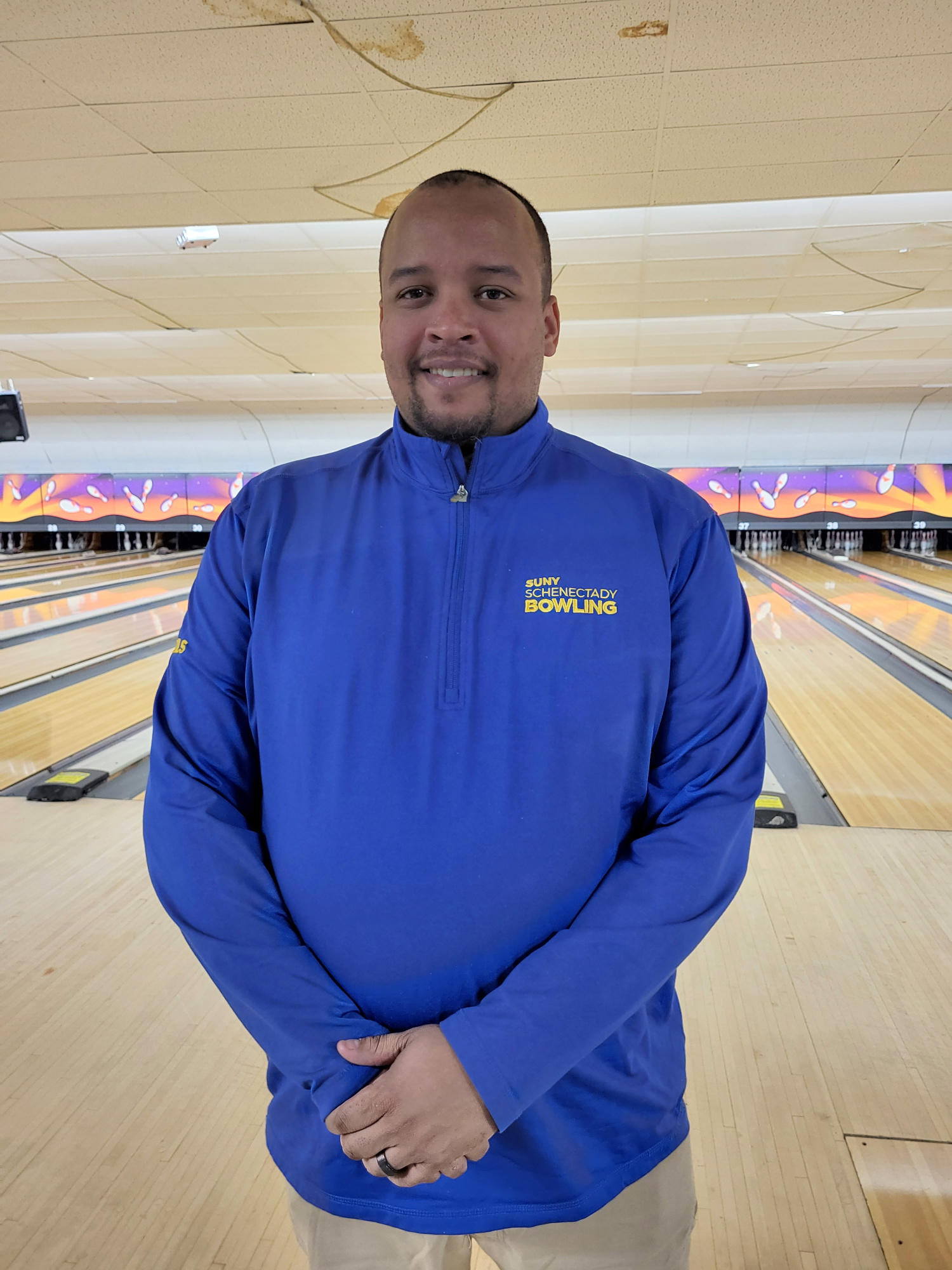 "We've done well and we'll continue to keep being competitive," Coach Williams said. "They've all worked really hard to get to where they are now. We'll definitely be competitive at Regionals and are looking forward to Nationals in March in Buffalo."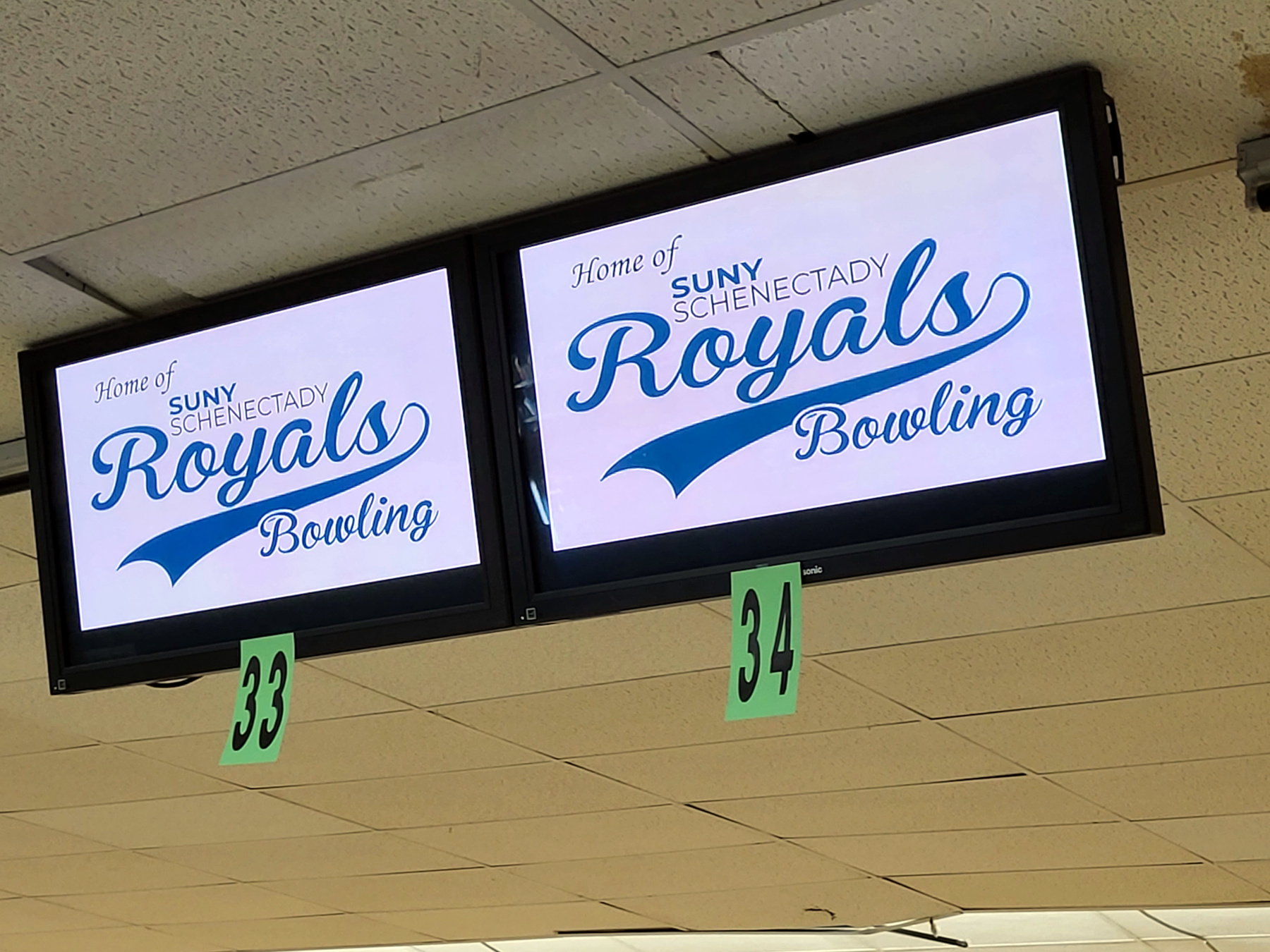 "For the conference, as a team, I'm hoping we can try and stay in second place or jump ahead to take first," Eliza added. "We need to try to be on target with our spares and help one another out as a team. I want us to stay as competitive as we can be against all of these other schools. We need to make it a team effort, as well as individual efforts."