A Conversation With GRAMMY Award Winner Charlie Post '93
3/11/2021
It's not every day that you have the opportunity to speak with a GRAMMY Award winner!
Henry Zelenak, Music Audio Technology major, did just that recently when he interviewed Charlie Post '93. At the time, Charlie was nominated for a 2021 GRAMMY Award for his work as the recording engineer on the Chicago Symphony Orchestra's (CSO) Shostakovich: Symphony No. 13, Babi Yar.
He won the GRAMMY for Best Engineered Album – Classical during the GRAMMY AWARDS PREMIERE CEREMONY on Sunday, March 14, at 3pm ET.
Charlie, who graduated from SUNY Schenectady with a degree in Music/Business, has been working as an Audio Engineer with the prestigious CSO since 2014. He recorded the Shostakovich piece in September 2018 with the recording available on music streaming platforms and on CD. Charlie also owns PostProductions Audio in Chicago.
During a normal season, the CSO performs about 200 main series concerts and he is recording about 100 of those for archival purposes and future radio broadcasts, with some selected for potential commercial release. When the pandemic forced performing arts venues to close, the CSO started streaming performances on "CSO TV," with Charlie recording, engineering, editing, and mixing performances of smaller CSO ensembles, in addition to editing and mixing videos that individual musicians recorded at their homes.
It has been a hectic schedule, but he is pleased that the music has continued to flow during the pandemic. "I am grateful to have the job, and I love working in music," he said. "The patrons are also very thankful to have a stream of live music they can listen to. They miss going to performances in person."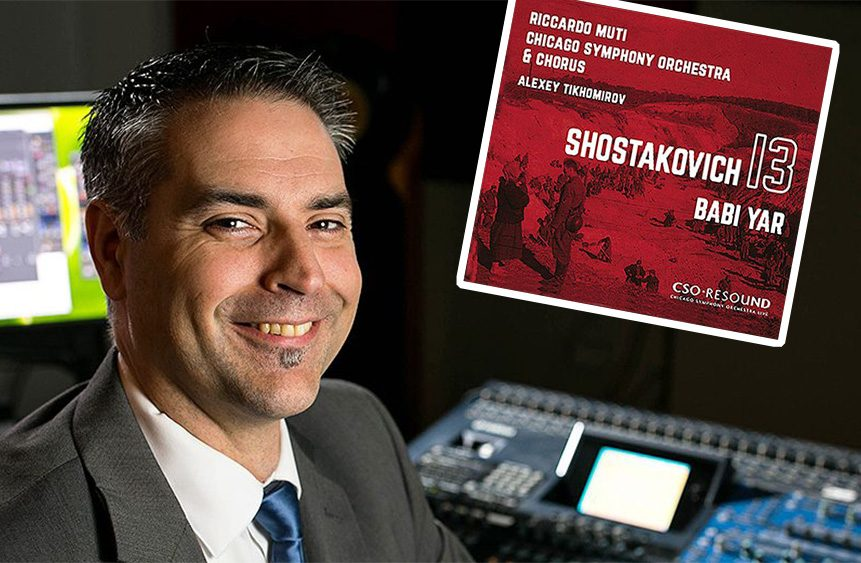 Before joining the CSO, Charlie lived and worked as a recording engineer in New York City. He moved there after earning dual bachelor's degrees in Music/Applied (B.A.) and Sound Recording Technology (B.S.) in 1998 from SUNY Fredonia. Charlie, who had been playing saxophone since he was in fifth grade, credits his SUNY Schenectady education and Music faculty with preparing him to transfer.
"Mr. (Brett) Wery was a great influence. He was a fantastic professor and he taught me saxophone as well as clarinet. It was amazing preparation for my Fredonia audition," he said.
A music history course with Dr. William Meckley sparked Charlie's interest in reading music scores. "Dr. Meckley got all of us really excited about orchestral music," he said. "I would borrow scores from the music library to follow while listening to large-scale symphonic works at home. I learned notation, instrument groupings, how to read melodies & harmonies, and orchestration. These skills propelled my career recording orchestras and helped me to be a strong candidate for my current position."