Helping Others: Students in Sociology Classes, Student Volunteer Organization Assist Community Groups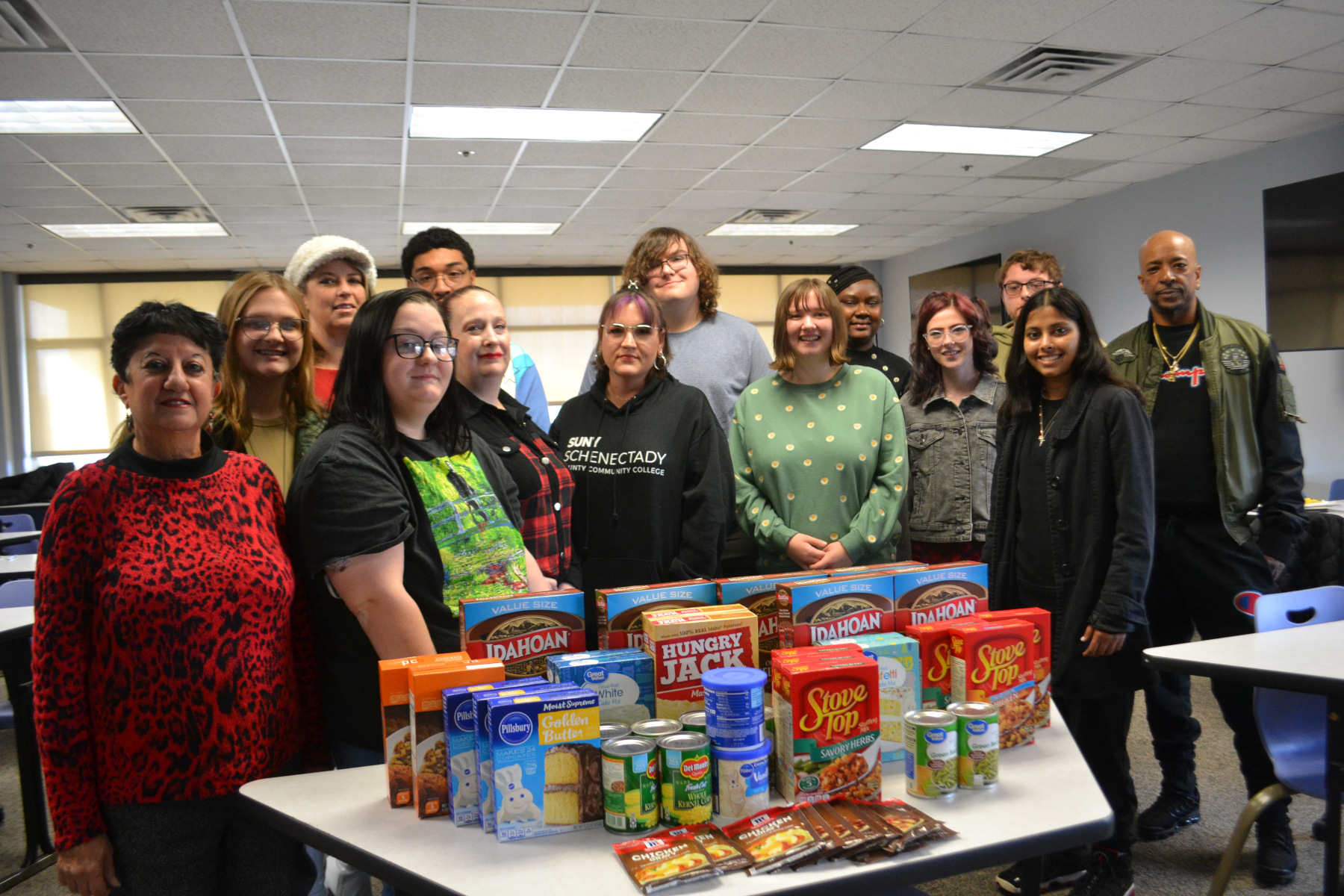 11/18/2022
This semester, students in Professor Renee Adamany's Sociology: Interpersonal and Group Dynamics course are not only thinking about their own grades, papers, and tests. They're thinking about the needs of others in the community by gathering donations, putting gift bags together, distributing food for holiday meals, organizing holiday parties, and more through service learning projects.
There are four student groups working with different community organizations.
Pathways Nursing and Rehabilitation Center - Students led residents in a winter arts and craft activity.
Girls Inc. in Schenectady – Students provided gift bags for children ages 5-8, led a painting activity, and hosted a pizza party.
City Mission of Schenectady - Students hosted a holiday party with refreshments and activities for the women and children of the Family Life Center. Guests were able to have a special holiday photo taken and students gave gift bags to the women and children.
Boys and Girls Club of Rotterdam - Students are giving away Thanksgiving baskets with food for a holiday meal and special gifts.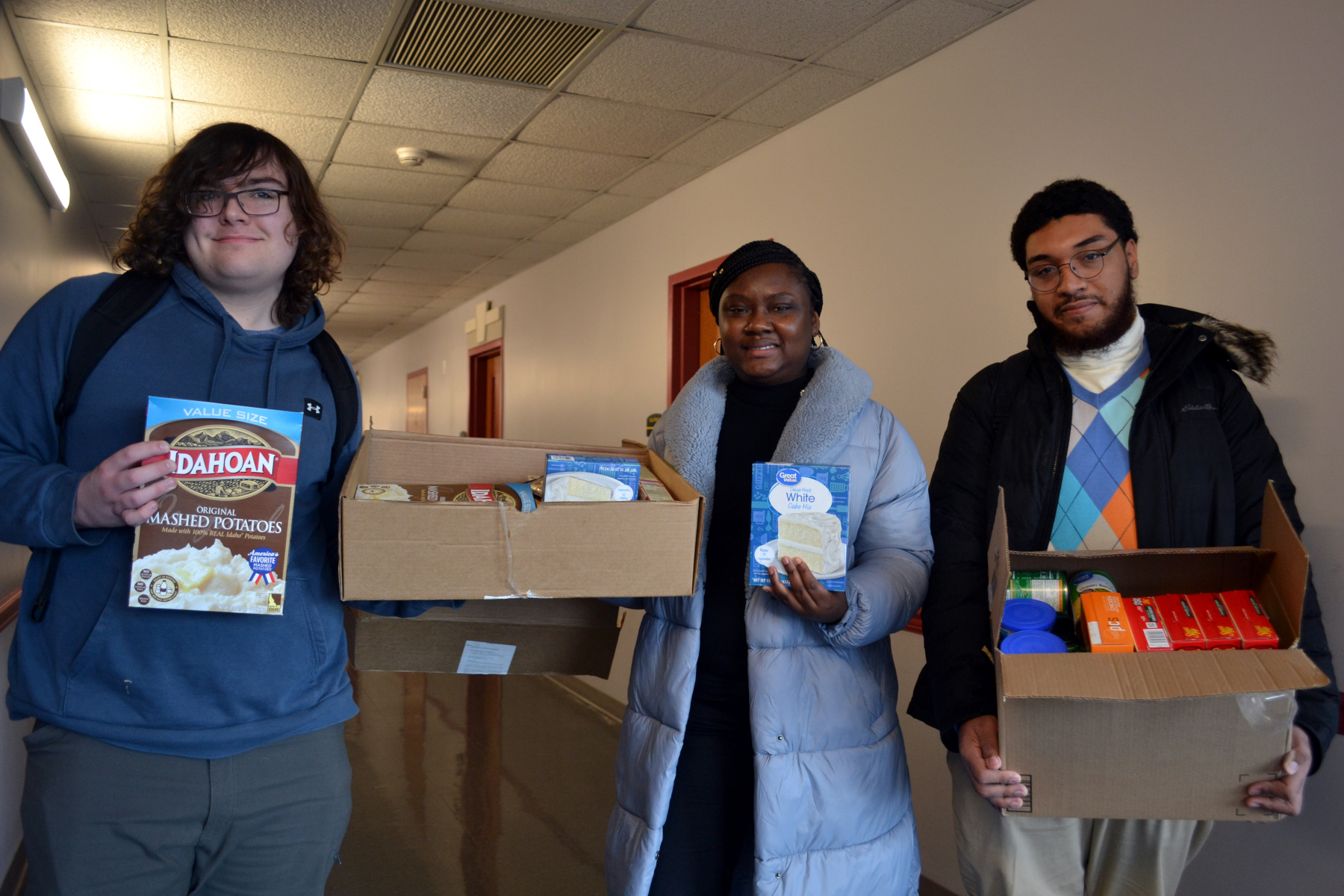 Richard Parker (far right in photo), a Human Services major, described his experience working on the project that will benefit those at the Boys and Girls Club of Rotterdam. "We really wanted to work with children to do something meaningful for them and their families," he said. "Knowing how things are still hard due to COVID and inflation, we wanted to give back to the families in need." He is pictured above with Lucas Milleville, and Grace Henderson, who are both Human Services majors.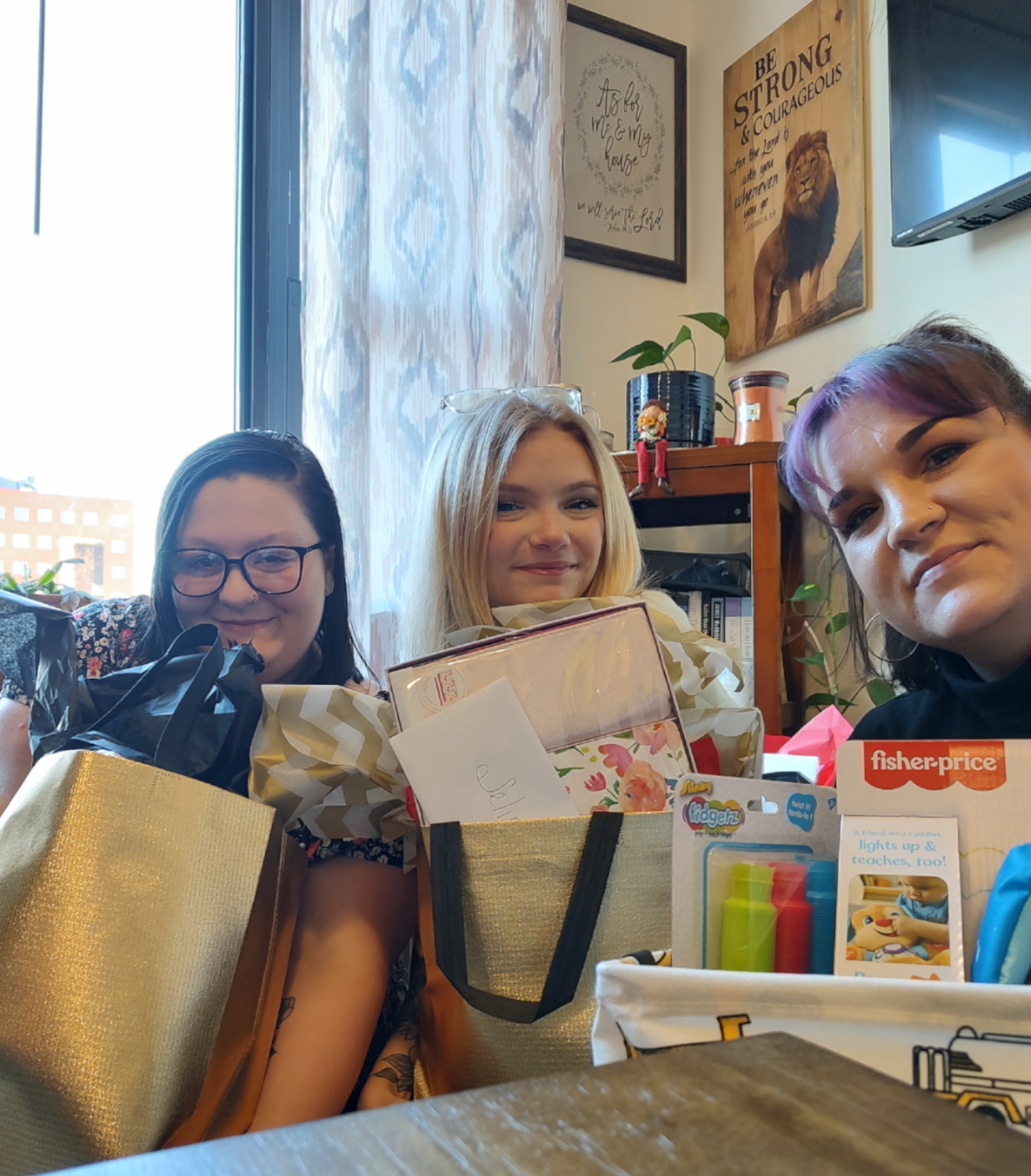 Human Services students Brittany Paruszkiewicz, Gabriella Pinnetti, and Sarah Semo with the gift bags they prepared for residents of the Family Life Center.
Sarah Semo, a Human Services major, works as an Associate at the Family Life Center (FLC) Ministry, a residence for women and children and part of the City Mision of Schenectady. She was a resident of the FLC and has been working there since January 2020. Her group has collected donations of gift cards, candles, toys for the gift bags they'll give out.
"The way the party and this project all came together is just so beautiful. The group has wonderful ideas. I knew that the women and children here had their basic needs met, but I wanted to do something special for them. I couldn't believe how generous people were with the gifts and donations. All that matters is that they have a really good time. There's hope for everyone."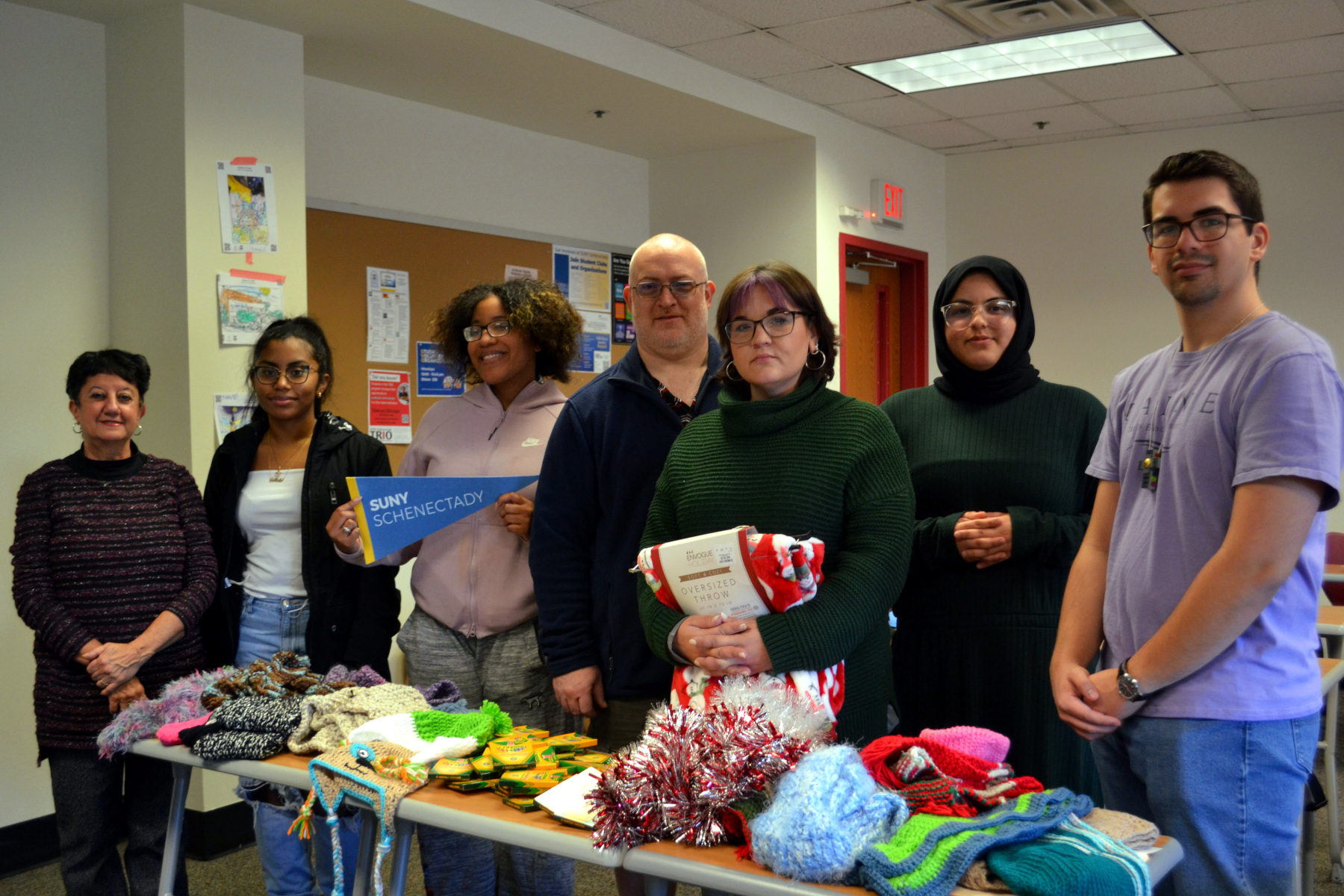 The Student Volunteer Organization. Left to right are: Professor Renee Adamany (Club Advisor); Gabriella Jones, Danielle Bronson, Jeremy Allen, Sarah Semo, Sakinah John, and Corey Bub.
The Student Volunteer Organization (SVO) has been busy this semester. They're getting ready to display a tree at the YWCA Northeastern NY's Festival of Trees that begins on Dec. 3 at the YWCA (44 Washington Ave.) and the Schenectady Historical Society (32 Washington Ave.) and runs through Dec. 23. They have been collecting hats, scarves, gloves, mittens, and crayons that will be in boxes around the tree for anyone to take.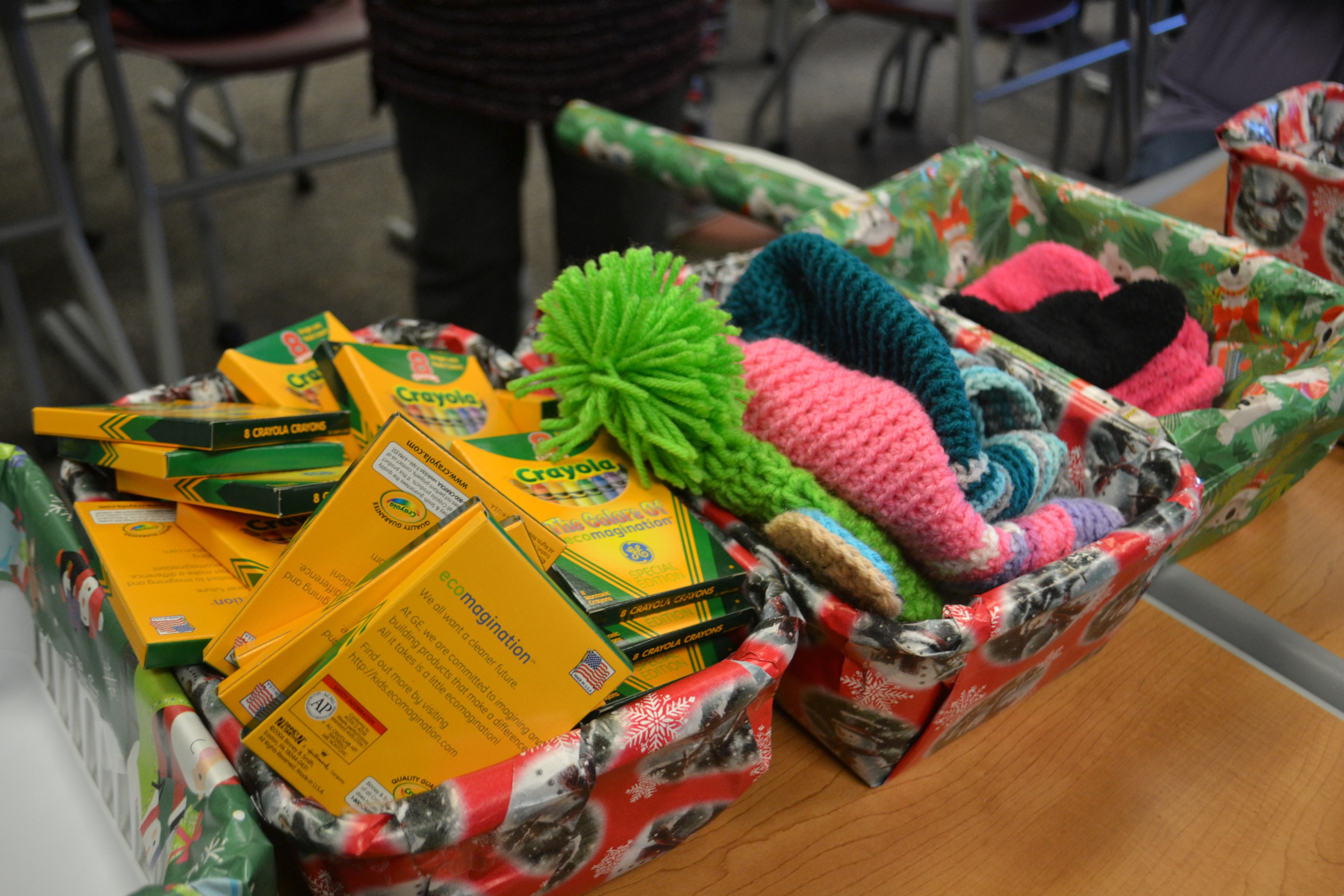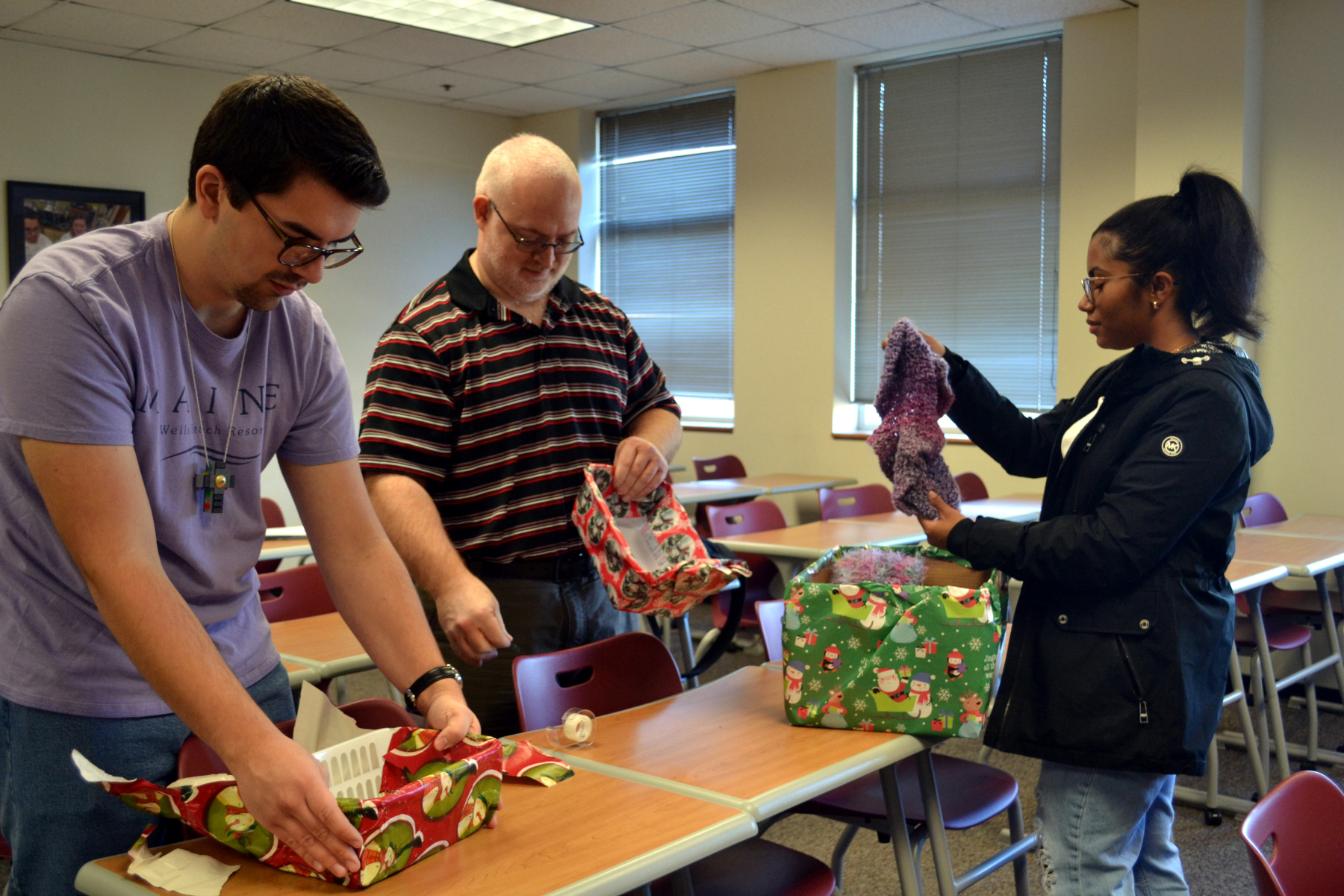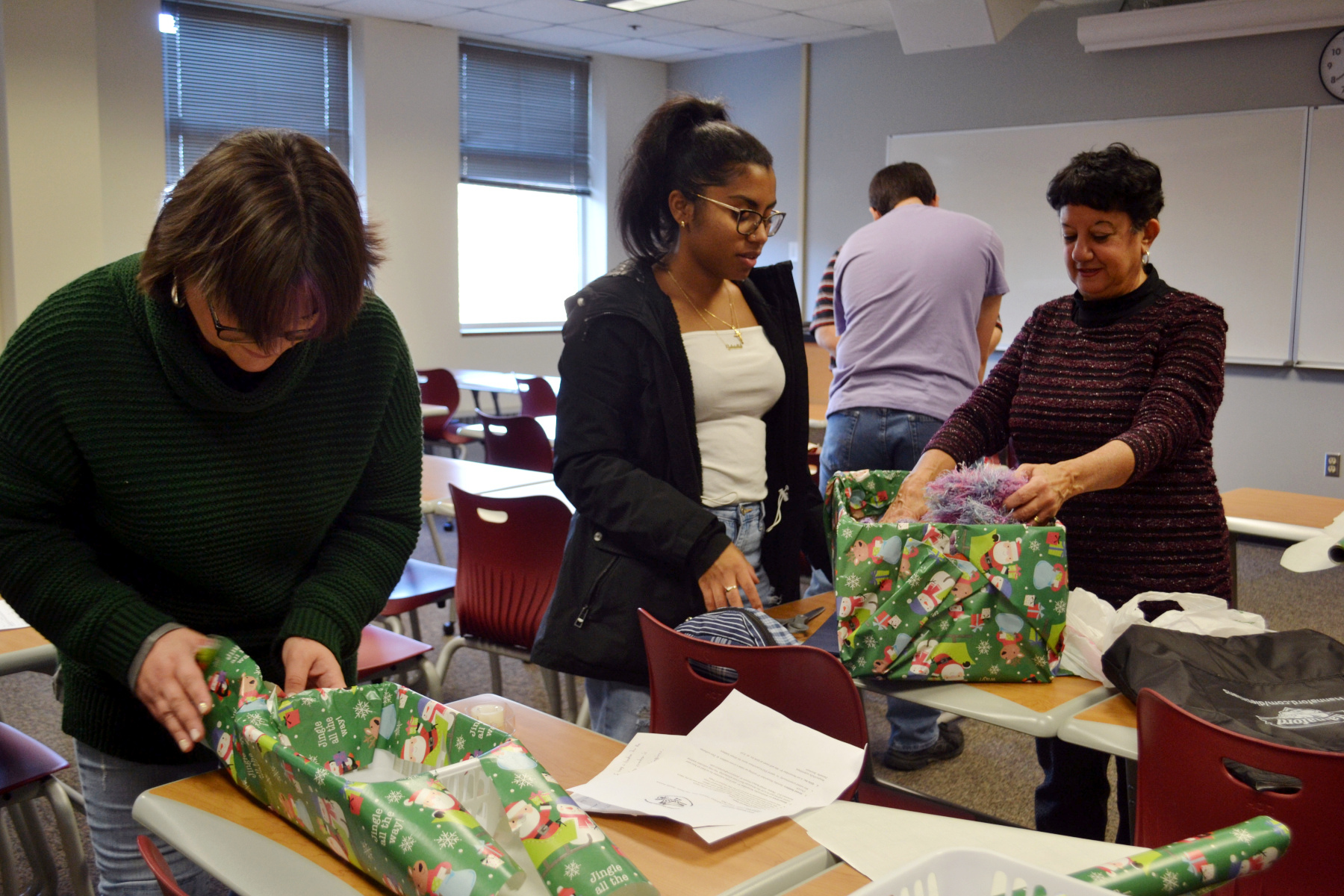 Meghan Mazzariello, Human Services major, is Co-President of the SVO with Gabriella Jones, also a Human Services major. "SVO is teaching lots of students about giving to places who are in need and I'm really excited that during the events the feedback is very positive, and it's very appreciated by the different organizations we work with," she said. "It's a lot of fun, brainstorming and planning and seeing all of the ideas that the group comes up with and how we are able to pull together and have such wonderful outcomes. It has definitely given me some insight as to what types of things I would like to pursue after I graduate from SUNY Schenectady."
"I got involved in SVO because I love putting a smile on people's faces and knowing that I helped provide something to make someone's life easier," Gabriella said. "Doing this project helped me do that and I love how festive it is for the holiday season."