Music Student's Performance Will Kick Off Statewide Broadcast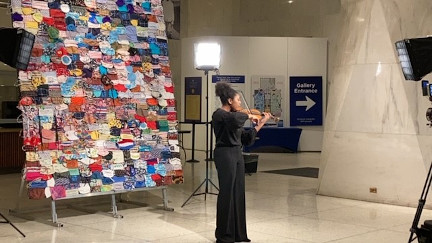 1/14/2021
Music Student's Performance Will Kick Off "New York State Celebrates Dr. Martin Luther King, Jr.: Civil Rights Then and Now" Statewide Broadcast
Leah Magee, a violinist and Performing Arts: Music major at SUNY Schenectady, still sounds a bit in awe that her performance of the civil rights anthem "We Shall Overcome" will begin this year's "New York State Celebrates Dr. Martin Luther King, Jr.: Civil Rights Then and Now," a statewide broadcast event. Leah has been attending the event, which usually takes place in the Empire State Convention Center and is virtual this year, since she was in first grade, listening to moving remarks and performances in honor of Dr. King. She will now be one of those contributing her talent to the day of remembrance, with the program airing on Monday, Jan. 18, 2021, on PBS stations throughout New York State. The program will air locally at 10 a.m. on WMHT, with access to this link live after the broadcast.
"I would sit and listen to everybody perform every year and it was just amazing to watch," she said. "I am honored to be part of the program on this very important day, after watching it for so many years, and to play a piece to honor Dr. King…I'm almost speechless." Leah was recorded in November playing the song solo at the New York State Museum without an audience, with the beautiful sound of her violin echoing throughout the museum.
The New York State Office of General Services noted that the one-hour tribute to Dr. King "will showcase some of the people and organizations across New York State that embody the principles of one of America's most significant leaders for social justice, freedom, and equality." It be will hosted by the Reverend Dr. W. Franklyn Richardson, Senior Pastor of the historic Grace Baptist Church in Mount Vernon, Westchester County. In addition to Leah's performance, there will be performances of inspirational and historic songs by choirs and performers from across the state, including the Mama Foundation for the Arts from Harlem, the 2021 Dr. Martin Luther King Jr. Ensemble from the Capital Region, and other students from the State University of New York.
Dr. Steady Moono, President of SUNY Schenectady, reflected on Leah's participation in the program as part of Dr. Martin Luther King, Jr. Day, saying, "It is very special that a performance by one of our students, Leah Magee, is part of such an important program honoring Dr. King's life on a day when we all pause to reflect on his enduring legacy of equality, civil rights, and peace."
A graduate of the Hoosac School in Hoosick, N.Y., Leah has been playing violin for 10 years and studies at SUNY Schenectady with Ann-Marie Barker Schwartz, an Adjunct Faculty Member in the School of Music. "I love the tone of the violin," Leah shared. " I love that every violinist has their own way of playing. People can really feel what I'm playing and I can feel what the composer was feeling. I try to express those same feelings with my own twist on it." Leah is composing music as well. "I started working on composing last year, but I didn't have the theory training that I've gained through my music program at SUNY Schenectady," she said. "I understand the textures and tones of different notes. I have pieces that I have finished that I've shared so far with family and close friends."
She recalls how she contemplated giving up the instrument when she was 12 years old, crediting one of her teachers with encouraging her to continue. "I thought about stopping, but I had a middle school teacher who told me not to quit. I'm so glad that I listened to her. I made the right choice. Music is very important to me and it's important to me to share music with other people."
Leah plans to graduate from SUNY Schenectady next fall with her associate's degree and transfer on for her bachelor's degree in Music Performance and Composition.