Human Services Students Intern at Local Agencies, Gaining Valuable Experience in the Field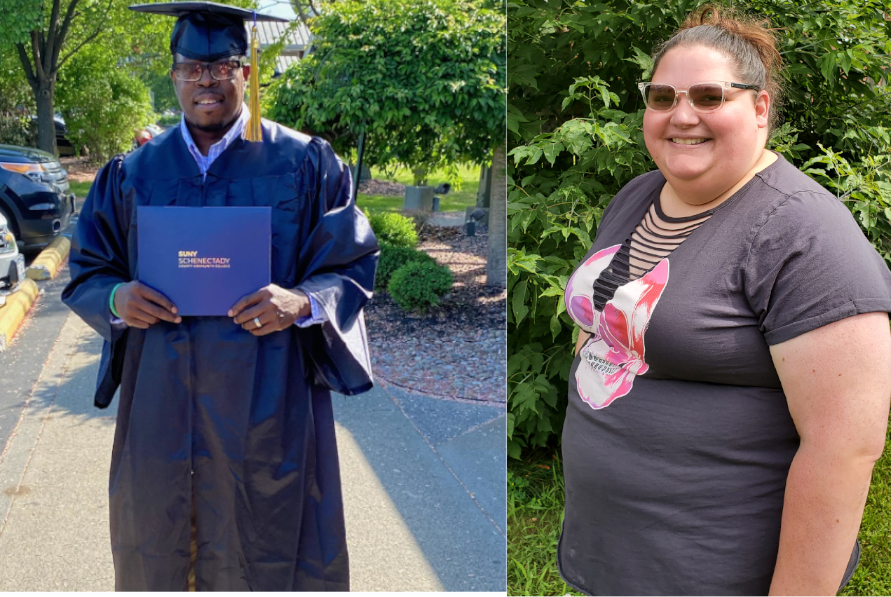 8/10/2021
In our Human Services Degree and Certificate programs and Direct Support Professional Certificate program, students intern at local agencies & schools, gaining professional skills to help them become even more employable. Internships are a great way to apply what they've learned in the classroom and network with those in the field.
Even during the pandemic students interned at more than 15 local community agencies, all part of their Field Instruction class.
Terell Strickland II interned at Albany High School this past spring. He's a Teaching Assistant there and through his internship, he was able to work with students through the lens of his interest in social work.
"I Implemented things that I've learned at SUNY Schenectady as it pertains to social work and incorporated them while engaging with the students. They're dealing with real-life situations and events. It offered me the opportunity to practice some of the things that I have learned from my professors. Professor Renee Adamany and Counselor IV Robyn King helped me so much by sharing their many years of valuable experience and their unwavering support and extreme generosity."
Terell graduated from SUNY Schenectady with his associate degree in Human Services this year and has transferred to the College of Saint Rose. He will start there this fall, pursuing his bachelor's degree in Social Work. He plans to then earn his master's degree. "I love people and I love helping. I love equality. I love to speak for those who may not be able to speak for themselves. That is my main goal."
Rebecca Conover completed her internship last semester at Schenectady ARC. She has been working there as a Program Manager at one of the residential facilities in Schenectady. She decided to attend SUNY Schenectady to pursue her Certificate in Direct Support Professional through the registered apprenticeship program with the New York State Department of Labor. The apprentices receive tuition support through a state grant that provides up to $5,000 per apprentice, with additional employer-sponsored support available, to complete the full program.
"Internships really give you a feel for the field you're going into," she explained. "There are a lot of different aspects to human services like mental health, working with children, social work, and as long as you find something you're interested in, the internships really prepare you for the field you're getting into."
Rebecca graduated in May and is thinking of returning to SUNY Schenectady for her associate degree. She has worked in the Human Services field for six years, but through the Direct Support Professional Certificate, she was able to learn things in her classes and apply them immediately in her work at ARC.
"l learned so such about human development. I work in the field, but I didn't know a lot of the background behind disabilities. Through my communication classes and social work classes, I learned how to communicate with different people. It made me a much better listener and bettered me as a person."