Congratulations to Recipients of the 2022 SUNY Chancellor's Awards for Excellence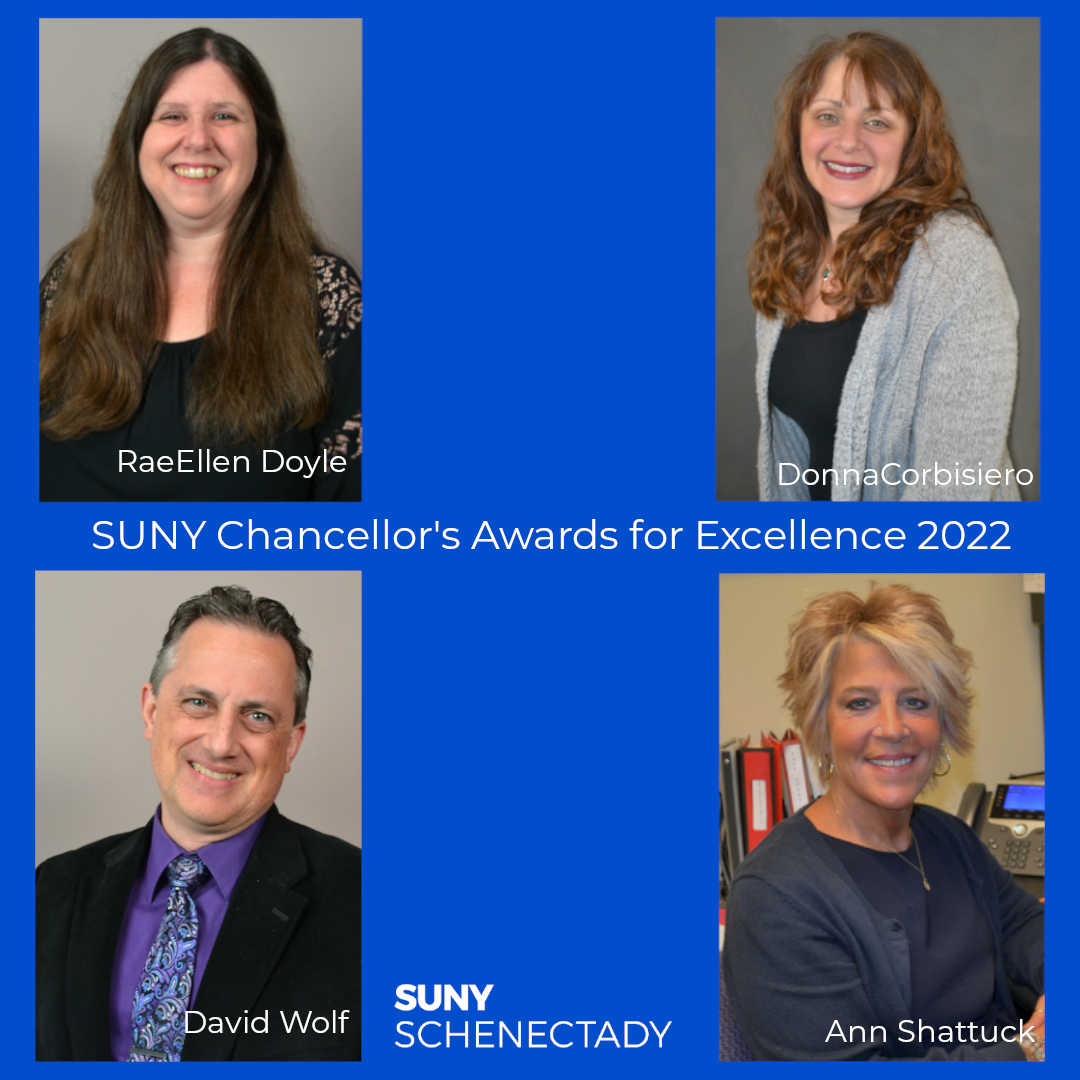 7/13/2022
SUNY Schenectady is pleased to congratulate four members of the College's faculty and staff who earned the prestigious 2022 SUNY Chancellor's Awards for Excellence. The SUNY Chancellor's Awards for Excellence were created more than 44 years ago to honor the distinguished performance of SUNY's teaching faculty, librarians, and members of the professional and classified services. Recipients receive cast bronze medallions to be worn at Commencements, Honors Convocations, and other ceremonies.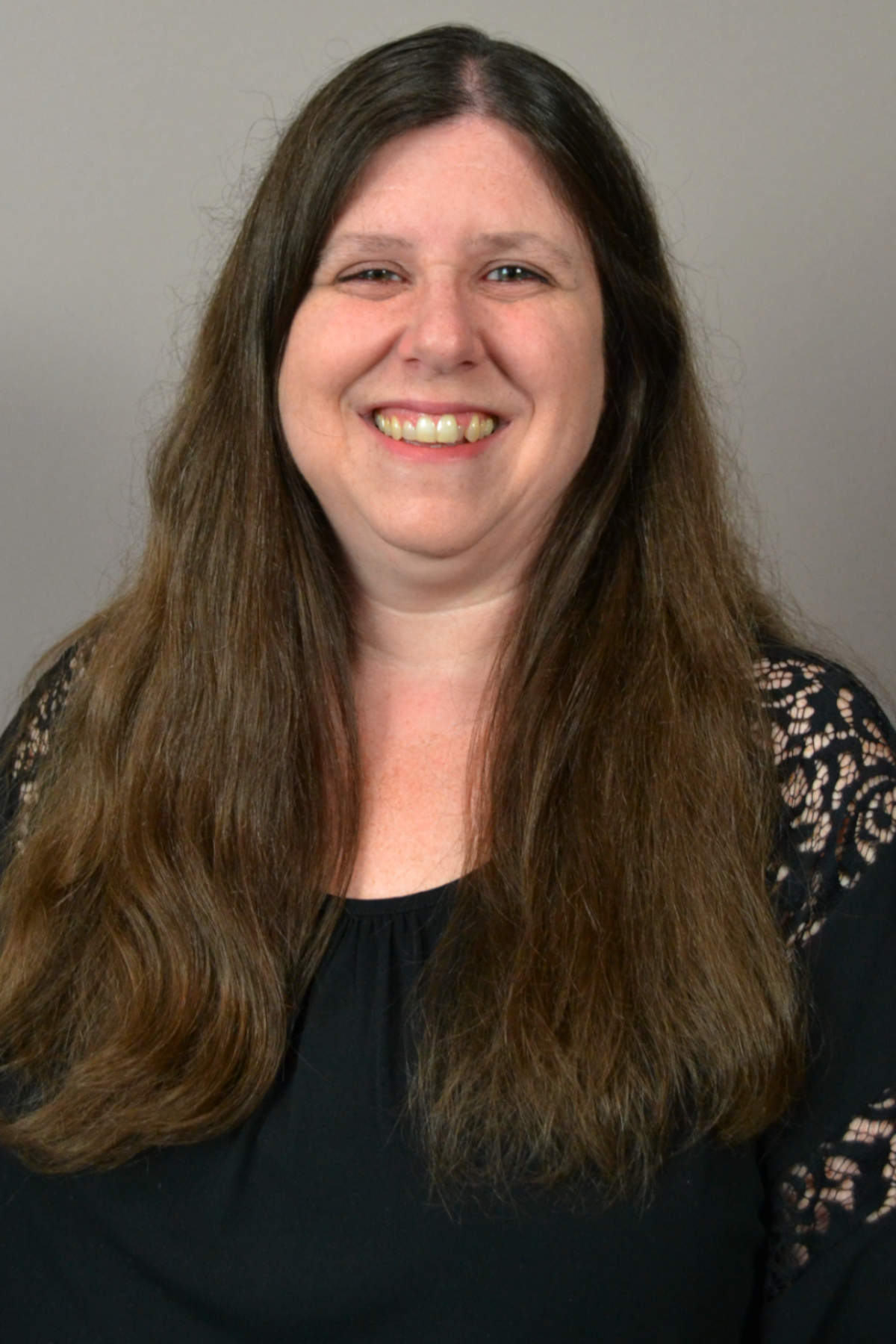 SUNY Chancellor's Award for Excellence in Teaching
RaeEllen Doyle, Professor in the Division of Liberal Arts
Since she joined the faculty in 2010, RaeEllen Doyle, Professor in the Division of Liberal Arts, has been a knowledgeable and experienced teacher, a strong advocate for students, and dedicated to teaching and learning.
Professor Doyle teaches an array of courses in the Liberal Arts: Communications concentration including Introduction to Human Communication, Public Speaking, Introduction to Media Writing, Digital Culture, and Communications Internship. She also works with students who are completing independent studies, mentors students, and has been the faculty advisor for the Media Central Club and Phi Theta Kappa Honor Society. She was a mentor in the Schenectady Smart Transfer Early College High School program, working with a colleague to develop and implement biweekly programming for a cohort of ninth and 10th graders and conduct weekly meetings with 11th and 12th graders.
Professor Doyle also collaborated with the Interim Chief Diversity Officer to propose the new the Diversity, Equity, and Inclusion Committee. She helped to develop and participate in "Many Voices One Call," the College's first podcast, which focused on equity and the COVID pandemic.
In addition, she has served as Vice President of the Academic Senate; Member of the 2021 negotiating team of the Union of Faculty and Professionals; Co-Chair of the Middles States Standard III Working Group and Member of the Steering Committee; Chair of the Promotions Committee; Liberal Arts representative on the Curriculum Committee; Member of the Student Success Initiative's Subcommittee on Professional Development; and College liaison to SUNY Transfer Pathways.
She holds a B.A. in in English Literature and B.A. in Speech Communication from the State University of New York College at Potsdam and an M.A. in Speech Communication with a concentration in Rhetorical Theory from Colorado State University.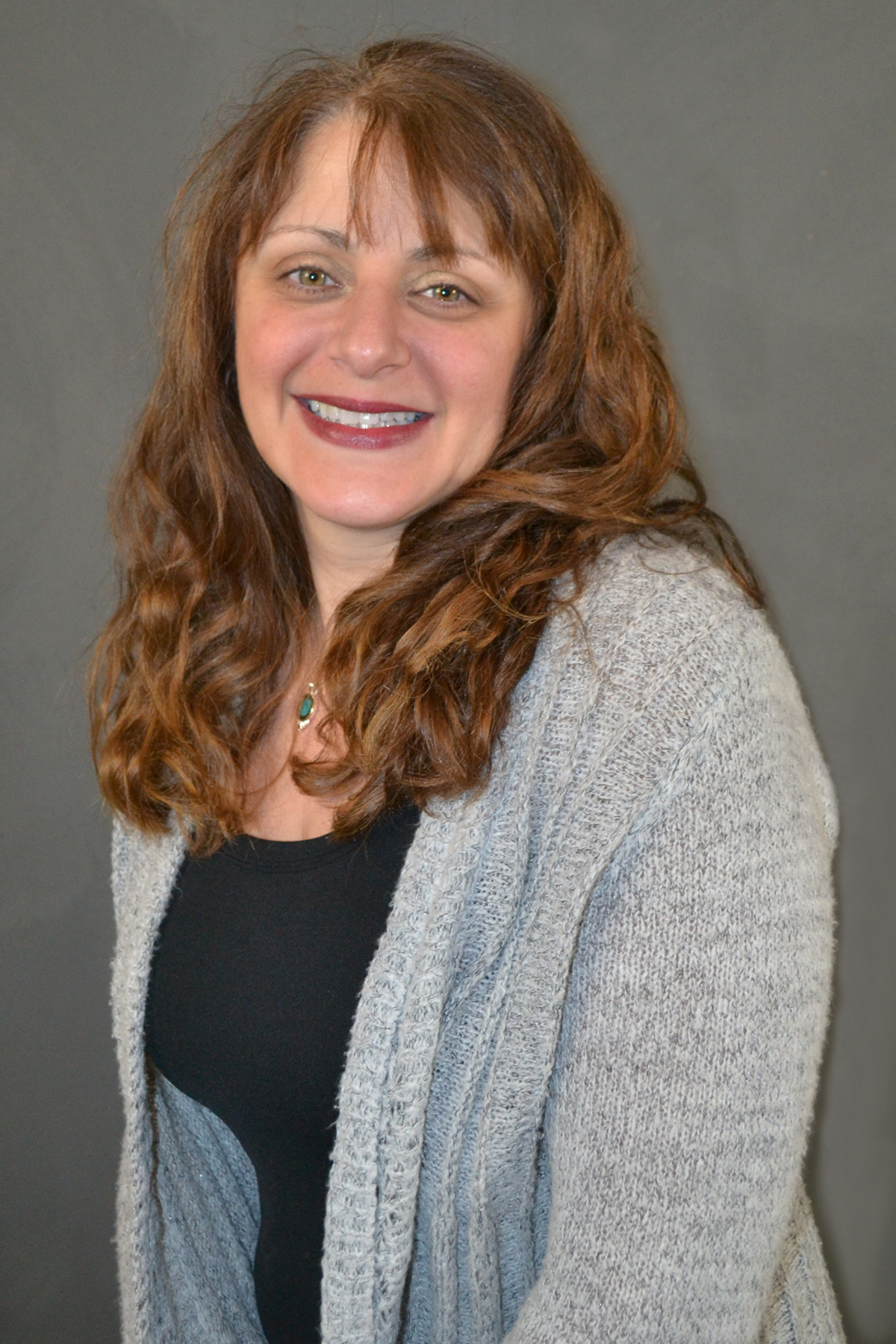 SUNY Chancellor's Award for Excellence in Faculty Service
Donna Corbisiero, Associate Professor in the Division of Liberal Arts
In addition to teaching as a member of the faculty in the Division of Liberal Arts, Donna Corbisiero, Associate Professor, serves as a strong support for students. In 2019, she created the English Language Learners (I/ELL) Club after recognizing that there was a need for an organized community for ELL students. As Advisor to the club, she has created a space of support and connection for students. She has encouraged students to organize events and assisted with those events including the International Gala, which brought together students, faculty, and staff, and International Mother Language Day, and this year the club won the SGA Club of the Year Award.
Currently, Ms. Corbisiero is working with several staff members to create an Intercultural Center at the College. She has served as a bridge between students and staff on campus, working with the Student Success Center and the Advising Office in order to connect designated individuals from each to work with I/ELL students. Alongside her club members and the ELL tutor, she supported the Long Night Against Procrastination and Open Houses. She and I/ELL Club members were the focus of "When You Are Not from 'Around Here,'" an episode of the College's "Many Voices, One Call" podcast. She has also collaborated with Alicia Richardson, Interim Chief Diversity Officer, presenting programs on Diversity Equity and Inclusion (DEI) and ELL to colleagues during Faculty Institute Week. Her presentation "ELL Students: Myths and Ways to Help Students in the Classroom" provided colleagues with helpful strategies to serve ELL students.
Ms. Corbisiero holds a B.A. in English and Education from the State University of New York at New Paltz and an M.A. in English from the University of Memphis.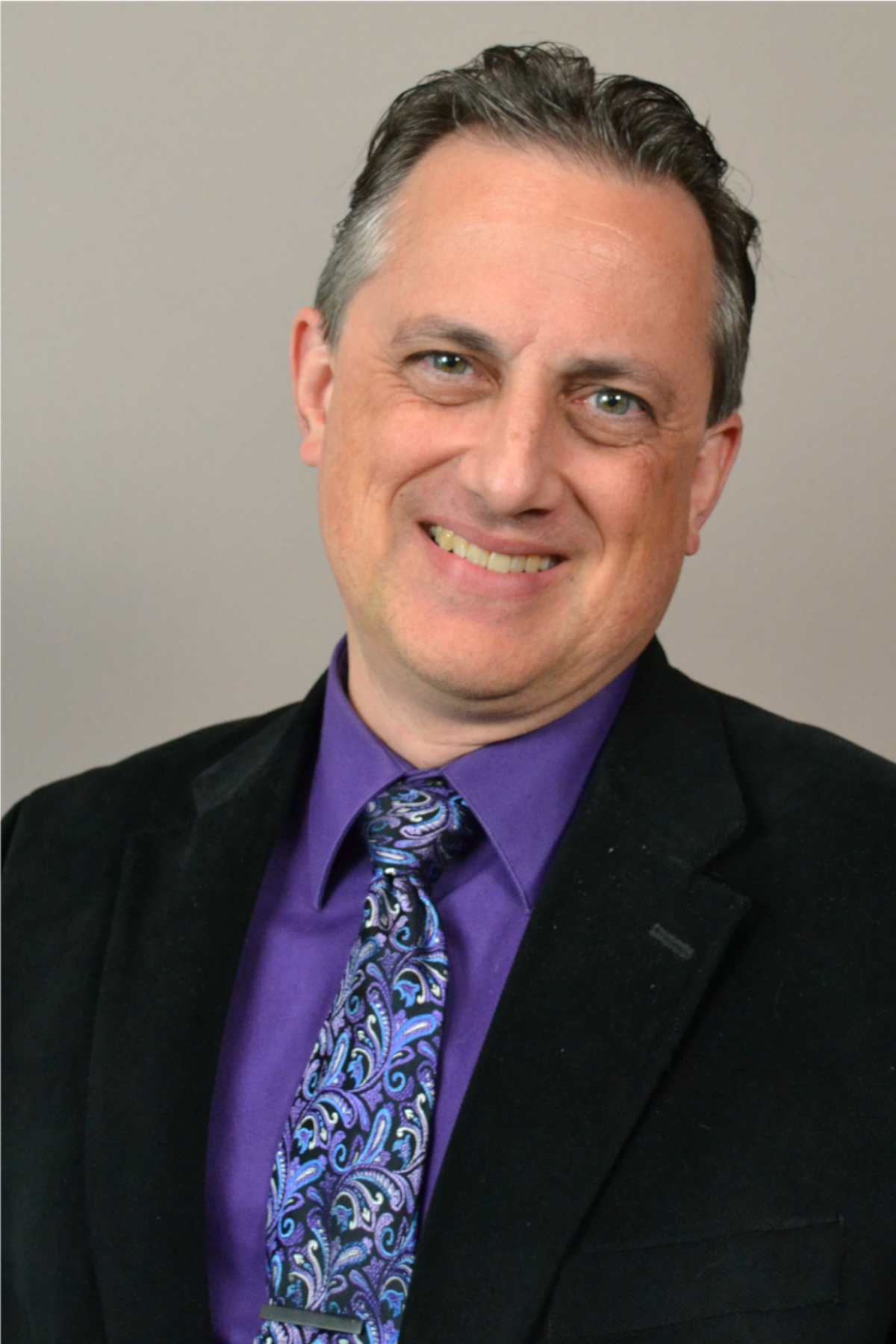 SUNY Chancellor's Award for Excellence in Professional Service
David Wolf, Teaching and Learning Specialist, Academic Affairs Division
David Wolf first joined the College in January 2016. Since then, especially during the pandemic, his extensive faculty training and experiential learning has been invaluable to the campus community. His courses for faculty and staff have offered innovative approaches to building coursework in a creative and individualized manner. Additionally, he has developed support videos that have reached to various parts of the world.
David's efficacy in instructional support has been noted College-wide. He continually shares ideas and tools to improve student learning outcomes and videos on accessibility to help faculty build effective courses for their students. When the pandemic hit in March 2020 and the College pivoted to virtual online instruction, David jumped right in and shared instructional videos and support tools to help faculty create as smooth a transition as possible. Additionally, his research on adaptive learning and student performance not only reached the College, but it extended way beyond the 'virtual walls.'
David continually works to build relationships among SUNY institutions to apply the application of transferable solutions. He was a member of the FACT 2 groups Adaptive Learning and ExPloD and is a member of the SUNY Blackboard Ally Administrators group, the SUNY DLE Training Resources Workgroup, The SUNY DLE Templates Creation Workgroup, and DEI Annotation Collaborative. These efforts are all evidence of David's commitment to online development and the College, and his work has proven successful to the many people who have been a part of his instruction.
David holds a B.A. with a double major in Fine Art and Philosophy from the University at Albany and an M.A. in Philosophy, Computers, and System Science from Binghamton University.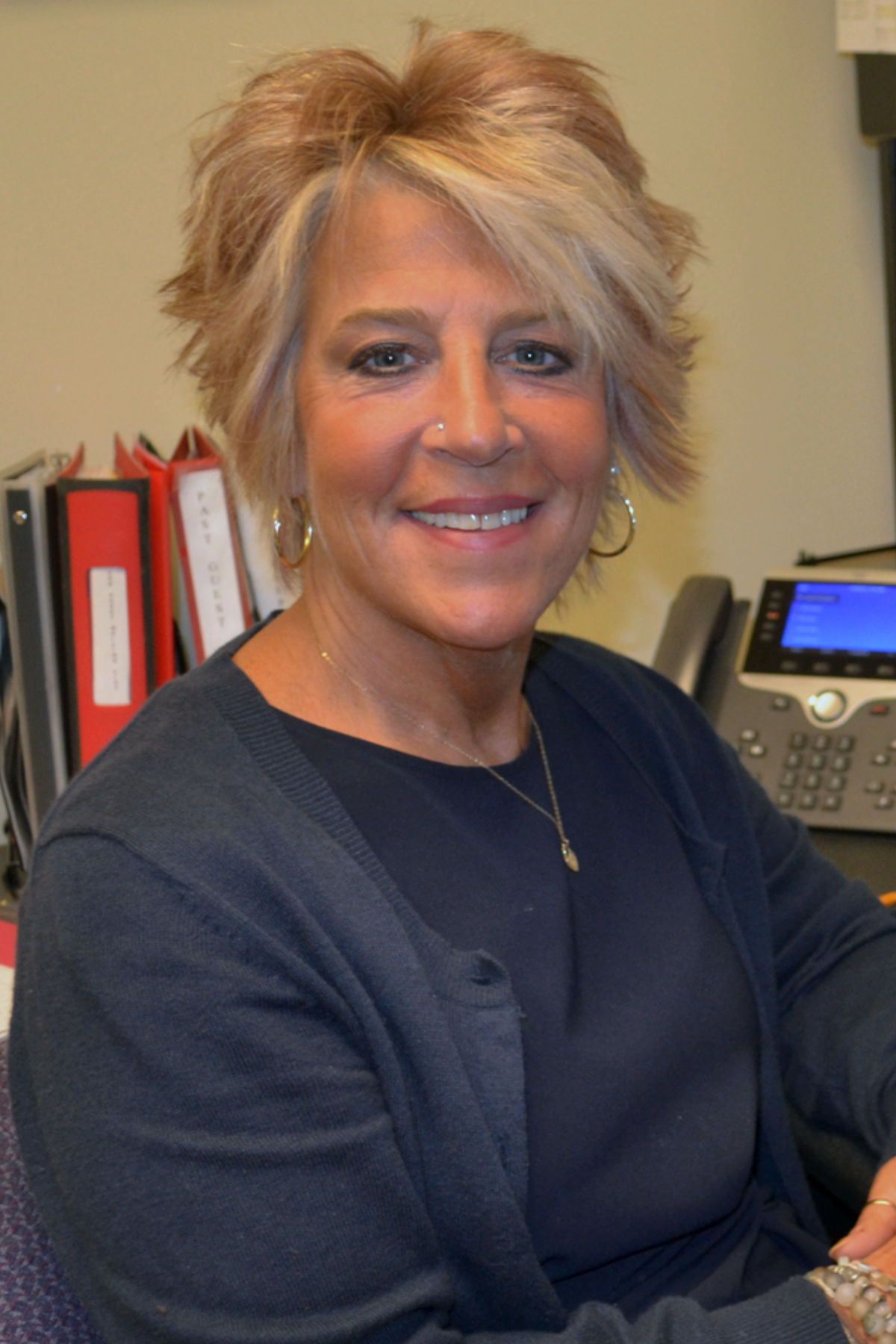 SUNY Chancellor's Award for Excellence in Classified Service
Ann Shattuck, Senior Reservation Specialist, School of Hotel, Culinary Arts and Tourism
Since she first joined SUNY Schenectady in 2005 as an Account Clerk in the Financial Aid Office, Ann Shattuck has been a tremendous asset to the College. She left briefly for other career opportunities, but returned in July 2009 to work in the Registrar's Office. In 2011, she was promoted to Information Processing Specialist II in the School of Hotel, Culinary Arts and Tourism. Since that time, Ann has been an outstanding resource, as she combines her skills as an IPSII with her knowledge of financial aid and the registration process. As a result, Ann excels at her position. She is a "one stop shop" providing information about the School of Hotel, Culinary Arts and Tourism and the College as a whole to students, faculty, staff, guests, and the Dean. Ann is often the first person who greets visitors, guests, and prospective students who inquire to the School of Hotel, Culinary Arts and Tourism. She answers their questions with aplomb and sets a positive tone for all of those interactions.
As Senior Reservation Specialist, Ann is responsible for the reservations for the Casola Dining Room, banquets, and special events in the Van Curler Room, displaying both creativity and flexibility in her work. As a result of the pandemic, in Fall 2020, the School shifted to a takeout and parcel pick-up model where Ann played a major role in coordinating the orders for the Casola Dining Room, Van Curler Room, Pane e Dolci, the Boucherie, and culinary labs.
In addition, Ann often mentors new staff members who are joining the College as IPSIIs, and she volunteers in other divisions when the need arises.
Ann holds an A.A.S. degree in Business Administration with High Honors from SUNY Schenectady.